Because Kevin and my's families are each a decent drive (or flight) away, I try my best to keep grandparents and great grandparents alike up-to-date with recent pictures of Olivia and our little family. It's actually pretty simple and easy, and not at all a bother when it comes time to write a little note, print out a few photos and toss an entire batch of cards into the mailbox for the postman.
What helps to make the process so simple is a small, quarter-of-a-drawer letter writing station just for this purpose. After a year or so of pulling my big ol' stationary box off of the top shelf, hunting for stamps, addresses, and finally envelopes large enough for photos, I finally set aside a small space within easy access of my desk just for this job.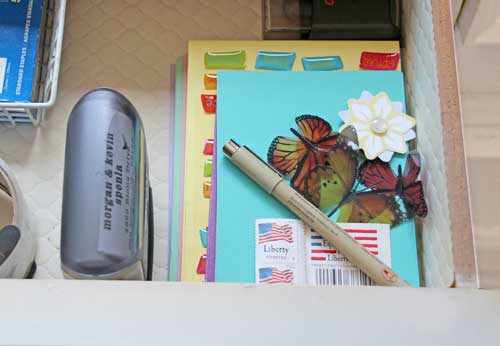 What prompted me to share this today is that I actually just transferred this space to my new office drawers as I'm getting ready to send a batch of cards out to the great grandparents. (There's so much more storage space in my new white dressers!)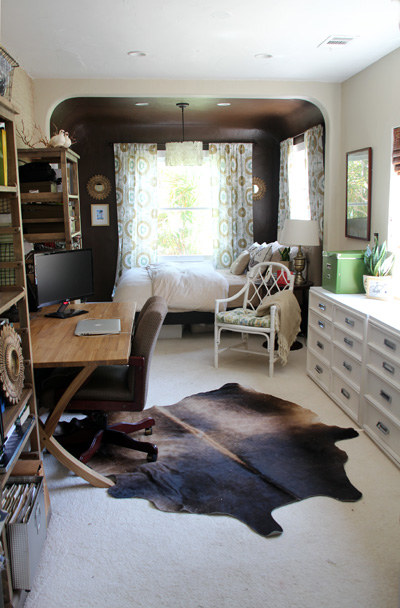 Within reach are envelopes that easily fit 4×6 Costco photos (a box of colorful pastel 4 3/4 x 6 1/2 found at Staples or online at Amazon), a stack of blank colorful note cards (Target) and little stickers or embellishments from my scrapbooking days (I have another giant box of these elsewhere, but I pull out a few every couple of months to replenish this supply). I'm totally serious about those butterflies too – sometimes it's the sweet little details that make receiving a letter extra special!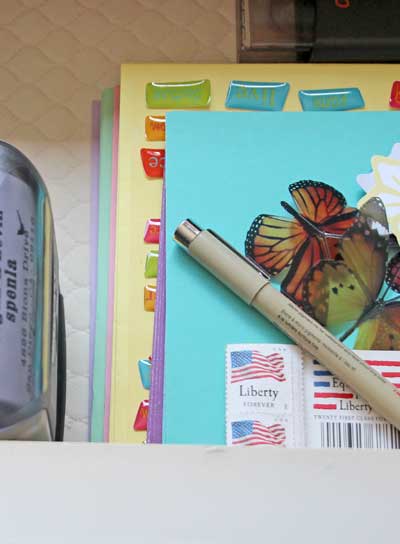 When we make a Costco run, I send a head a batch of favorite photos to pick up (five of each, for each of our grandparents and great grandparents). A hand scrolled note is added to the envelope (perhaps a scribble by Liv), a stamp from my pre made, self-inking address label (wonderful investment from Etsy) and into the mail it goes. Done and done.
Maybe one day I'll even pre address them as well.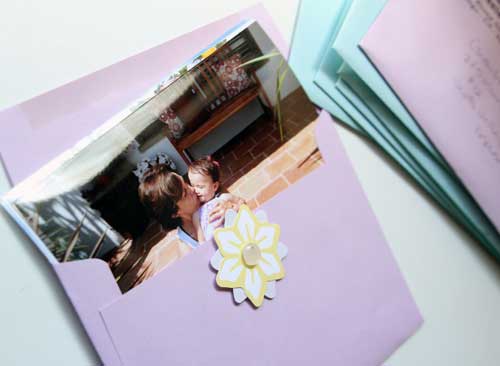 I know that Liv's great grandparents in Denver, Des Moines, Phoenix and Santa Cruz especially appreciate this little gesture, and when we visit sure enough their favorites of the photos are covering the fridge or in frames. I hope that Liv does this for me one day ;). That is, if I haven't already purchased the house across the street from my future grandkids.
I still keep that stationary box full of birthday cards and thank you notes on the bookshelf for special occasions: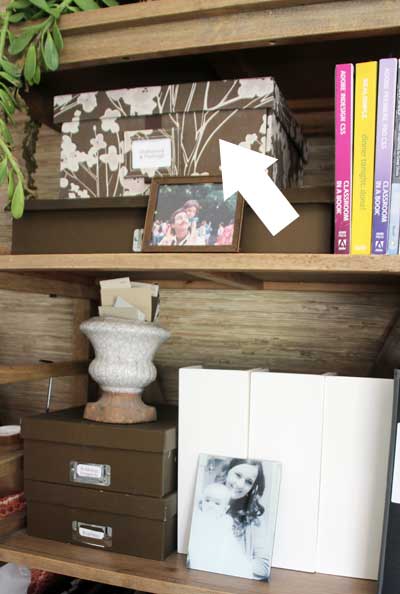 But this little letter writing station has its own purpose. ;)
Of course this blog's purpose is, in a way, here to do the same thing. If only four of the six great grandparents that we send snail mail to knew what a blog was…