We happened upon (part by chance – the days worked out perfectly) Barcelona in the very middle of their huge Festival La Merce, Catalonia's (of which Barcelona is a part of) annual extravaganza to honor Our Lady of Mercy. Festival La Merce involves parades, building 'human towers', concerts until the wee hours and packed streets. It was part wonderful, part totally crazy.
Much of our respite was found in the adorable apartment we rented just outside of Las Ramblas (the main street with shops and restaurants a plenty, it's also very wide and almost all-pedestrian).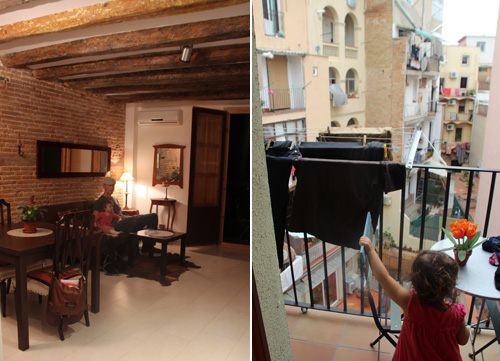 There's the cute flat (with original beamed ceilings and a wall of all brick) above – at night unfortunately, and our neighborhood on laundry day (first opportunity! a plus of renting an apartment).
Before we jump into Barcelona, check out this madness! This is a highlight of Festival La Merce, and somehow we ended up right below one of the crazy towers.
Video of the 'Castellers' – if it's not loading check back in one moment!
We also witnessed a few Gigantes in their customary parade. These giant figures dance with one another and parade in long lines through the streets.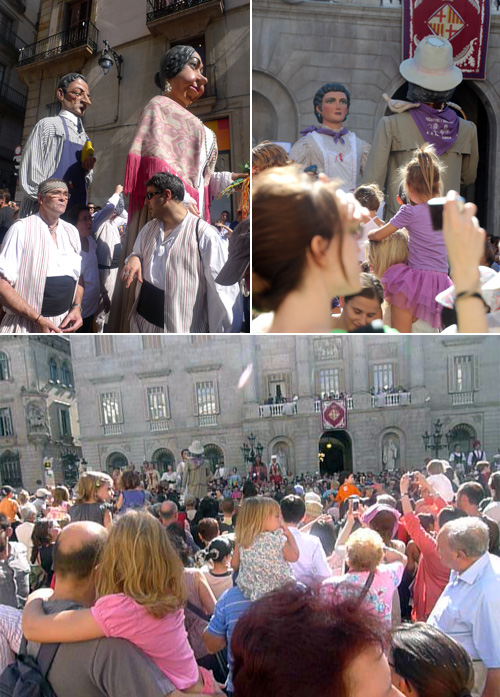 Outside of the festival, our first tourist visit was to the stunning cathedral, which was partially blocked by one of the huge La Merce stages. And these stages rocked all night long! Many a night we came out from our late dinner to hear great music, and it was still playing long long after we went to bed.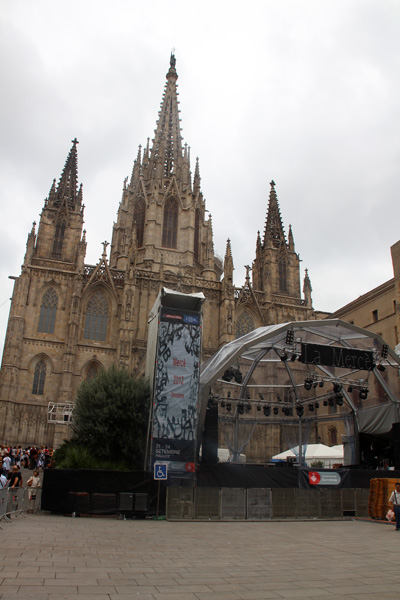 PS The schedule, speaking of late dinners, is one of our favorite parts of Spain ;). A small first breakfast, a late larger breakfast closer to 11, a big lunch at 2ish followed by a long siesta, and dinner around 10pm at night. As an entire family! We loved having tapas and sangria, followed by a heartier meal, so late at night but surrounded by Spanish families doing the same, babies and all. Liv of course slept in super late in the mornings, but it was okay but us to have a lazier start on vacation.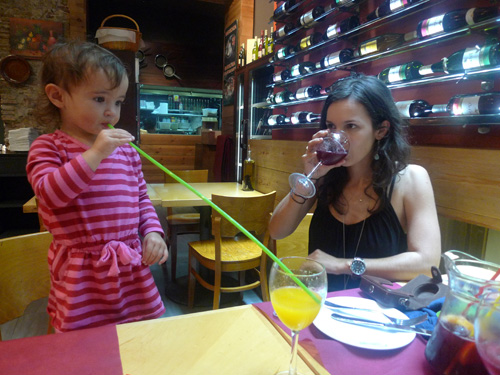 Extra long straws from the waiter to entertain the little ones (and maybe some adults)? Why not.
 Another must-see in Barcelona is the Sagrada Familia, architect Antoni Gaudi's magnificent church that he spent much of his life dedicated to (and the last 14 years for in isolation). He passed before just one tower was complete, but construction continues to this day and will until 2026. Unfortunately the holiday meant that the church was closed to the general public, but we circled and circled and took many pictures.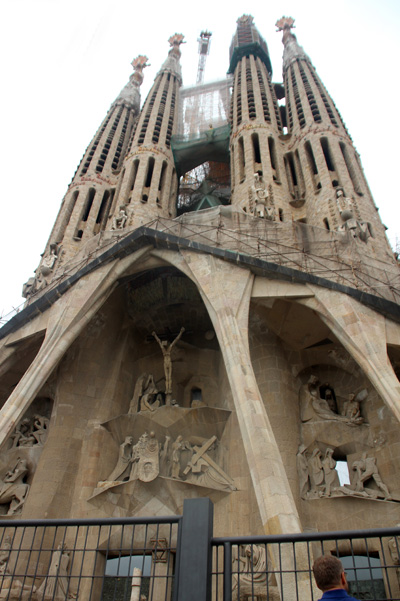 Each side (or facade) is dedicated to a momentous occasion in Christ's life. The first is the Nativity, the second the Passion (or the crucification) and the last (and yet to be complete) the Glory of Christ (or the Ascension).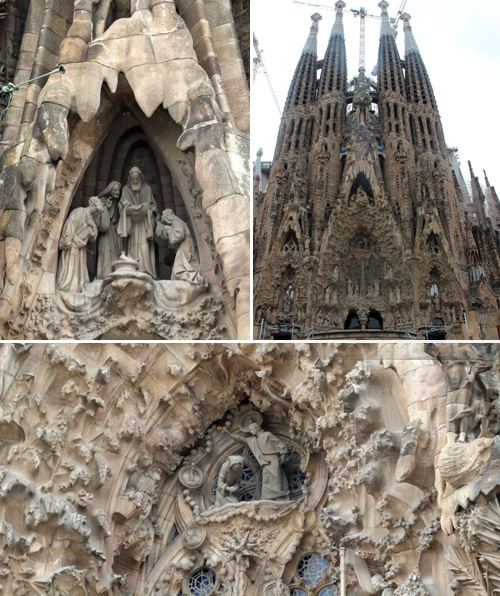 Another of Gaudi's architectural designs includes Casa Mila, or La Pedrera.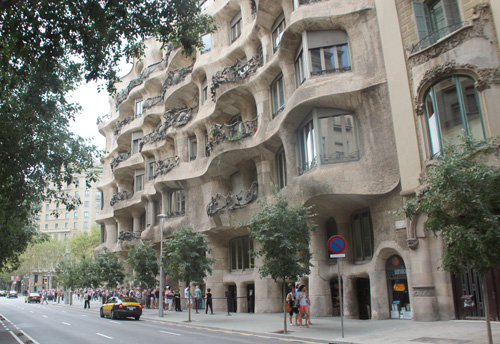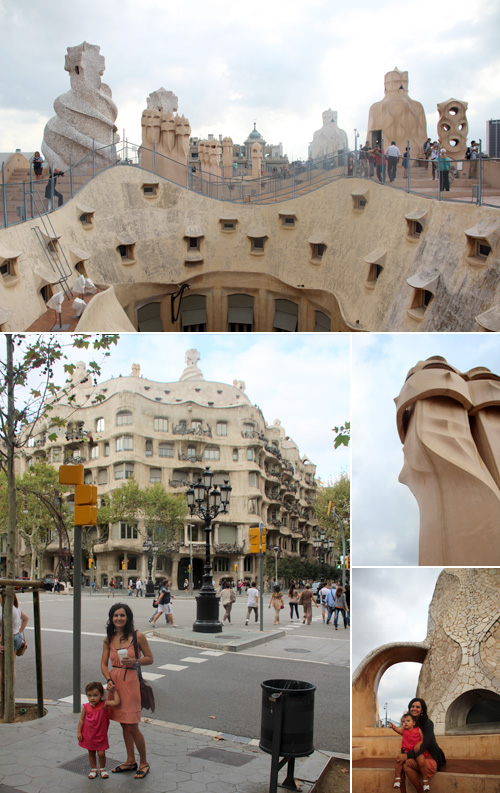 Kevin, who's studying architecture, was all about being behind the camera on this day, so I'm in a few of the pictures for a change!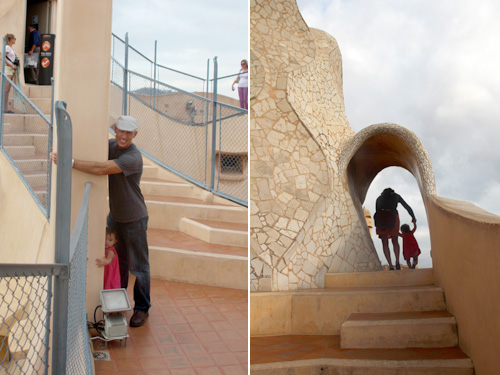 While we're at it, another amazing Gaudi moment.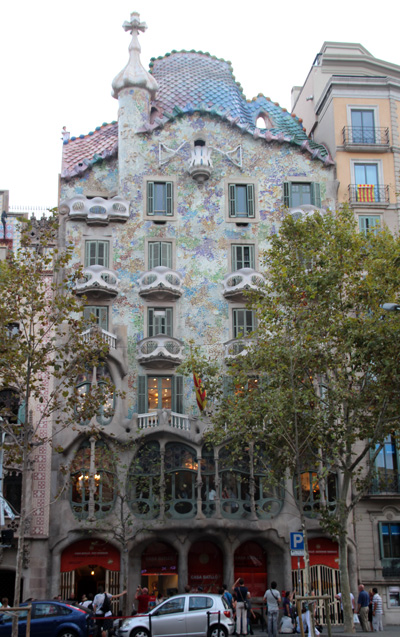 One of the treats of traveling with Liv is our frequent park exploration. We visited Park Guell (also by Gaudi – but the camera battery was dead at this point – bah!) as well as this little guy whose name I don't remember.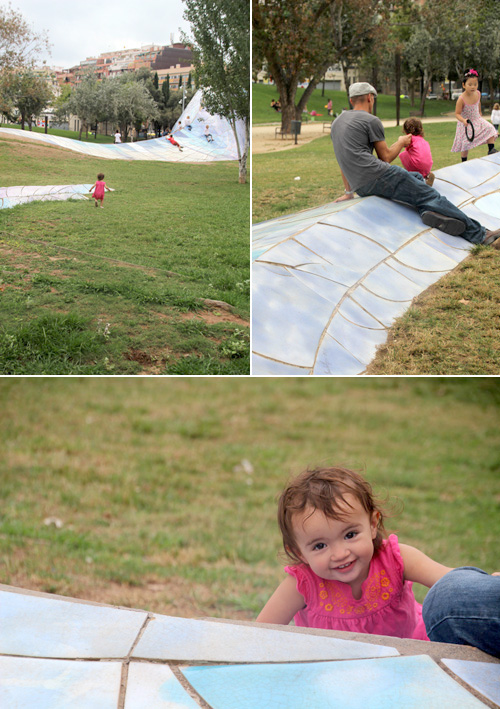 Sometimes it's the little stops that are so fun.
Speaking of travels with Liv, she LOVES the cousine of Spain! She's all about the preserved meats, cheeses and veggies that make Spanish food so yummy. It's definitely a plus (and a whole lot cheaper) when Liv can eat off our plates and we don't have to order a special meal (or even worse, seek out a special restaurant) for her little appetite.
Check out this face: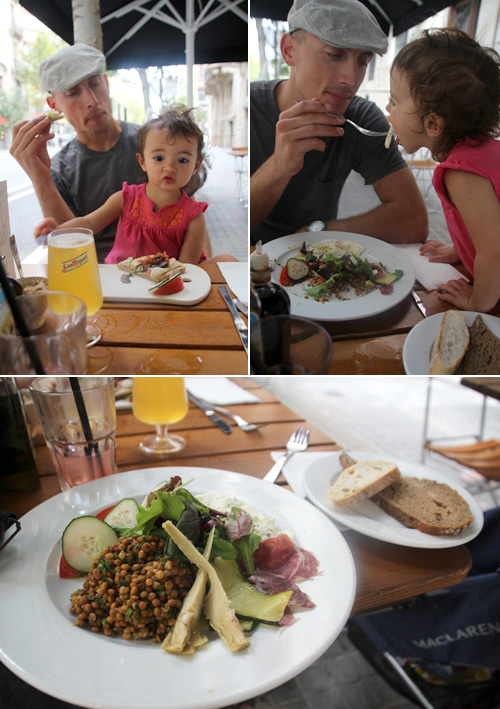 Here we are, back to strolling Barcelona. With Liv napping nonetheless. Nothing like a nice long walk to take you to dreamland.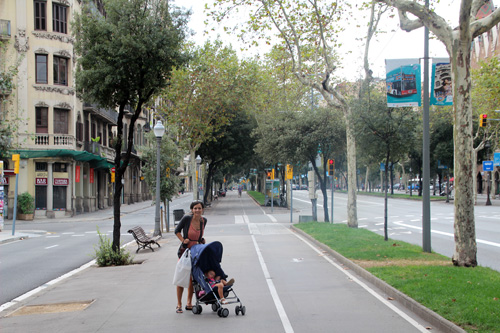 On our last night in Barcelona we enjoyed a delicious dinner of tapas underneath a brightly lit up Church (in all sorts of colors). Liv napping again at our side. But alas, none of those pictures really turned out (darn iPhone and night time photos…). Next up on our Spanish adventure – a road trip down the eastern coast.
PS our entire trip is being chronicled right here.