While we were away we celebrated Kevin's birthday! I actually haven't gotten around to finishing his present, but I do have his Father's Day present to share (four months later…). I originally hadn't planned on posting about this project (part of my effort to show Kevin that I hadn't made the piece for the blog – but for him! But I think it's kind of cool and four months of not posting about it is enough time for me.) ;)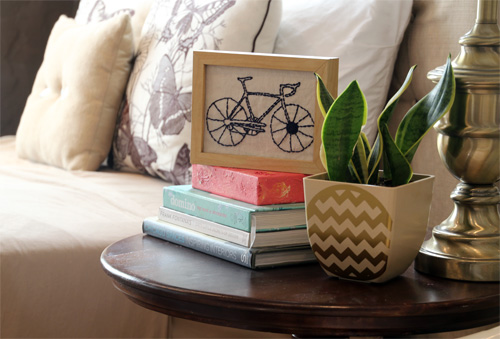 It's an embroidered bicycle that I then framed and had on display on our mantel for a while. Kevin and his family are big bikers, and I was hoping to hand make something that was special to him personally. He and Olivia LOVE to bike (she is thrilled every time she sees one go by, and constantly asks to go for a ride in her iBert) and I thought that something with bicycles might be fitting for Father's Day. (I also traced her little hand on a card – something that I think will be neat to do every year just to watch how she grows!)
Kevin is really terrible to buy gifts for. I mean, really terrible. He doesn't need anything, doesn't really get excited  about anything and in general is hard to impress. I worked on this project during the evenings when he was in class for a few weeks in the spring, when he opened it he thought it was cool and thoughtful and that was enough for me.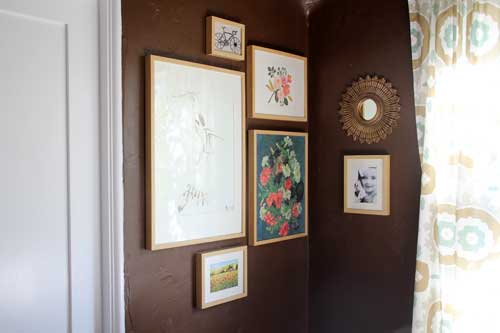 Now the embroidered bike sits at the top of the wall collage in the office/guestroom. This is a nice spot for it, perhaps a permanent one.
Sadly, I don't have photos documenting the progress (goes along with the whole I-made-this-just-for-you part of the gift), but this is an excellent tutorial on how to embroider just about anything. I actually found a generic picture of a bicycle online and printed it out to the proper size, lined it up with an off white fabric scrap I had on hand and reminded myself on how to make a basic embroidery stitch. I didn't use an embroidery hoop but I will next time. Lesson learned.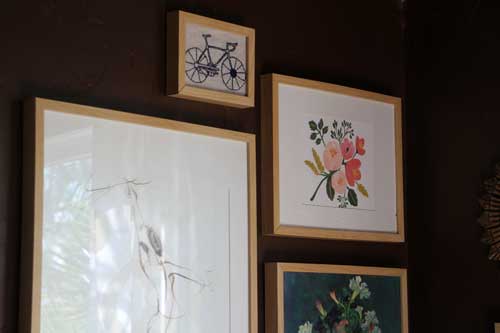 It's a little folksy, a little artsy, and by no means perfect. But that's what I kind of what I like about it!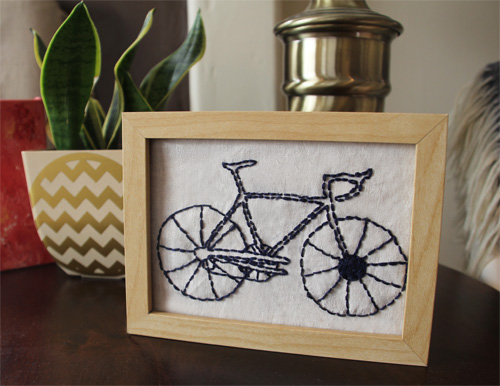 Maybe a quick ironing pre-framing would have helped with a few of those wrinkles…
More office/guestroom posts found here.