Boys are hard to shop for. Make that very hard to shop for. It might just be me, but when it comes to my gift list and I get to the 8 brothers (yes, 8! including Kevin's siblings), 3 dads, 3 grandpas and one special hubby in my life, I tend to go back to old time favorites (sweaters, socks or a loved alcoholic beverage) again and again and again. Or worse – I wait until the very last minute and then regret my day-before-Christmas decisions.
Not to say that I haven't already picked out some very cozy wool sweaters for a few in the group :), but with all of that in mind, here are a few ideas I've pulled together from favorite shops, the good ole' web and my favorite gift guide magazines. I hope that it's helpful for all of the men in your life! And here's a link to last year's list (which is full of even more boy ideas).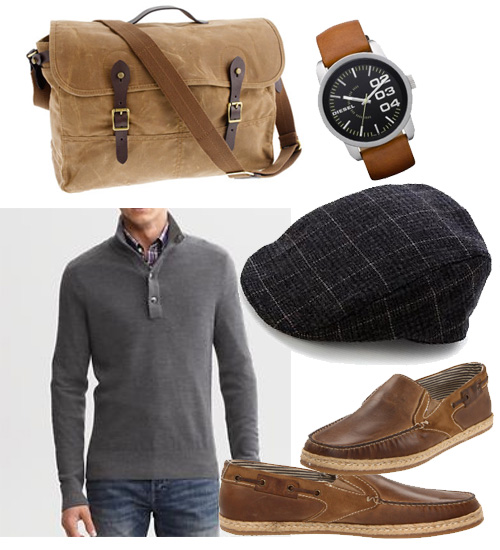 Love this plaid twill driving cap and very handsome messenger bag at a very decent price. Banana Republic's big & tall is consistently my go-to for Kevin, this sweater is available in regular and long. I would love to gift Kevin with a new leather watch! I have my eye on a few… Kev is also on the lookout for a new pair of boat shoes, and I wonder how he'd feel about the jute? I kind of like these guys a lot (especially for the price).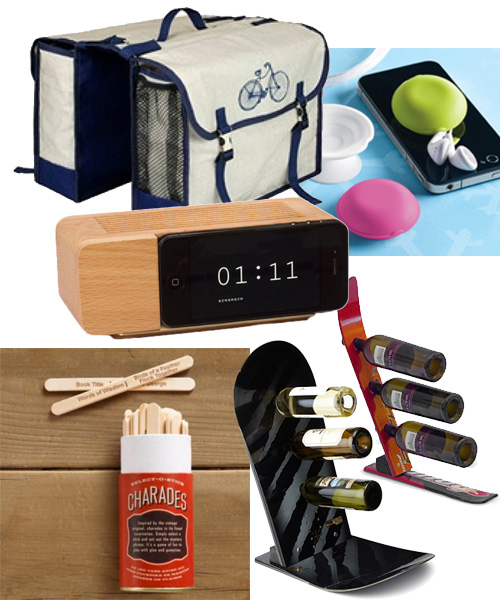 I shared one of my favorite retro alarm clocks last year, but this year's version is the perfect step up – an iPhone docking station as well!
This macaroon suction cup is a tasty idea to keep earbuds tangle free and connected to your phone. Also for electronics, I dig the unique look of this bamboo charging station – perfect for the kitchen counter and to keep all electronics corralled and powered.
For the snow enthusiast, here's a take on a repurposed board or ski that I haven't seen before – a bottle rack! And while on that ski vacation while using said bottle rack, don't forget your charades to go for instant and immediate friend fun.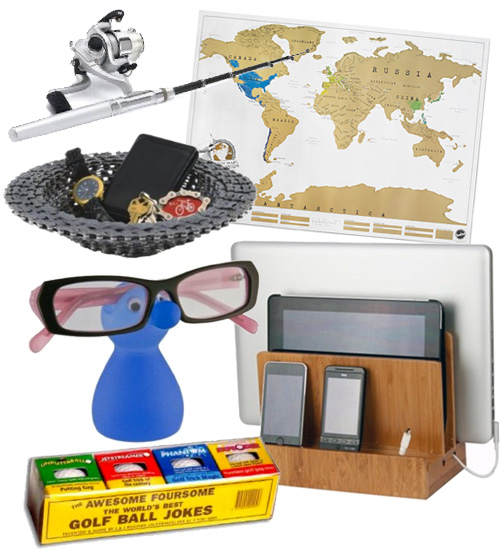 A mini pocket fishing rod! For when an afternoon bite calls at lunch time (and you happen to be within walking distance of a pond…). More outdoor ideas: for all of the bike lovers in your life, I love the unique use of refurbished bike chain accessories and art. Check out this cool bowl. And with names like 'the Exploder' and 'Jetstreamer', here are four fun tricks to play on a friend's short game… the perfect treat for the golfer.
Nosy keeps track of glasses for the hubby or dad who can't ever seem to remember where he put them down…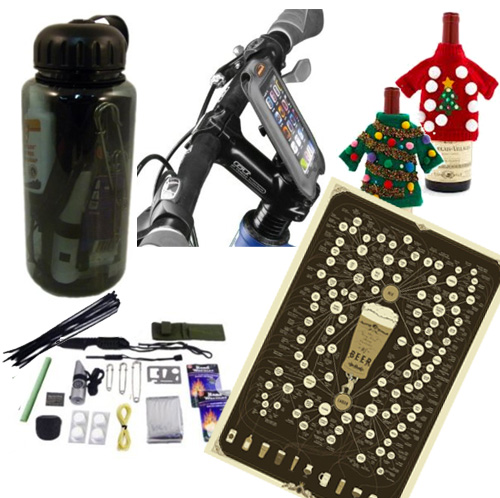 The ultimate survivor-kit-in-a-water-bottle.
This is an accessory that I would love to add to my own bike, and one that I'm sure many a bike rider would use! Listen to music, track miles on a biking app or use the GPS of your handlebar mounted phone.
Kev loves a good home brew, this chart would be perfect for his garage/man cave. Speaking of home brew, one year he gifted his latest batch to each of his buddies, I'd like to see them draped in ugly Christmas sweater bottle covers next time. Hehehe. Or perhaps for a gift of whiskey or scotch (or wine? or any other alcohol that guys will most likely…).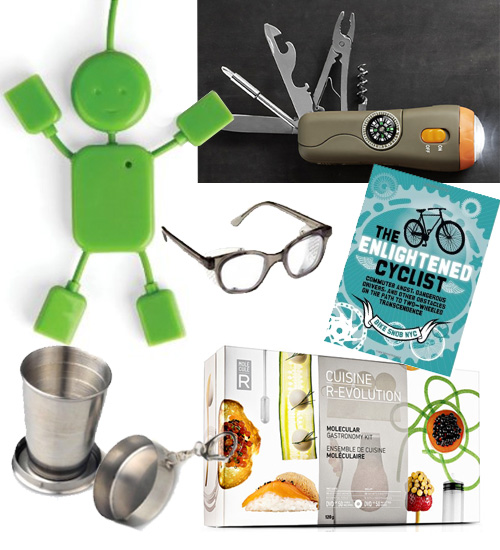 Scientists and foodies alike, this looks like an awesome kit! Molecular gastronomy at the home level – kind of reminds me of this place that I'm dying (though my wallet's not) to check out. They also make a version for cocktails! Speaking of yummy drinks and adventure, my camper-of-a-husband would think this little collapsible cup keychain is a great addition for his backpack – and if I stuffed a IOU One Camping Trip note inside, he'd be doubly happy. Ditto for the 10-in-1 Adventure Tool.
Don't let a mess of cables make you hang on for dear life, hubman to the rescue. And if your man is more of the hands-on type, retro safety glasses for the hipster carpenter (DIYer, mechanic, fix-everything-guy…).
Finally, bike enthusiasts unite under one clever book title. Here's a quick read full of quirky writing on the world of bicycle commuting. Another title that looks equally amusing for the biker: The Bike Snob.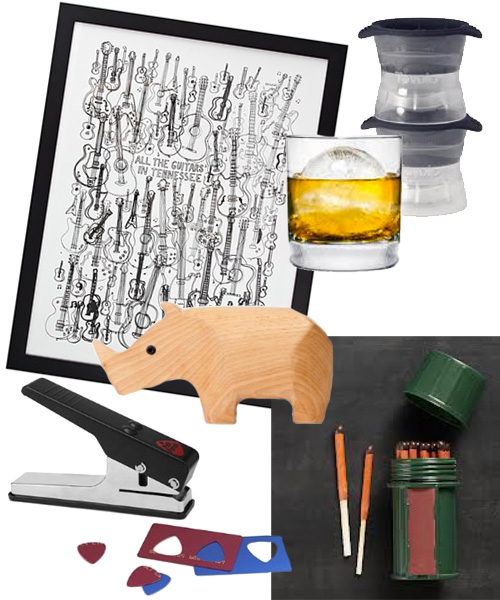 For all the musicians out there, here's a poster to rock his socks off: James Gulliver Hancock All the Guitars in Tennessee. And how cool is this? Transform just about anything into a custom guitar pick! Recycle gift cards, credit cards, old IDs, container lids…
When we were in Japan we came across the most perfectly round glass-sized ice cubes that we'd ever seen. I've finally found a product that promises a homemade version! I scooped up one for Kevin and one for my Dad.
Because we're talking about boys today, and because storm proof matches would make any guy impressed. And because, why not?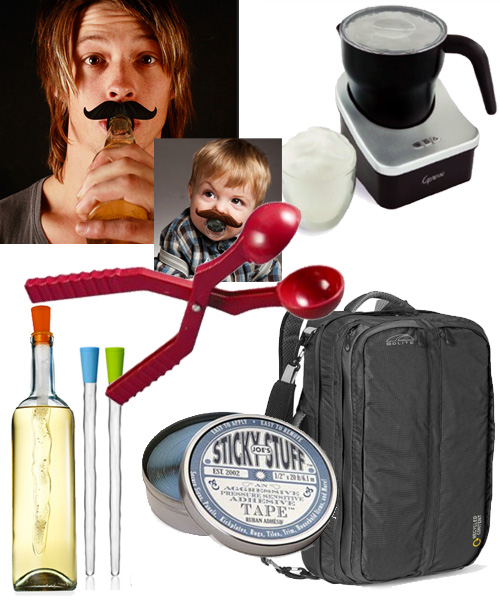 BeerMo's clip on to a beer (bonus: also a pacifier) to enliven any party. Looking to quickly chill that bottle of white? This is genius: a Corkcicle. If you're looking for a toastier drink instead, I have nothing but rave reviews for my favorite milk frother (cappuccinos, chai tea lattes, hot chocolate…) which I really should have included in the Ladies Gift Guide – I use it on an everyday basis! Man or woman can appreciate a good cup of coffee at this price (ps this little contraption doesn't steep espresso, but froths that perfect foam/hot milk to go with your morning cup of Joe.)
That red contraption above is touted as the perfect snow ball maker. Sold.
And just because I would really like to keep some of Joe's amazing sticky stuff around the house, I'm including a gift every guy should love. Speaking of gifts that I know are winners, here's the super lite pack that we took on our big adventure in September – I highly recommend for the avid traveller who doesn't want to pay for extra luggage weight (throw this guy on as a backpack or look a bit more sophisticated by carrying it messenger style or by the top handle).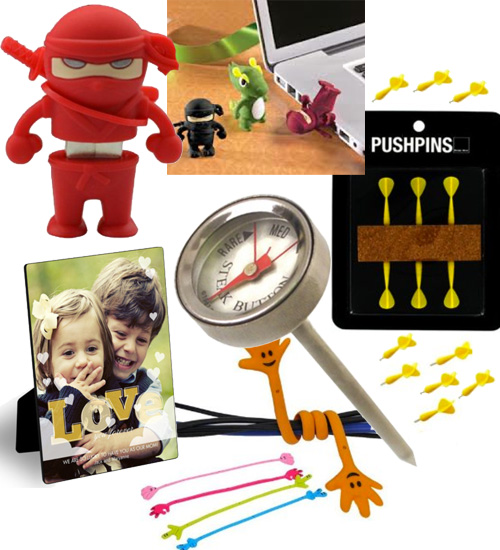 The above are full of ideas for little stocking stuffers, but here are a few add-ons that would be fun to find on the mantel on Christmas morning:
Data Warriors are the perfect stocking stuffers for anyone who has to tote around technology on the go. Bringing documents, pictures and projects to and from school, work and home is easy and cute (can I use that adjective to describe a guy's gift?) with these little men. Another thoughtful stocking stuffer for the techy! Keep cords wrangled with these practical (but in the coolest shapes) cable twisters.
Updated photos of Olivia and family are mandatory gifts for parents and grandparents alike. I LOVE that this artist easel is a holiday-card version.
Ever have one of those days where you're ready to aim a dart right at your most recent to-do list? Add a little whimsy to the corkboard in the office with these fun pushpins.
Rare, medium and welldone – the easiest way to check on your steaks (and make em perfect for each family member) and a great little stocking stuffer for less than $3.50 each.
*********************************************************************
Fun ideas for the boys! I hope this helps you crack the case for all of the important men in your lives – be they tech or sports or outdoor enthusiasts.
PS Be sure to check out last year's list, and here's a list to all gift guides posted on the blog (including last week's Ladies & Kid's Gift Guides).