Happy Friday! And soon to be weekend (so ready for the weekend). We are hosting a gender reveal party this Sunday for our little Baby Spenla (we went in for our 20 week ultrasound Tuesday and asked the technician to seal up the gender in an envelope) and we can't wait! By the way, did you catch that? Our 20 week appointment! I can't believe we're half way there!!
I am starting a new little 'thank you' series that highlights the very special people that keep this blog going. Blogging is a passion and sharing our creative living is something that I would continue to do if PDB had just one reader and we didn't make a penny from it. But it is these folks that I am especially grateful to for helping to keep the blog 'lights' on. I hope that you'll visit PDB's sponsors if you have the chance!
First up, I'd like to welcome three new sponsors to our family!

Welcome, Fabric Warehouse Direct! FWD is a discount online fabric boutique that offers first quality, brand-name upholstery, drapery and wallpaper that are closeouts so their prices are more than 50% off retail prices! You might recognize names like: Kravet, Brunschwg & Fils, Lee Jofa, Ralph Lauren, Gaston Y Daniela, Titley Marr, Osborne + Little etc. PS you can get in on bigger savings by becoming a FB fan of theirs.
I am so happy to welcome Minted to our team as well. Their beautifully designed invitations, art prints, business cards and party decor are so fun to browse through. I am loving this save-the-date which I might pair with this wedding invite and this Valentine's-inspired artwork. Mmmm.

I have a secret to share with you… post-freshman year of college I lost 25 pounds through diet and exercise (I was a super active teen, but that freshman 15 is for real) and I believe healthy living should be a part of everyone's life.
I happen to know Barb (our third newest sponsor this month) through a Women in Business group here in San Diego and she is spreading the good news about health as well. Barb is passionate about helping people enjoy better health, live in a healthy home and preserve a healthy world! She has lost 30 pounds (and counting) with Shaklee (you can read more about her story here). Shaklee is a company which produces products that are as natural as humanly possible.

If you guys have been following this blog for the last couple of years then you know that Lowe's has had our back through a bathroom renovation and side yard transformation. Thank you to our favorite home improvement store for helping to make these projects happen with select products and advice, and for supporting us along the way! PS Lately we've been participating in their $50 and Change program – see our first project here and the second is soon to come!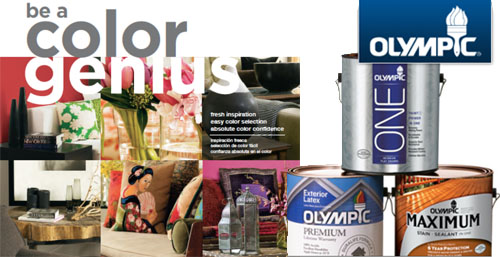 Olympic delivers high quality paint and excellent advice to DIYers all over. We are thrilled to join forces with Olympic and share their magic through painting projects over here on the blog as well! Check out this Ultimate Painting Cheat Sheet – one of my new favorite resources!

Tiny Prints has sponsored our blog (and our Christmas cards!) for almost three years now. They are awesome to work with and their selection is fantastic. A few of my favorites? This sweet confetti card, this birth announcement (we used the pink version for Liv 2 years ago) and this vintage-esq wedding invite. PS get 20% off Valentine's invites and cards with code: 20FEBVAL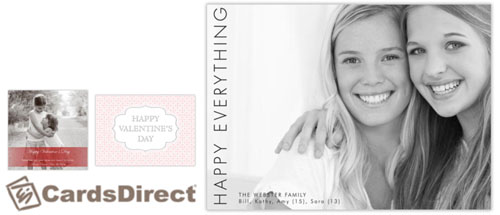 Cards Direct is another long time supporter of PDB and we are so happy to include them in this round up. They offer seasonal, business and pretty photo cards – this Valentine's Day card being one of my favorites that I featured above! I love the classic design. And I might gift this card, or frame it!
**********************************************************************
Thank you to all of the sponsors behind PDB. It's my goal to be as transparent as possible about the companies that partner with us to bring brand awareness to their products and I hope that these posts will help to do that. And of course my main goal is to honor sponsors for the support that they are!