***Update: I've just uploaded Anna Kate's style boards from yesterday into the Wardrobe Style Board Gallery – ohhhh computer issues – sorry for the delay! And I've labeled her previous maternity boards as 'Pregnancy Style Boards' so now they're easy to find for us moms-to-be***
Liv and I combined her birthday thank you notes with Valentine's Day cards this year and I think it might be our new norm. It's a good reason to spend some fun time crafting and creating (she loves when she can participate with stamping or punching holes) and we save stamps by sending out Valentine's Day cards plus thank you notes in one (though I'm probably wayyy past the 'thank you card' due date etiquette at a month late…). We sent out quite a few and even Olivia's sitter helped us cut out a ton of the cute monsters inside of the cards.
This idea has been done before (see here and here as two examples), but it was too cute to pass up!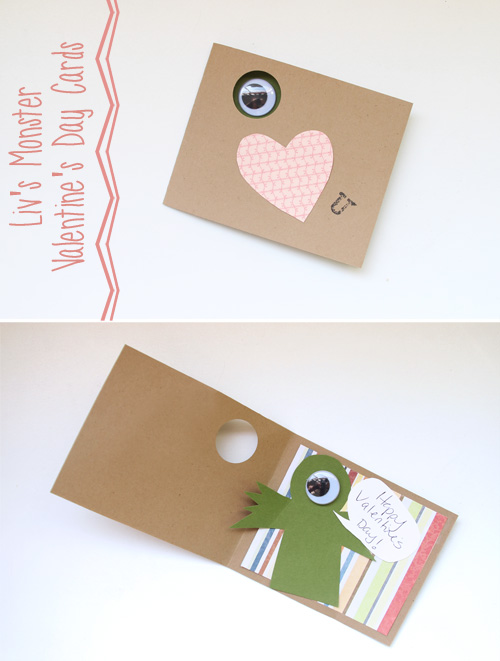 Perfect for our parents and grandparents as a way to say 'I Love U' and 'Thank You!' in one. We sent these all out with our Kisses Treat Bags – though being the procrastinators that we are they might arrive a day or two late.
The outside of the card consists of a cut out heart, a stamped 'U' and a simple punch (I have used this circular label punch for SO many projects, including these wine glass charms/labels that were featured on HWTM ages ago).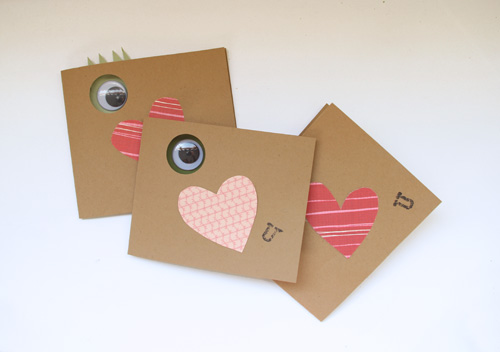 The inside includes our little monster! A green construction paper monster with a googly eye and brightly colored paper backing. Plus Liv's message to family and friends.
I asked Liv to add a little of her own crayon art and she was happy to oblige.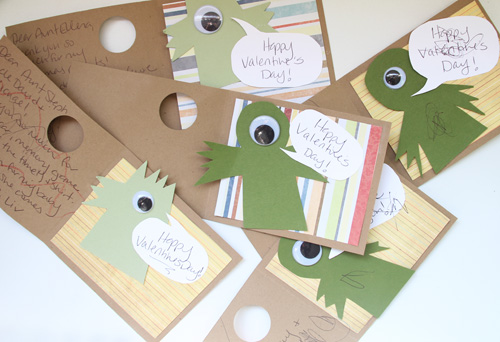 Happy Valentine's Day!