Update: our faux fireplace screen made it into This Old House! Check out the details here.
Six ish months ago we had to turn the gas off in our fireplace… which was such a downer as there's nothing more amazing than flipping that little gas switch and watching a beautiful, blazing fire set the mood for your living room. Perfect for chilly nights that call for family games on the living room rug or for a late night Netflix. But alas, this is an older home with old fireplace issues and we had to switch her off.
Hopefully one day she'll blaze again.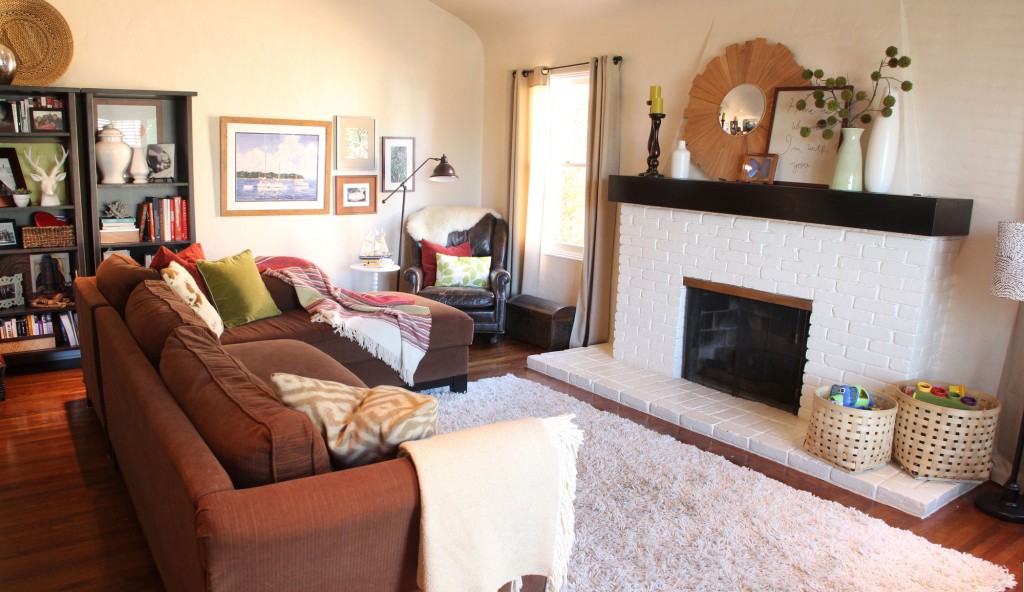 Until that day it's time to turn the eye-sore innards of this old fireplace (black bricks, metal curtain and goldish top plate and all) into a prettier focal point for the room. Enter Pinterest Challenge, Winter 2013.
I love these little challenges because they provide the motivation to cross a big project off of the massive to-do list, and usually I can justify choosing a project that I more love and want to complete, and less of one I must do because it's next on the priority list. Here are a few past projects that we've tackled around here, including painter's tape wallpaper, gold chevron napkins and an ombre stool for Liv (one of my favorites) among others.

With a little motivation, a week to track down materials and a great inspiration picture, I had an idea of where to start.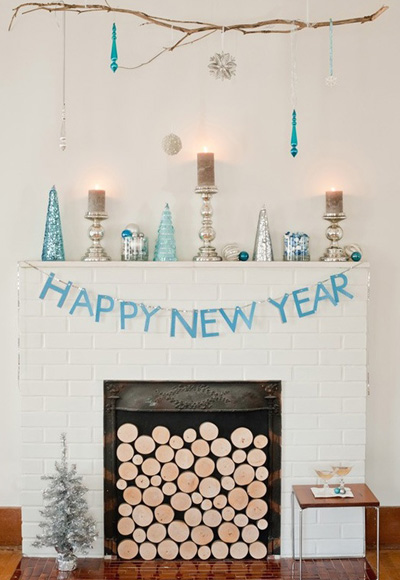 Oooo I love the above image! What a great way to utilize the empty space in a fireplace while still keeping a room cozy and comfortable (fireplaces and stacked wood have a way of doing that…).
Our finished project… drumroll…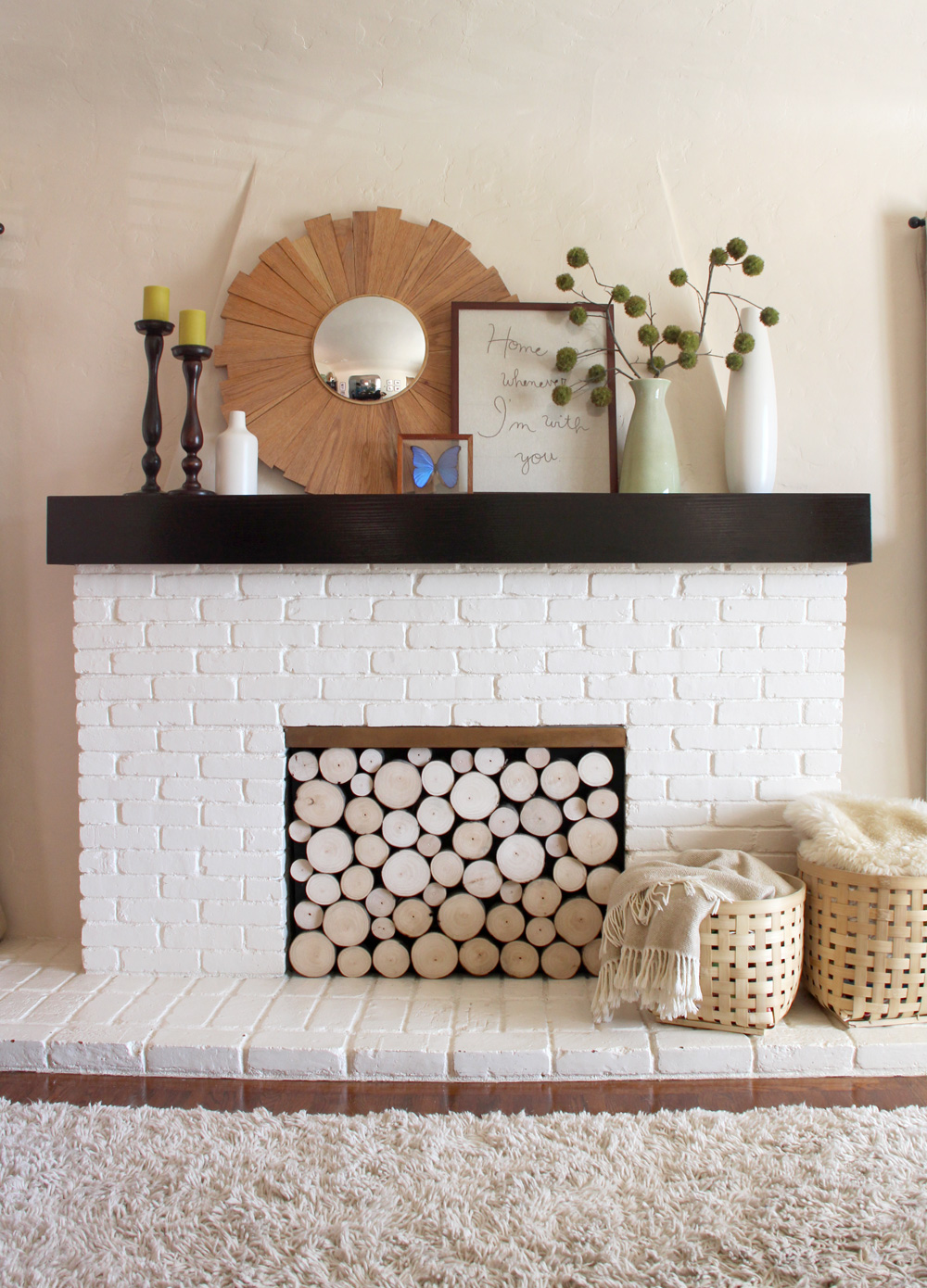 I would be very happy if you thought we went and stacked a bunch of logs in our fireplace and called it a project! But I promise it was much more than that. The goal here was to build a faux log stack facade that we could remove when we were ready to use the actual fireplace, and replace the next day once the fireplace was cool again.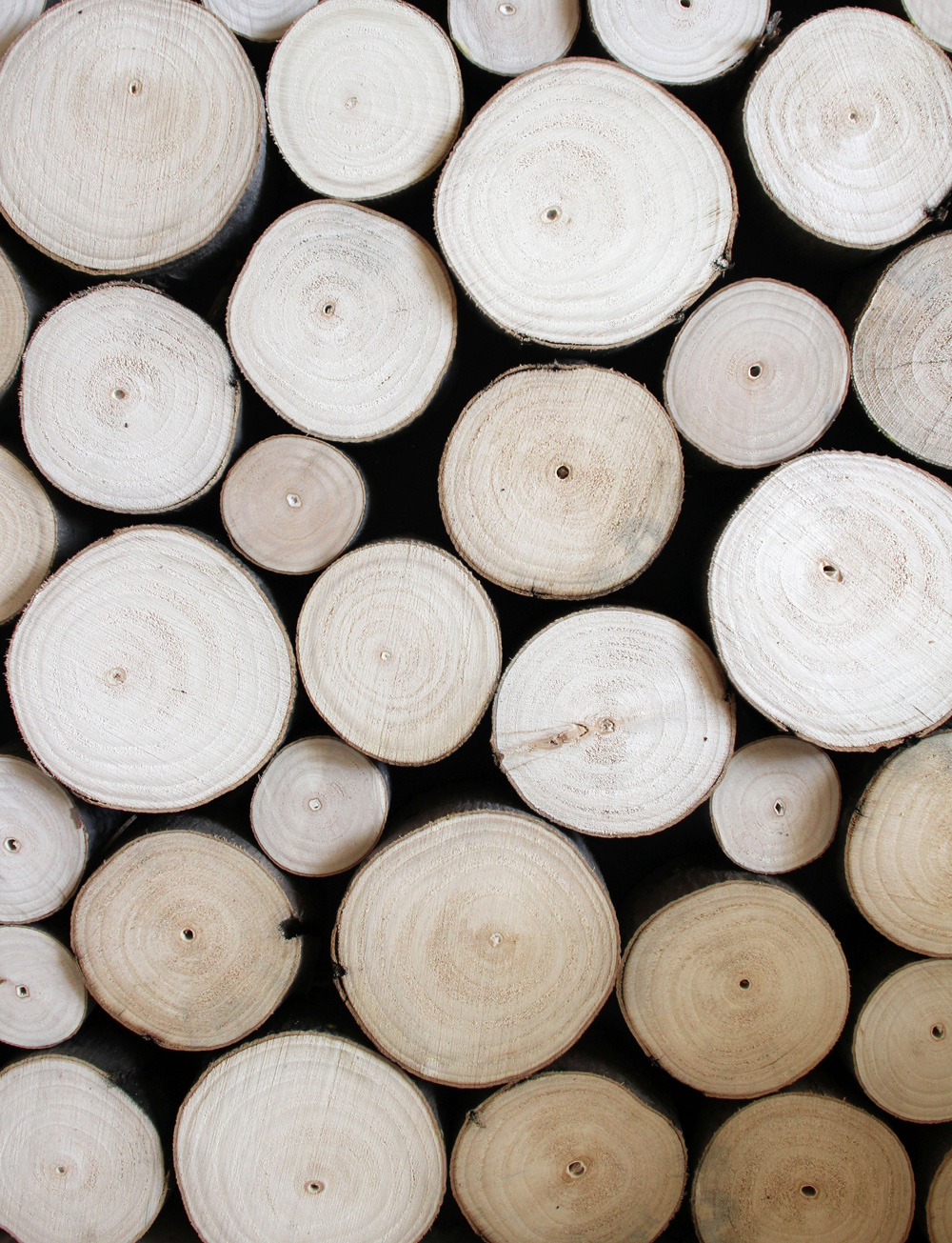 The hope was that the screen would give the depth and perception of a a bunch of stacked wood, but really it would be just a few inches thick and somewhat easy to pop in and out.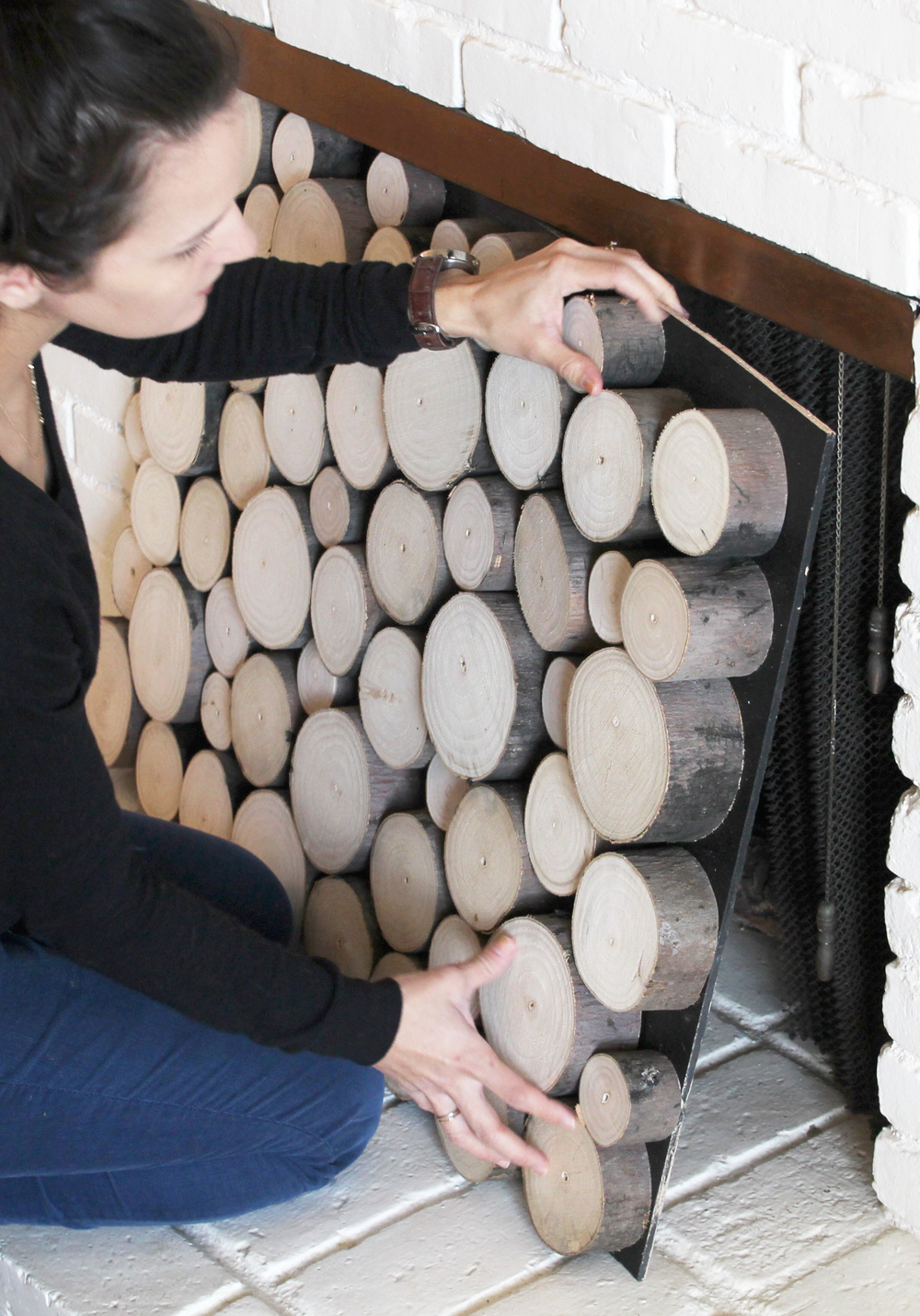 What do you think? Are we fooling anyone?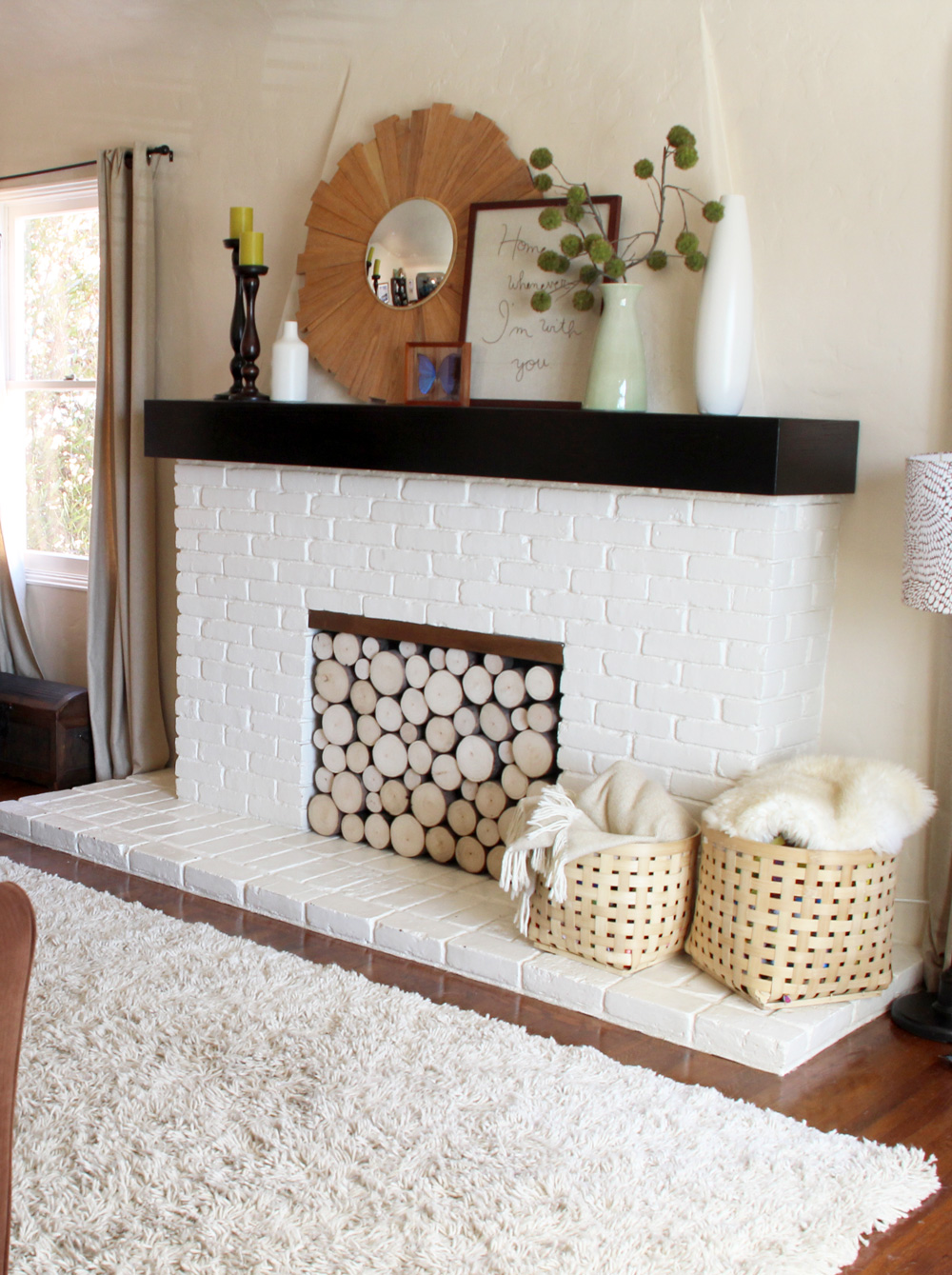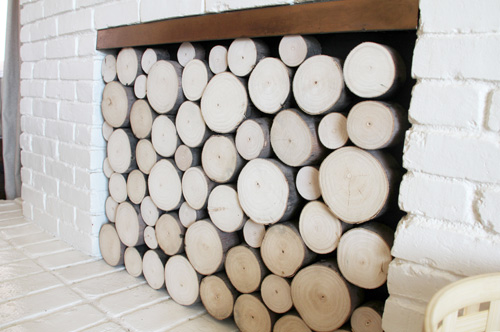 Now on to building the screen!
*******************************************************************************
Fireplace Faux Wood Stack Facade
m
Materials: ~50 variously sized log slices, plywood cut to the shape of your fireplace opening, black matte paint, wood glue (or nail gun) UPDATE: some readers have had success ordering logs from Amazon
I ran into the first big road block while tracking down the actual logs. You'd think that this would be fairly easy… but turns out smaller logs (unchopped) in lighter wood colors (such as birch rather than oak or redwood) are not always readily available in these desert parts of San Diego. Who would have guessed.
I really lucked out when a friend of ours suggested eucalyptus and then found a huge pile of firewood for the taking! And he generously handed over variously sized logs for me to include in the project (thanks, Dave). Other resources that might be useful? Craigslist and Etsy (turns out you can even purchase sliced logs for the right price).
Kevin chopped up my logs into 3″ slices and I began assembling my faux stacked wood.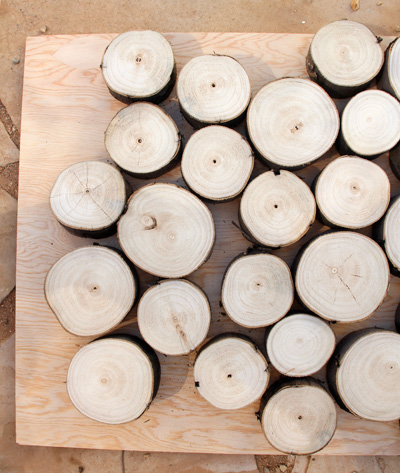 The backing for our fireplace screen is a piece of plywood measured, cut to size and painted black.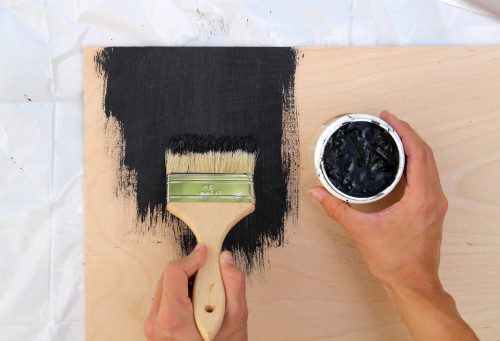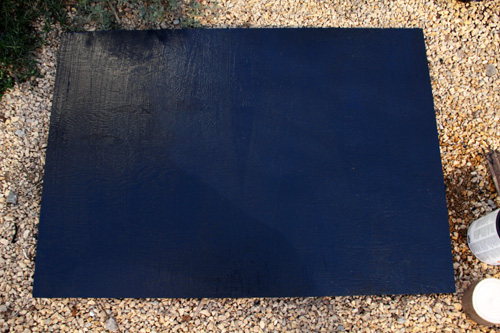 I considered spray painting it but we had only a satin finish in the paint closet, so I used up a bit of leftover chalkboard paint that we had on hand (from this and this project) to achieve a more matte finish (the above is still wet, but once this paint dried it was more than perfect).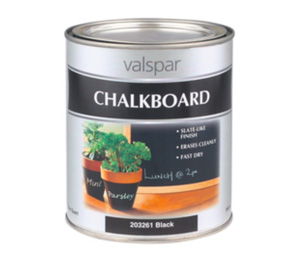 Our nail gun is out on loan at the moment or I would have simply lined up my log slices, laid the backing over the top and fired away to secure the slices to the backing and to keep the logs from moving, but instead I lathered each slice individually with a thin coat of wood glue and allowed the entire project to dry overnight (that stuff is tough). When we get the nail gun back I'll add extra reinforcements to ensure that none of these logs come sliding down, especially with toddlers at play.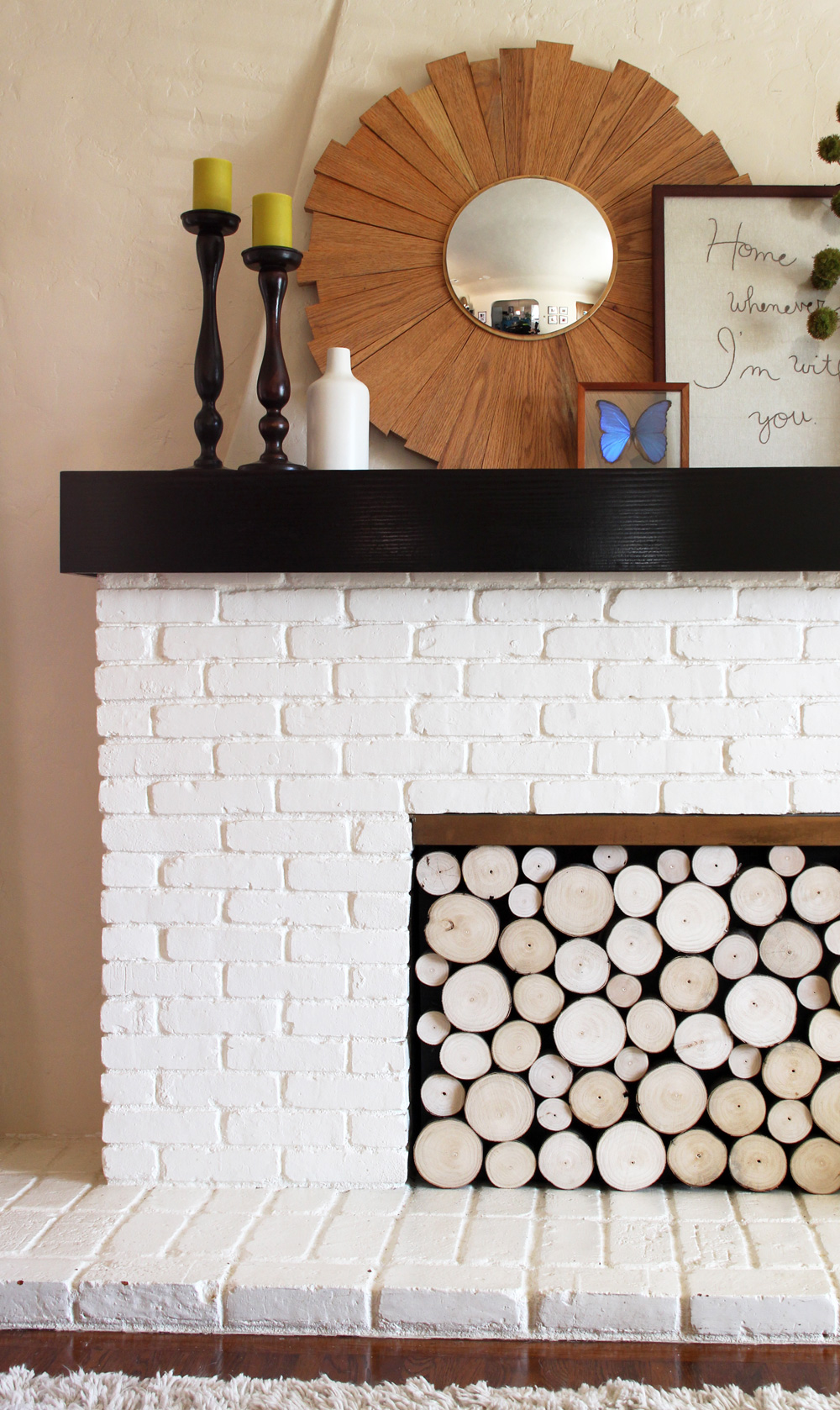 I opted for a 3″ depth on the log slices (rather than 1/2″ or something easier to manage/less heavy) so that they would add more depth to the fireplace and (hopefully) make the black backing a bit more invisible. In person it's obvious that this is a faux fix to our little fireplace conundrum, but it's a neat faux finish at that! 
Should I paint out that gold top plate a darker, oil rubbed bronze color?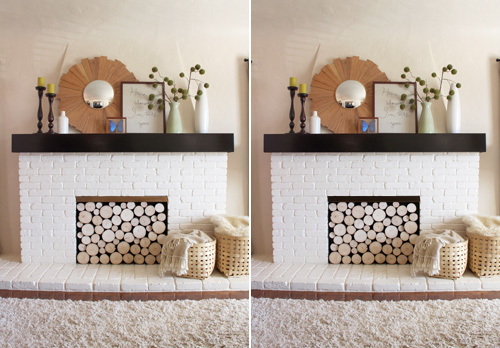 That might be step two to this project, looks kind of nice!
*******************************************************************************
I'm linking this project back to Katie's, Sherry's, Megan's and Michelle's Link Parties today!
PS all Pinterest Challenge projects are sorted here, and all living room projects can be found here.