Update: Congratulations to Liliana on winning the Lowe's $50 & Change giveaway! Please check your email :). Thank you to everyone who entered!
It's funny how sometimes time seems to fly by so very quickly. Or how some days it seems to stand absolutely still. I suppose it's all how you're feeling at that moment. There are days when I feel like this pregnancy is zooming past and I can't believe we are six months along, and then there are the 'other' days when I can't believe I have at least 100 days to go. But, as far as a belly bump update, it's safe to say I've officially popped and it's no big secret any longer. Especially to the grocery checkout girl (that's when you know…).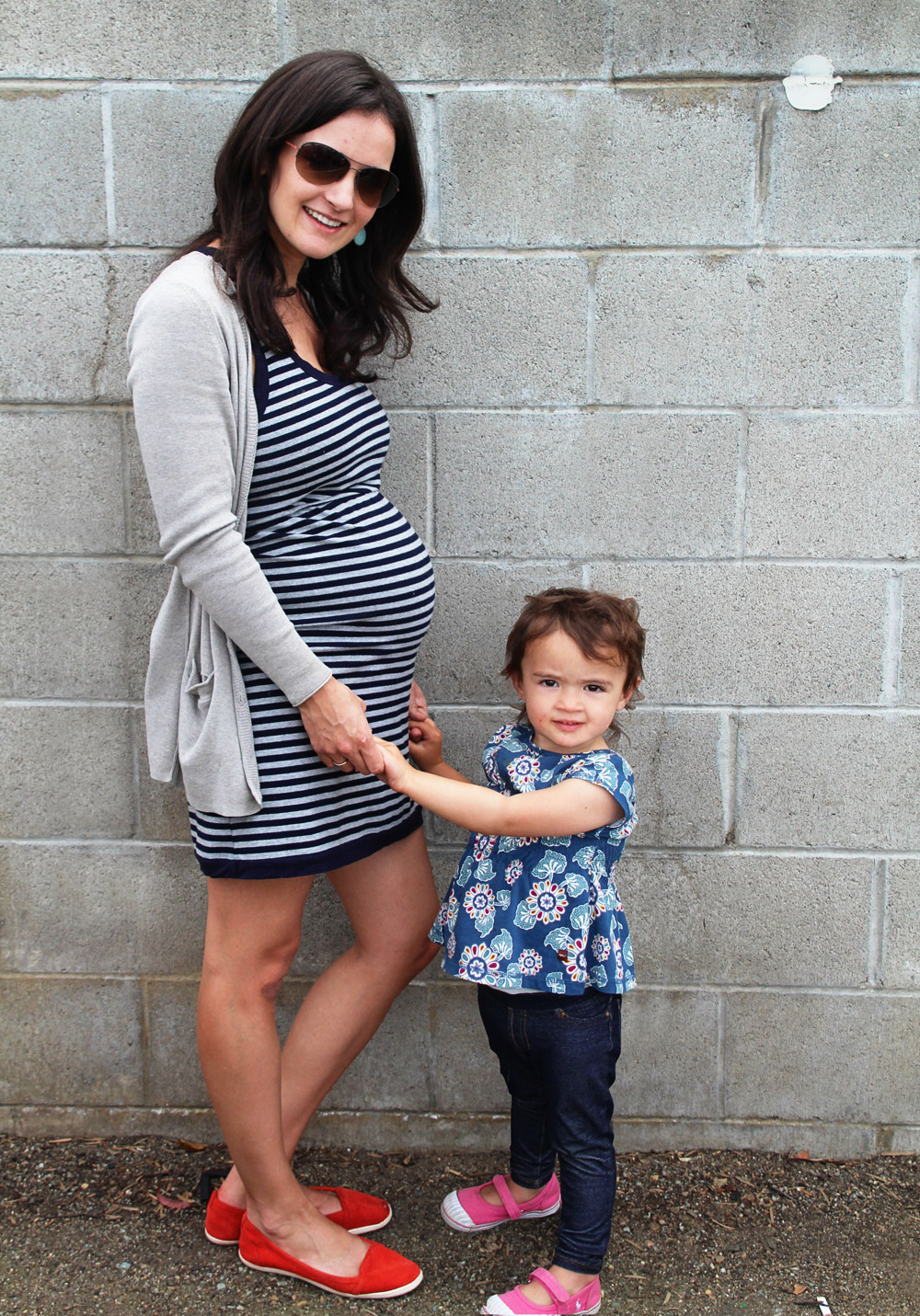 The 'pop' happened overnight. The belly went from the 'wow she's getting a little round in the middle' to 'oh, she's pregnant!' a few weeks ago. Maybe just before this big reveal. I figured I owe you a belly bump shot, but since I'm not so keen on photos these days I rarely slip in front of the camera (I'm also growing the typical tree trunk thighs to support said belly). But! With such a beautiful, sunny, happy weekend, Liv and I were feeling photo optimistic and we took a couple of profile shots just after the Farmer's Market on Sunday. (Poor second babe, I think I documented every month of Liv's pregnancy). Liv is still sure there's a little baby growing in her belly too…
Now on to today's home update!
We are very excited to once again be partnering with Lowes' $50 & Change campaign to share what recent $50 update we've made around the house. Funny how the everyday fix-it/Saturday morning projects tend to hover around that $50 mark, no? It could be installing crown molding or painting a room or planting a spring veggie garden… but $50 is that magic number!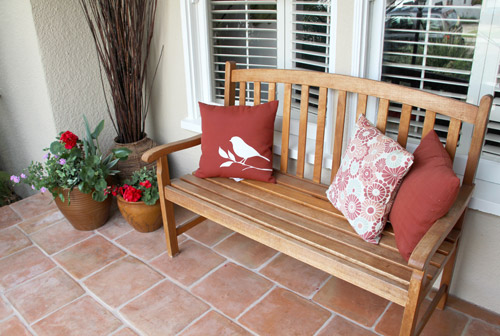 For $50, we gave our front porch a mini facelift.
It's been on my to-do for a while but now that the weather is turning in our favor and the sun is shining bright, it was time to add a little welcoming color to the porch of our Spanish casita.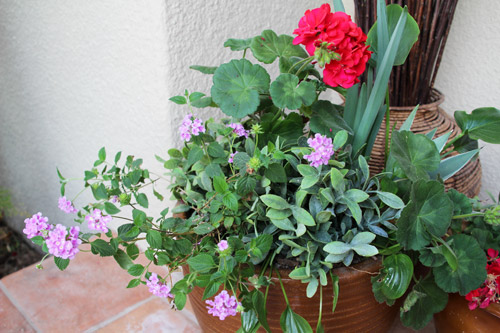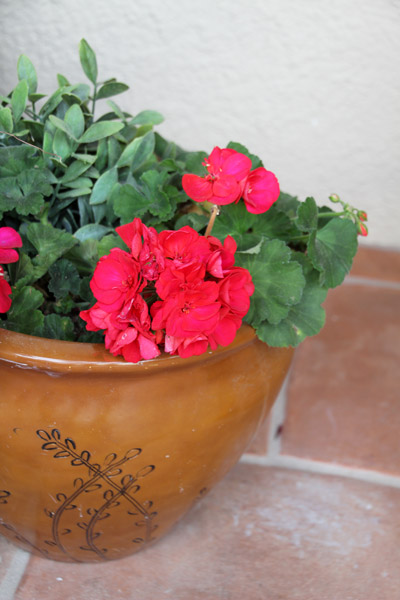 I used my $50 to invest in a new pot, 4 new 1/2 gallon plants (3 red geraniums and 1 purple verbena) and a pretty pillow to add to the mix!
The sticks and basket have been relocated from our dining room – they look much better out here now and bring great height – and the other two pillows across from the new bird pillow had already called our bench home.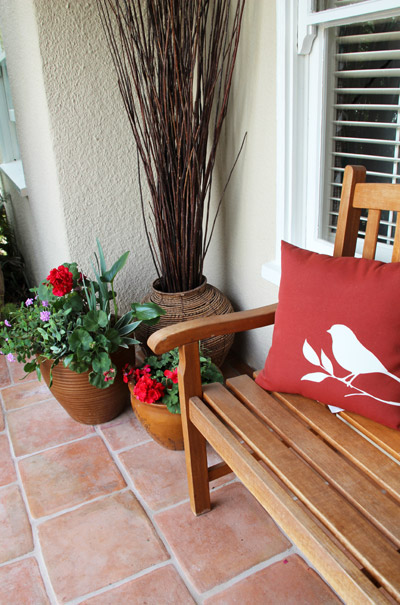 This part of the porch (and the lack of any direct sunlight) makes it really hard to grow anything. I've killed my fair share of beautiful potted flowers before and was near throwing in the towel, but I'm committed to give these no-sun-needed shade varieties an honest go.
To better my chances, I actually mixed in a few 'faux' Ikea plants as well. Can you tell?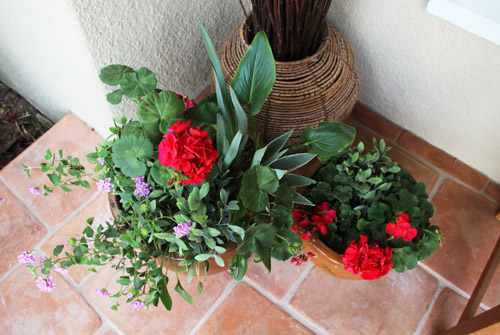 Those green foliage hedge-like guys are actually fake! but when mixed in with all of the flowers and real leaves, you couldn't tell even if you were just five inches away. Now even when all plants are not flowering the pots look full and green.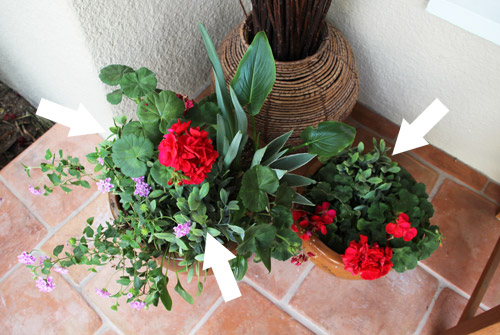 Here's a rough before. This is 'before' paint trim had been decided (hence the two tone windows) and back when the porch was feeling very lonely for color (and our yard for anything flowery, for that matter).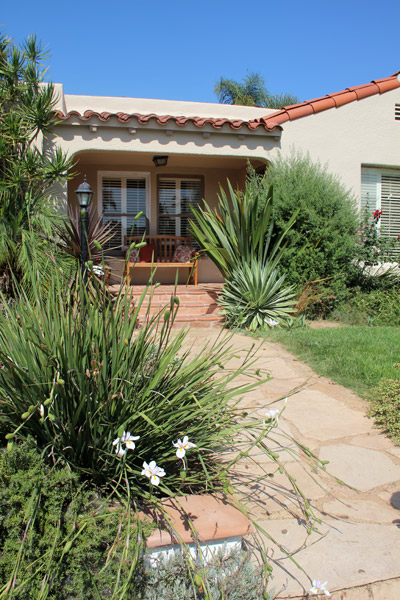 I love walking up to my front door now!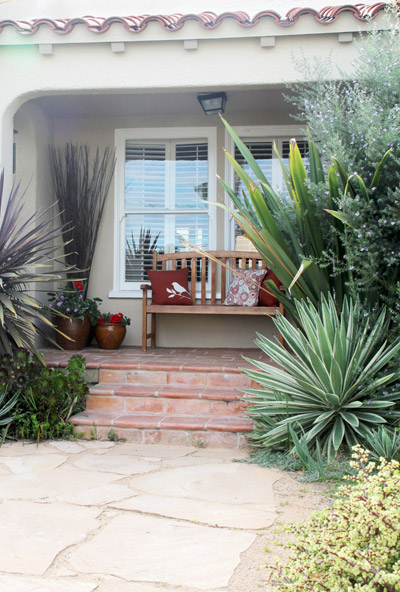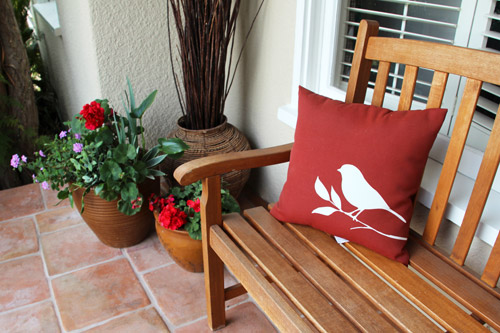 Lowe's is generously offering a $50 gift card to a reader who would like to take on the $50 & Change challenge as well! Your next Saturday morning project is on the house. More info on the $50 & Change program (with ideas and inspiration) here and here.
******************************************************************************************

Giveaway: A $50 gift card to Lowe's!
To Enter: Use the Rafflecopter giveaway entry form to enter once or multiple times.
Giveaway ends Thursday, March 7 at midnight PST, winner will be chosen randomly and announced on the blog. Good luck!
******************************************************************************************