I've been on a pink kick. You've seen my diyed pink heart art, glimpses of the pink throw pillows for the living room (with a new coral glass vase for good measure) and my favorite addition – a big piece of pink dining room art. Pink is infiltrating the house.
In my dining room art post I mentioned just how tough it is to find oversized art on a budget. It's really very tough! I continually find myself drawn to stunning pieces like this aboriginal painting over at Ish & Chi, an oil on canvas like this one by Jesse Mackay, and I hope that one day I can get my hands on an original Katherine Sable. One day I will choose art because it moves my heart and spirit and makes a room sing. But today price plays a big role.
As previously promised, today's post is a round-up of favorite large pink art pieces that will rock a wall without totally killing the wallet (some of these are even originals):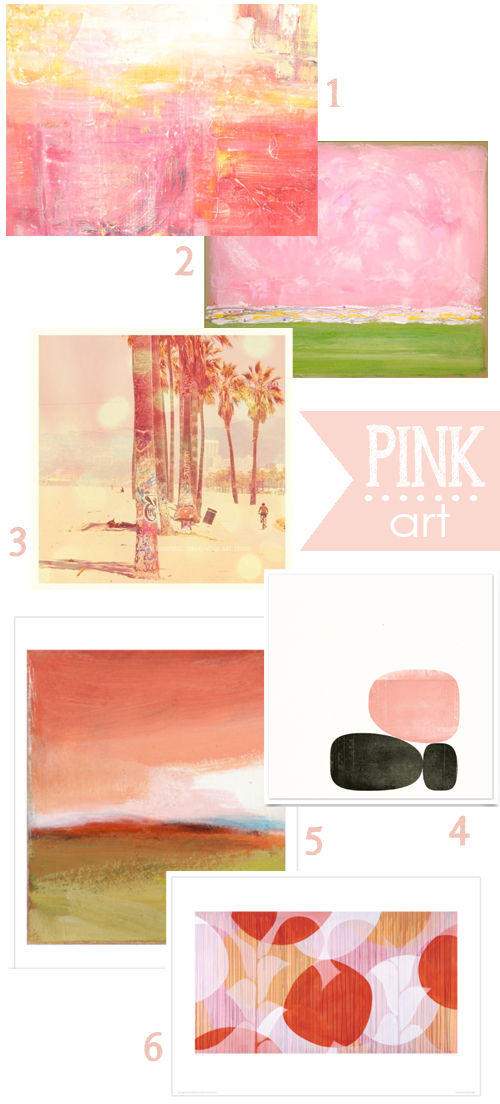 1. Bethany Oliver Oberly, $189 2. Ora Birenbaum, $345 3. Sixth and Main Photography, $90 4. Annie Clark 5. Unknown landscape from Art.com, $24.99-199.99 6. Sarah Leslie, $34.99-69.99
Until that day comes when price is not a major factor in choosing wall art, there are plenty of creative ways to fill a large space on a budget:
*there are the do-it-yourself abstract options that involve a few tubes of paint and an oversized craft store canvas (purchased with a 40% off coupon, of course)
*the semi-DIY options (I turned this piece of fabric into a big piece of stretched canvas art, and had this botanical chart printed on fabric and then hung it with dowels. Other creative ideas include transforming a map into art or stretching an old flag over a frame – I actually have one ready to go and waiting for its stretch at the moment)
*the framed fabric or wallpaper look for a blast of pattern
*the thrift store, eBay or garage sale finds (I have a few of those hanging around)
*the small town artist (love art shows or even Etsy for these finds)
*or the print route (settling for a print is no big deal! There are plenty of creative ways to frame a print to even make it look like a canvas)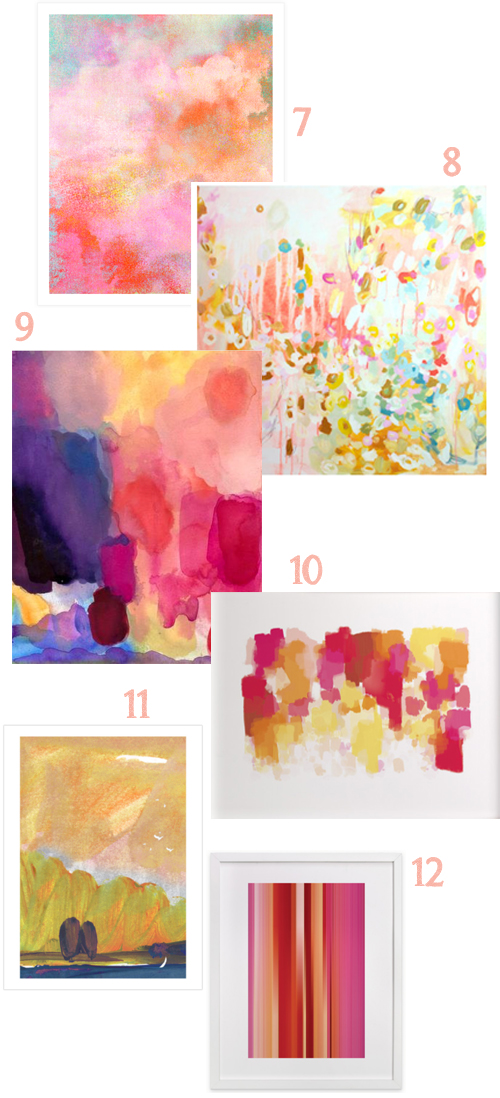 7. Tchmo, $17-57 8. Michelle Armas, $350 (my favorite) 9. So Very Happy, $45 10. Kelli Hall, $38-375 11. Unknown abstract landscape from Art.com, $24.99-199.99 12. Xilvar, $38-375
Some of these guys featured in the round-up are in the hundreds of dollars range, but many are in the double digits and with framing (see a great solution here if you don't find a store bought frame that fits) might even come in below $100. Which is a total steal.
Happy art hunting!
PS A big thank you to SheKnows.com for featuring our dining room bookshelves in their favorite storage finds!