The spring weather here in San Diego is playing games with us… one day it's hot and sunny without a cloud in that beautiful blue sky. The next is overcast and drizzly and I'm pulling my favorite boots back out of the closet. Today is one such day. I don't hate cold weather though and I'm okay with the sun hiding for a bit. Actually, with a big pregnant belly sometimes it's much more comfortable to curl up at my office desk in leggings and oversized sweaters rather than thin cotton dresses.
Anna Kate reports that it is indeed spring (even summer-ish!) in AZ these days though, the weather is climbing into the 90's and she's leaning towards soft sweatshirt dresses to stay comfy (sounds like the best of both worlds to me), and I love the accessories that she's pairing them with.
First, I'll share a style board that combines a few of my favorite spring staples with a happy coral, mint and mustard color combination: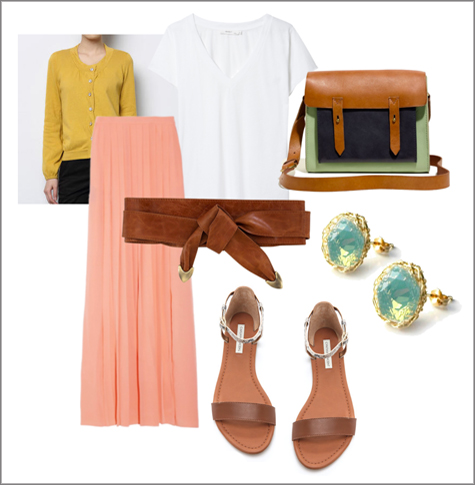 I haven't worn a belt in a while (except for here, it's a rare occasion these days) but I invested in a few wrap belts a long while back and am excited to see that they're picking up popularity. They're so easy to throw over a cardigan and jeans, a long maxi dress or as a break between a tucked in shirt and skirt. The lack of a buckle feels a bit more casual and comfy to me. The above is my take on what I'd be hankering for just about now (weather and all) if I could pull one of my favorite wrap belts out of the closet for a day and find my waist again.
I love the idea of pairing inexpensive basics with slightly more stylish favorites, and mixing in a classic white v-neck tee is a great way to do this. I'd throw a mustard cardigan over the top on a chilly day, and pair with mint green as a nod to spring (for when she decides to shine again!).
****************************************************************************
Handing the reigns over to AK now as she describes a favorite spring staple!
I've been eying this super soft sweatshirt dress for quite some time now. It's the sort of dress you can wear every day, for any occasion. I would wear it to work or to lunch with friends with flats and a jacket, or slightly dressed up for a night out. The fabric and fit are pretty casual, so I wanted to girl it up a little bit with pink wedges (aren't they amazing?!) and a sparkly earring. So cute! – AK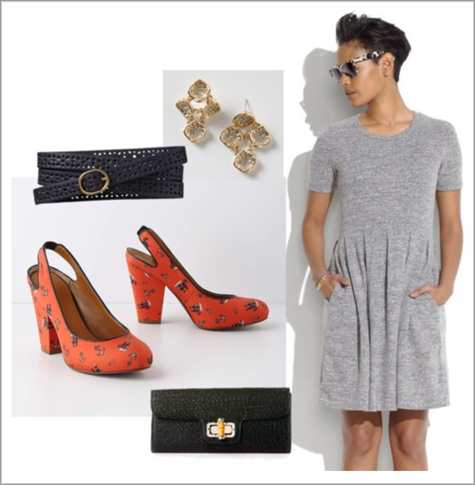 ****************************************************************************
All of the sources, links and pricing for every style board ever posted on the blog is available right here in this nifty gallery (just click on one of the images to pull up the links).
PS You can find Anna Kate anytime over here at Home Away from Home. I especially love her recent blog redesign, and her incredibly honest post on Motherhood. Anna Kate is such a beautiful, busy, awesome mom and I feel so blessed to have her as a guest blogger over here!
PPS Just spotted these beautiful botanical charts deeply discounted here today! About three times as much as the DIY version will run you, but they are stunning and in ready-to-hang form, dowels and all.