Congrats to Nichole K. on winning the SANUS TV mount! Big thank you to everyone who entered, winner was chosen using random.org.
We are talking about getting a new TV for our living room and I can't help but think that a mounted version (with no wires and no boxes visible) will be the only way to go. Right now we have a mess of wires attached to various boxes (DVD and Apple TV, mainly) and maybe four remotes. Drives me crazy.
Mounted TV inspiration…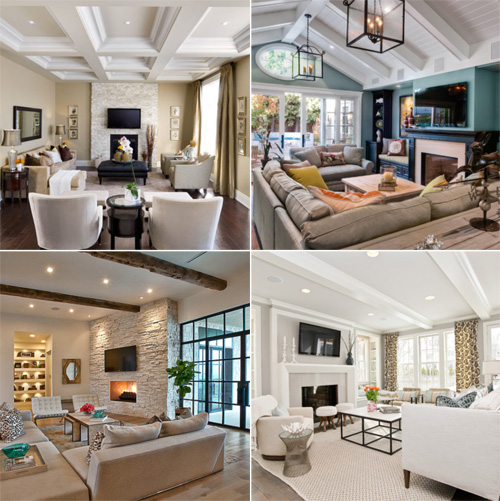 There is a more important reason for upgrading to mounted though. SANUS is teaming up with Safe Kids Worldwide to share an important message about the dangers of unsecured TVs with households all over the world. Our new modern flat screens are tall and thin and heavy – perfect targets for easy tipping with a little persuasion from a toddler or child. Did you know for example that every 45 minutes a child visits an emergency room due to an unstable TV? And that a child is killed every three weeks from tipping? When SANUS reached out to me about providing a TV mount as a giveaway to readers while also spreading news about their safety campaign, I was happy to participate.
Here are a couple of wows for you:
Between 2000 and 2011, 215 fatalities have resulted from TV tip-over
A child is killed every three weeks from an unsecured TV
Every 45 minutes a child visits an emergency room due to a TV tip-over related injury
An estimated 17,000 people each year, the majority of which are children, are treated for injuries from TV tip-overs
Reported cases have increased almost 25% from 2006  to 2010, and over the last 10 years, injuries have increased by 31%
Yes, I think our next TV will most definitely be mounted.

Safe Kids Worldwide

The primary purpose of this post to share knowledge on TV tipping to reduce injuries and fatalities, but as an added bonus SANUS is giving away one mounting kit to a reader! The SANUS kit includes an easy-to-mount system (in a TV size of your choice), steps for basic installation (with no extra tools necessary) and customer support to get it done correctly. Here's a little safety video for more info.
******************************************************************************************

Giveaway: A flat panel, full-motion SANUS TV Vuepoint Mount F180, $100 value! SANUS will send the reader any size mount that they request.
To Enter: Add your entry to the Rafflecopter box below (don't worry, it only asks your email to verify you, you're not opting in or subscribing to anything).

Giveaway ends Friday, June 28 at midnight PST, winner will be chosen randomly and announced on the blog. Good luck!
*****************************************************************************************