Sometimes I find something so sweet or inspiring that I love to share it here. It's been a few months since I've posted a round-up of favorite finds (here's March, February and January, for example), but this July there has been plenty of glittery gold, tribal blue and moose-brown leather that has made me smile (and second guess budgeting). Here's a list of favorites at the moment: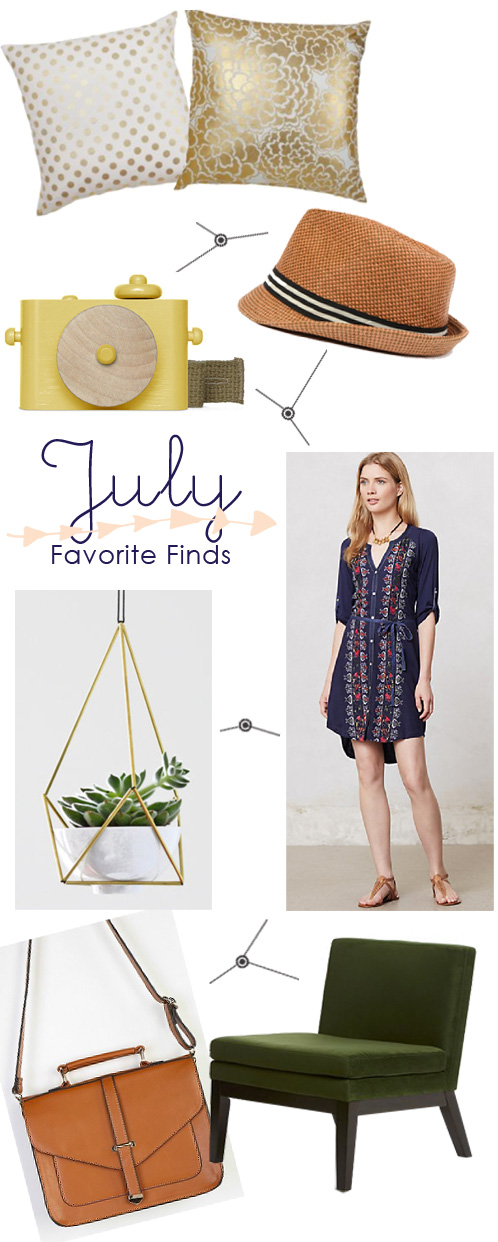 Caitlin Wilson has a line of gold pillows (the sparkly, shiny sort of gold) that make me want to redecorate the couch (again). How pretty! I left my beloved fedora hat in the rental car when we were in Spain in September, now that summer is here I'm itching for a new one. Liv loves to carry around my camera (she's not supposed to but she manages to find it…) and I've been thinking that a cute wooden Etsy one that is hers might be the solution here.
How pretty is this Anthro dress? And I might be hanging this brass geometric planter in the new nursery (the shape is so structural and awesome). I'm on the hunt for an attractive cross-body leather bag that has form and structure (to easily find a spare diaper or sunglasses) and this one is pretty reasonably priced (but I might need something slightly bigger now that I think about the contents of my diaper bag…). Oh man I'd love this slipper chair for the living room! Just found out West Elm sold out of the 'moss' velvet color but that 'lagoon' is awfully pretty, too. Maybe a Craigslist DIY if I can find a similar form?
Happy Thursday! Once I work through my pile of to-do's, the girls and I are off to the zoo to enjoy this cooler July afternoon.
PS You can find all of the inspiration boards posted on the blog here.
PPS TOMS are on Zulily today, just ordered Liv two pair in her next two sizes up and am thinking about these for me.