I think that all of the design world might be in love with fiddle leaf figs. I'll admit that when I watched Design Star Season 5 (the one and only season I've had the chance to tune into) and saw Emily Henderson's white box challenge (I think that that's what this episode was?) I was immediately in love with that magical tree. And I didn't know it was a worldwide fad, or at least that is was about to be shortly.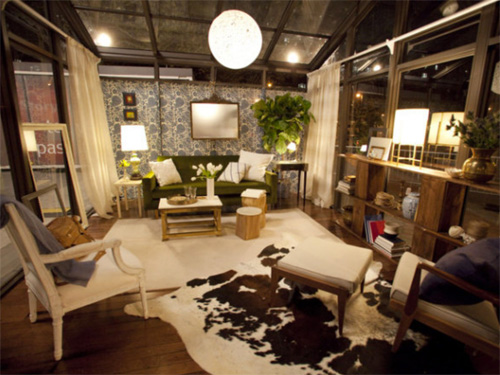 It's that one there in the back corner. So structural, so green, so pretty.
I first began my search for 'what is that tree?' by googling the heck out of the above photo. Surely it would be mentioned somewhere by someone? That's when I found Emily Henderson's blog and became a regular follower. And learned that that beloved little indoor plant was a fiddle leaf fig!
I've extolled my love of the tree back when I bought one for the dining room: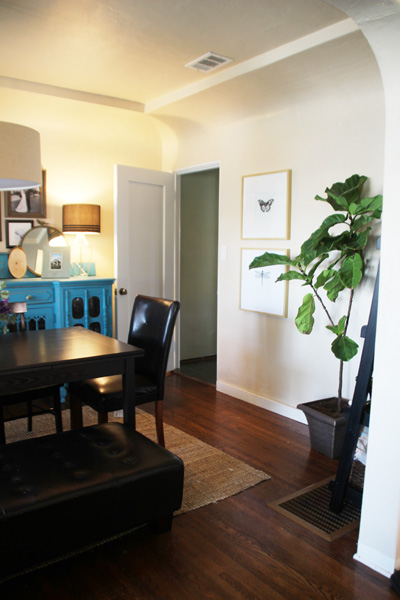 But she was in poor shape, so much so that the nice guys at Lowe's gave me 50% off of her purchase bringing my walkaway price down from $50 to $25. I tried and tried and tried but could not revive her back to life, even after I hauled that big old pot all over the dining room to various areas for various amounts of light. Eventually though that last leaf fell off and we lost her.
I have been leaning more towards smaller indoor greenery these days…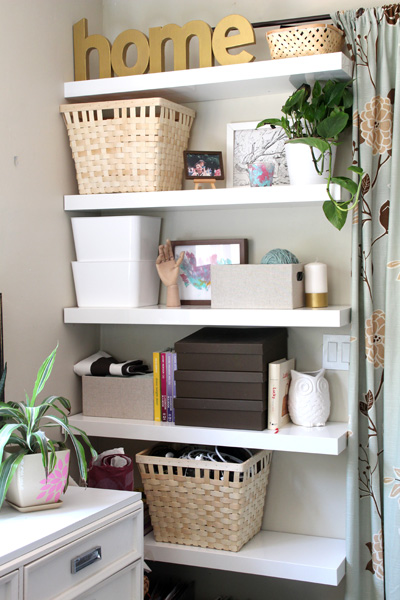 But these images keep drawing me back!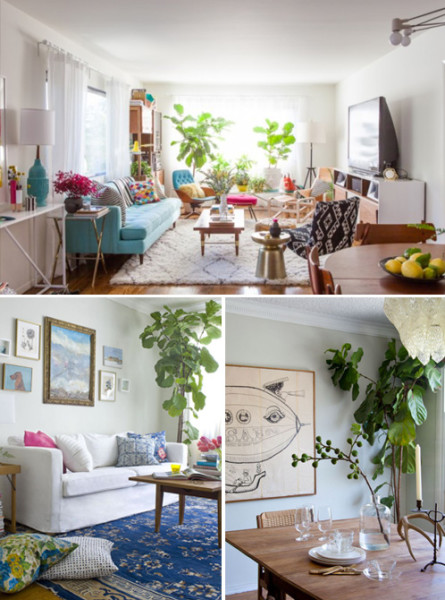 And so now to the purpose of this post… it's a bit more of a public announcement than anything else because I just discovered that Home Depot is selling fiddle leaf figs (and Giant ones at that!) for $24.98. What!? I know. For you San Diegans I found mine at the HD on Fairmount in Mission Valley. Just save me one more, okay?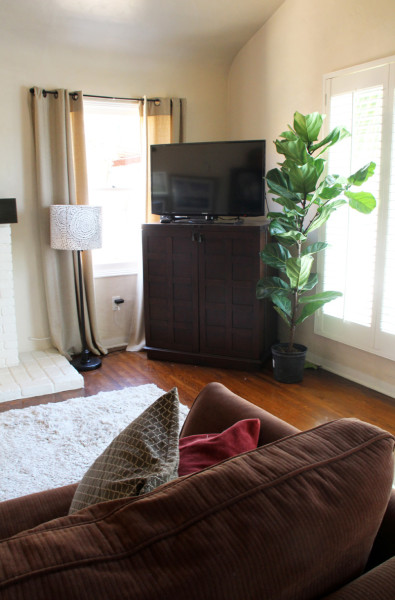 At most nurseries these are $200+ trees. I've checked. $25 is such a reasonable price that I'm willing to give my green thumb a go again. This time this guy is being placed next to plenty of light though and I'll find a great pot with extra drainage (my rocks at the bottom of the pot for the previous tree didn't work out so well). Still on the hunt for said pot but I'm thinking something white and bright!
Here's the other side of the room: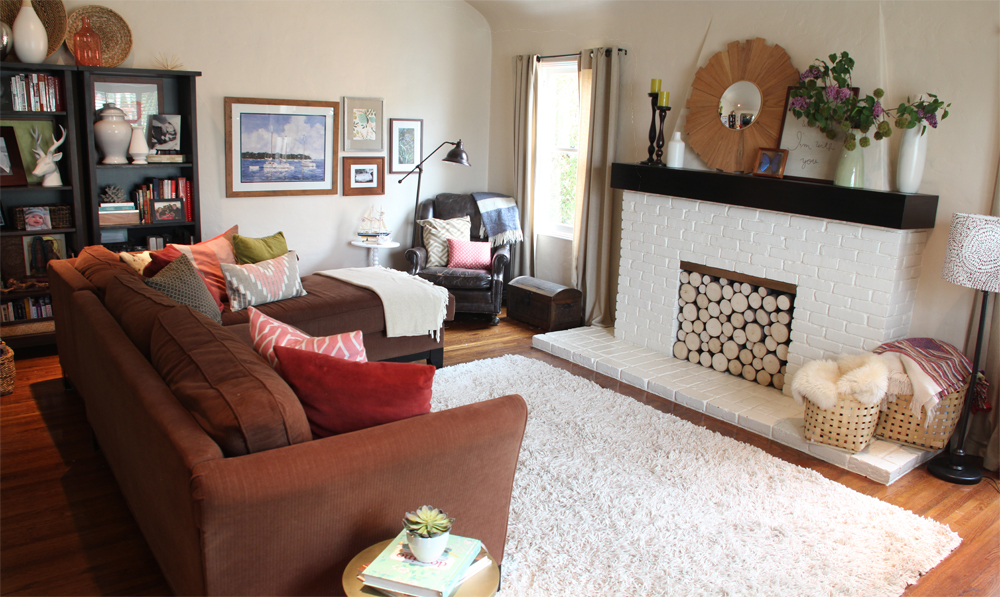 And the two other bits of greenery that help to bring nature into this space (though they're both faux – the cactus is from Ikea and the mantel billy balls from Crate & Barrel. Though I do love to throw a couple of actual clippings in there every once in a while too). Green is good.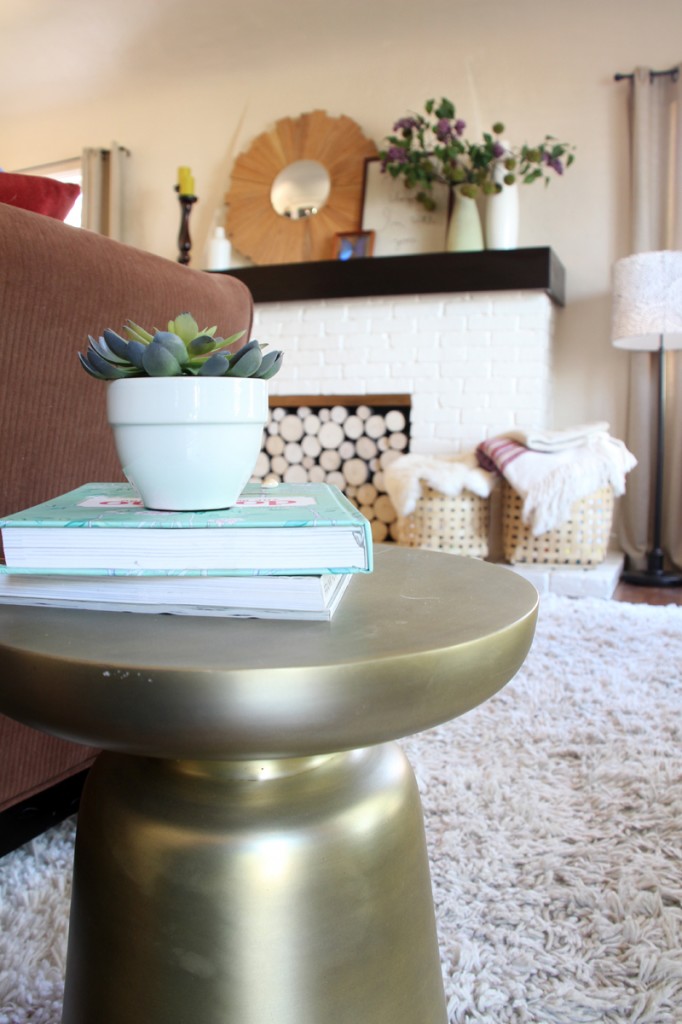 I'm hoping that over time I can prune my fiddle leaf so that he looks more like one of these guys:

It is my mission to keep it alive. Mission commenced.
PS More living room makeover posts here.