Congratulations to Jen V. for winning last week's Shabby Apple giveaway! An email is on its way to you :). 
I'm about 20 zumba classes away from fitting back into my pre pregnancy jean shorts. With them buttoned, that is (which as of now they are not). On a side note, how fun is zumba?! I hadn't realized what an incredible workout + serious glute burn + exhilarating class it was until I joined a local zumba studio for the month of August (determined to fit back into those jean shorts, with the buttons buttoned). It's been a blast!
Jean shorts are my very favorite summer staple. Just like the longer version, jean shorts go with everything, feel effortless and are incredibly comfortable. Two of my favorite ways to wear them are with a larger, oversized top (like a button up or blouse) or with a tank/long sleeve tucked in. Here are two style boards focusing on a more neutral summer palette with two different and favorite jean short styles: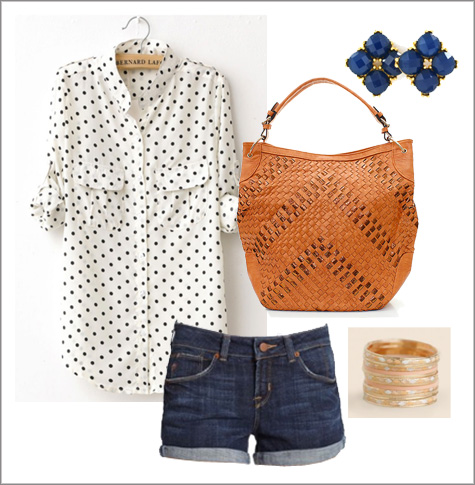 The first pairs a polka dot rolled sleeve button up (really super for hiding that shrinking post pregnancy bump I'm concealing) with classic cuffed jean shorts. Those navy studs are some of my favorite earrings as well.
The second matches a navy blouse with high waisted jean shorts. The leather sandals and bohemian fringe clutch keep this outfit playful and modern. One of my favorite items is that super cozy chunky cardigan, it's nice to keep those in the trunk of the car for night time or when it gets a little chilly outside.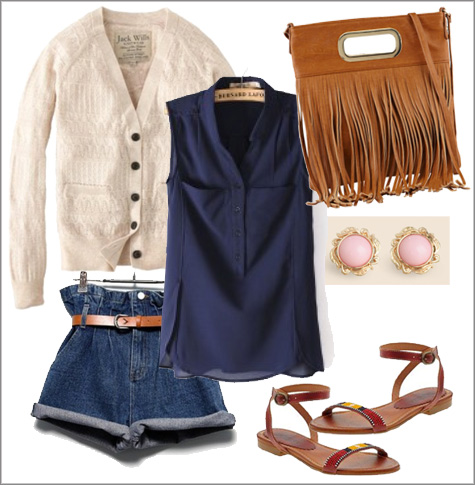 Enjoy this beautiful summer weather! I can't believe we have already reached the month of August…
PS As always, sourcing and pricing for the above can be found over in the Style Board Gallery.