I haven't had a chance to put a style board together for a while. It's actually been a pretty long while, now that I think about it, and so I initially planned on sharing a few of my favorite fall finds for the whole fam today. But then my collage for Liv kept growing and growing and growing! And now I have a massive virtual closet on my computer that's ready to be shared.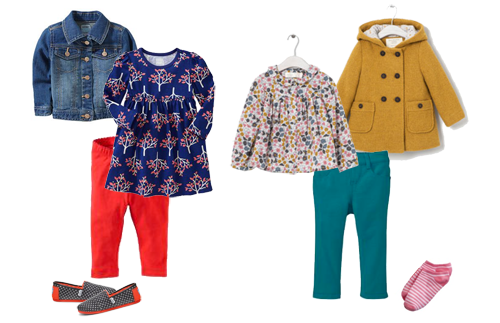 floral shirt | teal jeans | mustard pea coat | striped socks
jean jacket | fall dress | cropped red leggings | toms
Kids are so much fun to dress. We let our inhibitions down when we dress our kids. We mix patterns and colors and encourage adventure. I sometimes think we even let our I-would-secretly-wear-this-if-I-were-bold-enough side out in what we buy in size 2. Size 2 toddler, that is.
I was having some fun hopping around different sale sites and I found a few fun outfits that I thought Liv would enjoy this fall. Some of these items I splurged on at the start of the season (and love them so) and some are on that magical wish list (Christmas here we come!).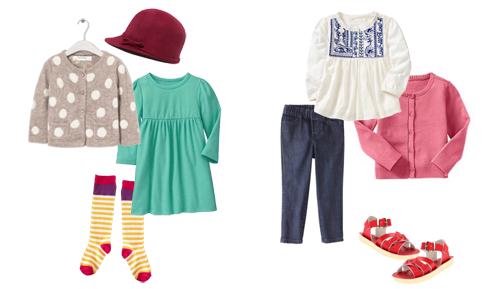 amazingly adorable hat | mint dress | polka dot sweater | knee high socks
pink cardigan | salt water sandals | skinny jeans | embroidered tunic
Truth be told, I find most of the girls' clothes (and most of my favorites) at a local kid's consignment store just down the street, and eBay is another great resource for snagging adorable Tea Collection or Mini Boden on sale or off season. I also try to purchase items that will grow – most of Liv's shirts and tunics these days are actually favorite dresses from when she was 18-24 months, we just pair them with leggings now.
When I find something made with great quality I buy it again and again, Salt Water sandals will always be my go-to and my splurge! When I find something great on sale I tend to buy it in multiple sizes and colors, that includes these classic jersey dresses (with tights and leggings for winter, just sandals for summer), or the same 5 H&M cardigans in different colors that Liv has worn all year (similar) and magical stretchy jeans for $5 at Target (bought them in four sizes, too! alas, they are no longer around but these are similar and look comfy). I'm not a huge fan of pants with zippers and buttons (both of my babies have serious bubba bellies) and stock up on these go-with-everything leggings when they're on sale for $10 a few times a year (they rotate out the colors based on the seasons and we have a serious collection now).
I don't get much time these days to physically shop in stores and that's a very good thing (have you seen the Zara for Kids collection?). It's so dangerous having three ladies in the house now ;).
PS you can find a line up of style board ideas right over here.