Building our first family home over the last five years has been quite a journey. There is much that I can tick off the ole thought-I'd-never-have-to-make-that-decision checklist during this remodel, but if I reflect back on it all there is one consistent, happy theme that continues to reverberate throughout the direction of this house. If I could sum it up in one word it would be: Cozy.
Funny all-encompassing word, I suppose.
It's hard to explain, but I think that we all have expectations out of a personal space. For me, that means that my favorite spaces are ones that feel like a warm, embracing hug. Soft, comfortable, relaxing, familiar, special.
I sometimes wonder why I spend so much time deliberating and gawing over simple design decisions when I feel like I already have so much on my plate, and (besides being a hobby that's just buried in my bones, a hobby that I really enjoy) I think that it ultimately comes down to an innate desire to build a space that gives my family that warm and fuzzy feeling – that 'coziness'. I don't know if a space can do that all on its own, but I hope that a space that people enjoy spending time in will at least encourage that feeling.
Cozy means that a home is comfortable. Besides feeling like a warm embrace, it should also reflect who you are inside and out. For some reason when I think of that I think gallery wall. I suppose the connection there is that these recognizable signs of our favorite art, familial faces, faraway places – this is part of what makes us happy.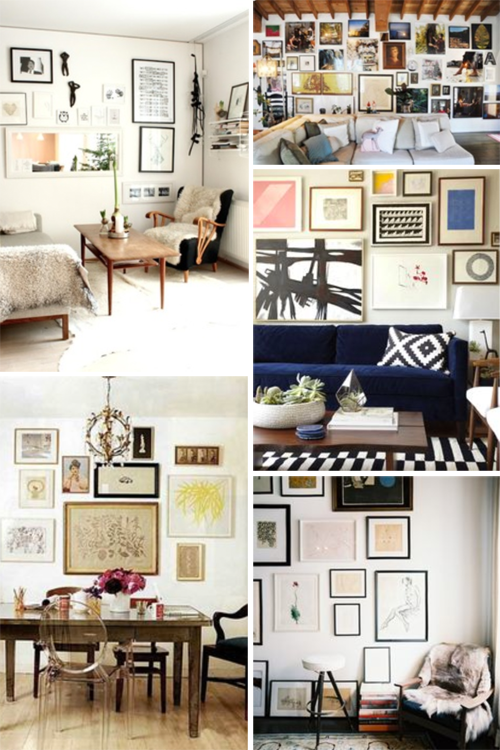 I'm a fan of the gallery wall. We have one in our living room, our dining room and I'm building one for the girls' room.
Art, knick knacks, even favorite 'trendy' pieces that speak to you – you can't have too many smiles! – this is what gallery walls are all about. I don't think they'll ever go out of style.
So when I was deliberating on how to make our master bedroom a more comfortable, cozier space that I would enjoy spending more time in (mostly because it's last on our list for any major remodeling and therefore the place I often feel most depressed about these days), I decided to add a gallery wall. I mentioned its progress here, but like anything that takes a lot of love, progress is slow.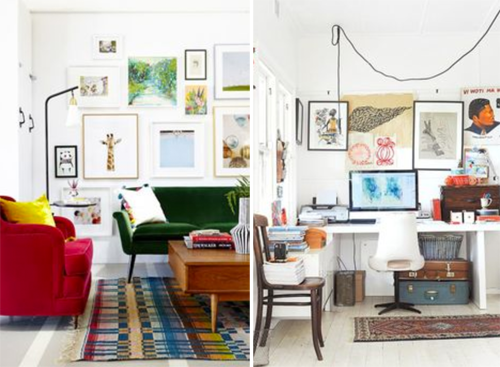 And so today, the inspiration! Because it never hurts to have a guide on how to hang that collection of favorite stuff :).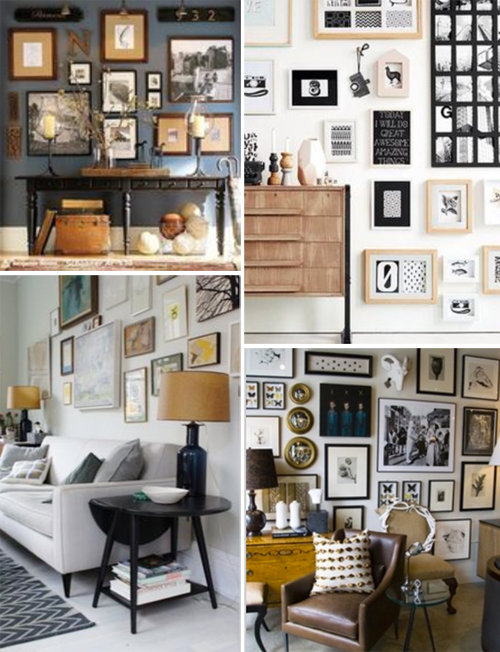 If you love any of these photos as much as I do, please check out my gallery wall Pinterest board so that you can pin straight from the source.
Besides photos and art, cozy to me means soft textures, fluffy rugs, warm woods, natural hues… but it could mean something completely different to someone else. And cozy might not even be on the top ten of a friend's house word list (is there such a thing?). But to me – that's what home is all about.