The gallery wall that I had mentioned yesterday is slowly expanding from a few framed photos to a few framed photos + art. I'm still pretty indecisive about what will go where and what all will be included, but it feels good to be making progress. Sometimes it takes just one nail hole to get the ball rolling.
Here's what I started with.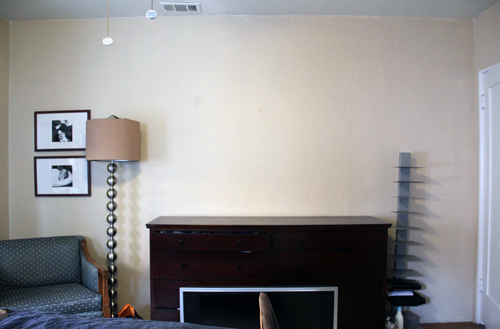 Actually, my mirror-tuned-map project was here first, but I'm still searching for a new home for that guy.
To the left are two black and white photos from Liv's newborn days two and a half years ago. I like the unusual mat sizes and square photos, but the pair may be split up or I might update one or both of the images with more recent photos.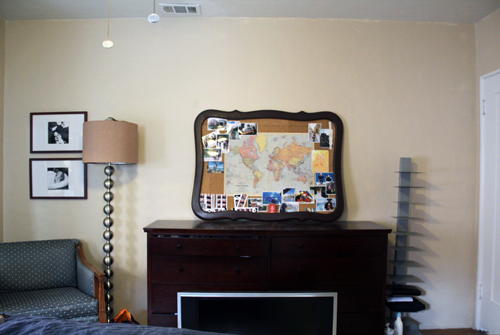 Before cutting out butcher block paper and making a scotch tape spectacle of the wall, I thought I'd play with a few configurations in photoshop.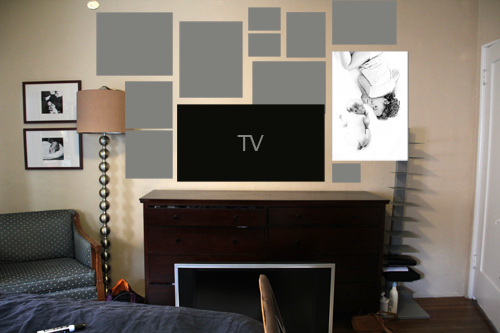 We're making room for the living room TV in the bedroom (the living room is getting a TV upgrade). I never thought I'd be a fan of a TV anywhere we slept, but it turns out we rarely ever turn these guys on and when we do it's to catch up on one favorite show and then crash. And there's nothing like crashing right where you are. Kevin's not sold (even though he's the one that crashes on the couch mid show) but we'll see how it goes with time. It is the extra TV for now.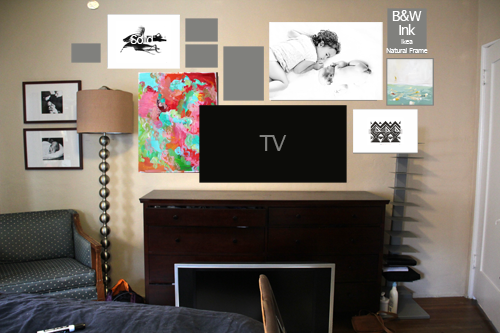 Writing the type of frame (I've been collecting a few here and there with this wall in mind) and adding a screenshot of possible art has helped to organize the random groupings.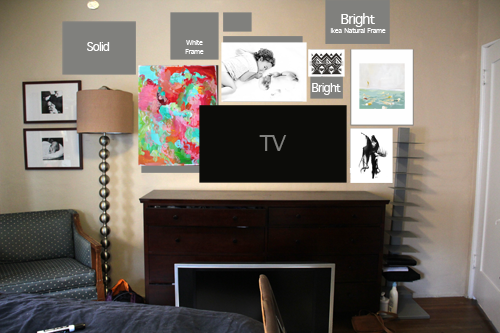 I'm leaning towards plenty of neutral colors, black and white photos/art and just a few bright pops of color. Like my painting that I did with Liv.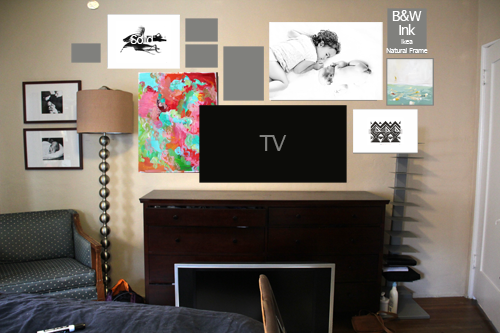 Via computer, I thought that I was pretty confident with my layout until I actually did cut up pieces of butcher paper and taped them to the wall (much better than random nail holes – I've learned that mistake…). Then art began to shift its way around the space, and I learned that I might actually be in for a splattering of nail holes before I get this right.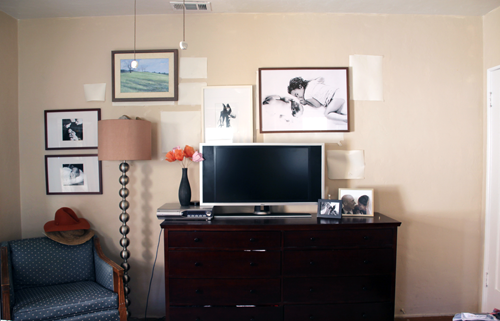 A few more pieces to find, a few more photos to print and frame, a lot more progress to come shortly. So far? One etsy ink painting, one thrift store find, one giant Costco print of the girls (from Taylor's newborn announcement) and two b&ws from way back when. Those crepe flowers are working out well in here, I think they'll balance the more colorful paintings out nicely.
But it's making progress from here, right?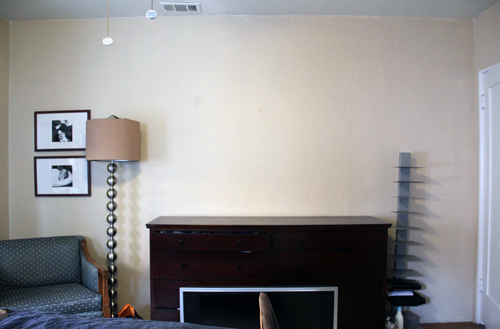 I'm ready to find that replacement for my beloved granny chair, too. I don't think I'll ever get around to fixing it up quite like I've wanted to and this corner is asking for something a little more modern and a little less boxy.