Hope your Thanksgiving break (if you're State-side) was a relaxing one. Liv came down with a fever which progressed into pneumonia so we laid low for much of the holiday curled up on the couch. I can't complain about down time though, it is sometimes good for me to just 'sit' (or cuddle). Thankfully she's on the up and up and feeling much better this week.
I braved Black Friday shopping for the first time ever this year with my sister to check out a J.Crew factory store in her area and purchased a boatneck and v-neck sweater in classic colors. I also snagged a new yoga top online and splurged on this vacuum (which I am MOST excited about).
But what I showed restraint in purchasing, I pulled together for my first installment of PDB's annual gift guide. Today's roundup is for the ladies! and I had too many favorite ideas and will be sharing 'part 2' shortly. ;)
West Elm + Minted 'The Rapids' print | stick perfume
Painterly crossover blouse | brown Rockiie boots | hanging porcelain planter
slouchy wool hat | confetti glasses
My favorites from above include this adorable slouchy wool hat (here's a close second) and these confetti highball glasses (I think I may attempt this diy version). A pretty set of glasses or decanter plus a delicious mixer and alcohol would make a great holiday gift.
I have to share a little secret… I discovered solid stick perfume earlier this year and am completely won over. It's not a liquid perfume and it's not a creamy lotion – it feels a bit like dotting chapstick on your wrist – and is a great soft, subtle everyday scent. These days I keep one of these Perfumies in the car and one with my makeup, and my favorite scent? Afterglow (which smells like a lighter, airier version of amber romance from Victoria Secret).
I'm also head over heels for all things hanging planters these days (who would have guessed?) including this porcelain version (I'm adding one or two to my Christmas wishlist). I'm on the lookout for a pair of brown heeled boots and these guys are pretty darn close to what I'm looking for. I have a friend who's husband picks out boots for her – would yours dare? I don't think Kevin would.
Lastly from above is this gold West Elm + Minted print that would look great mixed into a wall gallery (I might also try to diy) and this very soft blouse by Rhyme – I purchased the similar plaid crossover blouse (which is discounted 50%) last month and love how comfy it is. A definite winner for a fashionable gift recipient.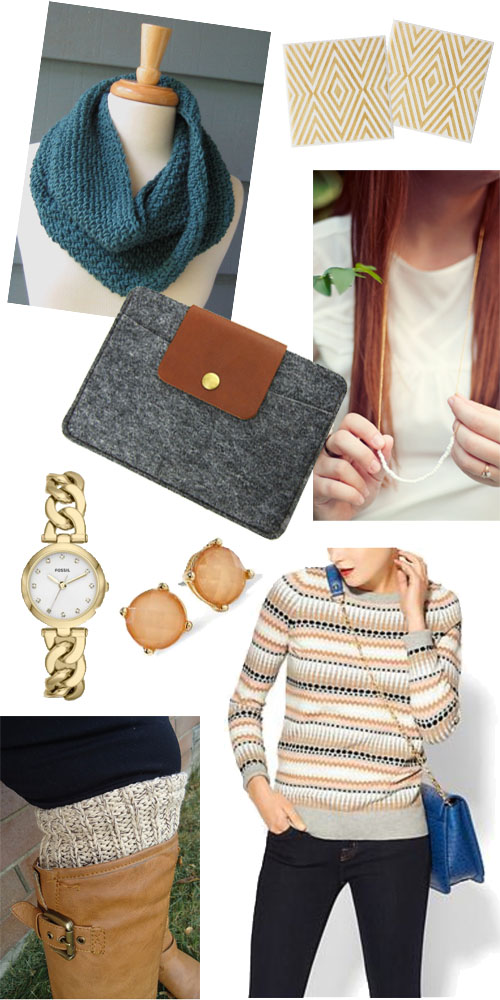 knitted cowl | gold diamond coasters | felt & leather laptop sleeve
long white beaded necklace | Olive watch
peach faceted studs | boot cuffs | Bunko sweater
My favorites from this board include that amazing gold watch (I feel like each year I include a watch on my wishlist – still wearing this brown one from last year – but they are so practical and I love wearing a watch every day), a very versatile felt laptop case for the the techie (more on that below) and handmade knitted cowls (everyone on your list will be grateful).
I love knitted gifts – I actually bought one of these teal cowls on etsy last winter for myself and loved it so much that I bought another in their sungold yellow. I highly recommend as a gift for these chillier months.
How great are these geometric coasters? Perhaps paired with a favorite bottle of wine or set of wine glasses? I also think that thoughtful gifts can be as classic and special as a simple pair of stud earrings. And here's another favorite long gold necklace that is so pretty (and also from one of the cutest online stores I ever did see).
I mentioned the laptop case as one of my favorites and here's why. I found it on etsy after much searching and it's been perfect for toting my mac book pro around. It's really well made – I especially love the white stitching and brass button on the leather flap – and is offered at an incredible price. That pocket in the front is great for a charging cord.
Another fun knitted gift is a set of boot cuffs (they just tuck into the top of your boots so that you don't have to wear super thick socks all around). Whether you choose to make your own (from an old pair of knitted knee high socks cut into a cuff – or a cuff even knitted by you) or purchase (here's a great source) they are a clever and comfy gift. And this knitted sweater? Yes, that is a pretty great comfy & knitted gift, too (love the colors).
**********************************************
Last year's gift guides (plus ALL gift guides shared on this blog) here!
I'm currently working on round 2 for sometime later this week :) – stay tuned. PS are you participating in Cyber Monday? I think I'm pretty much all shopped out. Happy start to your week!