Still shopping for the little ones? I'm behind on my Christmas shopping. Actually, I really thought that I had it together this year (at least back when that list making was well underway before Thanksgiving), but here I am, a week prior to the big day, researching, shopping and wrapping for most of my family. Ah well, still seven days to go, right?
I mentioned yesterday how crazy fast December has flown by, but I didn't mention how much we have been loving the holidays together as a family. There is nothing more wonderful (or that I look forward to more) than turning on our Christmas tree lights at the end of the day and playing with the girls by their twinkling glow in the living room. If I'm out and Kevin beats me home? I LOVE pulling up to a house with a bright Christmas tree in the window. We make more time for family during the holidays and that feels awesome.
And Liv kind of gets Santa. Which is equally cool.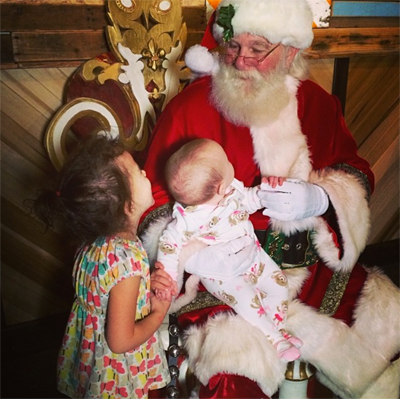 Her request to the man in red? A pink princess dress. And a car. That last one I don't quite get, but many of her closest friends are boys right now.
Back to this year's gift guide (these ideas from last year are still some of my favorites, too!). Because I'm in kid-shopping mode since Liv's birthday is just two weeks post-Christmas, I've pulled together a few of my favorite finds (for a variety of ages) for this roundup. Here we go!

Chalkboard Door Hanger | Gold Felt Headband | Cream & Navy Fox Tee
JellyCat Fairy Tale Dolls | Super Hero Tights | Rock 'Em Robots
Dino Sweatshirt | "Hello I'm New Here" Onesie | Striped Whale
This door hanger could be a very neat diy gift for a pre teen boy or girl. I bought this gold felt headband for a wedding a while back (when I first saw it over here) for Liv and she wore it in our Christmas photos. It's my favorite. This is adorable for a little boy or girl (imagine paired with pink Toms and cropped jeans for Liv).
These JellyCat dolls are so sweet… and these super hero tights would make a great gift for little boys! I can't believe that this game is back (or still going strong?).
I bought this dino sweatshirt from my friend Michelle's Etsy shop and it is so adorable on Liv. She's very into the PBS Dinosaur Train show these days :). This sweet onesie and this striped whale would both make lovely gifts for a new mom (check out the entire shop in that second link, I love the cute bunting she makes).

Boxcart | I Love You to the Moon & Back | H&M Sweater
Pink Floral Head Wrap | Retro Skates | Wooden Spaceship
Mini Book of Names & Faces | Puppet Theater | Emerson Stroller Blanket
 This boxcart is on sale (big time) and sounds like a lot of fun for kids. Hunting down art for the girls' room while also keeping an eye out for gifting. I love this print.
H&M has a LOT of cuteness going on right now! I stocked up on clothes while we were in Europe last year for Liv and they have always been my go-tos in her drawers. Now we can shop here in the states which is very dangerous. Speaking of dress up, I've been wanting to get a cute little headband wrap for each of the girls (Liv has a crazy – but beautiful – mane of hair) and I love the ones featured in this shop.
Okay, so these skates are not yet available in the US (found them in the UK) but they were too cool to not include. Maybe one day? I'm terribly sorry for the tease… but Brits reading this blog – those are a must buy for your favorite 12-year-old. This wooden spaceship is dollhouse for boys – what a great idea for bringing the same time of imaginary play for the litte guys.
I love the idea of building a board book for Taylor of all of the important people in her life. I mentioned earlier that we're starting to get into puppet theater. This is a neat prop for a doorway!
Finally, Pottery Barn Kids invited us to participate in their grab bag Christmas program. They sent us this Emerson stroller blanket as a random gift for the girls and I'm happy to report that it is the coziest blanket ever. Would make a lovely baby gift this Christmas!
_________________________________________
In reality, both girls will probably open just a couple of gifts each (including Santa's presents) because the magic of the holiday is already special enough, and I want them to learn early on to value what's most important this season – our many wonderful blessings through our faith, our family and our friends. This Christmas is already turning out to be a very special one :).
PS If you're still hunting for cute ideas for the ladies, try here and here, and for the guys, here. You can find all gift guides from the past few years here.
PPS Pottery Barn Kids sponsored a portion of this post by sending us a sweet little blanket to try out.