'Tis the season for merriment and merry holiday dressing :). I used to love getting dressed up for special events like New Years, Christmas Eve, holiday parties… I suppose I can attribute my throw-on-a-sweater-jeans-and-a-sparkly-necklace (if I'm lucky) attitude these days to life being so busy. Funny how adding another kid to the fold + a busy home + a job will do that. Oy vey.
But! my online shopping eye has been wandering and has found a few fun finds. Especially as we gear up for a winter wedding (my brother-in-law is getting married!), a rehearsal dinner and New Year's Eve.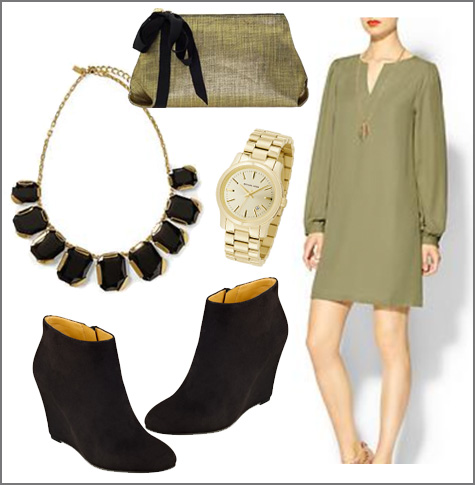 You can find all of the style boards (and product/sourcing links) by heading over to this gallery.
I'm especially enamored with shirt dresses as of late, this one in a beautiful moss green (one of many available colors by Tinley Road) is high on the list. I think that A-line dresses in general are quite flattering and versatile – they're great for belting (a thin leather belt or a fat sparkly one), look great worn loosely, with sleeves rolled, matched with a pretty cardigan or a leather jacket… a piece that can transition from day to night or from spring to winter. Since San Diego is going through a semi-cool spell at the moment, I love the idea of a bootie during the cooler months and a nude heel come summer. And for the New Year's Eve, how about a statement necklace?
Anna Kate has joined me with her own favorite New Year's bash/winter wedding outfit idea – and as chance would have it, we were on the same wavelength this year, both choosing oversized gold watches, glittery jewelry and simple statement dresses. Ooooh I love her choice of red.
I'll hand it off.
********************************************************************
It's wedding season here in Arizona now that the weather's finally cooled down a bit. So I'm always on the lookout for pretty statement dresses, on sale if possible! This one from Madewell is my favorite find recently (take advantage of their 30% off sale!). I picture it with sparkly accessories, like this gorgeous necklace (also on sale!), sweet flats, and a big, shiny gold watch (find all of the links right here).
-Anna Kate (visit her anytime right here)
********************************************************************
So perhaps dressing up will be in my near future, and it's odd to say this, but that sounds very exciting right now :). Equally exciting? We are in count down mode for Christmas!
PS More style board ideas (and all of the product/sourcing links) over here. 
PPS Need a belly laugh today? The 40 Most Awkward Dogs of 2013. #21 is my favorite.