This room is officially the hardest room to photograph in our house. It's light and bright in person (especially with all of that white wood work going on around the three windows), but on my camera? Dark, dark, dark. Even on a tripod at the lowest shutter speed possible. Unless the windows are washed out, as they are here. Driving me crazy. (PS very talented camera friends, how do I fix this?)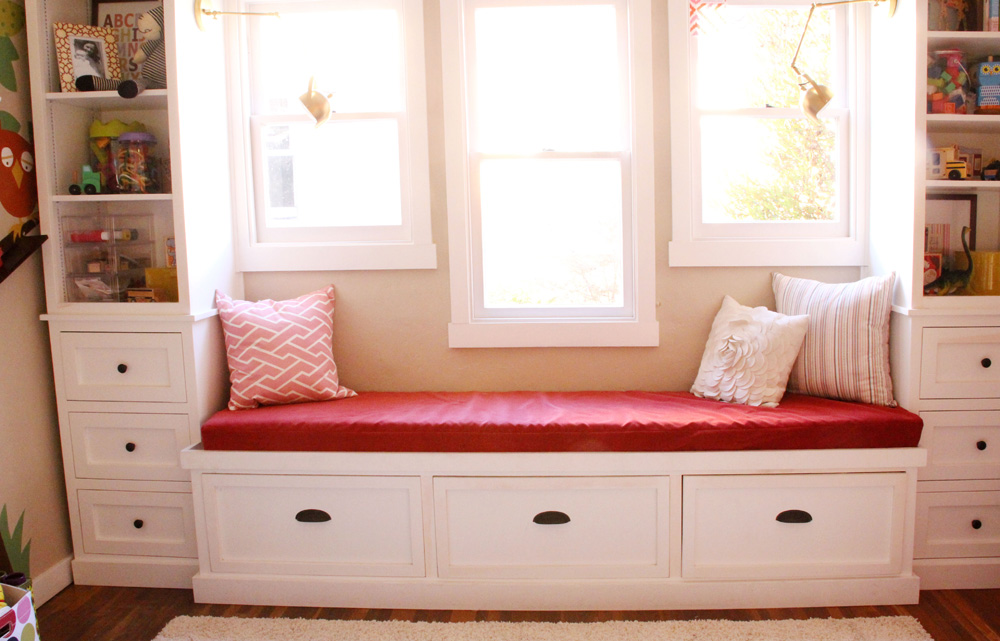 But I digress! The new cushion for the window seat for the girls' room is in.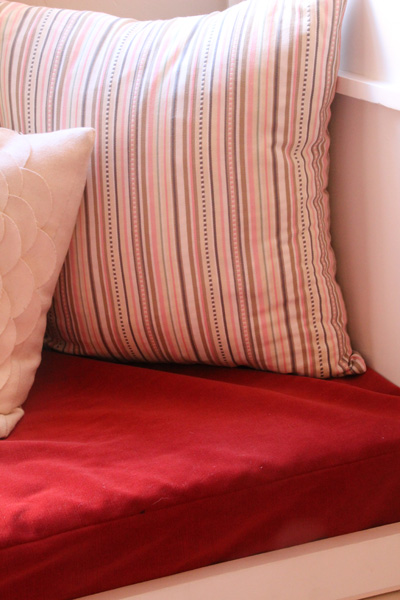 It's velvety soft, a sort of burgundy-meets-rust color, a great 'pop' in a girly space. I picked up that striped pillow cover from Ikea and pulled the others from around the house. To be determined how this might all come together once the roman shades are hung and all of the patterns come together.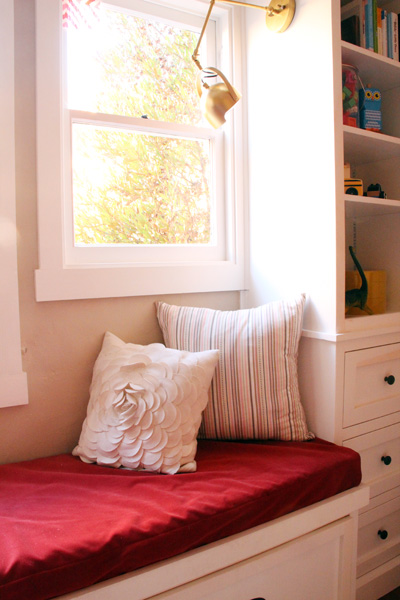 It's scrunching a little, I might be able to get some more cushy batting in there.
Do you remember this post? Liv and I were really considering green or mustard for the window seat, but then finding a roman shade fabric for the windows that played nicely with the wallpaper and potential green/mustard was proving too difficult (hence the lull in any nursery post updates for a few months back around Taylor's birth. I was officially stuck.)
When I finally moved on from finding a contrasting color (to all of the pink in the room), and embraced the pink, I found it. The perfect cushion fabric for the space.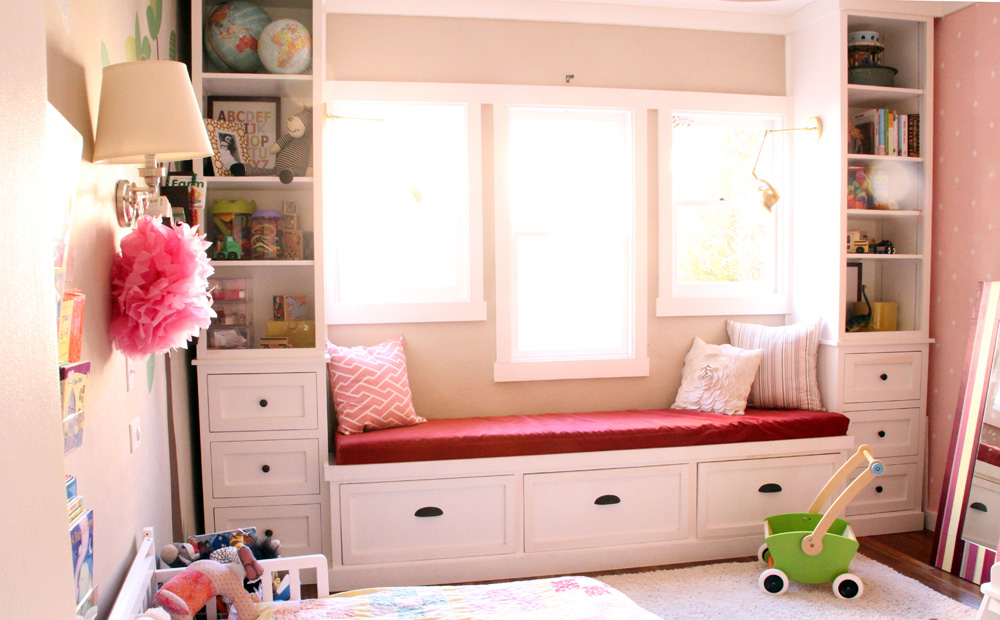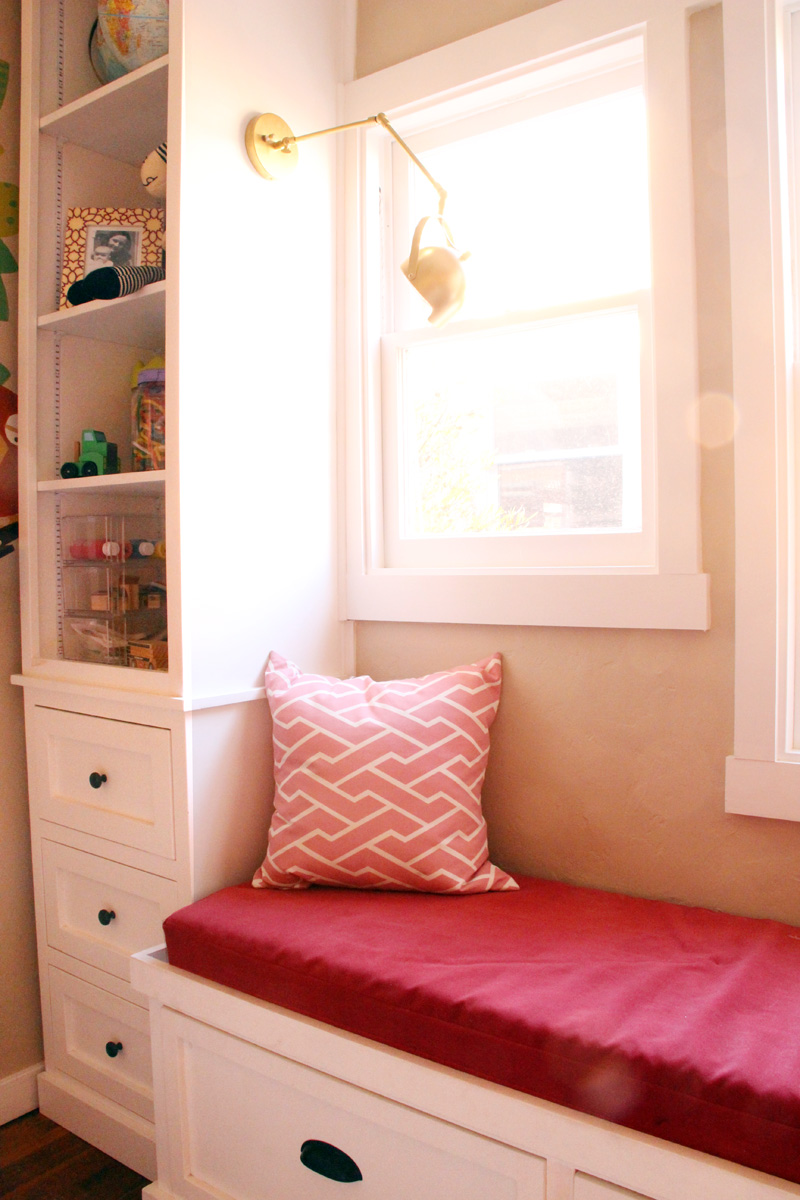 Yep, we're going all girl up in here.
Blog sponsor Calico Corners provided the super soft fabric, you can find it here. It was so easy to work with and is so soft. (Ordering swatches with Calico before committing is very easy, too).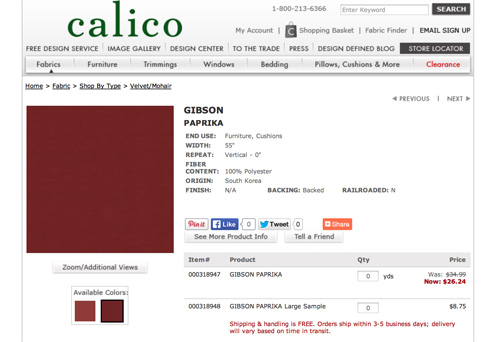 To create a cushion long enough to fit the full seat, a 72″ piece of foam was adhered to scrap chunks until it was 90″ in length. With a foam glue spray this cushion is now securely held together.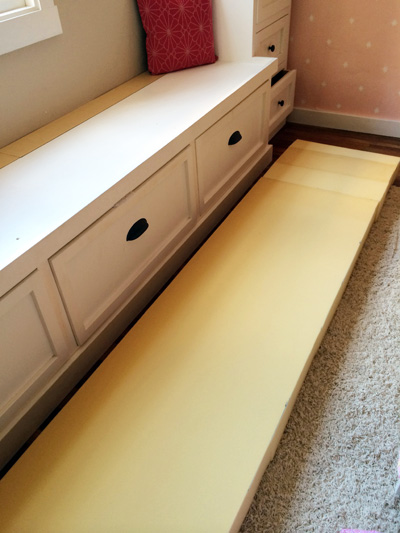 I wrapped the top and front in a thin batting as well for extra cushion.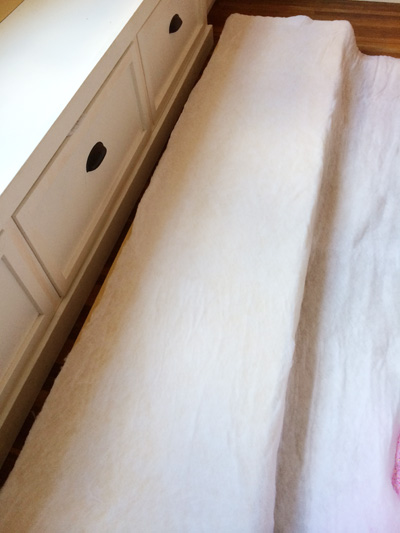 My local alterations/dry cleaning store created the basic box cushion for $35 (I've visited them many times for sewing projects just like this, they are usually a quick, quality and low cost solution for just such projects). Quick tip: use an industrial/high quality zipper rather than a fabric zipper for upholstery projects.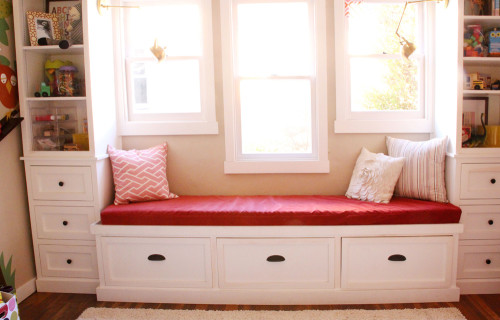 Finished! The new window seat is looking good and is feeling very comfy these days. The bench is just wide enough for curling up with a good book, and the gold sconces above provide the perfect amount of light.
PS More girls' room transformation posts found in an easy-to-search table right here.
PDB partnered with Calico Corners to share this post with you – they've been a long time supporter of this blog and I personally love the quality and selection of fabric that they offer!