I've honed down my monthly magazine subscriptions to: Better Homes & Gardens and House Beautiful (for home inspiration – though I'm thinking of ending the last one), Martha Stewart (for recipes and crafty ideas), Lucky (fashion), Money (investment inspiration) and San Diego Magazine (for local stuff). I consider it to be a small number ;-), but still I have stacks and stacks waiting for me in my office because I rarely have the time to actually read them – and when I do, I rarely want to toss them!
My solution isn't quite rock solid yet, but to keep from a true mountain of magazines I do try to dog ear pages as I go and then pull those pages to keep tear sheets of favorite ideas only. It keeps me from saving 100 pages of a magazine I love to just my top 5-10 pages. I mark the pages up with a sharpie before I store them so I know what on that page I loved. If I have time I clip around that item, too (for example, might be the dining room chairs or rug and not really the entire room).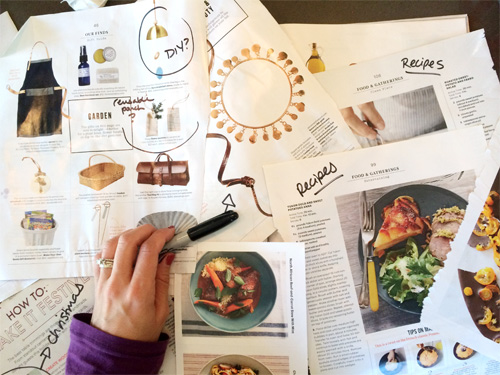 Here's where my plan sort of falls apart. Right now I have a wire basket at the top of of one of my bookshelves in my office that I toss all tear sheets into. Then I have sort of a two part system that includes filing a craft picture under 'craft ideas', or adding it to a plastic sleeve for future inclusion in some sort of inspiration binder.
That's my system for over three years… it needs a bit of work.
On the plus I have a small(er) stack of magazines to keep around, on the negative I have an ever growing tear sheet pile (of stuff too good to toss) that needs some love! How do you sort your favorite magazines/ideas?