I thought I might start a little series over here… every once in a while I come across a techy idea that's so helpful/brilliant/on target that it's a must share.
I struggle tremendously with my email inbox. I kid you not, at the start of my 'manage this mess' journey, I had 2,367 unread messages. And that's not in my 'grey mail' box (or email account for more spammy messages), that was in my personal email account. Seven years of not properly managing your inbox will lead to messes like that! I'll share in the future ways to combat this (if you might find that useful?) but today I wanted to share ONE tip that has made my inbox life worlds easier.
Unroll.Me
I totally dig this tool. Unroll.Me allows you to walk through your inbox and 'roll up' any subscriptions (newsletters, daily deal sites, promotional messages) into one convenient little email. That daily email makes flipping through all of those messages that you might enjoy (but seriously tire of) quickly and efficiently, and it cleans your inbox right up.
Bonus: Unroll.Me finds all of your subscriptions – even ones you had no idea you were signed up for! You can unsubscribe as you go, too.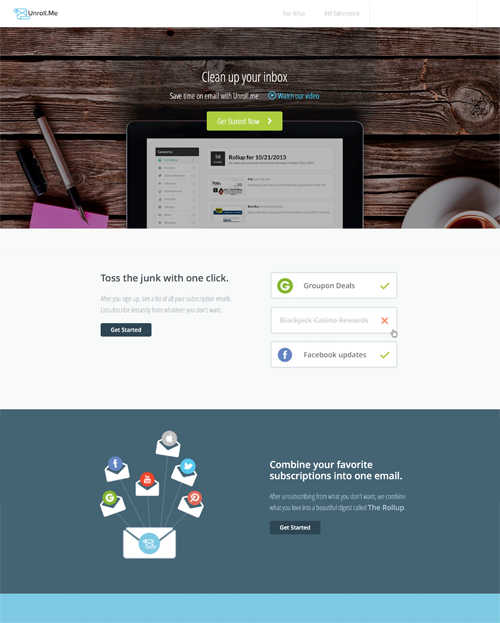 Clever video on how it works:
So now I receive one email a day containing ALL of my rolled up email messages.
Easy, right?
PS This is not a sponsored post, just a tool I find totally fascinating and helpful!