On Sunday, while I was on my own with the girls for a bit, I took a trip to the nursery.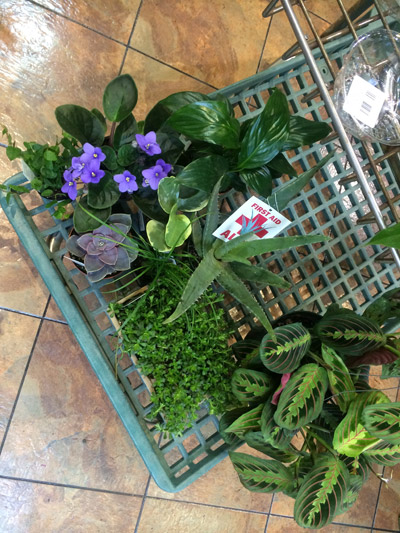 I am officially committed to bringing some of the outdoors in this spring and my office (which receives a ton of natural light) felt like a good place to start.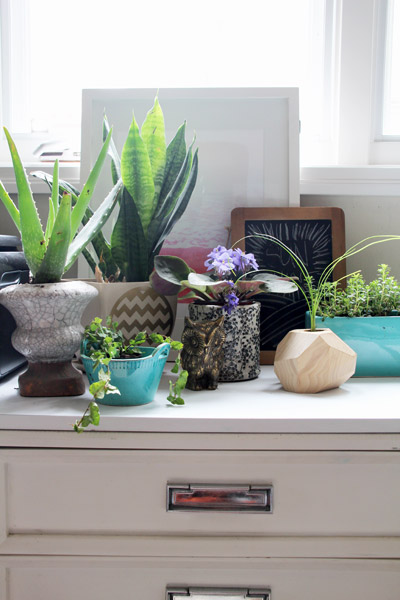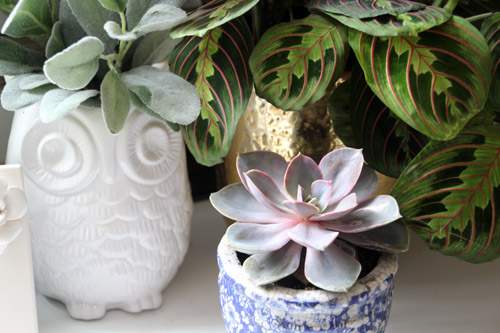 I have been drawn to clusters of potted plants lately… all of my inspiration is here. I'd post some of the actual photos with you but I'd rather you had nothing to compare to just yet.
After I got home that afternoon, I pulled my crazy assortment of collected containers from all over the house. I always knew that I was hoarding these pretty little vases, pots and ceramic odds and ends for a reason. Perhaps they were always intended for a serious houseplant collection!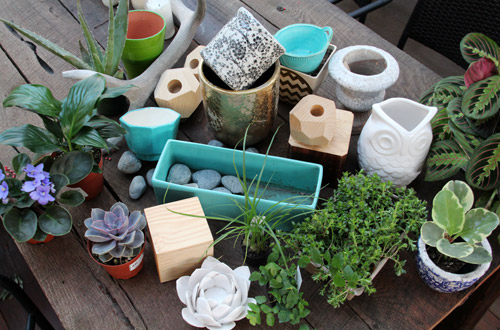 At the nursery, I had been drawn towards a mix of lime, forest green and purple. When I had collected my pots I was happy to see that I actually had a little theme there, too in the form of bright turquoise, porcelain white and gold (with a navy and natural wood container here and there).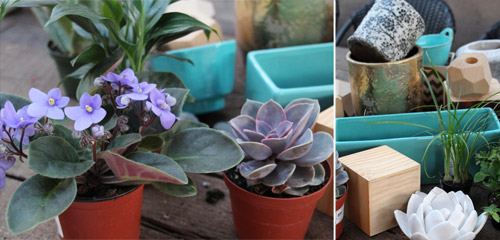 I had a rough idea of the final layout, but I played around a bit on our deck before choosing which plant would end up where. Most of these plants will grow fast and will need a bigger container at some point, but I have enough to go around! And I will just repot as necessary.
I chose to shop our local Armstrong nursery mostly because I wanted to pick the brain of an expert horticulturalist. I knew that I could find many of the varieties I was searching for at my local Lowe's or Ikea for a lower price, but being the newbie houseplant lady that I am, I thought it wise to double and triple check that my selections were compatible with the space I had in mind, and to confirm on plant care. I was surprised when he actually rearranged my chosen selections a few times, but happy to bring home 'easy' varieties that would do well in indirect light.
While there, I picked up a bag of the recommended potting soil for my repotting purposes.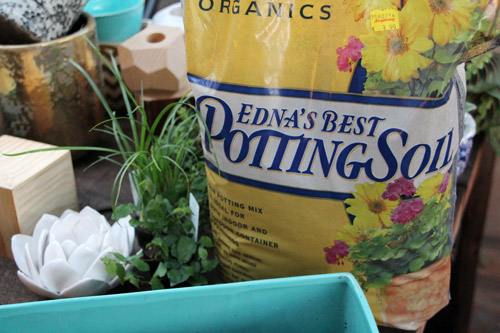 The one bummer about 90% of my saved vessels is that they don't have drainage holes. This can be devastating for houseplants (and how I've previously killed several of mine) so I purchased plastic trays and used river rock in everything (and am crossing my fingers). The plastic trays mean that I didn't repot those plants whose purchased plastic pots already fit in a container I have at home, I'm just putting a small plastic tray at the bottom of the actual pot to catch water and prevent root rot.
The river rock is something that I had on hand. I will use ice cubes for watering plants with river rock at the base so that water absorption is incredibly gradual in the soil, and so that no water pools at the bottom of the rocks.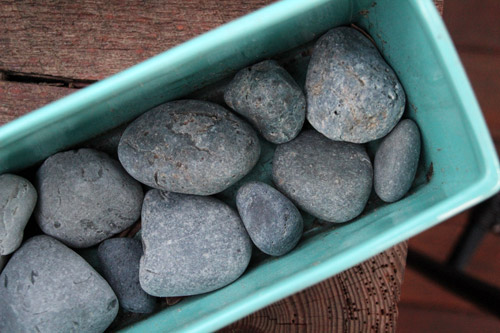 When repotting, I used just a bit of the new soil and then most of the existing soil that the plants came home in. I gently massaged the roots to break them up before introducing them to their new home.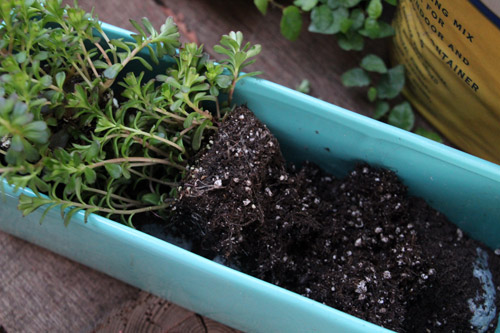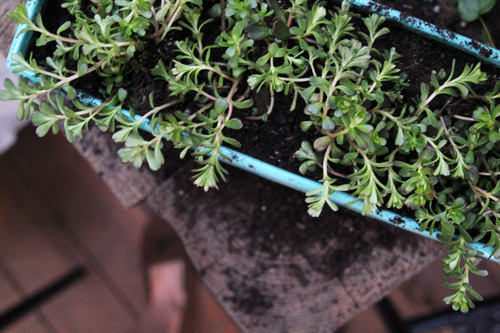 Aloe may have been what I was most looking forward to adding to our house. We grew up with a big aloe plant in my parent's bathroom, when one of us had a boo boo we instinctively went to the plant, broke off a tip and rubbed our raw skin with fresh, gooey aloe. It was nature's medicine at its best.
Here I am squeezing her out of her existing pot (no pulling, just squeezing) for replanting. She's one that will definitely need a bigger pot in the future (again, fingers crossed).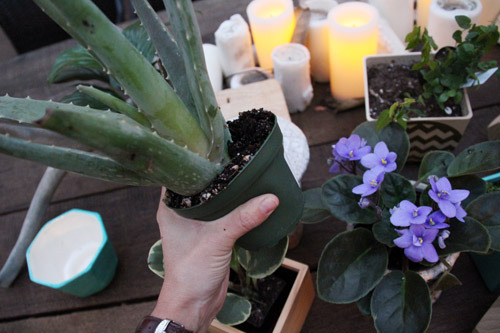 A little bit of water for the startled plants as they adjust to their new homes, and into the house they go!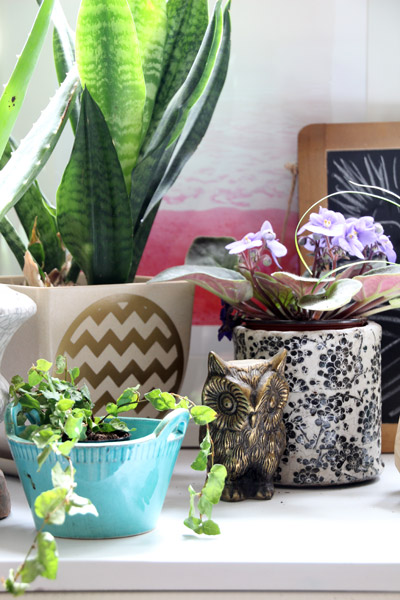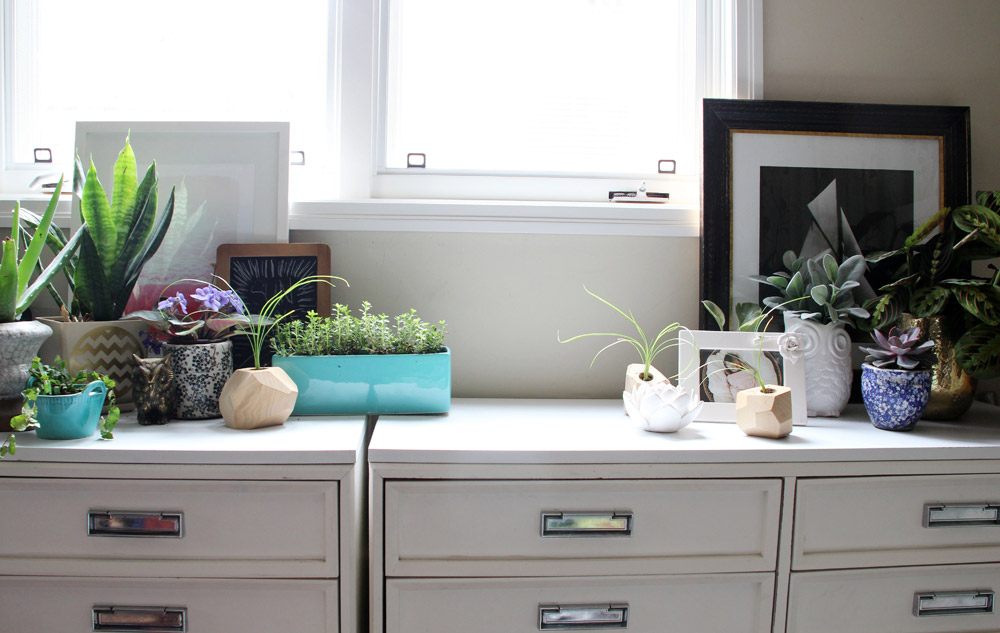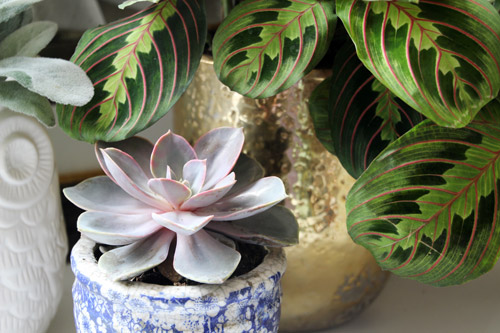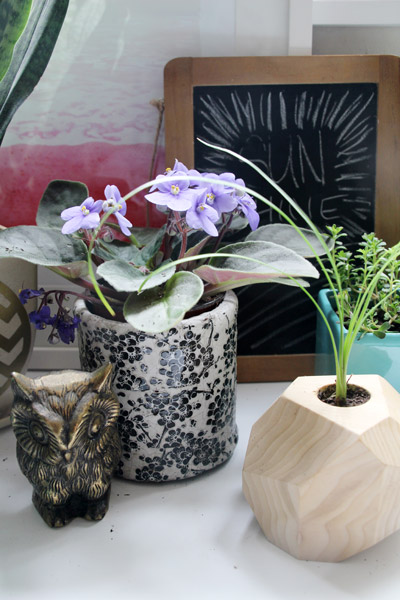 Those three wooden faceted planters are from Uncommon Goods and are possibly my favorites. They bring so much dimension and character with their usual geo shapes, they help to mix up a collection of round and rectangular pots.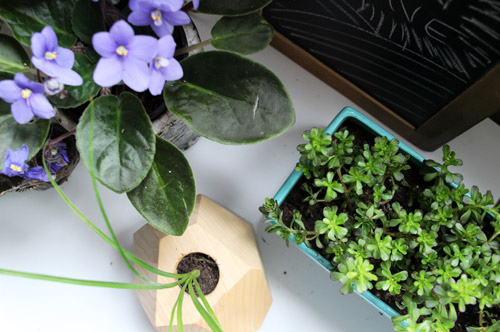 If I start feeling like a crazy plant lady, I may break up my new collection and reallocate around the house. It's already feeling verrrry houseplanty in here (but I'm not complaining yet).
On the plus side, I'm going to have a lot of clean air in this room.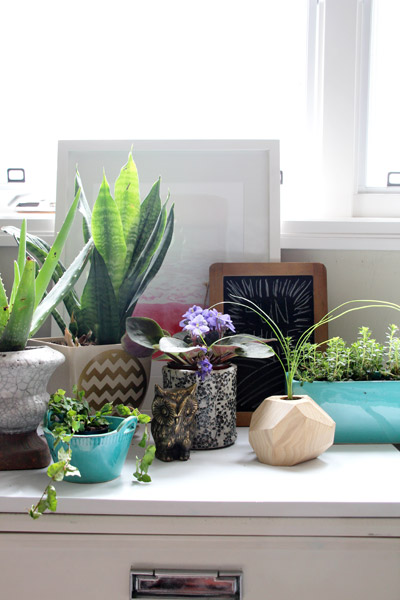 Assorted pots were found at various thrift stores and garage sales, though I did pick up that gold guy and the ceramic white with black flowers at Anthropologie recently for a really excellent price ($12 each, maybe?). My favorite wooden faceted planters were c/o Uncommon Goods. They came with beautiful airplants which I was sure were artificial. Until they died. Now they are repotted with a very small ponytail palm that the gardner from Armstrong specifically recommended. The turquoise rectangular pot is from a going-out-of-business sale at a boutique in my neighborhood, the navy ceramic a find that I toted back from Iowa (wrapped in clothes and stuffed in a suitcase) two years ago. The gold chevron from this lady's first business venture, original snake plant still going strong!
Plants include: above mentioned ponytail palms, rosette succulent (Perle von Nurnberg is the color), sedum ground cover in the rectangular turquoise pot, African violets in the white and black, aloe vera in my white urn, two different pothos' (super easy to care for, I have one in the bedroom, too), a crawling fig (that will definitely need a larger pot),a snake plant and one fake impostor – can you spot him?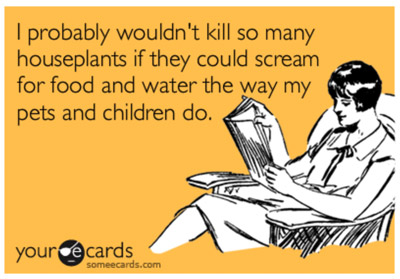 Wish my sweet little thumb luck!