Oh man, yesterday I was sick, sick. Some sort of bug struck me so hard that I'm pretty sure I slept for a good 36 hours straight with small bouts of awake time to email in a sick day at work, pick up the girls from their morning childcare spot (with a friend) and bring them home for a nap, cancel the afternoon sitter so I didn't pass on the bug, only to ask my mom to come over and hold court for me until Kev made it home so that I could… sleep. I haven't felt that miserable in ages.
But today I'm back. I was happy to wake up and feel like my old self again. I remember driving home yesterday while passing neighbors walking dogs and pushing strollers with a killer migraine and stomach ache thinking – why does everyone look so happy? I'm happy to be back on the happy side of things again.
It occurred to me that I haven't shared an update on the girls' room (a room I'd been SO passionate about!) in ages. I thought I'd take a moment to update you on the goings on in that space before jumping into new art projects for the walls and a set of 'art boards' for Liv's latest projects (I want to build a 'maker's space' where she can really enjoy).
The first big change you might notice right off of the bat is the addition of a crib! We've officially moved T into the room and now it really is 'the girls' room'.
I was so nervous about the adjustment – Taylor is not an excellent sleeper (quite the opposite of her sister, and all attempts to fix that have been so difficult) and my worries included Liv waking up at night whenever Taylor woke up. I started off by moving our co-sleeper out of the bedroom and into the office for Taylor to sleep in. Then when that sort of seemed to work (it was an odd middle ground and I think confused T even more), we just sort of took the plunge and began putting Taylor down in the crib for naps and bedtime.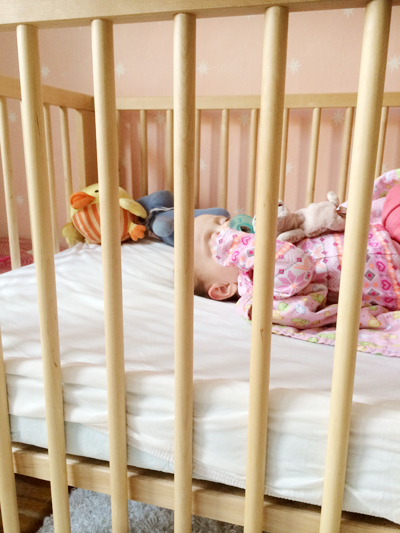 Now that Taylor naps only twice a day, I've been able to line up hers and Liv's afternoon nap and they snooze for roughly the same time (hallelujah). In the evenings, sometimes Liv goes to bed first followed by T, but most nights Taylor goes to bed and then Liv quietly crawls in after reading books on the couch. Even though we haven't been able to break the 4am Taylor wake up call (she falls back asleep in our bed), Liv is such a sound sleeper that she doesn't even stir. Now I'm nervous to break that 4am wake up call because I know Liv will not enjoy that process.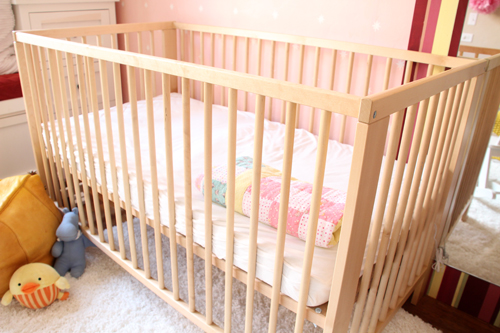 You might recognize that this isn't the crib we had in Liv's nursery. My parents recently moved to San Diego and had asked for some help building a kids room at their new house. They would need a crib for T to take naps there and occasionally spend the night. My intention was to nab an Ikea crib for them. Then as our own nursery progressed, I ended up having to part with a few big pieces of furniture (due to those awesome built-in bookshelves and not much else fitting space-wise).
We kept: the changing table, art table and chairs, and Liv's toddler bed. That was it. Over to my parents went the large espresso brown bookcase and dresser that no longer fit, and I thought I'd keep the set together so we also packed up and sent over the espresso brown crib.
But, Ikea came through and not long after had a big as-is sale for the Gulliver crib. A crib I had been eyeing anyhow for some time for my parents or our space: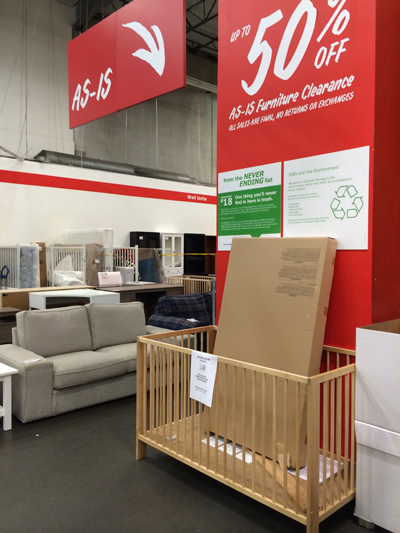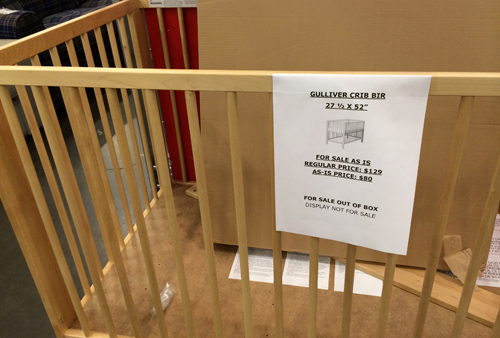 Not a bad price for a crib! On a separate trip I found the mattress on sale as well. So far we are very happy with its performance.
Another addition was a large chunky mustard blanket for Liv's bed. Liv does an excellent job of cleaning up her room when requested, the only space that she has a little trouble with is making her bed. This super soft knit blanket helps out a great deal because she can just pull it over the rest of her bedding and be finished. She's such a great little helper.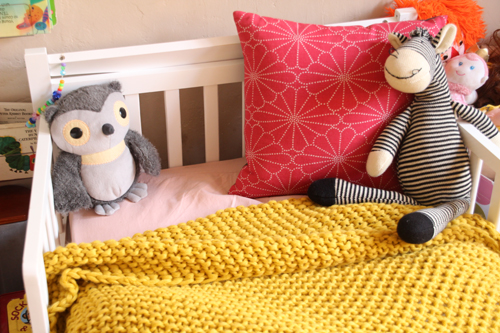 Pink pillow on Liv's bed found here.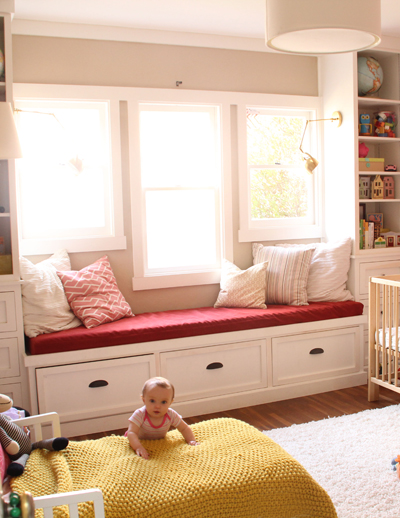 The color of the knit blanket works so well in the room! Just the right color to balance out all of the rusty reds and pinks. It also goes really well with the Moroccan pouf that I brought home from Africa during our trip there a year and a half ago.
The last update is that I finally upgraded the rug. The existing white rug might have lasted longer if it weren't for an accident by a friend of ours' pet (oops) but it was the motivation for me to jump online and nab another highly discounted one off of Joss & Main. We always opt for white because of our white shedding lab.
I can't complain about that crisp white in the room now!! I'm glad we scooped up another rug.
Other new additions brought in from around the house: 2 white Ikea pillows, a trellis print pink Caitlin Wilson pillow found on eBay (originally lived in the living room), a gold and white star pillow made from a fabric remnant.
I think we're all caught up. Now on with the art boards and art for the walls… can't wait for those to be finished :).
PS you can watch the evolution of this room right here. And if you want to go waaay back and check it out in action prior to it being 'the girls' room', start with one of the first posts here.