I'm really smitten with the wallpaper in the girls' room.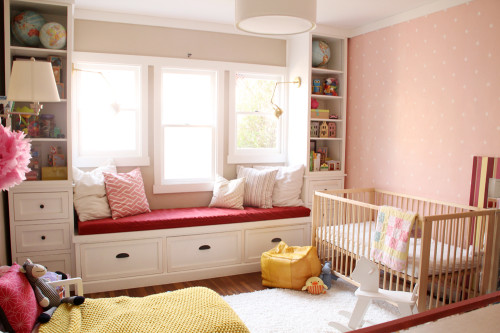 I went through a lot of ideas for creating a feature-something in this space, and in the end designed and printed my own wallpaper through Spoonflower, though I'm not sure I've ever really walked through the process here before.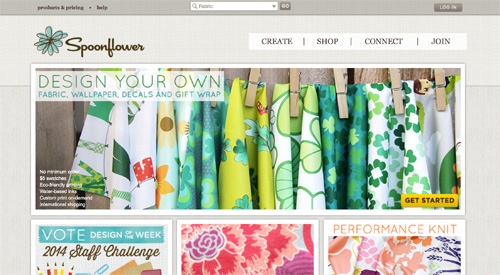 Spoonflower is just awesome. We have curtains I designed a few years back in the office, and a canvas 'art' piece hanging and framed in our living room that I found by another Spoonflower artist.
Designing your own fabric, wallpaper or gift wrapping paper is a small part of the Spoonflower universe. One of my favorite resources for new creative patterns for the home (thousands and thousands!) is to browse Spoonflower using their color sorter (that was my strategy for finding that above semi-diy canvas print).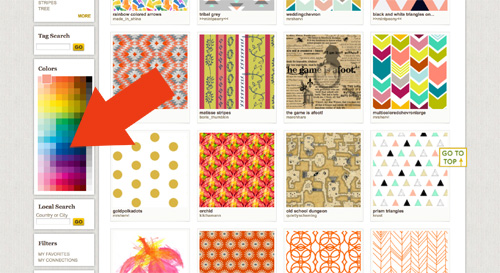 Simply type in a keyword such as 'chevron' and then use the color swatch to narrow down until you find exactly what you're looking for. So. much. amazingness.
If you find a wallpaper pattern that you love, they'll even show you a mockup of the scaling of that pattern in a room.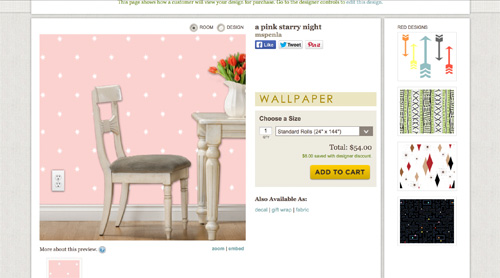 When I imagined adding an accent wall in the nursery, I imagined something subtle, something simple, something that would play well with other patterns in the rest of the space. I actually ordered a mix of Spoonflower samples to try out initially, six pretty found patterns already uploaded by others to Spoonflower and two slight color variations of my own starry night pattern.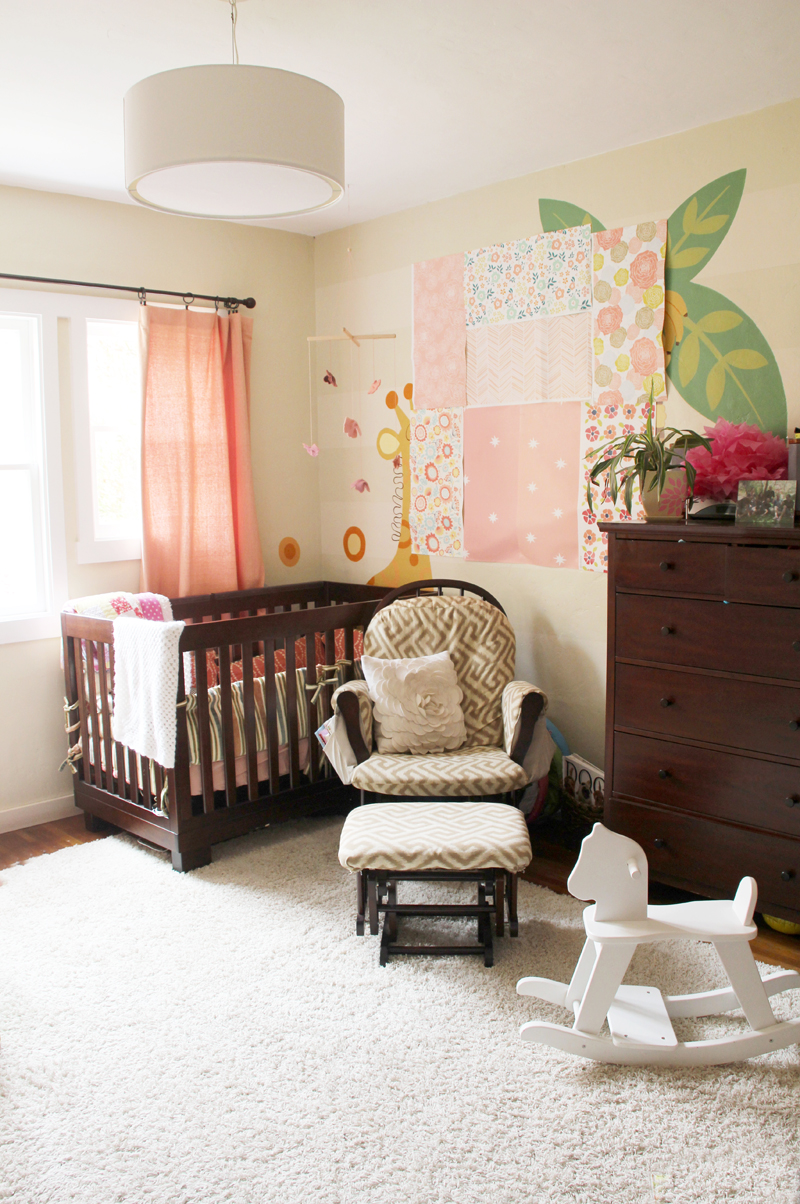 I loved them all! But being keen on plenty of pattern in this room, I ended up choosing the most subtle of the samples (those two panels in the lower center) because they would allow for more pattern layering.
I came up with that simple starry design after being inspired by a bathroom in black Osborne & Little Coronata wallpaper.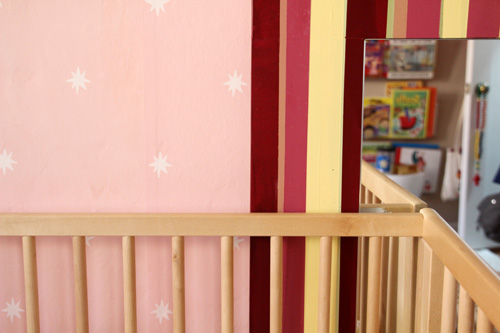 I changed the colors, the style of star (to something more abstract with rounded edges) and the pattern so that it wasn't a direct replication.
That process was a process though! It's nice to imagine that uploading and printing a design is as simple as just that, but it actually took me close to three months to get the wallpaper just right, including the amount of time between each iteration that Spoonflower needs to get your pattern through the printer and shipped out to you.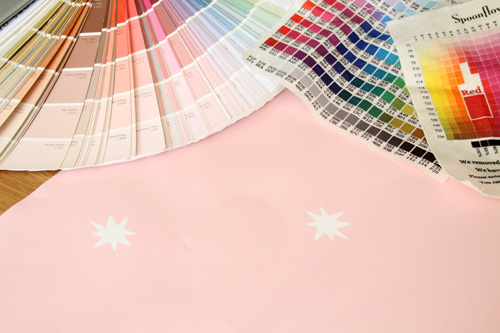 I use photoshop and illustrator to create most of my designs. Photoshop is really for adjusting and manipulating photos which are created from small dots of color (pixels), while illustrator is ideal for shapes and designs because you are working with vector paths that can be stretched and resized without damaging your content (opposite of photos). There is much out there regarding that topic that you can find with a quick google search…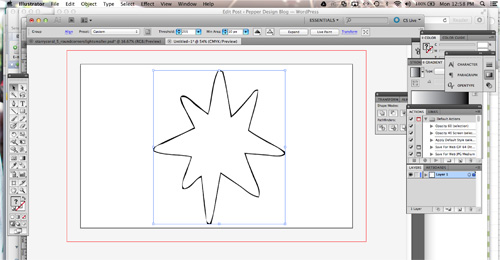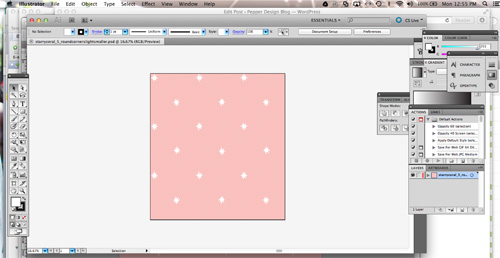 To create a repeating pattern, I prefer to cut the pattern into a perfect square with two edges butting up against an obvious design/shape in the pattern, and the other two edges cutting just before that same design/shape. When I repeat this out in Illustrator to test it, it creates a perfectly repeating pattern.
Working with colors in Spoonflower is the most challenging part of the job. It's helpful to have the Spoonflower color chart for reference (they'll ship you a square for $1, request also the fabric swatches booklet if you're printing on fabric) and I use both their older format (on the right) and newer version (on the left) to get the colors just right.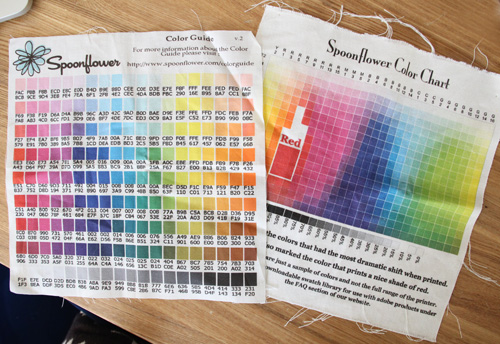 The above is for color reference, the eyedropper tool in photoshop then helps me to reference the correct hex color (each color has a formula, that's the formula). I'm always shocked at what the color looks like on the screen vs. printed out.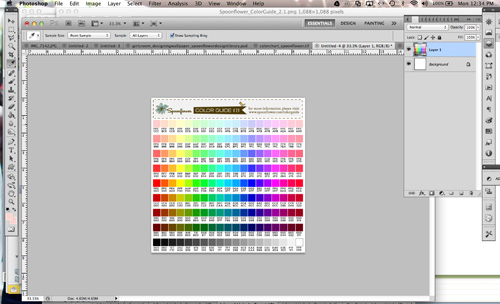 I went through eight different scaling and color options before settling on the correct size and shade of pink/coral for the nursery. I find it best to have several swatches printed at the same time with a variety of shading and scaling in each batch so that you're not waiting on Spoonflower printing for long chunks of time…

I even went back and forth between a pointed and rounded star design – sometimes the devil's in the details.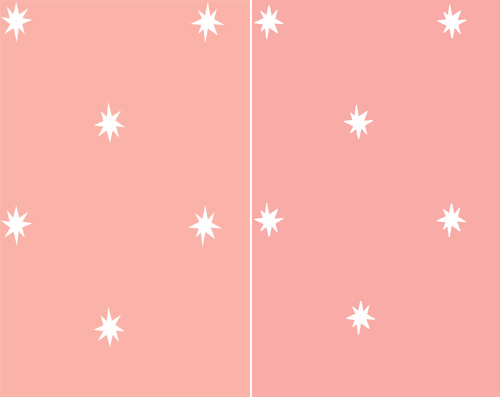 Here's how that crazy mess looked in my design library within Spoonflower (you can actually purchase my final design right here, you can also make designs private but I thought I'd share the love if anyone else is interested in a similar look).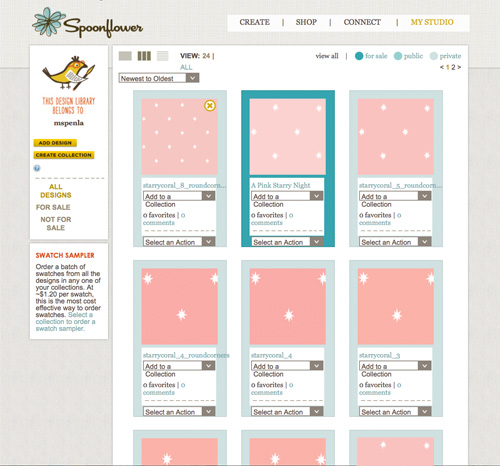 Whew!
The best day is when your rolls of wallpaper arrive! I was eight months pregnant when my brother and I installed the panels.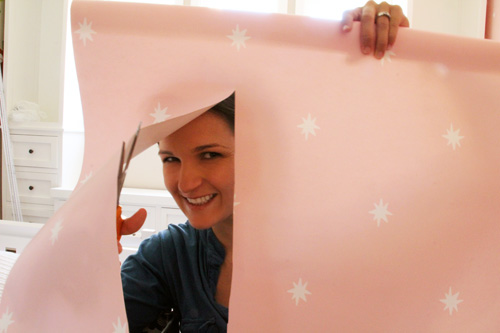 But so worth it.
There are just two things that I hope will change over at Spoonflower as the popularity increases: time to print and ship (production time) and that the wallpaper will be printed without the need to overlap panels at the seams.
Happy St. Patty's Day! More of a pink rather than green post today, but hopefully you'll find it useful! Or that you'll checkout the great designers over at Spoonflower sometime soon (it's like Joann's on steroids).
PS if you're looking for a paint color that is awfully close to this wallpaper, try Rose Radiance by Olympic.