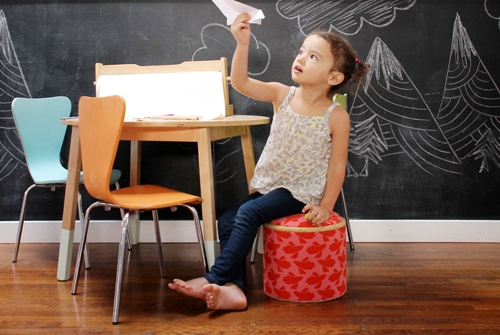 We all need some sort of maker's space in our lives. We are all creative (even if just a little bit) and a place where we can freely unleash that creativity is such a nice idea. For some it's a desk area that can be folded up into a cabinet, for others a large craft room filled with mason jars full of baubles. Even most men have their garages and an inkling to build, tinker or fix.
A maker's space gives us freedom to create.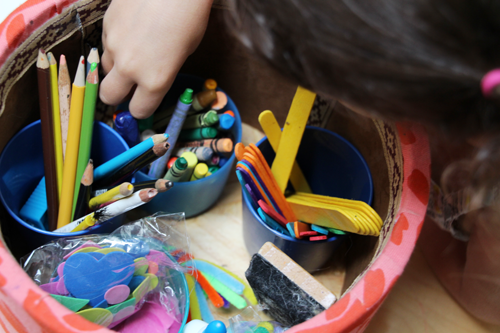 It's been a goal of mine to build a space where the girls can feel free to be little artists.
It's part of the reason that our house is peppered with blackboards and writable spaces. Their little art table and chairs are probably one of my favorite miniatures in the entire house, and while they won't fit in their room (now that there are two beds, a built-in bookshelf and a changing table in there) the hallway just outside of that space has sort of been the perfect solution.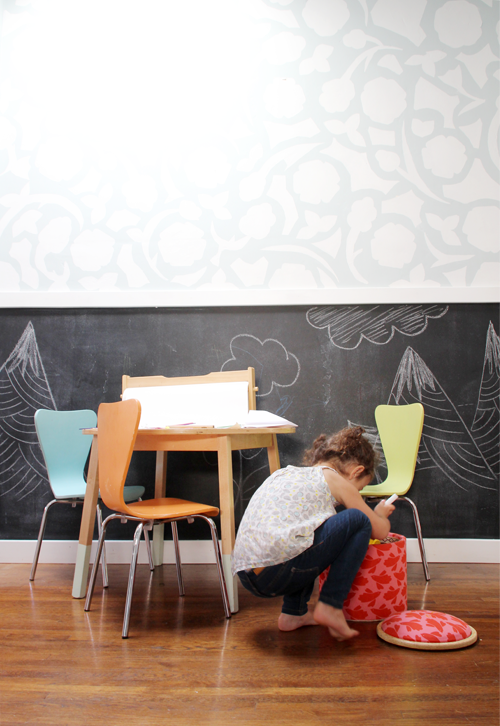 The only tough part about this plan is storage. I'd love to give Liv free reign to keep crayons, construction paper, fabric remnants, pipe cleaners, little puffy balls, foam shapes and tiny scissors within arms reach, but it's just not possible in a large square hallway that everyone uses all day long. We've tried clear containers on top of the table but they end up being visually so messy and unorganized.
When Patron Design reached out to me to introduce their Pomada Ottoman I knew exactly where and how I would use such a pretty and useful product. I have to admit that I am pitched with something like 30 products a week to share here on the blog, but I say yes to maybe 1 a month (as evident by the lack of product reviews) because I really want to know that a product will work well for our family before I share it with you.
I have always been a fan of sustainable design (check out this series on 'going green' for more ideas) and was really excited to hear that these storage containers are made from recycled tubes from the paper industry. They are incredibly sturdy (just as furniture ought to be) and are very well designed. The mini size makes it easy to use as a 4th seat to our little table and chair set (when we have friends over this turns into the kids dining area), while also being of the right size to tuck under the table when not needed. The fact that it offers hidden storage inside for art supplies (its true function in our home!) totally makes my day.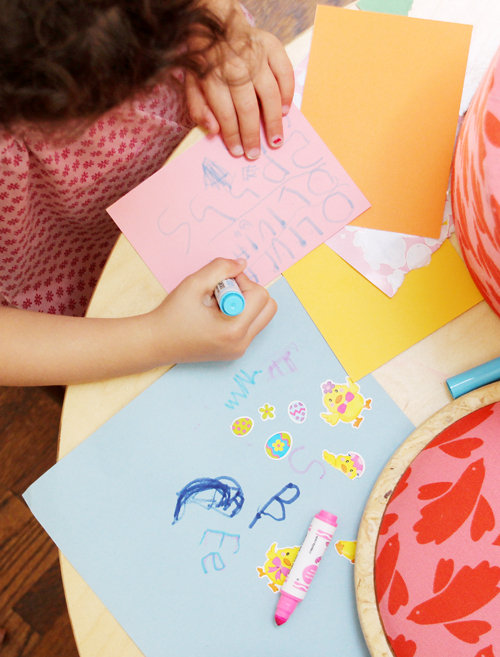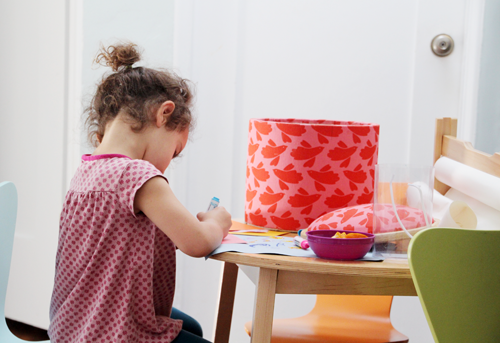 This girl spends SO much time at this table. I love walking by only to catch her starting another new sticker-covered drawing (by the way, that roll of Ikea paper is probably the best investment ever). Above was a random shot that I snuck of her while she was hard at work.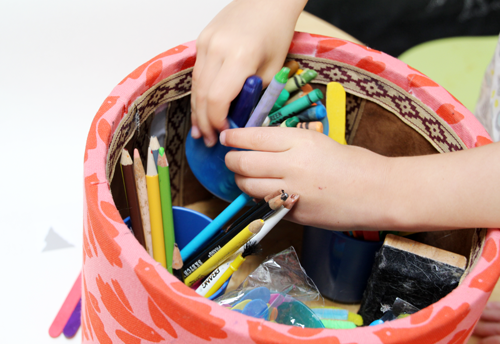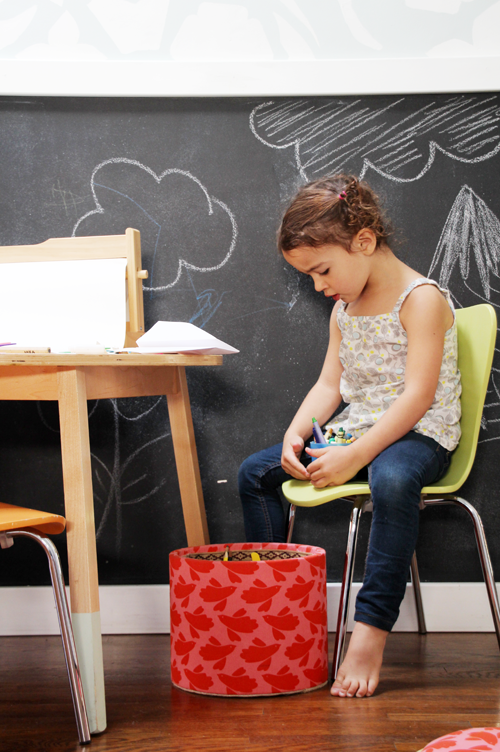 I'm really loving our new ottoman-art storage-stool in one. Check out Patron Design's website for their full line of mini and full size ottomans (the above is a mini) in a variety of hand-printed upholstery designs. I think that their tree stump side tables and hand spun llama blankets are also awesome.
This is a sponsored post by Patron Designs. They sent us the adorable ottoman you see in these photos to review, however all opinions are my own. Thank you so much for supporting (and allowing me to share more about) the brands that support this blog.