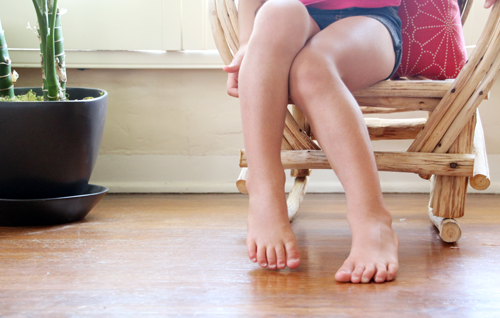 I was driving past one of my favorite little consignment shops the other day when I spotted an itty bitty rocking chair perched outside.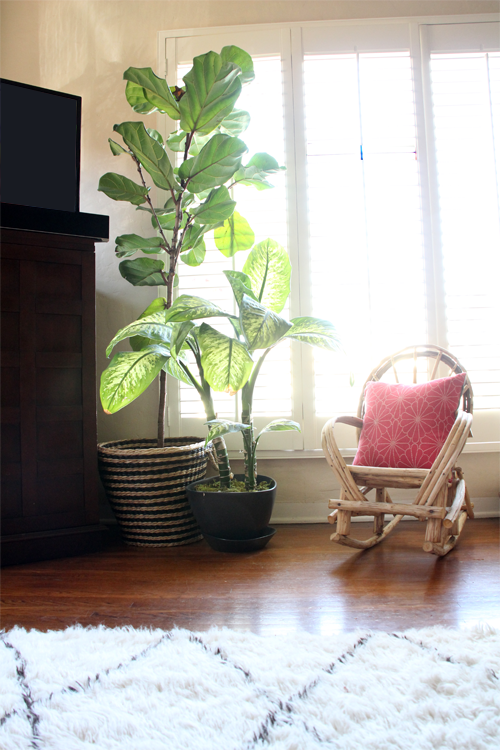 Do you remember when I was dreaming of adding some wicker or rattan to this space? Something about that raw, honey-colored wood and smaller, almost woven lines that adds texture and an organic element. There is not a whole lot of room left in our living room, but this mini rocker fits so perfectly.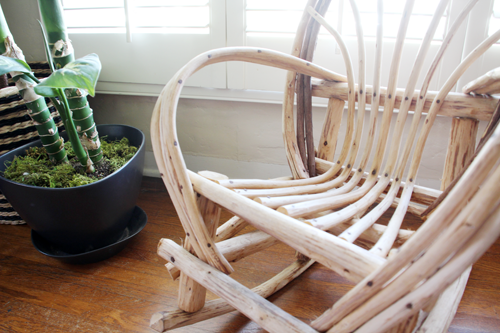 I raced back to the consignment store (Stuff on Adams Ave for my local San Diegans), examined the chair closely, haggled the price down to just over $30 and brought my new find home with the spot just in front of the window in mind. Liv was equally smitten! She was ready to move the chair into her room but we negotiated.
It's not wicker or rattan but instead more of a bent cedar. I know I've seen these chairs many times before outside of ski lodges and cabins, but I can't recall the formal name. Aren't those lines pretty?
Love me a happy find that sort of falls into your lap (how often does that happen??). My pink pillow from the Wild Canary Shop softens it up and ties it into the rest of our room perfectly. Though I'm not opposed to just the fanned wooden back either.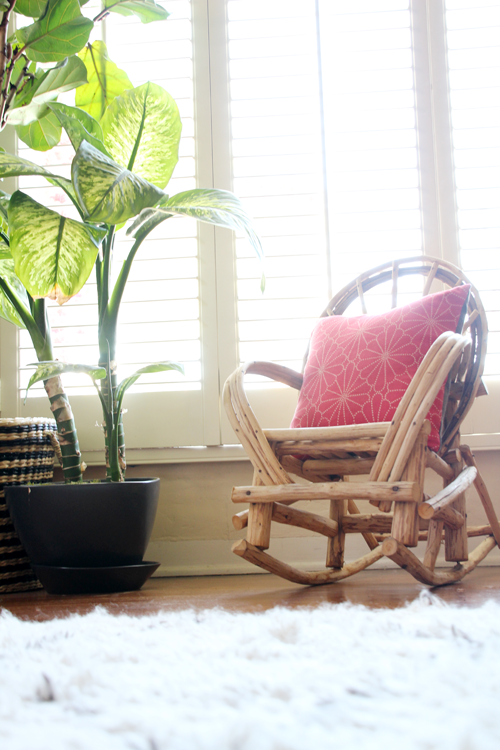 Happy mid-week, guys! Speaking of reminding me of the mountains, we are planning on heading up to nearby Julian this weekend for our annual girl's trip. We bring our favorite crafts (it started as a scrapbooking weekend back when we all scrapbooked ages ago!), a couple of crates of wine and our best chick flicks. Every year I start the previous year's digital photo album and every year get to about the month of April. And then I run out of time ;). I have about five half albums (ah!).
The boys will be on full time kid-duty and I love how they always improvise. There are probably about a dozen preschoolers, toddlers and babies between our group and they'll probably all end up at the same place with children lined up camp-style sleeping. One big party.
It's crazy how much I look forward to my girl time. I'm mentally getting ready!
PS The full living room can be seen here and all of the projects for this space are thumbnailed right here.