We disappeared two weekends ago to Catalina Island to celebrate our anniversary. Guys, marriage is hard. Marriage needs nurturing and attention and lots of love. Do you know what is so reviving and so awesome for marriage? A weekend getaway. I wish I had discovered the importance of just 'leaving all the crazy behind' for a few days years ago because our little getaway was so great. Kevin and I have happily been together for 11 years now (married for seven) and we celebrated this particular anniversary in a bit more style than we have in the past.
Here's our little guide to an awesome weekend on Catalina Island (should you find yourselves in the Southern California area any time soon and itching for a little isolation).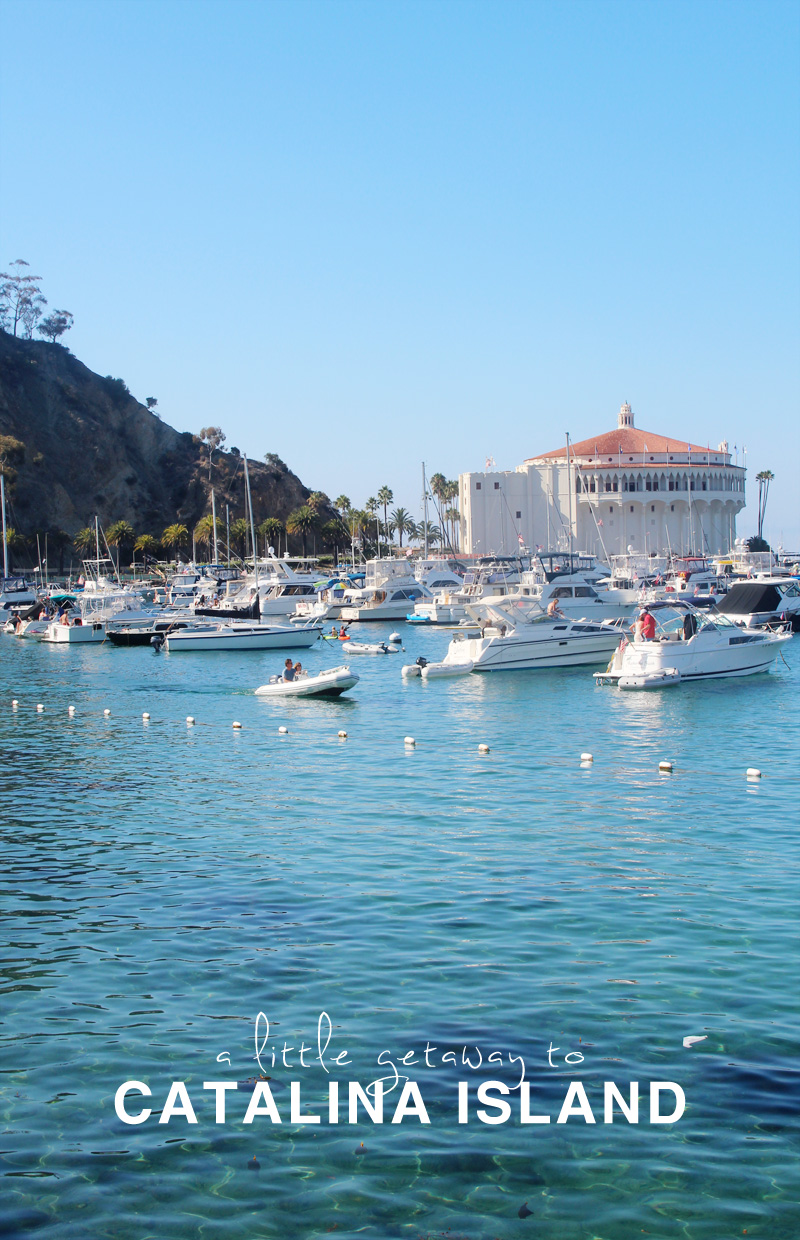 Part of what makes this particular trip magical is that you have to travel to get there. There are two ways to get to the island (which is just 20 miles off of the coast of Orange County), one is by helicopter and the other by ferry. 99% of travelers opt to board the latter making the boat trip part of the full experience. I was so excited to board! 20 miles takes about 90 minutes, so there is plenty of salty air to breath in while you scoot off into the horizon. If you have a weak stomach like me, you spend most of that time outdoors on the side of the deck watching for dolphins.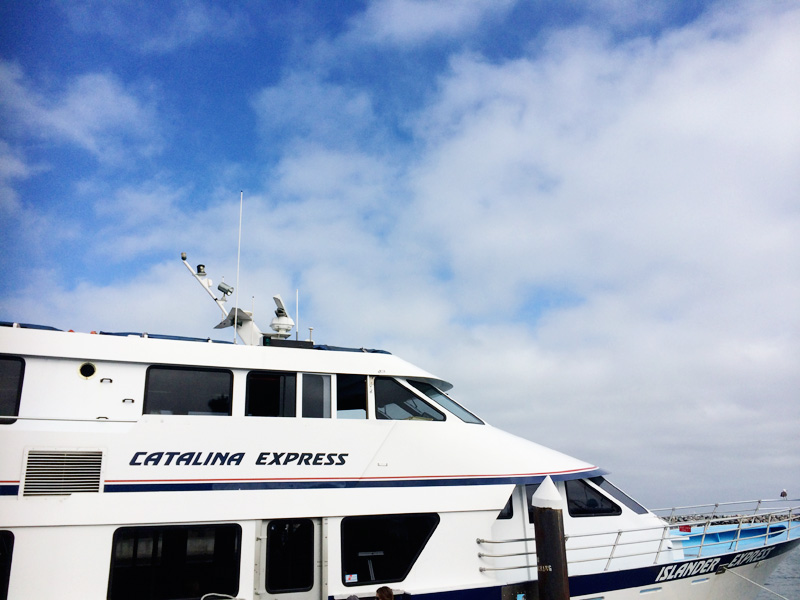 The island is populated by two small harbors, one on each end. Two Harbors caters primarily to campers while Avalon (on the south side) is by far the busiest and the one that most resembles a little European fishing village. I can't get enough of the brightly colored buildings, the perfect little fishing pier and the rows and rows of sailboats protected by the little cove. There are two dozen or so hotels and guesthouses on the island to choose from, all are overpriced but most are fairly charming.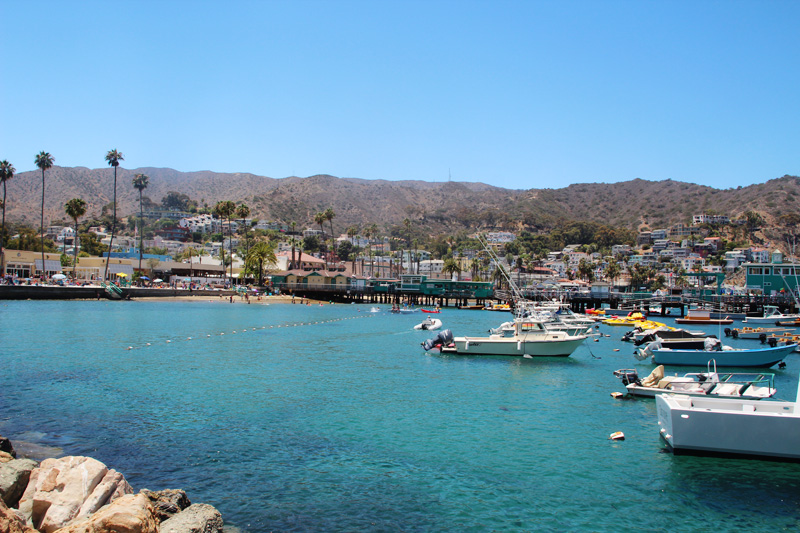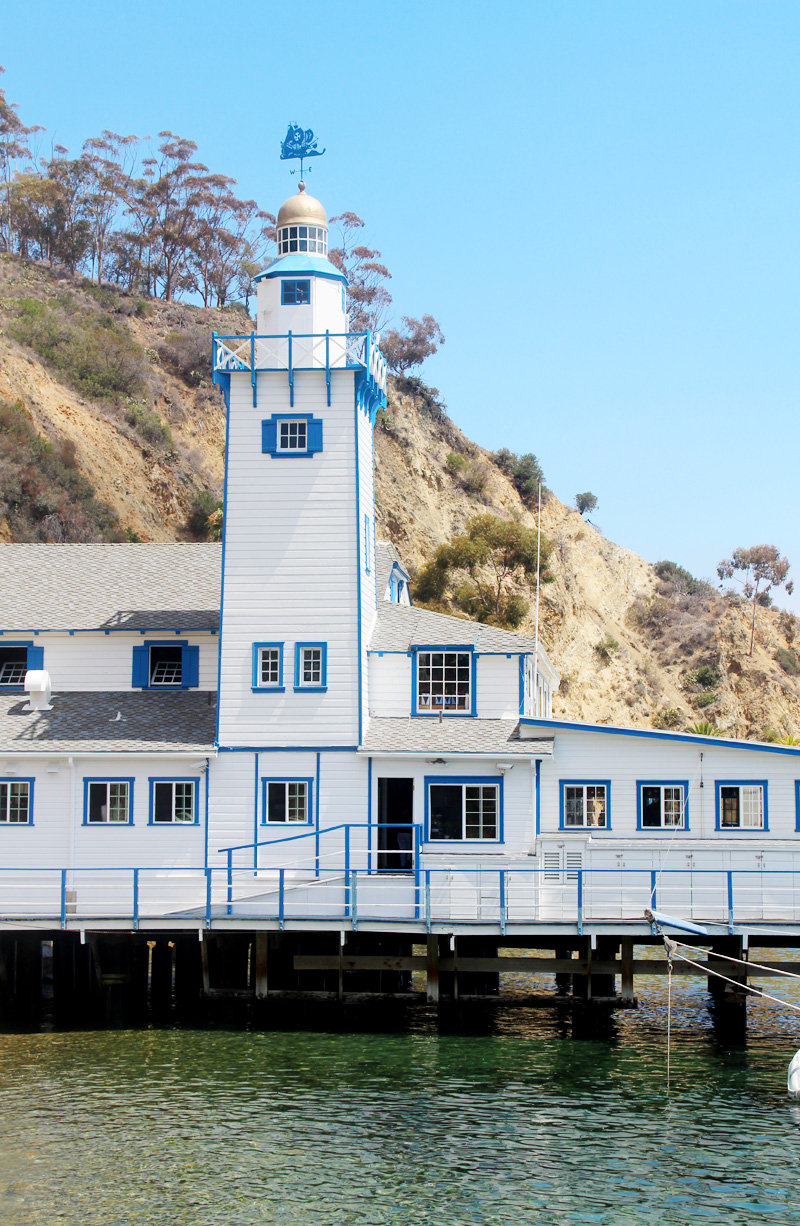 And what to do! There are so many activities to do on the island that you could easily fill a week with snorkeling, diving, paddle boarding, kayaking, hiking, parasailing, beach sunning, historical touring, golf playing and so on. I like to think of it as an excellent excuse to come back.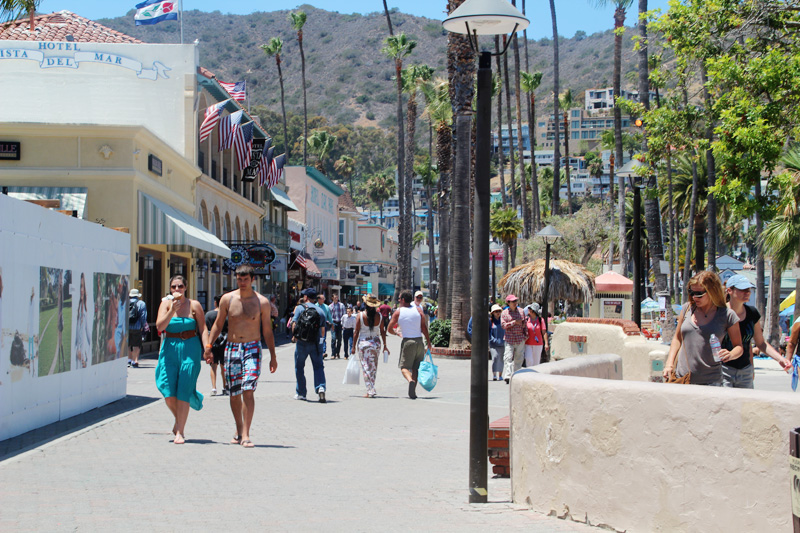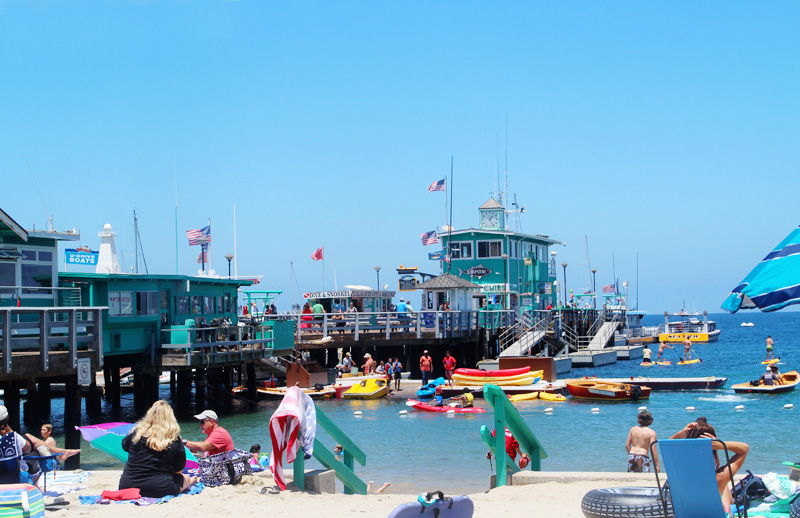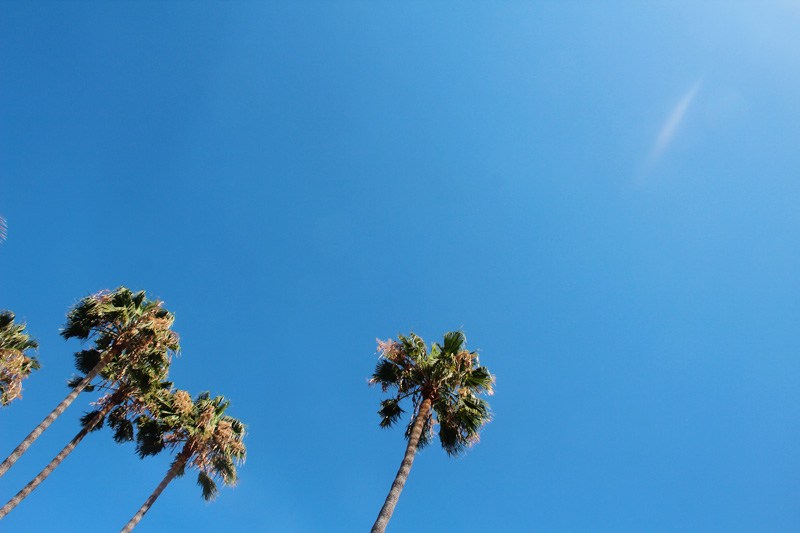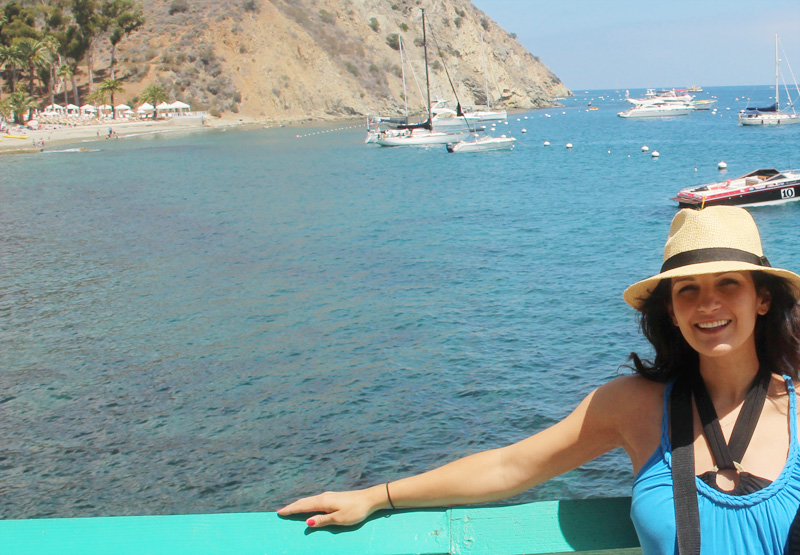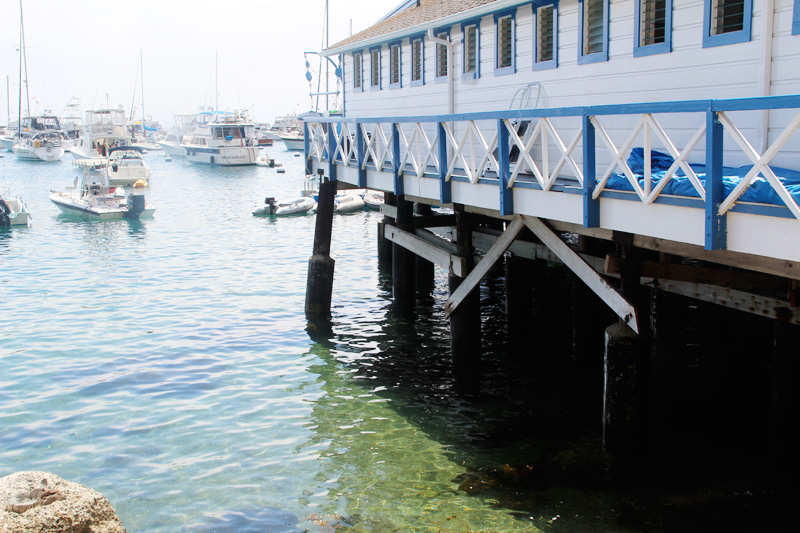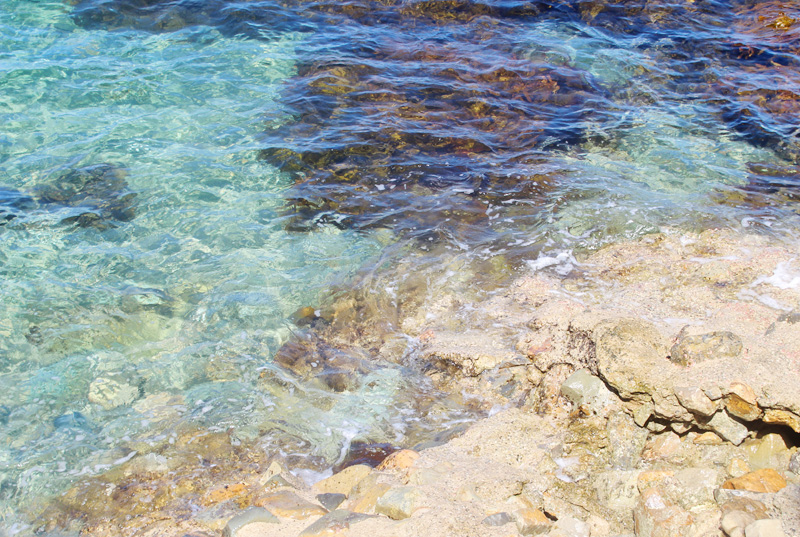 Kevin and I had two days to explore, and since we've each been to the island once before (separately) we had a rough idea of what we wanted to fill our time with. We spent our first evening on the island (after a 5pm ferry out of Dana Point) enjoying a special anniversary meal in the main strip of Avalon shops.
The next day we walked down to the cove adjacent to Avalon for a morning/early afternoon of relaxing at Descanso Beach Club. Sounds very fancy but it's really just a nice and quaint stretch of beach (the only on the island that's easily accessible against the water) full of cushioned lounge chairs that are rented out for the day. It's nice to be able to have a landing spot for all of your beach gear as you come and go.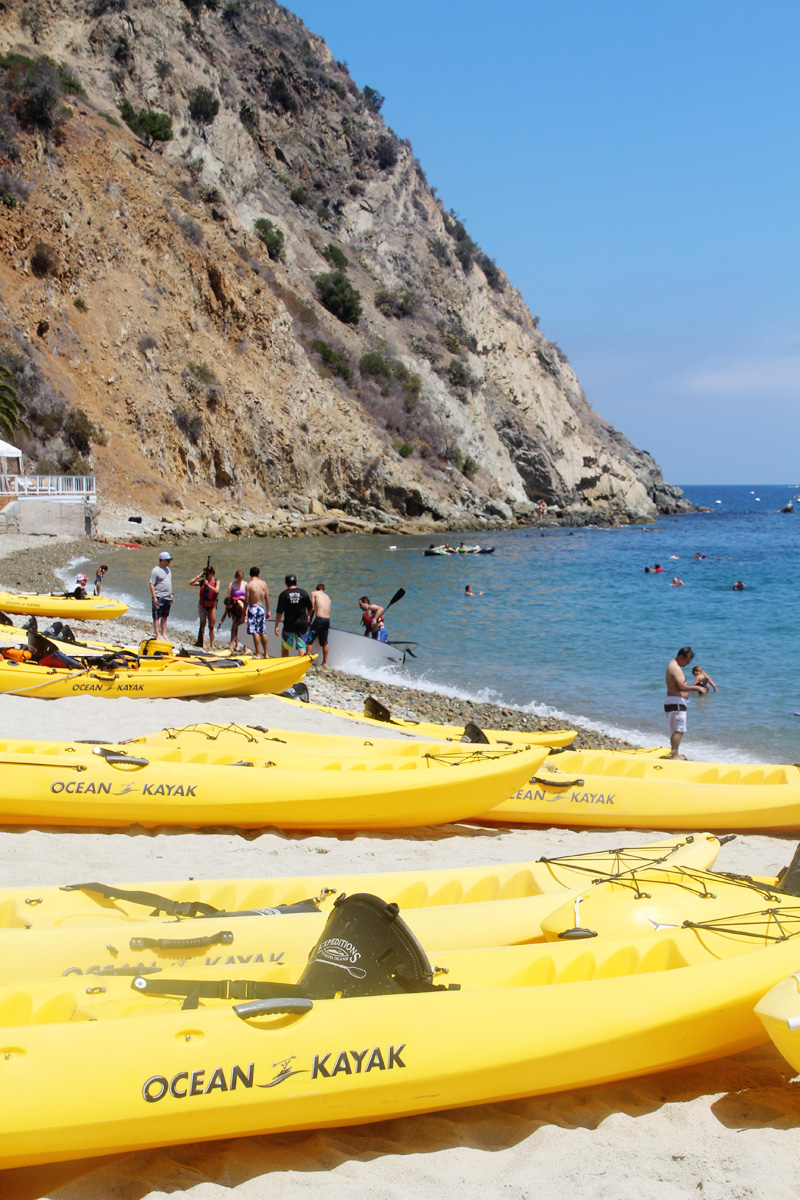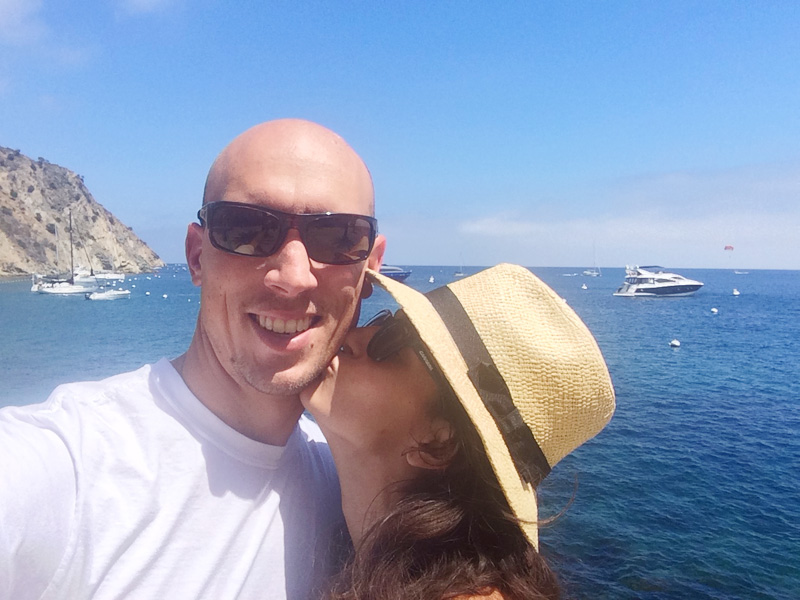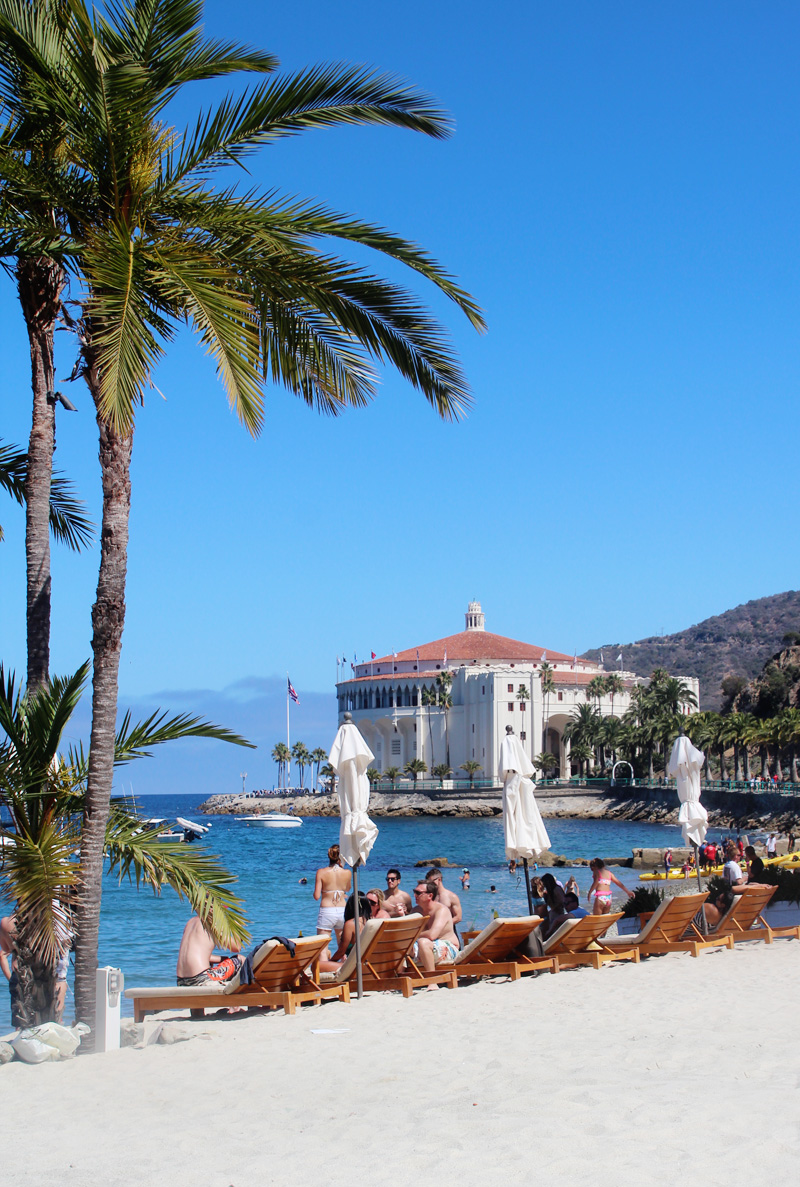 A neat little secret is that if you are golf cart-less (the preferred method of travel around the island, there are actually very few cars), there's a cute little trolley for $2 that makes regular routes from Descanso Beach to the botanical garden, into town and near the casino.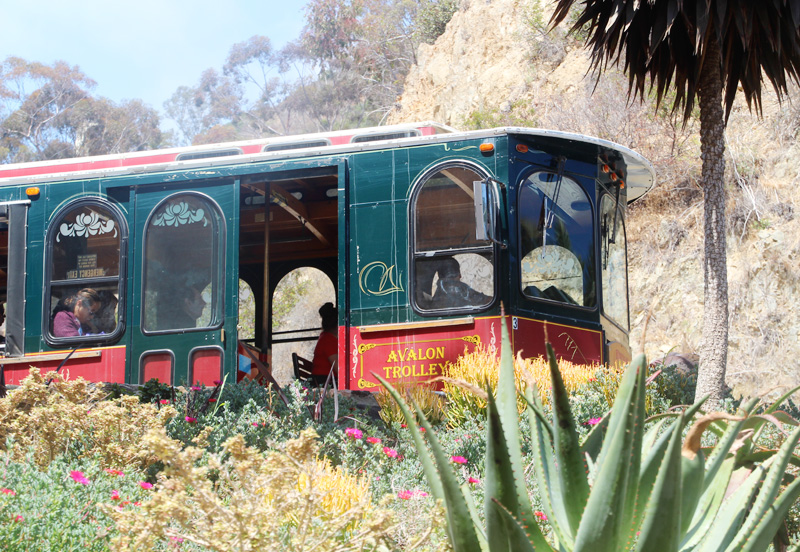 That afternoon we headed back into town and chose a restaurant over looking the bay to enjoy fresh fish for a late lunch. Tummy's full, we walked down to the old casino (built in the 20's for some serious party entertainment) to catch their evening flick. Plus ice cream.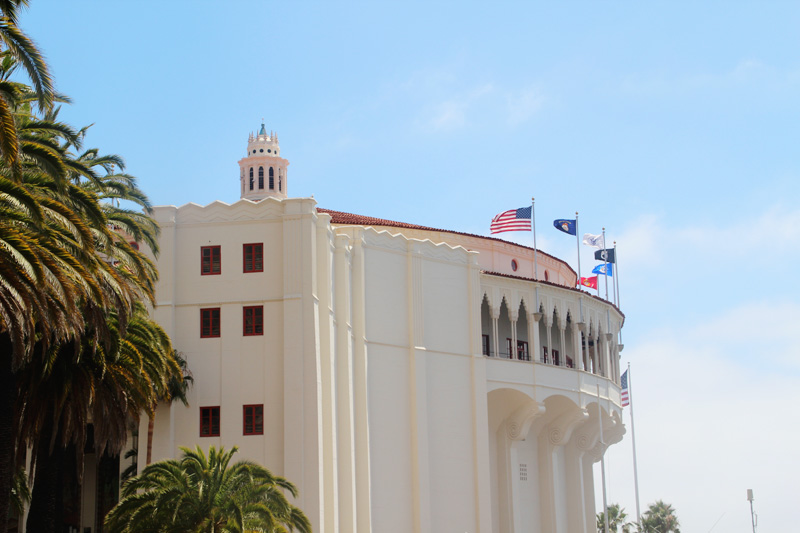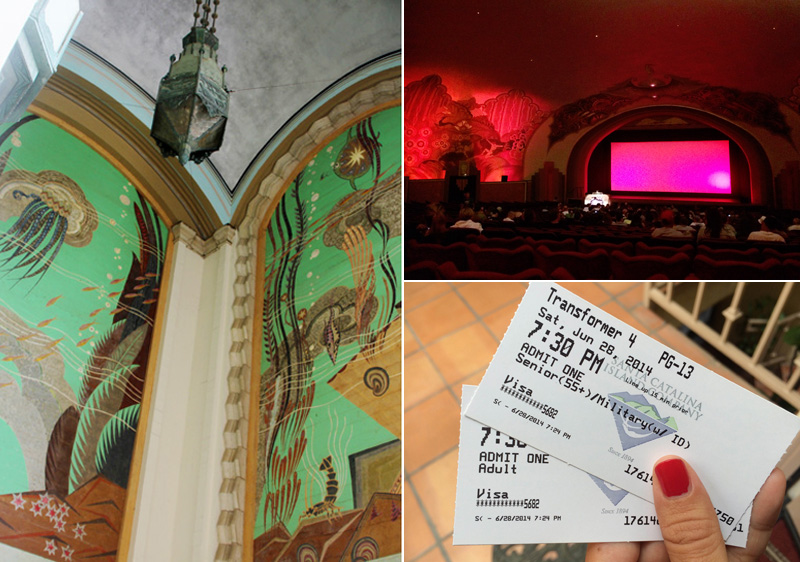 The movie playing happened to be Transformers, I can't say my first choice but the theatre was regal! I will be back for a full tour at some point. That night we played at the local arcade. Kev won the ultimate tournament but I may have come ahead in skeet ball, my favorite. To be continued! The plus side is that we won Liv a little princess crown.
The next morning we woke up fairly early and set out on a nice long canyon hike. The start of the trail led us through Catalina's botanical gardens and passed William Wrigley's (gum and business connoisseur who founded the island) memorial. The memorial was stunning – we had the grounds to ourselves and it was a little haunting in that I-can't-believe-this-is-hidden-up-here sort of way.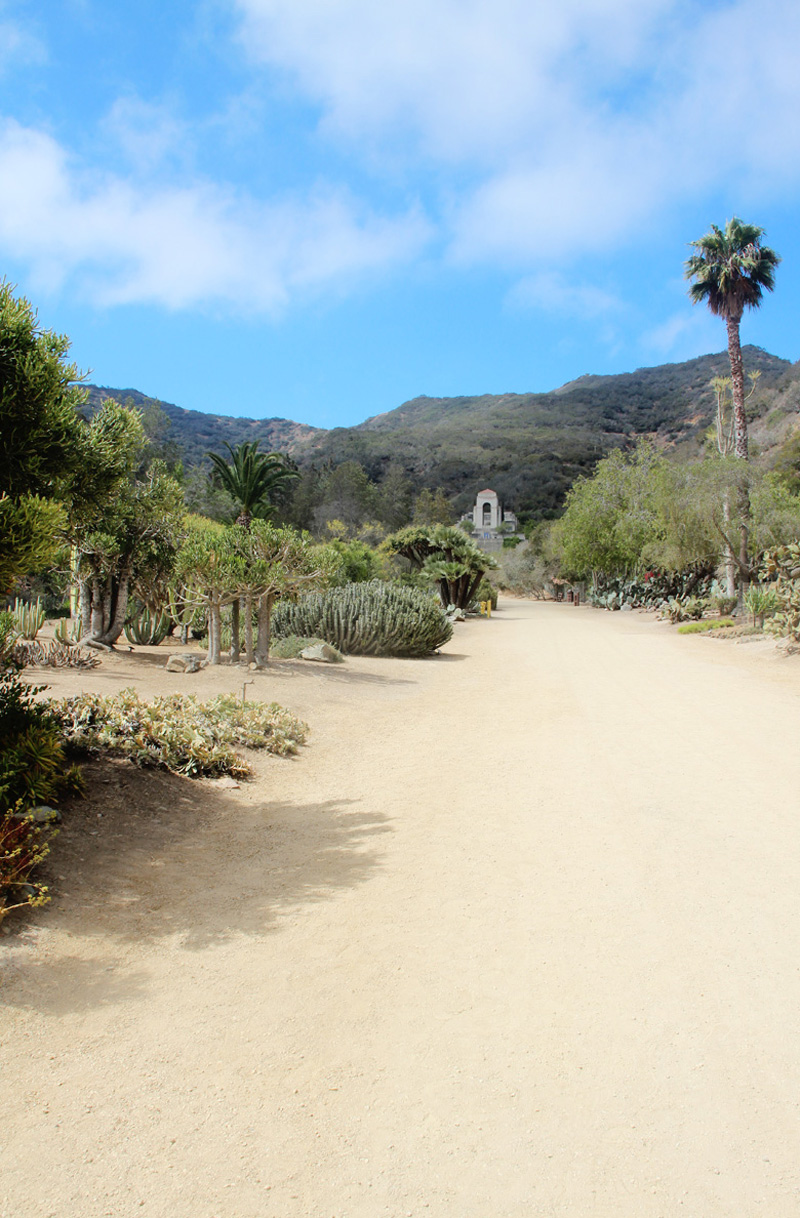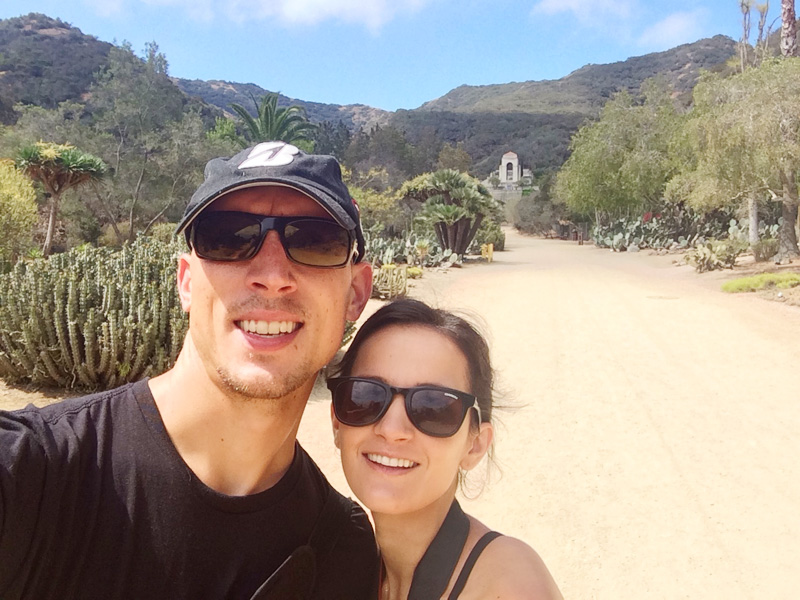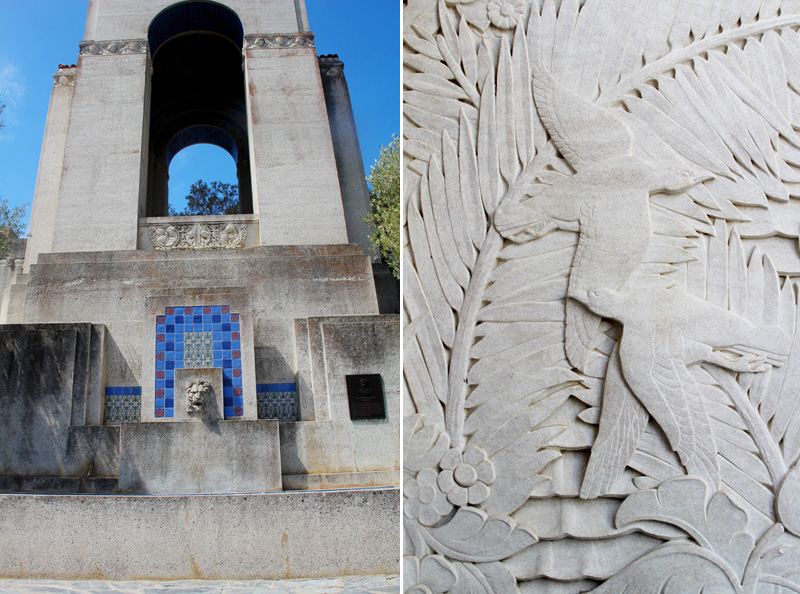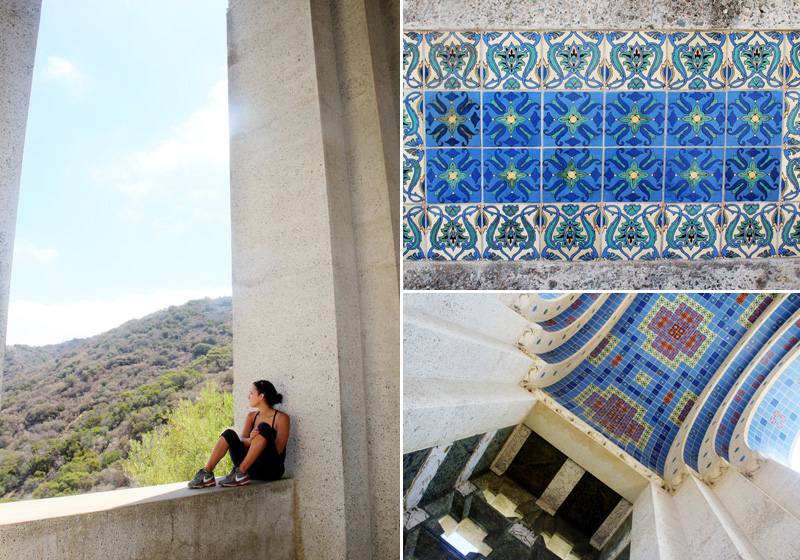 The hike then led us upwards and onwards to several panoramic views of the island. Six or seven ish miles later we made it back to the tiny town. My buns were feeling that walk for at least a few days.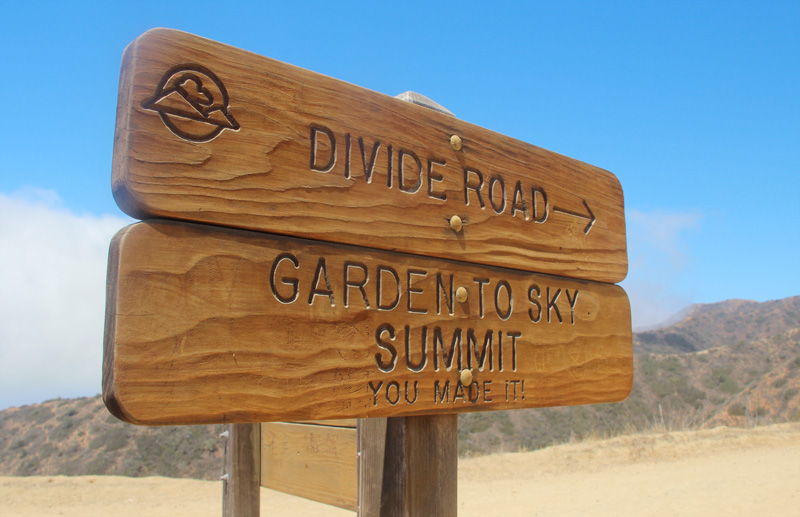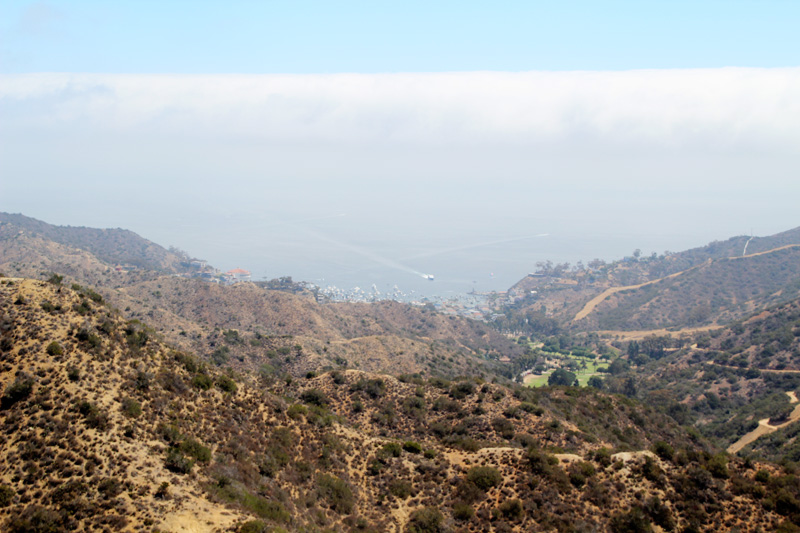 After a lunch of salads and World Cup, we jumped back on to the ferry and back to the mainland.
Tips for traveling to the island:
*Book your hotel at least two months in advance
*Reserve your spots on the ferry to and from two weeks in advance
*Reserve lounge chairs at Descanso beach the weekend before (plus any other tours you have in mind)
*Most restaurants don't accept reservations so best to put your name in in the early evening and then enjoy the nightlife until your table is ready. There aren't too many choices.
*If you plan on hiking, register for a permit online at the conservatory before you arrive or swing by the little building the morning of
*Relax, enjoy :).
A quick trip that was over in the blink of an eye, but so worth it. And so fun.