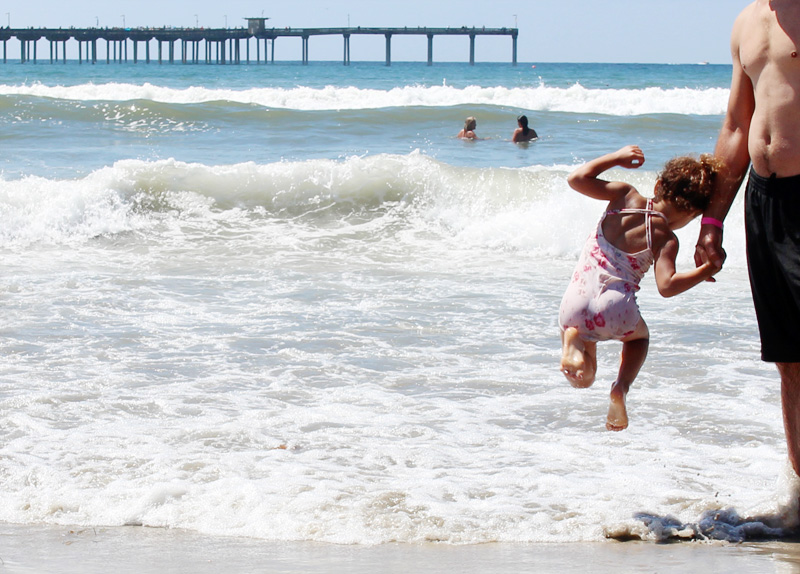 Labor Day went something like this: littles woke up early and crawled into momma's bed. I turned on a show for them and read half (!) of the new BHG magazine in one sitting while they lazily enjoyed cartoons (but now they know that mom & dad's TV really does have kid's shows. drat.) Post cartoons, we decorated a recent kitchen creation (a flourless chocolate cake) with giant polka dot candy and pretended it was somebody's birthday (so many smiles on Liv's face). A few hours later, we were playing in the sand and waves at the beach and enjoying a glorious day off with nana and papa. Post-beach included a friend's birthday with crazy amounts of street taco choices. I snuck away early to head back home, soak in a bubbly bath and read a (real) book. Kevin stayed at the party with friends until the girls' bed time and then helped me tuck them in.
I'm not sure which was the best part of a day off that we made the most of. Days like this just don't happen too often in our house :). And after a weekend solo with the girls (Kev worked Saturday and Sunday), it was so nice to relax a little.
We have embraced every bit of this past summer and it feels odd to watch it slip away. We're still experiencing record heat around here (and probably will through the beginning of October), but the fact that Michael's is now selling Halloween decorations and Nordstrom's officially has sweaters out and available is a sure sign that we are in for a season change sometime soon. I am so ready for a new season.
Summer – you've been sweet. Fall – let's get this started.