When I first found out that I was pregnant and that I'd be swapping out a good chunk of my closet for expandable-belly-clothing, I thought I'd take the opportunity to do a little weeding of some of my favorite but not often (or never) worn pieces of clothing.
Buried in my 2×3 foot, 1930's closet are a handful of killer finds from the likes of Piperlime and Nordstrom's (for the record – I've gotten significantly better at this over the past couple of years :)) and it was time that they found a new owner who would love them even more. It's embarrassing that most of these clothes still had tags on them, were still very much on trend, and for whatever reason were acquired even though I probably didn't love them at the time.
Having previously sold to some of my favorite consignment stores in my local area as well as on eBay, I did a lot of research on the new online options out there to get an idea of what was available. My biggest criteria was that I wouldn't have to photograph and ship the clothing to buyers myself (I know a lot of people don't mind this extra step though). The three sites I ended up trying out? Bib & Tuck, Threadflip and Twice.
BIB & TUCK: I contacted Bib & Tuck (a play on words for buying and selling) first because of a love of their website – great design! – and because I really enjoyed perusing the closets of others that they highlight. I loved that they gave an identity to closets. It felt as if you were shopping the story. I gave them a try first and sent maybe 40 items in for their review. They were quite particular and chose maybe 10 (they tend to walk that fine line between fashion and high fashion, so I was surprised but happy at their pluckings). Here are a handful:

Pros: Quality of clothing, ease of shopping, beautifully photographed products (doesn't really feel like you're wandering through someone else's stash). You control the description and pricing of each item.
Cons: They are very particular about clothing that they'll list, they are not the bargain option. Brands not in their database (but those that are still awesome) are mostly rejected or are labeled as 'small/Indie brand' – wish they would expand out.
THREADFLIP: Next up was Threadflip. Upon receiving SO many items back from Bib & Tuck, I decided to take advantage of the Full Service offering from Threadflip and send them over my other 30 items to choose from (in a bag that they provided). They selected maybe 15, here are a few: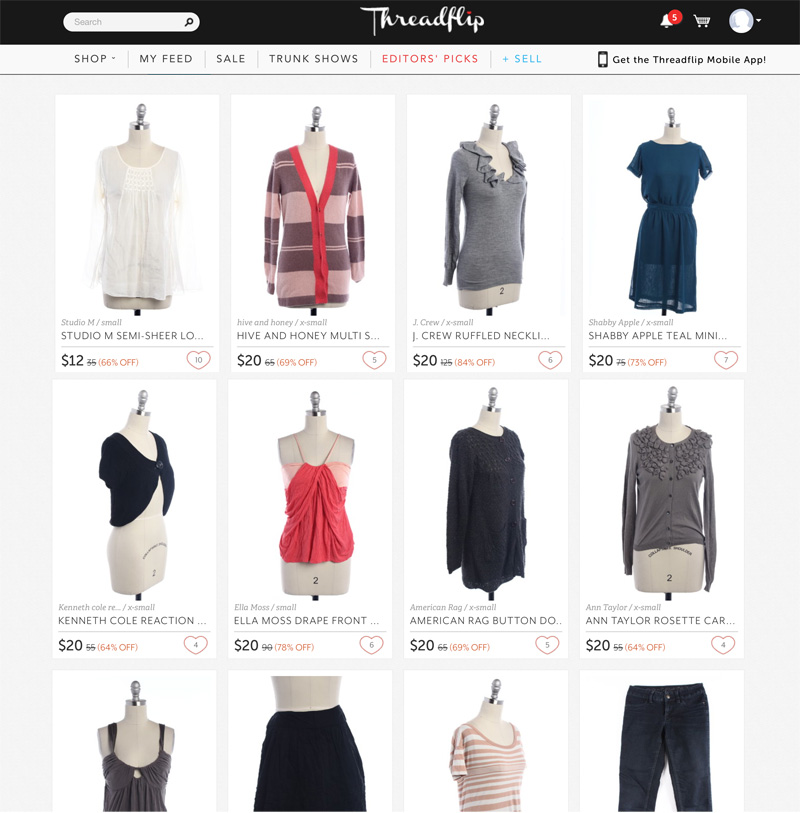 Pros: They provided a shipping 'kit' which I filled with my favorite clothes and left on the porch for the postman. They were happy to scoop up more of the Indie brands that I collect (think Anthropologie or small boutique) and photographed everything for the site. You can also take care of some of this work for a larger commission from what you sell (I think 90 rather than 80%).
Cons: The site functions more as a community where you have the opportunity to showcase your clothing by 'opting in' to brand trunk shows and are encouraged to follow and participate in regular closet favoriting. This is probably awesome for a lot of people, but being the pregnant and busy gal that I am (and not able to shop or really having the time to do too much perusing), it's a little overwhelming.
TWICE: This is the wallet-friendly little sister to both of the above. Rather than consign items, they send you a bag, you fill it up, and they offer you a price for the clothing inside of it (you can use this nifty little calculator to get an idea of what your bag is worth before you ship it).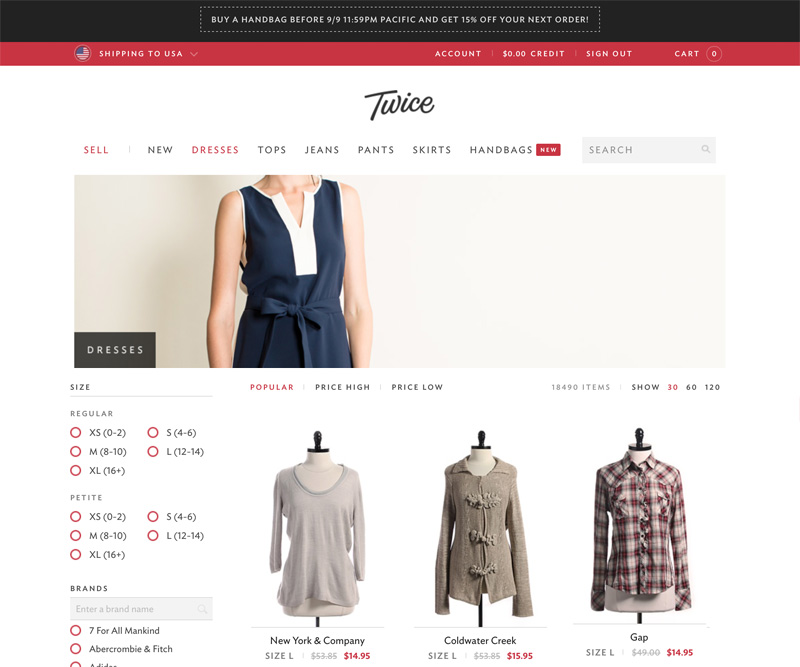 Pros: So. easy. I've actually purchased a pair of jeans and a dress off of the site already for a total steal (I love that shipping is $5 or free over $49). They take most brands as long as everything is in great shape.
Cons: You're offered a very minimal amount for your clothing (think $6 instead of $46) and your clothes go into their large online retail store rather than into a personal online 'closet' as the other sites feature (the clothing listed above is not mine, I couldn't even find mine if I wanted to, I'm sure!). This is nice for me because there's little work on my part :), but if you wanted more control over what was sold at what price, this isn't the site for that. Also, you have to sift through a lot of stuff if you're the one browsing.
__________________________________
What other sites have you tried out? I must admit, this is kind of addicting!
At the end of the day, it's been mostly about finding an easy online selling/buying solution for me, which is why I thought that these three sites were pretty right on. I'm still purging and still sorting, and it's fun to have online outlets to list good finds!
PS everything above is still available (I believe), so if you're a size small in clothes or 6 in shoes and can't pass up an amazing pair of Frye moccasins for fall, you know where to go ;).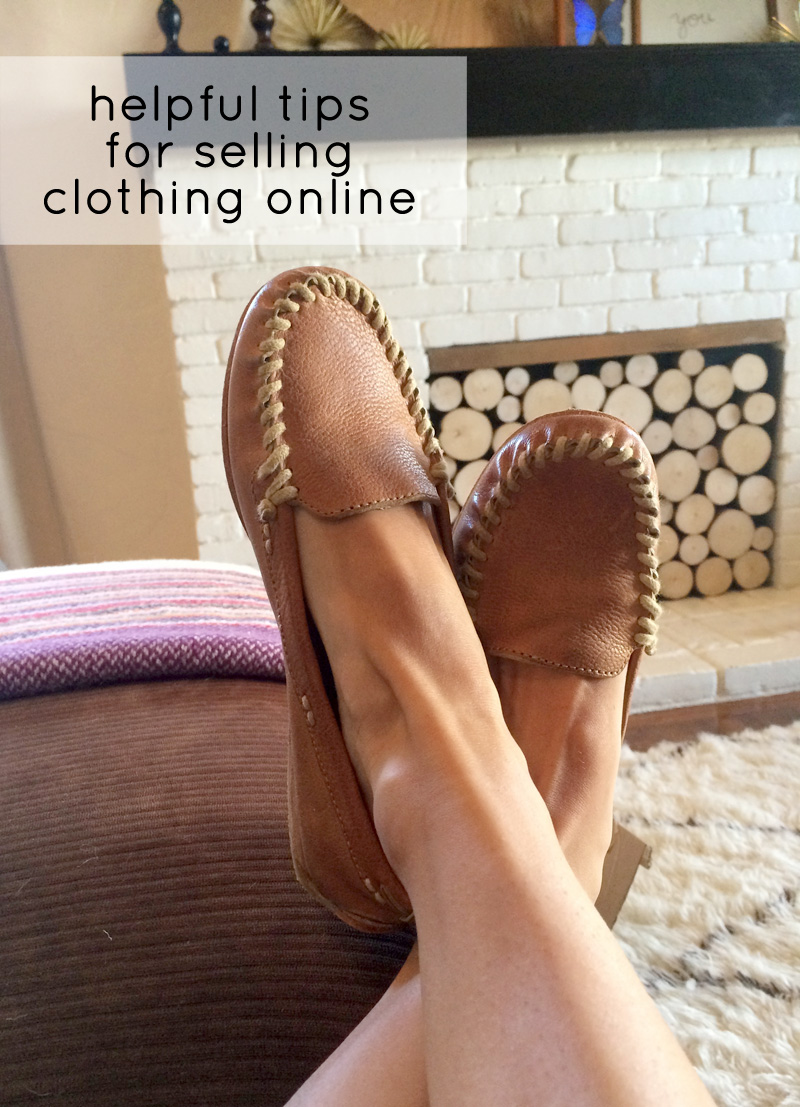 I'm sorry to let them go. They were just a hair too small.