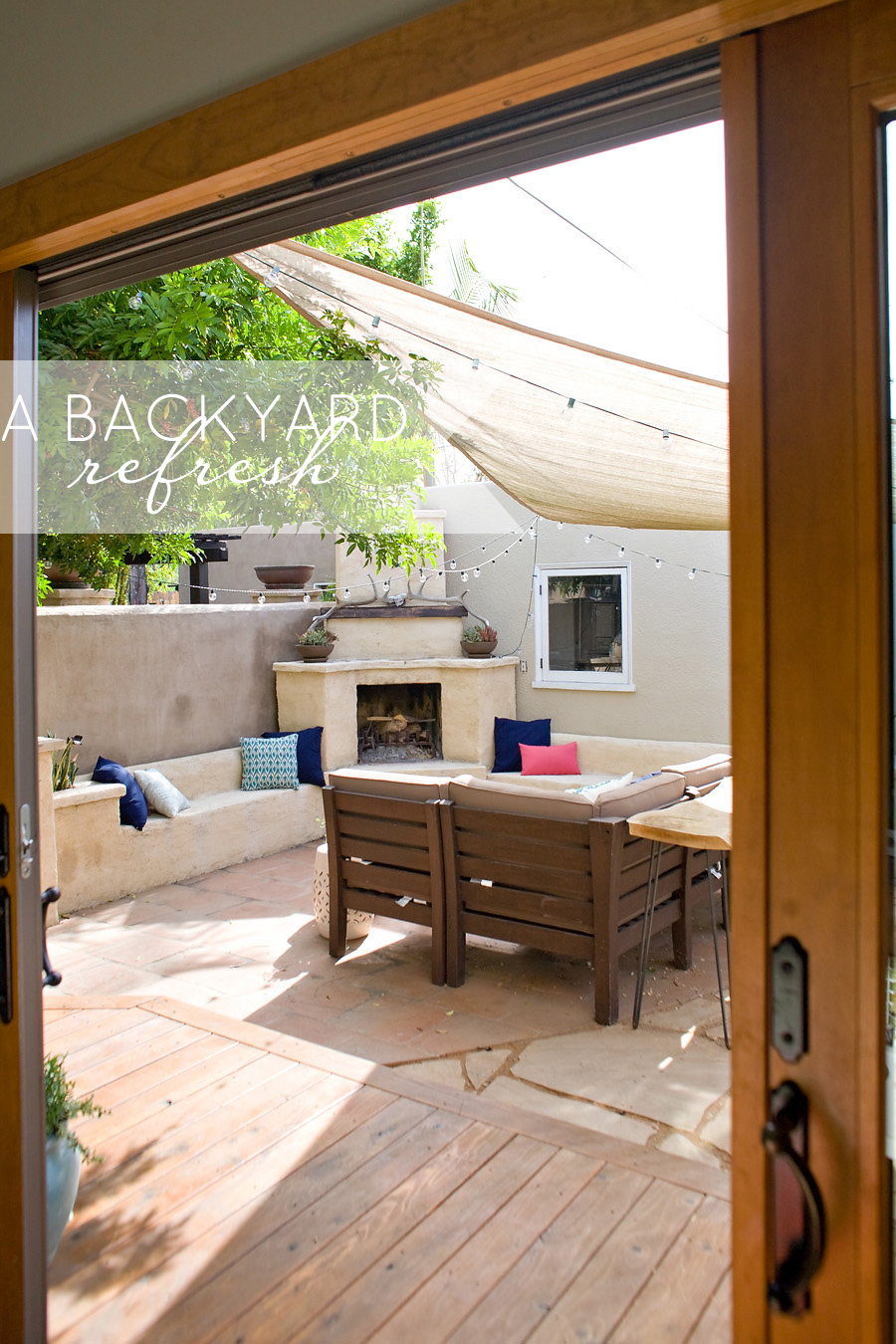 The backyard is back! With the weather being so very warm here in San Diego, we've been spending a lot of time outside. Brunch with friends, family dinners, lounging around the outdoor couch…
I shared that I was planning on giving this space a little love back in July and while it's taken almost all of August to find the little touches that are beginning to make this space bright, colorful and special, I'm really happy with where it's at now.
Here was my inspiration (resources):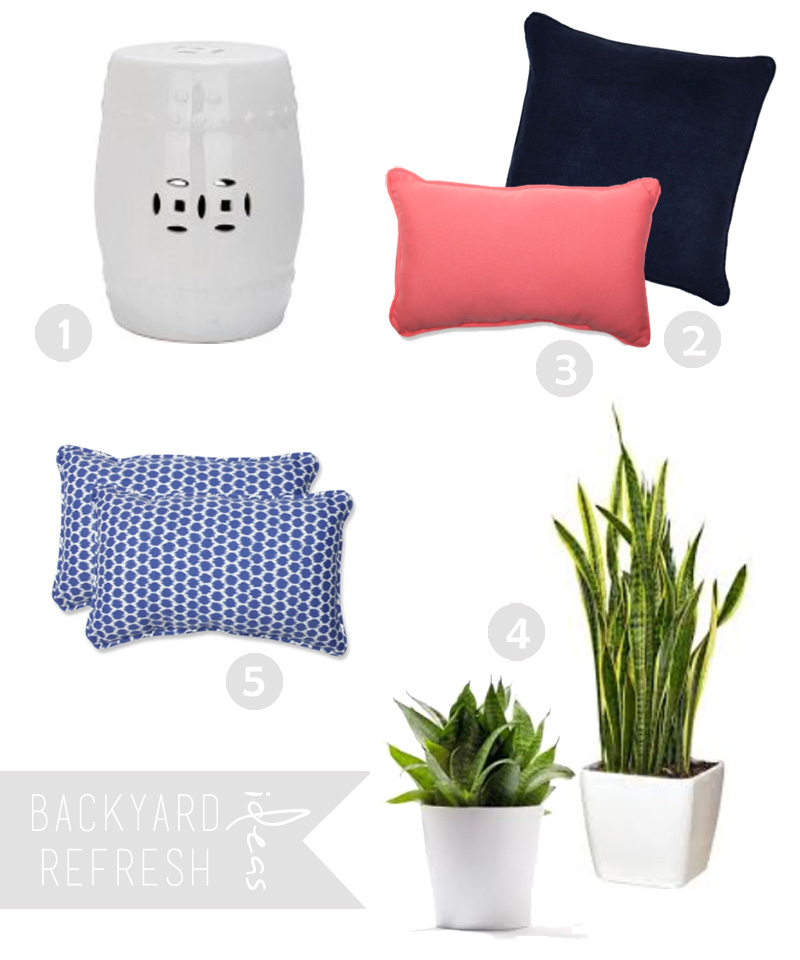 And the end result: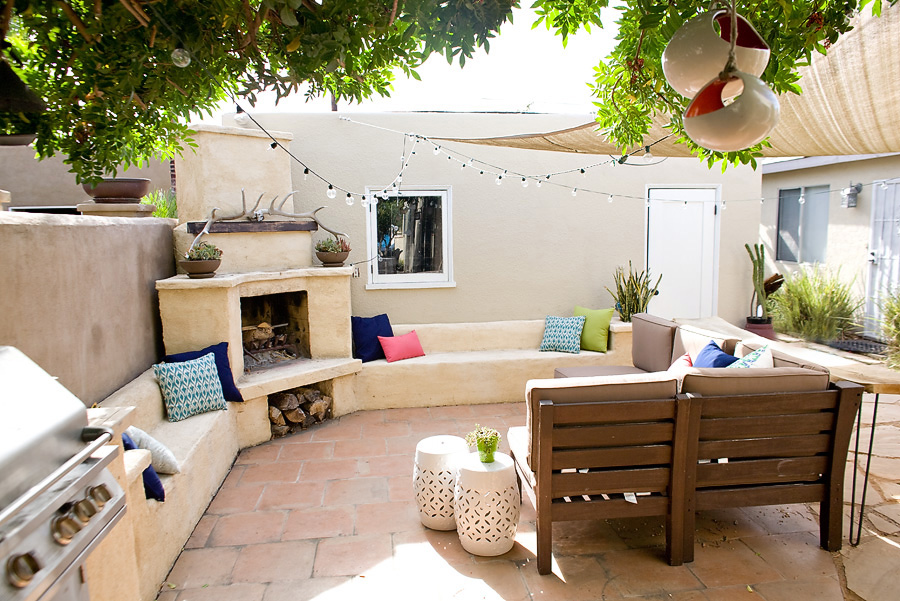 Just for a really rough comparison, here's the space 'before'. I know, not a very detailed picture at all (I don't seem to have any??) but the color scheme was pretty neutral with a few orange accents (via some cool Craigslist glass lanterns that have run their time out here).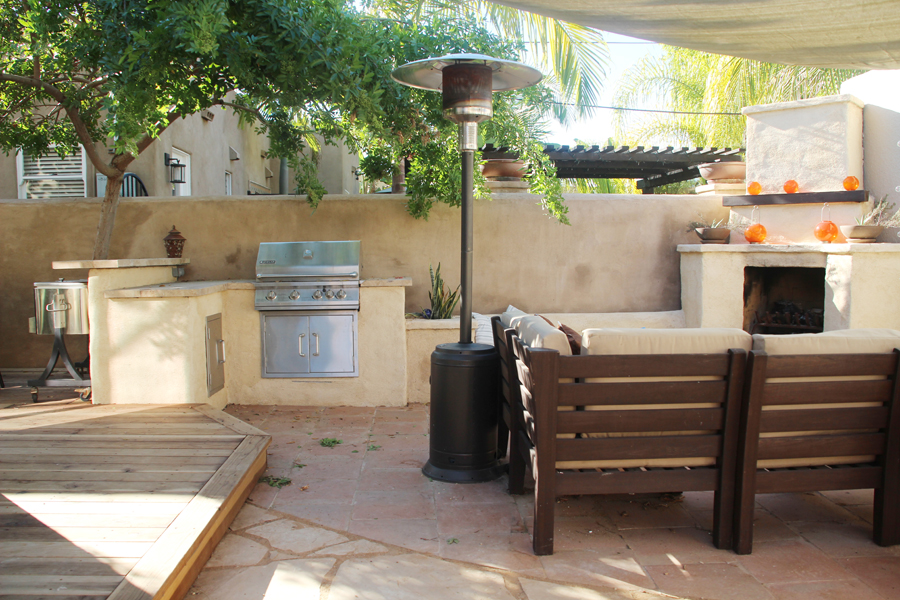 What a nice difference navy, pink and even little bits of lime green can make! Feels summer-y, feels brighter and so much fresher.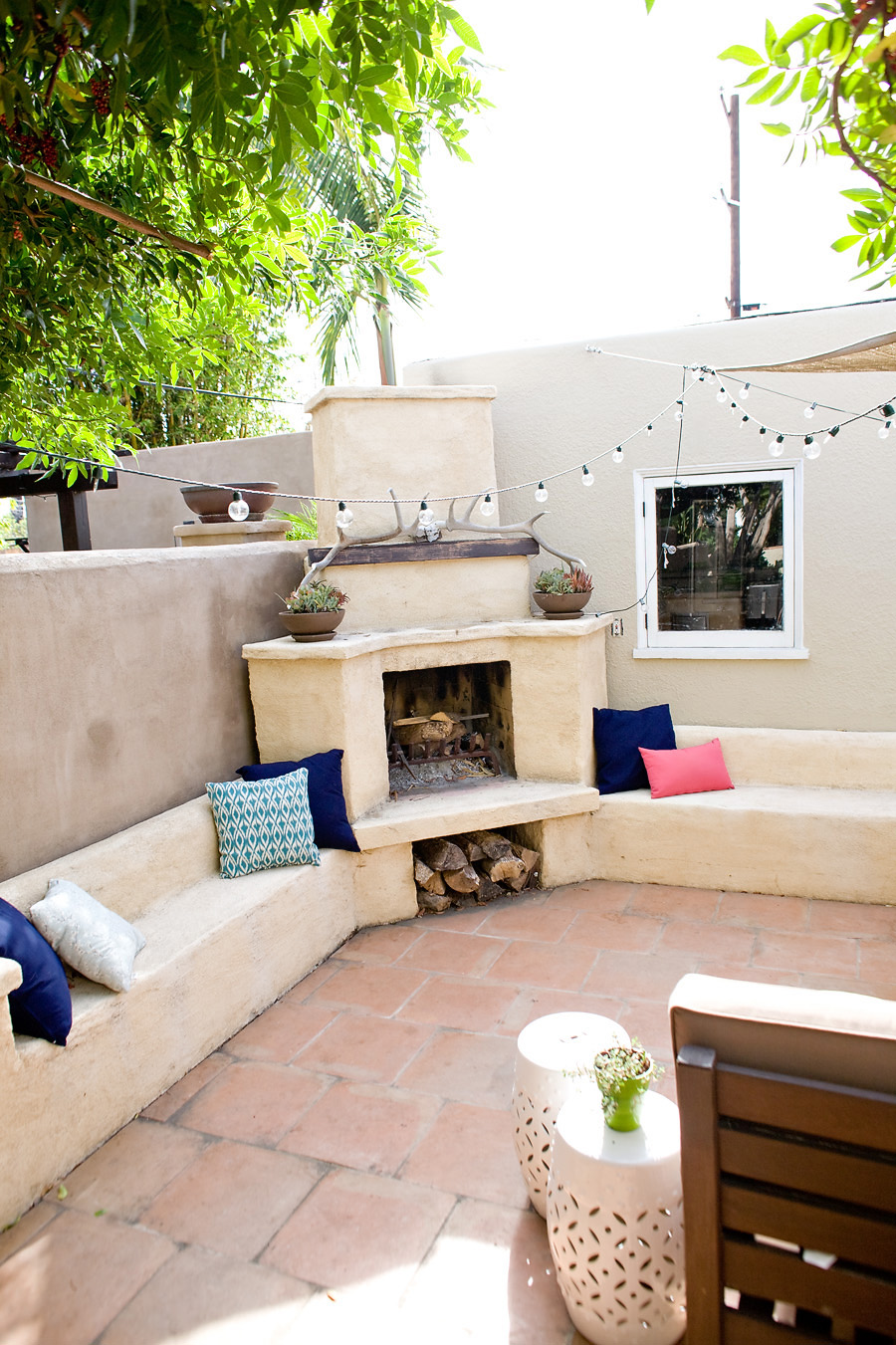 If you're new here (hi!), it's hard to believe how far this space has really come. When we bought the house the backyard was an outdoor room of sorts with a carpeted floor, wall paneling and windows. Inside (top left), outside (top right – it's the building behind the one in the foreground). We tore out the flooring and walls (bottom left) and eventually the roof (bottom right). Next came adding saltillo tile and flagstone as a beautiful ground covering, Kev built the outdoor fireplace and grill area with a lot of materials that we collected from Craigslist (the structural concrete block and even the grill itself), eventually we added the wraparound deck to finish off the space (full transformation broken out here).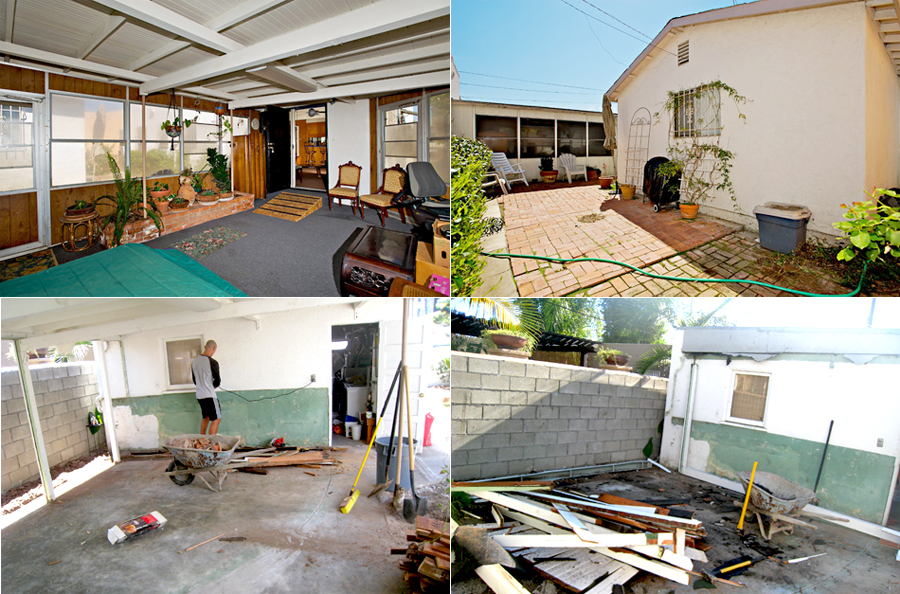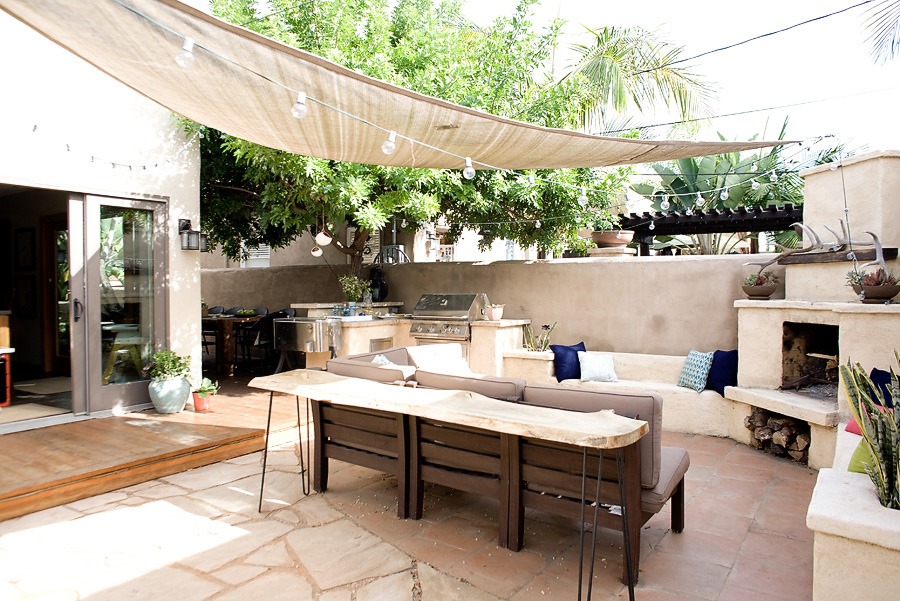 My first goal was to track down new outdoor throw cushions for the space. Having settled on navy and pink, I found this shop on Etsy and ordered 4 solid navy 20″ pillows and 2 pink lumbar pillows during a sale. I was beyond thrilled with the price and quality (and the sweet lady that runs the shop), and feeling like this space needed one more accent color, ended up also splurging on 2 lime green pillows as well. If you're searching out new pillows (especially outdoor ones), check out this shop.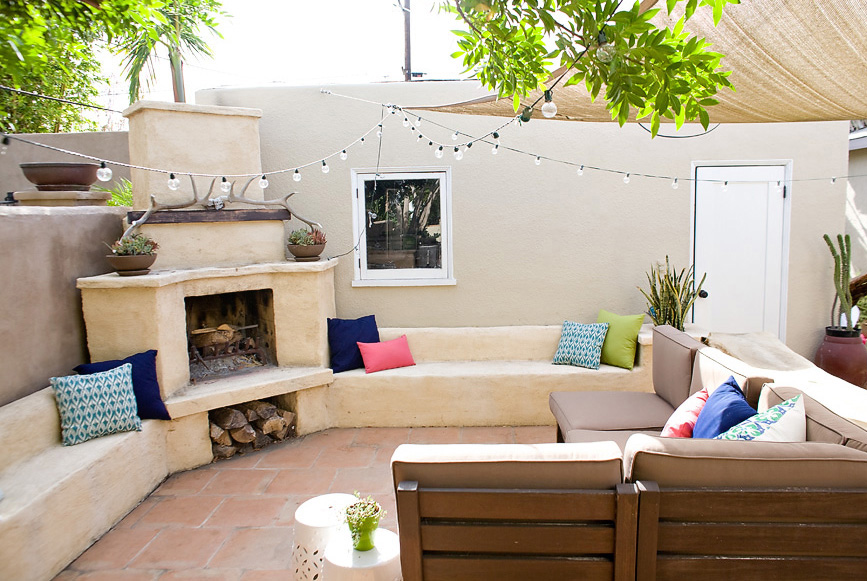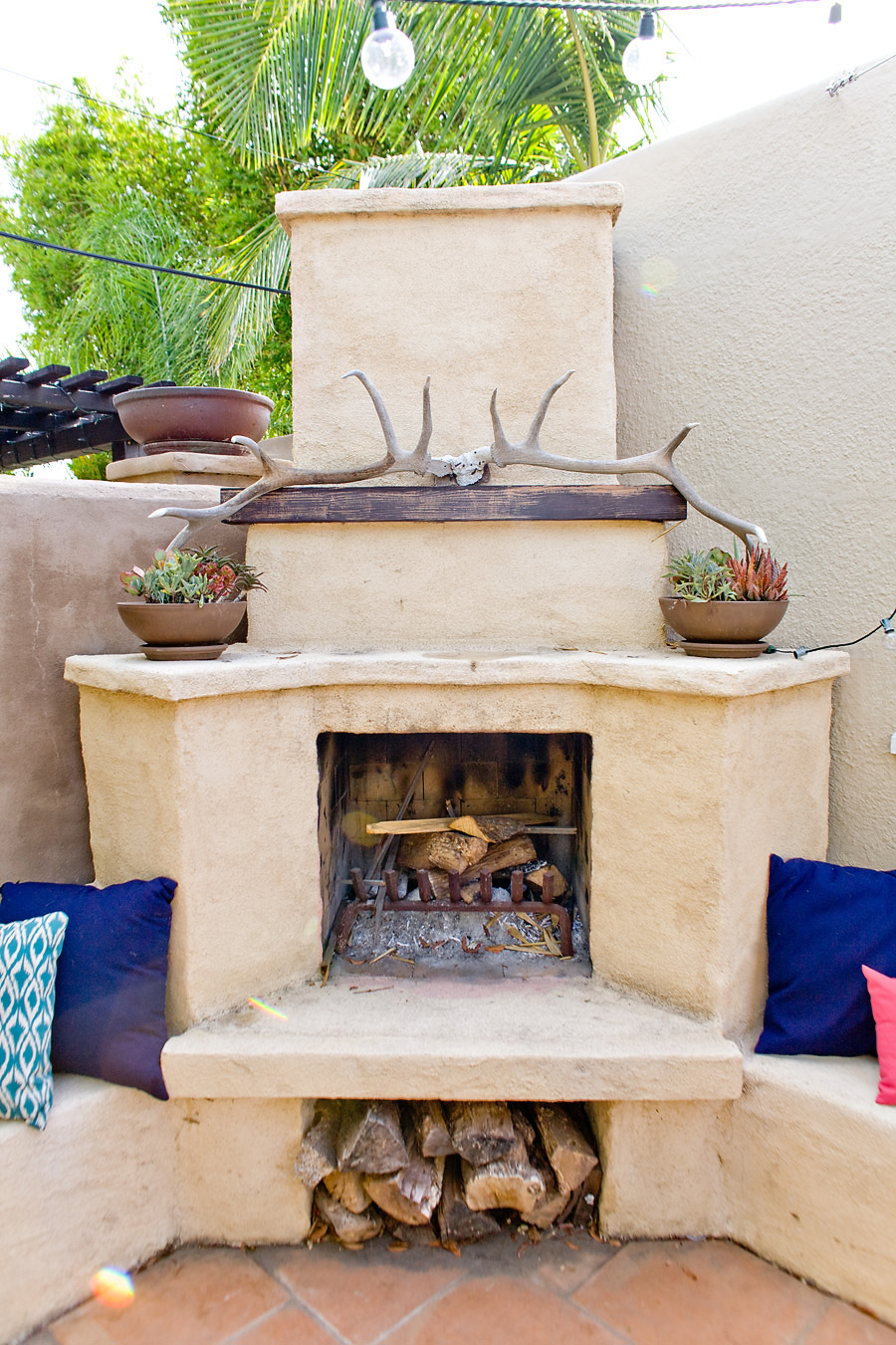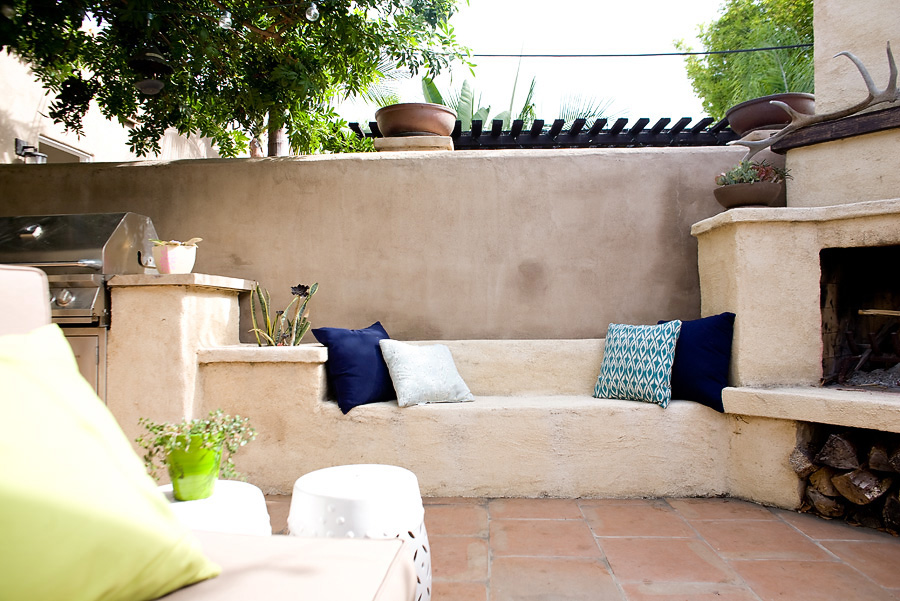 Garden stools from Ruelala are actually what sort of triggered some new decor out here. We don't currently have a table for drinks and snacks, so when I found these guys I thought they'd be a perfect stand-in. Eventually I'm hoping to find some sort of cool, round, giant ottoman (maybe metal, like a brass? Maybe ceramic?) and move these guys to another spot in the yard. But for now they're working out pretty well. (Similar here, here and here.)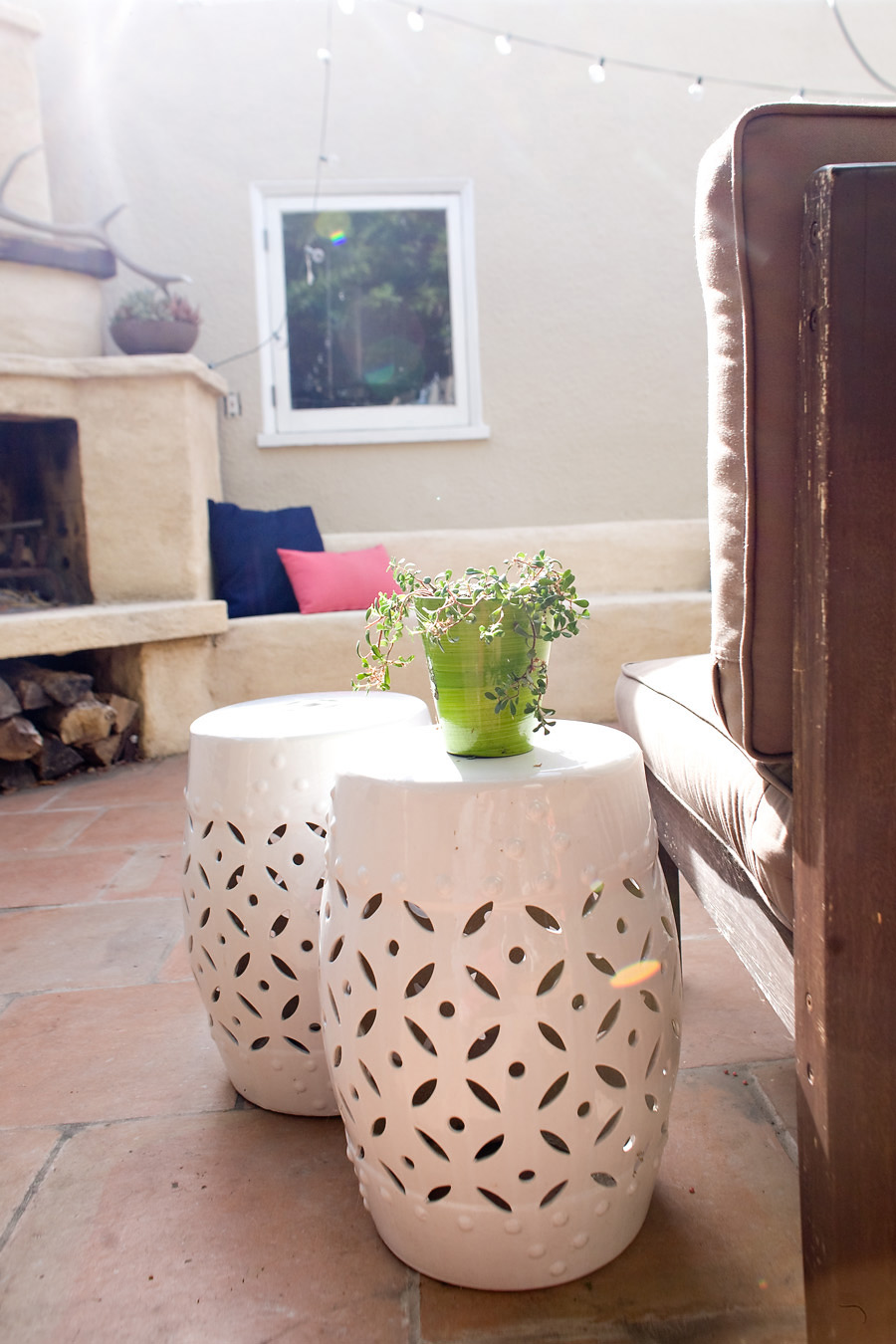 Possibly my favorite addition are these AMAZING porcelain bird feeders that I've had my eye on for some time. The shop and ladies behind it are so sweet, more to come on that.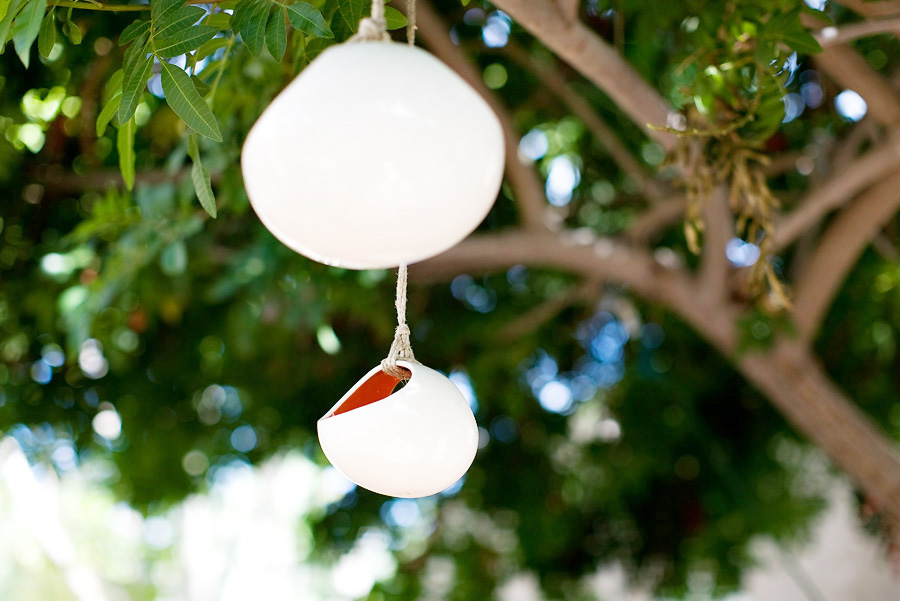 The shape, the color… everything about them.
I wasn't planning on it, but when I came across a huge Pottery Barn outdoor sale and found my Chesapeake cushions on super sale, I pulled the trigger and updated our dirty, well-loved cushions with new ones in 'mocha' (I believe they usually retail for about $650 – we DIYed our first set – but scooped up this new set for just over $200, which is actually the same price as they're on sale for now + a 15% coupon). That's definitely the comfiest upgrade we made, these real cushions (as opposed to the handmade version) are so soft and relaxing.
Another update is the addition of a few more fun pots, plants and succulents to add to the mix. I'm really beginning to understand what can grow well out here.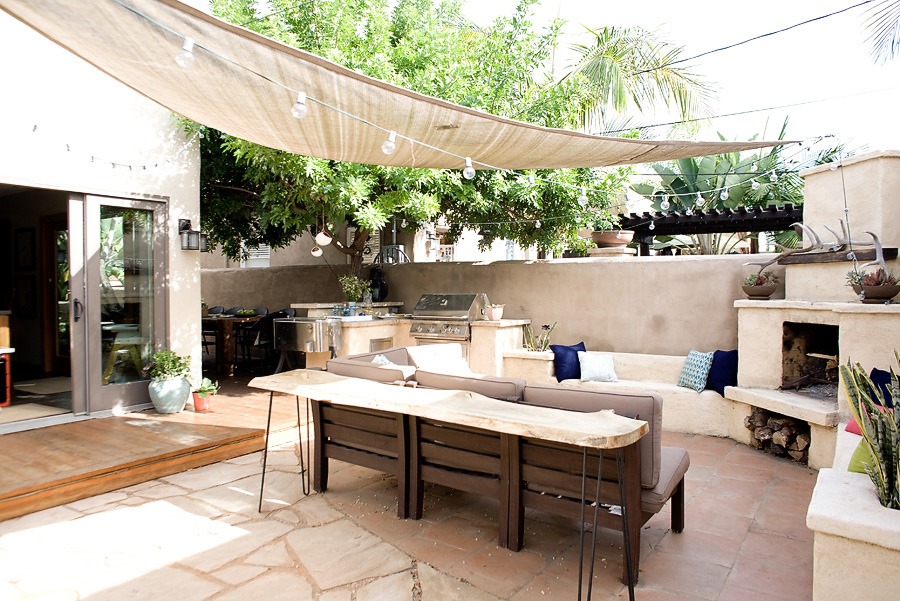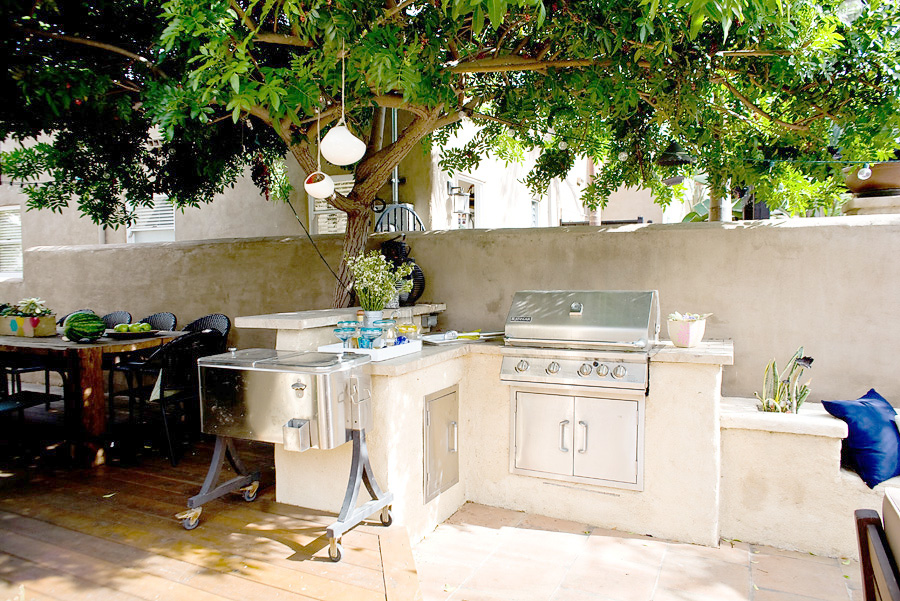 Not too many updates to share once we round the corner to the deck… but a few more pretty pictures (thanks, Katie!).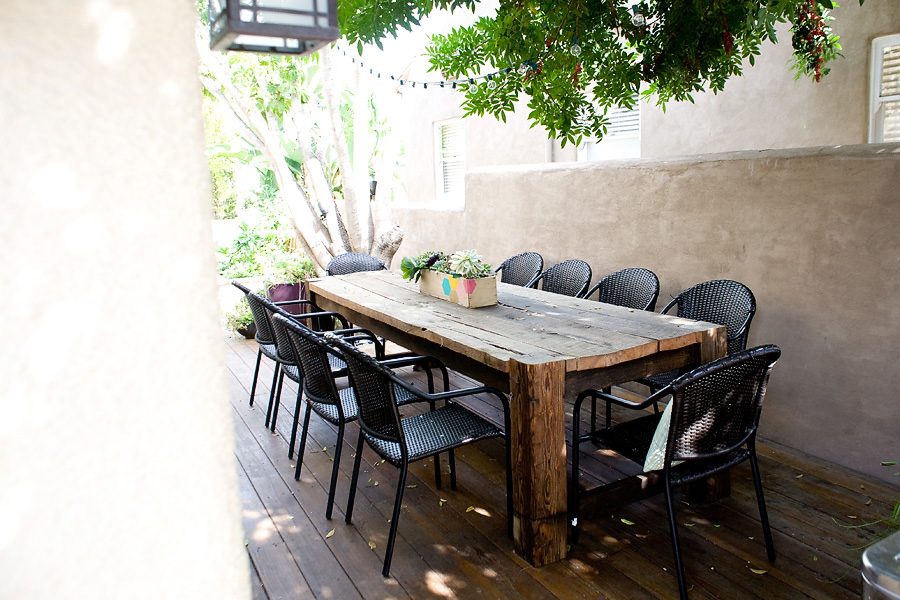 My succulent clippings are still going strong (even though the planter is seeing a little outdoor wear-and-tear). We still use this table all of the time. To those that have asked, I'm trying to get Kev to put together a DIY to share!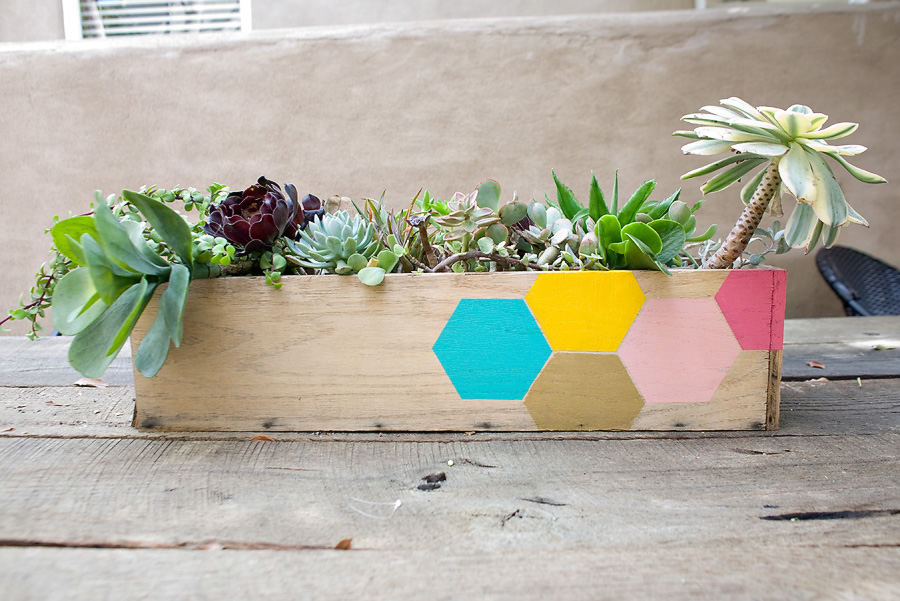 The yard finishes off with the girls' sandbox (they could spend all day out here, which is a great thing) and veggie garden: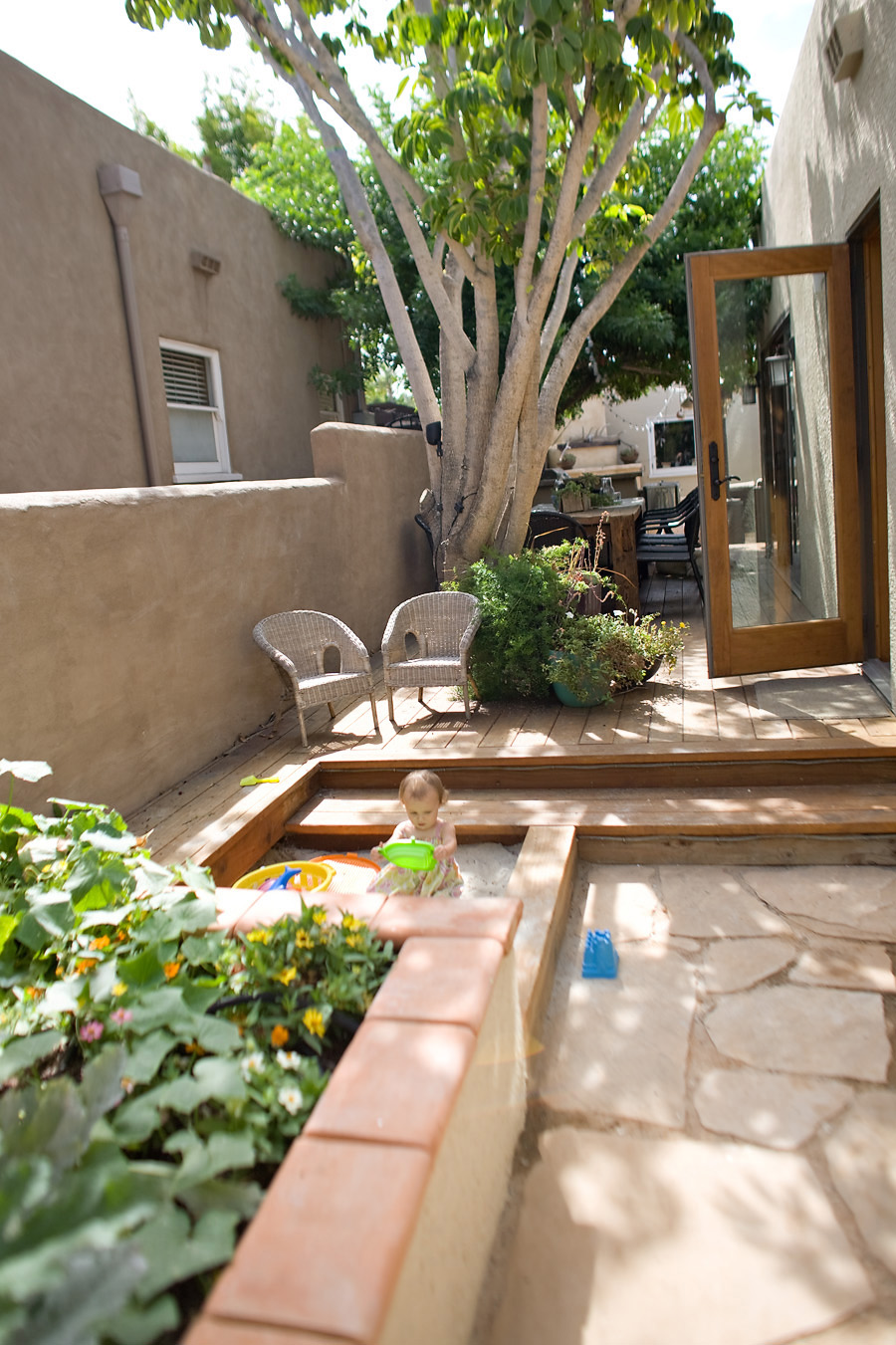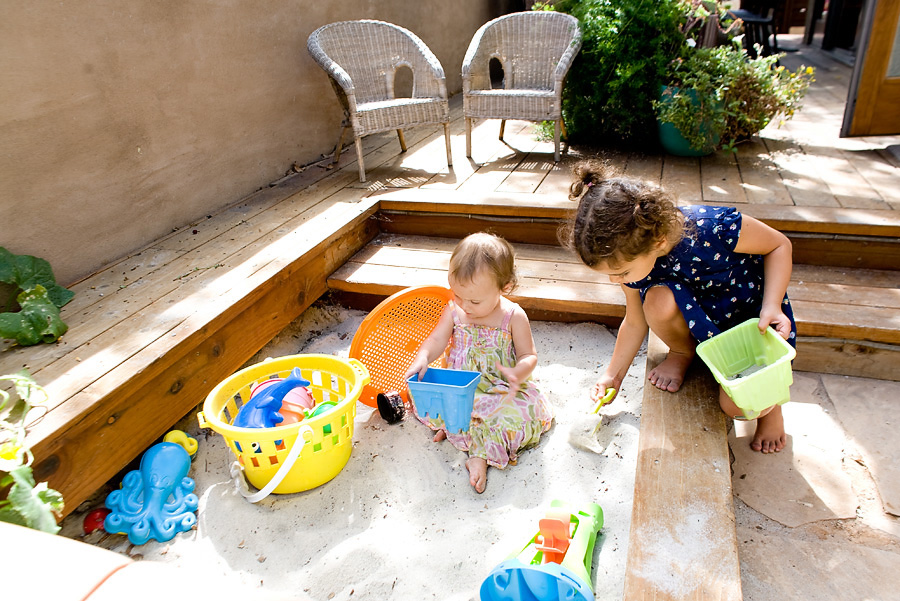 Amazing that she started as a jungle, and then a space in disrepair (nothing quite usable about it), and finally, became one of the most LOVED spots in our home. So much time, sweat, energy… This in-progress photo takes me back.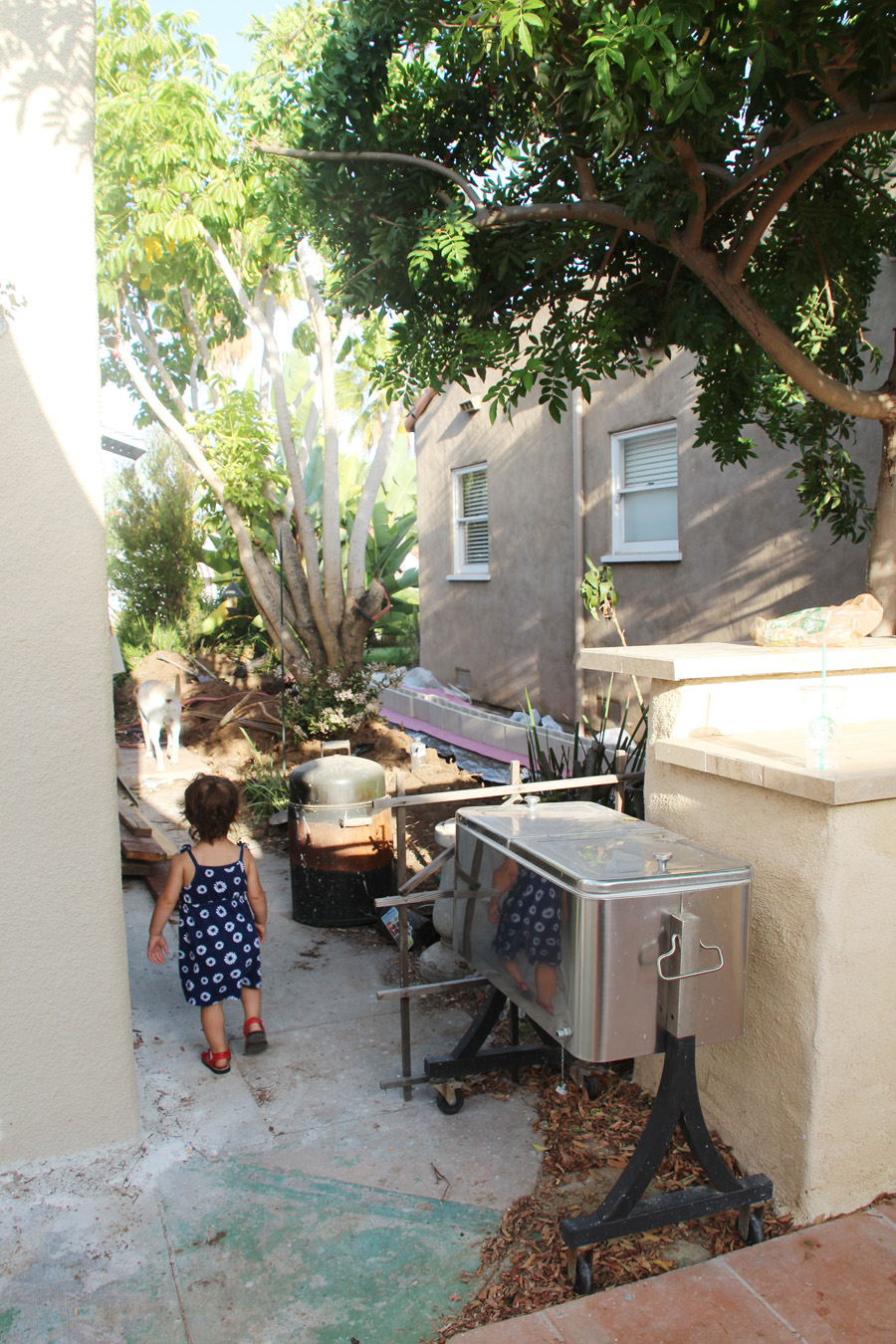 Now let's head back to that new party space – she's looking like she's ready for a nice little soiree, right? :)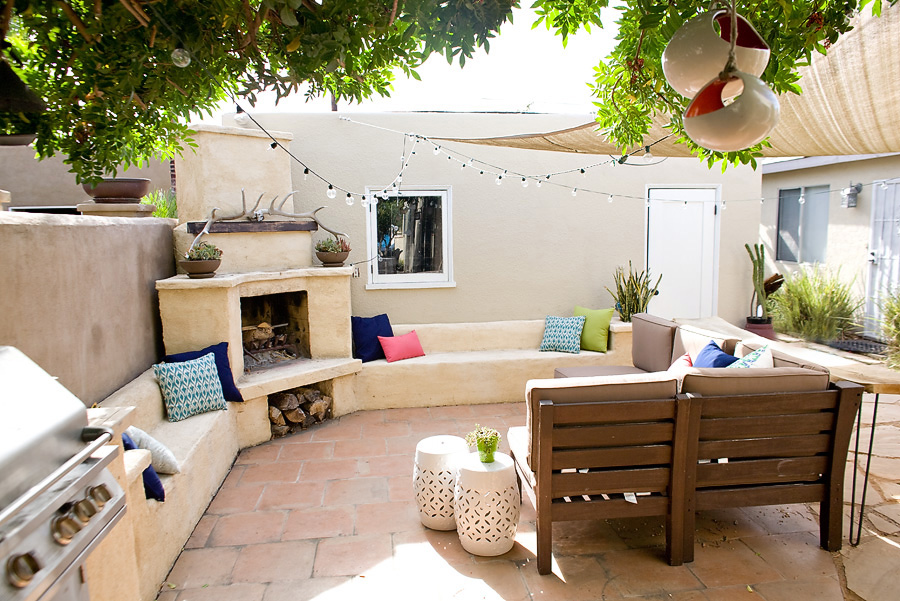 We're ready.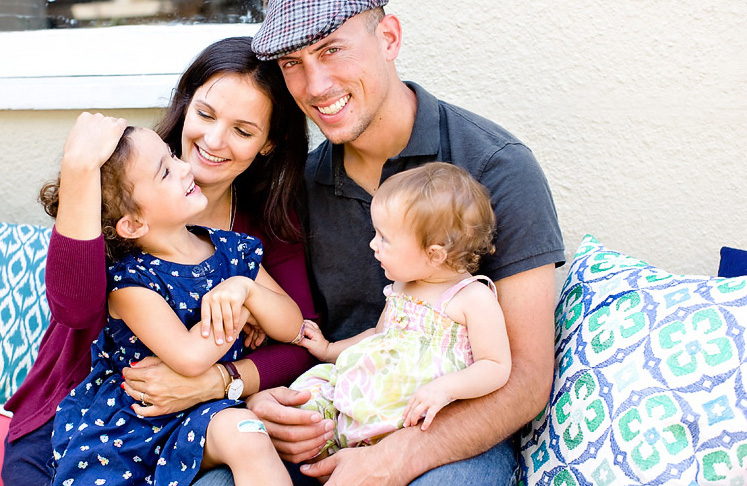 Sources:
navy, pink and lime green pillows – PillowsCushionsOhMy on Etsy
oversized blue and green patterned pillow – local consignment shop
turquoise patterned pillows and pots – c/o Lowes
porcelain bird feeders – (1 c/o) l&m studio on Etsy
glass string lights – Target (left over from our wedding! but still available)
outdoor sectional – Pottery Barn
outdoor hairpin leg slab table – handmade by Kev (similar legs)
shade sail – eBay (similar)
outdoor farmhouse table – handmade by Kev
outdoor table black chairs – Lowes
geometric planter – handmade by Morgan
children's wicker chairs – Ikea
Sort construction and project posts here for more on the flagstone, saltillo tile, grill area, fireplace, wall, deck, sandbox, garden box and more. Thanks for stopping by to check it all out!
Photo credit: Katie Beverley (an especially big thanks for catching that above family photo that completely makes my heart flutter.)