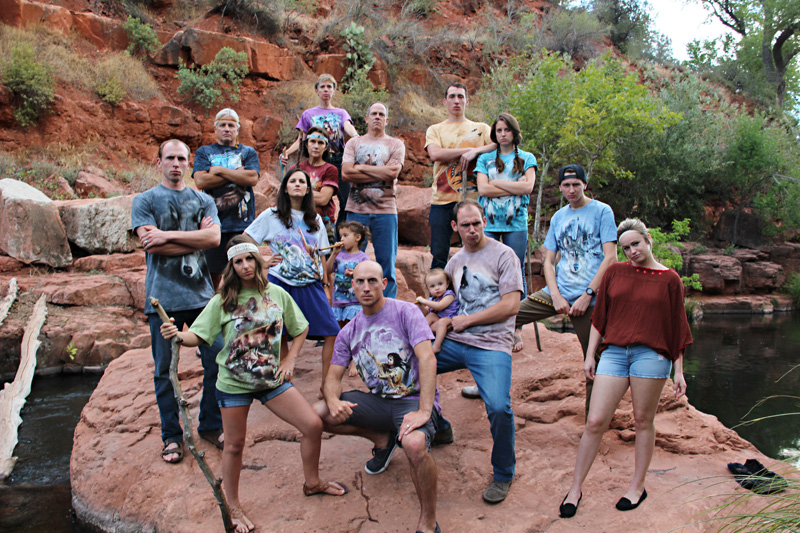 Above is our family's submission this year to Awkward Family Photos. What can I say, there's just something about Sedona and that mountain spirit…
But I digress. Today, if you have some extra time (and you're able to pull your eyes away from the mesmerizing wolf shirts), a few links to take you into your weekend! (don't worry, we are not a fierce clan in person.)
I'm ready for apple picking season :). This recipe looks delicious.
I am notoriously (and always) late. I am actually grateful when others are late when meeting me because it makes me feel like the universe is balancing itself out somehow. Considering all of that, I thought that this was pretty funny.
Developing a capsule wardrobe. Genius.
Three natural fall decor decorating ideas. (Here's my version from a couple of years ago.)
How do you brainstorm? A list of do's and don'ts from Fast Company. Favorite: "Introduce the problem and distribute Post-it pads. During five minutes of silence, participants fast and furiously fill in their pads with as many ideas as possible. Place the notes on a wall, briefly reading and organizing ideas. Then shift into brainstorming. If your team is like most, you'll enjoy a much more energetic and productive session." PS there's no room for 'splats'.
A really perfect fall wool hat. And a really awesome fall knit shawl. I'm feeling on a fall roll here, so let's add these ankle boots (that Would look great with knitted tights and a skirt when the weather gets cool) because the color is so perfect (don't you think?).
A sneak peak at a beautiful home.
MIT is holding a Breast Pump Hackathon (first learned about this here, bravo!) Shouldn't a breast pump be 'as elegant as an iPhone and as quiet as a Prius' by now? (yes, yes please!)
Have you thought about a special spot for half-filled, in-use cups? (more time-saving tips to be found.) On that note, 40 ways to save an hour in a day (do you schedule automatic deliveries? I do for things like travel baby wipes and dog food.)
The entire Lou & Grey line is 40% off over at Loft (that's dangerous news). I would like a waist right now if for no other reason than this skirt.
Of the roundup of maternity dresses that I shared or invested in this summer, this one in blue and black is by far my favorite! (Especially when it comes to expanding belly, chest and everything else…)
True story about the photo above: Kevin's family has a timeshare in Sedona and we make a family vacation of it almost every year. It's relaxing and peaceful. Just to mix it up a bit, Kev bought everyone a 'mountain shirt' in the color and spirit that he though best portrayed their personality. Mine (or was it his?) had an Indian princess peering into a large dreamcatcher at 4 bright-eyed wolves. Kev assured me that these were surely our future children ;).
And I'm sure you've seen some of the amazing family photo roundups that have traveled around the internet? Here's a good one, and one here, too!