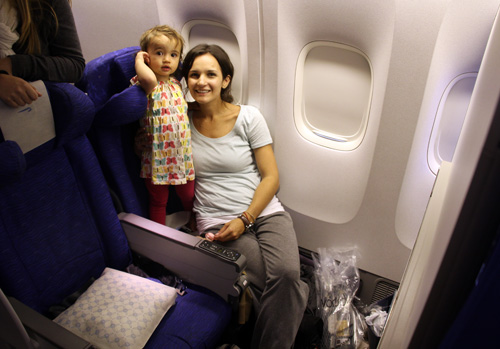 We traveled to Hawaii yesterday as a big family (my parents are leading up the trip) for a little rest & relaxation. I'm so excited that even a few hours of sleep, a 4am wake up call and a five hour plane ride with two littles who were bright eyed and bushy tailed didn't deter in the least. Above, a shot of Liv and me just before heading home from Ireland, Spain and Morocco when she was one and a half (little did I know that Taylor was actually also in this pic too, though the size of a poppy seed ;)).
Today I thought I'd share my favorite traveling-as-a-family posts shared here:
Tips for traveling with 2 in tow part 1 & part 2
Tips for traveling with toddlers
Tips for traveling with a baby
Tips for family travel on a small budget 
And a what other bloggers have to say on the subject:
a classic travel uniform (for mom)
traveling with kids forces you to slow down, meet great people and explore in a new way
maps, apps & naps (I love the idea of physically mapping out a trip before a flight with a child)
road trip in a box (would be fun to diy)
.99 store toys to wrap up individually for fun travel unwrapping
another 10 tips for traveling with a baby
10 road trip activities for kids
I have a nice little line up of posts for you while I'm away. I'll be sure to check in to say hi, too. :-)
PS you can check in on our travel photos and kiddo updates on Instagram, and all travel adventure posts on this blog categorized right over here.