Last I left you in the girls' room we had a toddler bed and crib for Liv and Taylor.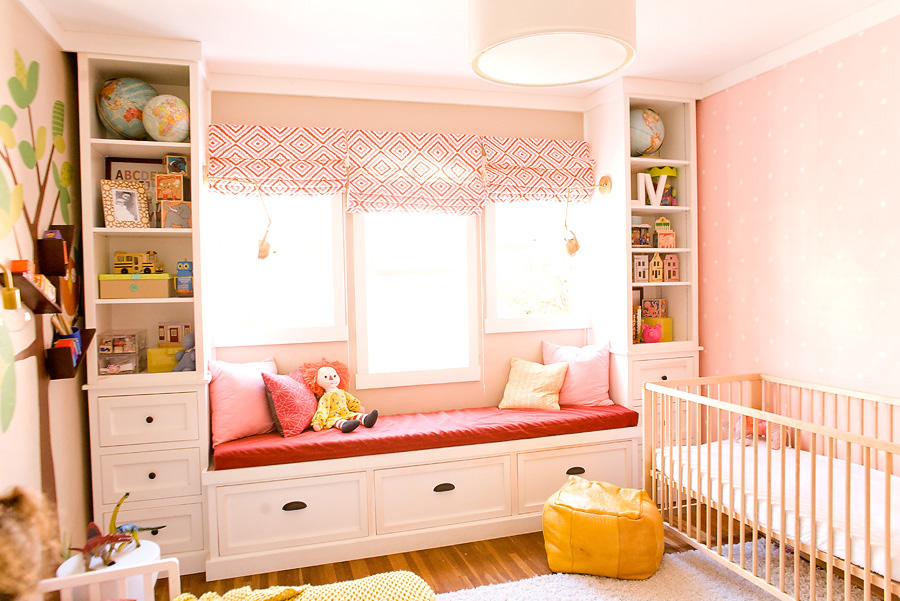 They served the space pretty well size-wise and were perfect for a 3-year-old Liv and a 1-year-old Taylor.
I was really loving the room in all of its pink glory. It was in a good place and I thought we could leave it for a bit. But then as Liv began to approach her fourth birthday, she began to complain that her bed was too small (and I said 'no way! you're about 3 feet tall'), and then she began to crawl out of her bed and into ours, and then she promised that if we upgraded the size of her bed she'd stay put at night. And I said 'deal'.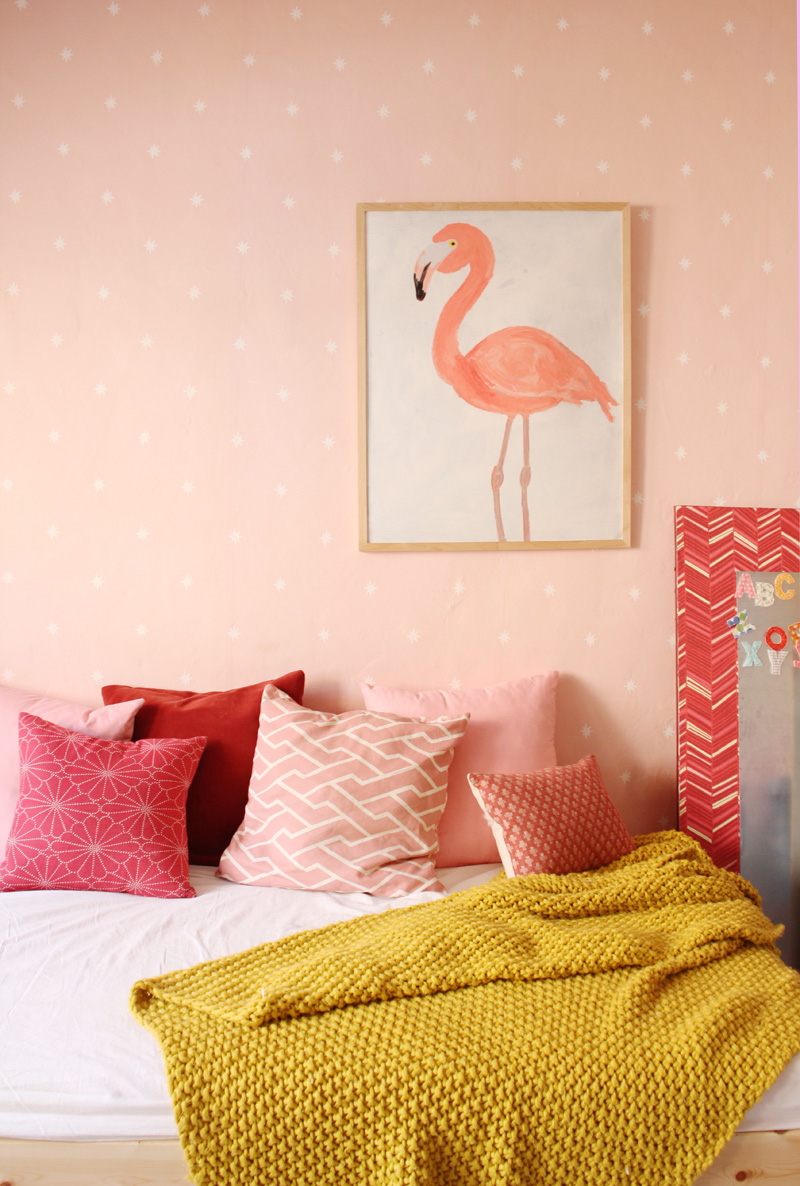 For the record, Liv is tall but she's definitely not too tall for a toddler bed. She may have occasionally ended up on the floor next to her bed but that's because she's a bed squirmer.
Also for the record, she LOVES her twin big girl bed.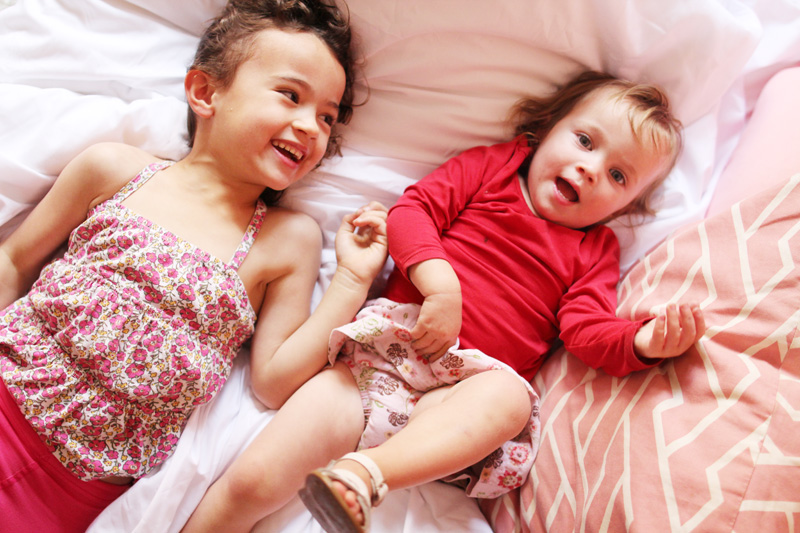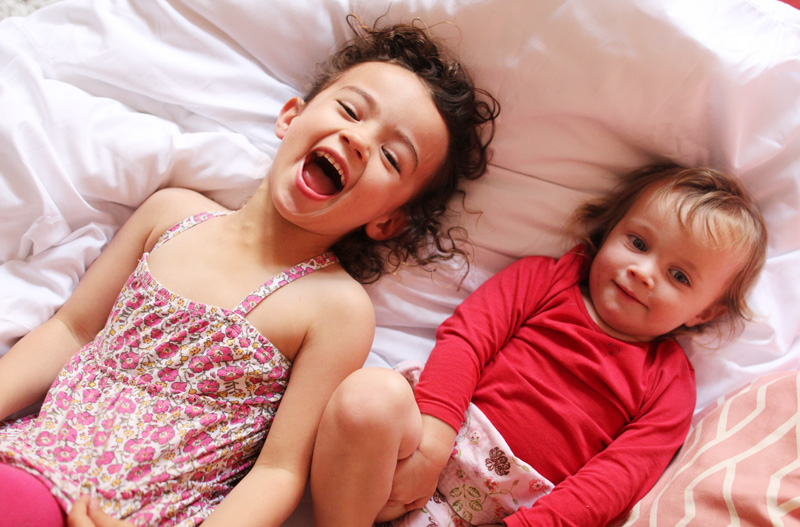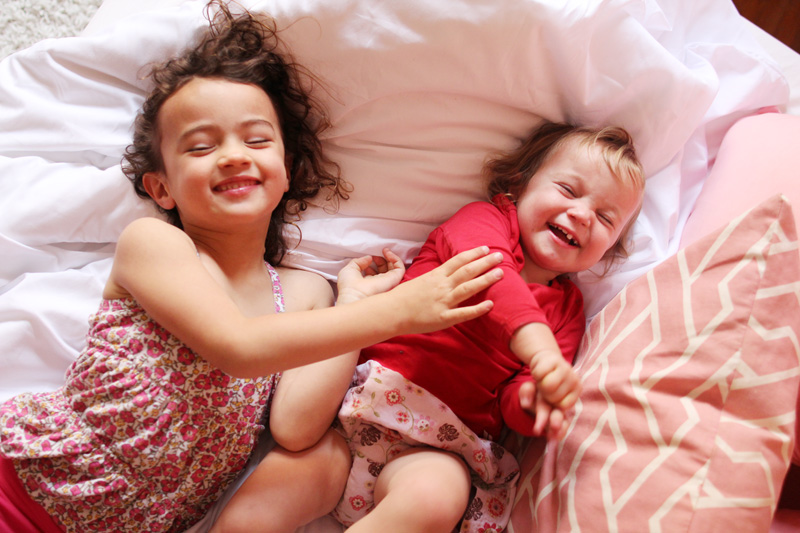 Bringing it into the room was totally worth it.
When I first started playing with the idea of putting a twin bed into the girls' room, the entire space felt too small, too cramped. Eventually we will be squeezing three little girls into this room though so I better get used to tighter quarters :). In the end, the bed setup that felt most open was a sideways twin bed up against the starry wall.
This way the twin bed didn't jut out into the room – even having the crib (which has taken the place of the toddler bed) up against the wall like a T has taken some getting used to. It doesn't feel as though there's as much play space in this room, the rug is not quite as open and empty! but that's okay because I've always thought of their room as 'the sleeping zone' and our living room more as 'the play zone'.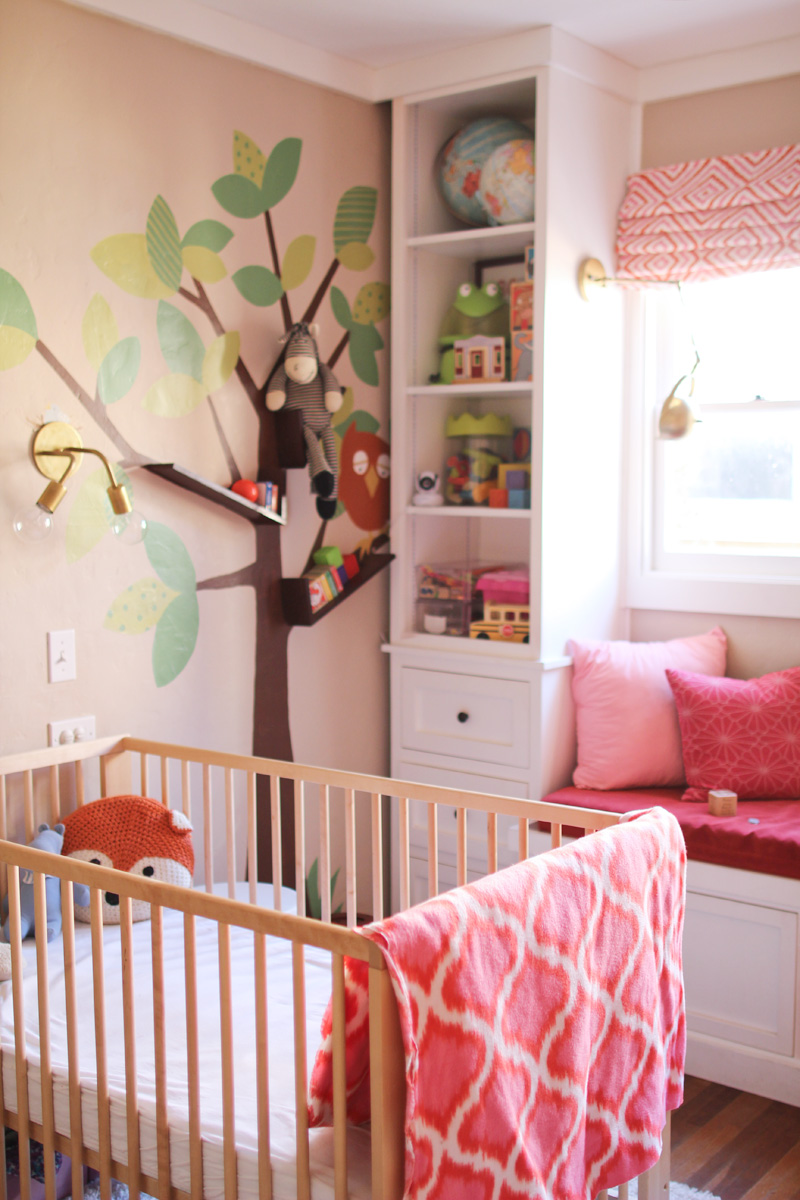 Back to that daybed. My budget was limited and really all I wanted was a basic birch frame. I searched the internet high and low – I looked everywhere. In the end there was not a twin bed without a headboard and with a basic frame in sight for under $200. I knew Ikea must have an answer for me and when I came across the FJELLSE twin bed, I took the plunge and purchased.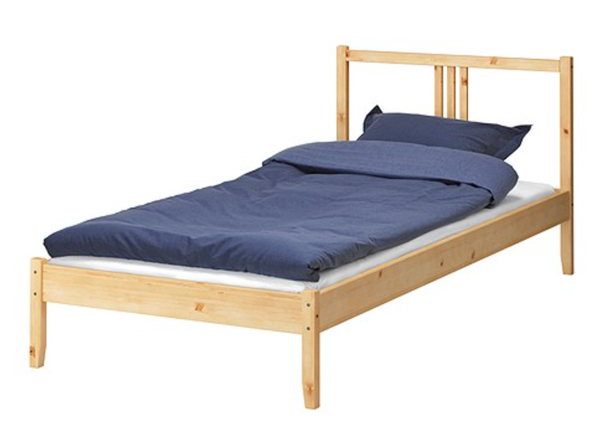 It was easy enough to modify into a basic frame, we simply cut off the headboard with a handsaw.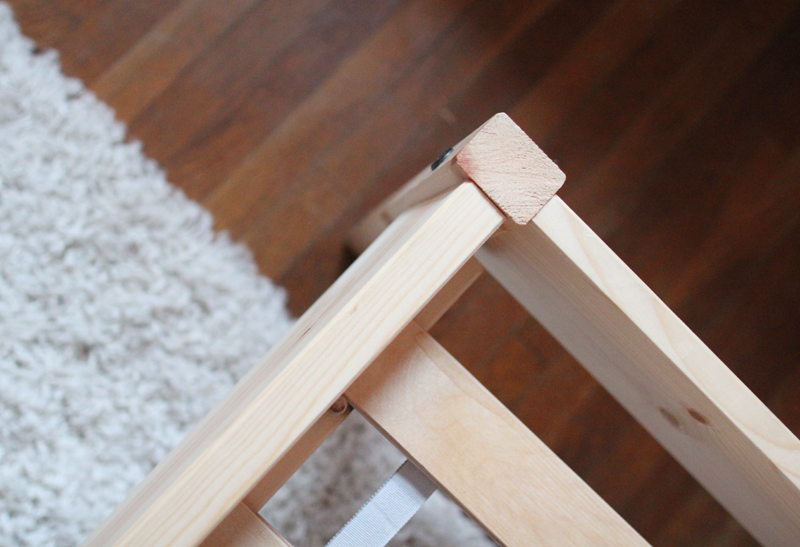 The frame is simple and clean, it matches the crib and the frame of the flamingo print pretty spot on.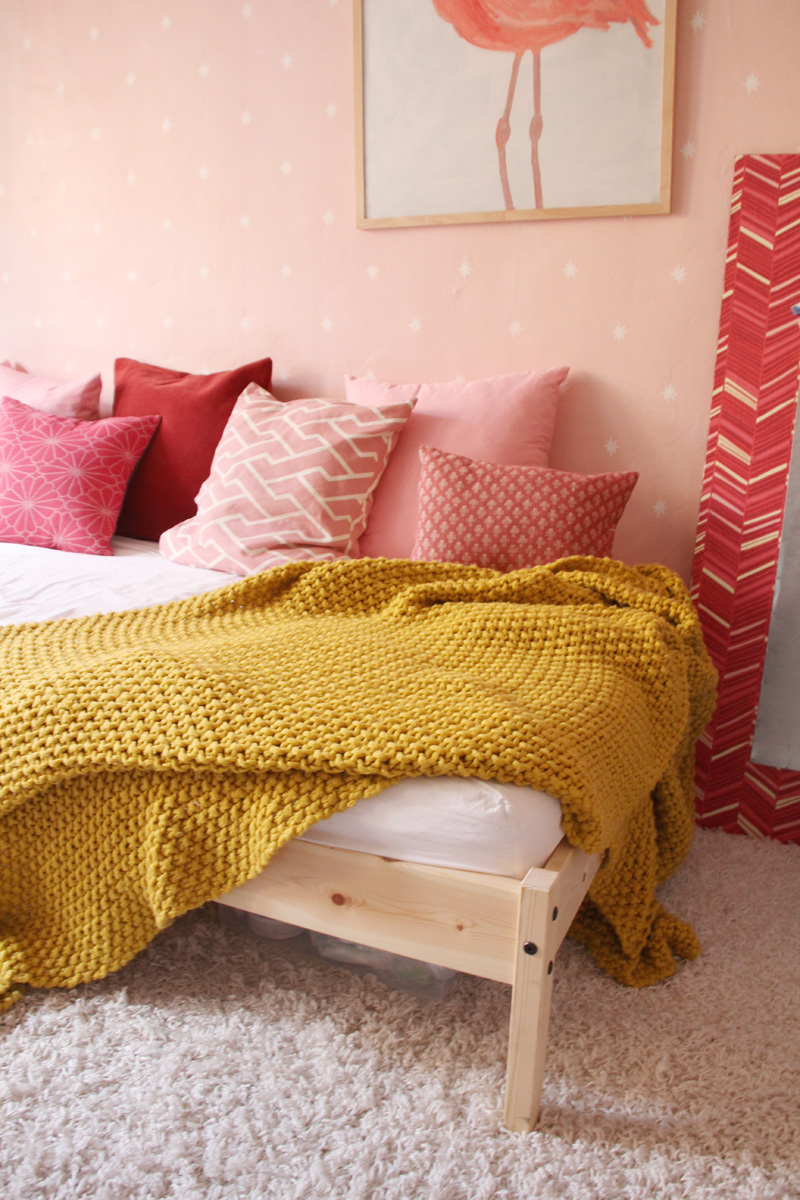 (I'm exploring storage options in this space, you can see my plastic tubs tucked under the bed. It's time to get really creative in the storage department.)
An Ikea twin bedframe (despite the different European sizes of so many of the rest of their products) actually fits a US twin mattress (I had heard rumors that it didn't). The folks over at Tuft & Needle reached out to me with perfect timing while we were going through this entire transitional phase in the nursery and when they offered a mattress for Liv's new bed I took them up on their offer.
Tuft & Needle crafts comfortable, quality mattresses at a fair price. That's their one mission – to take the middleman out of the sale and manufacture mattresses directly for consumer purchase which greatly reduces the overall cost.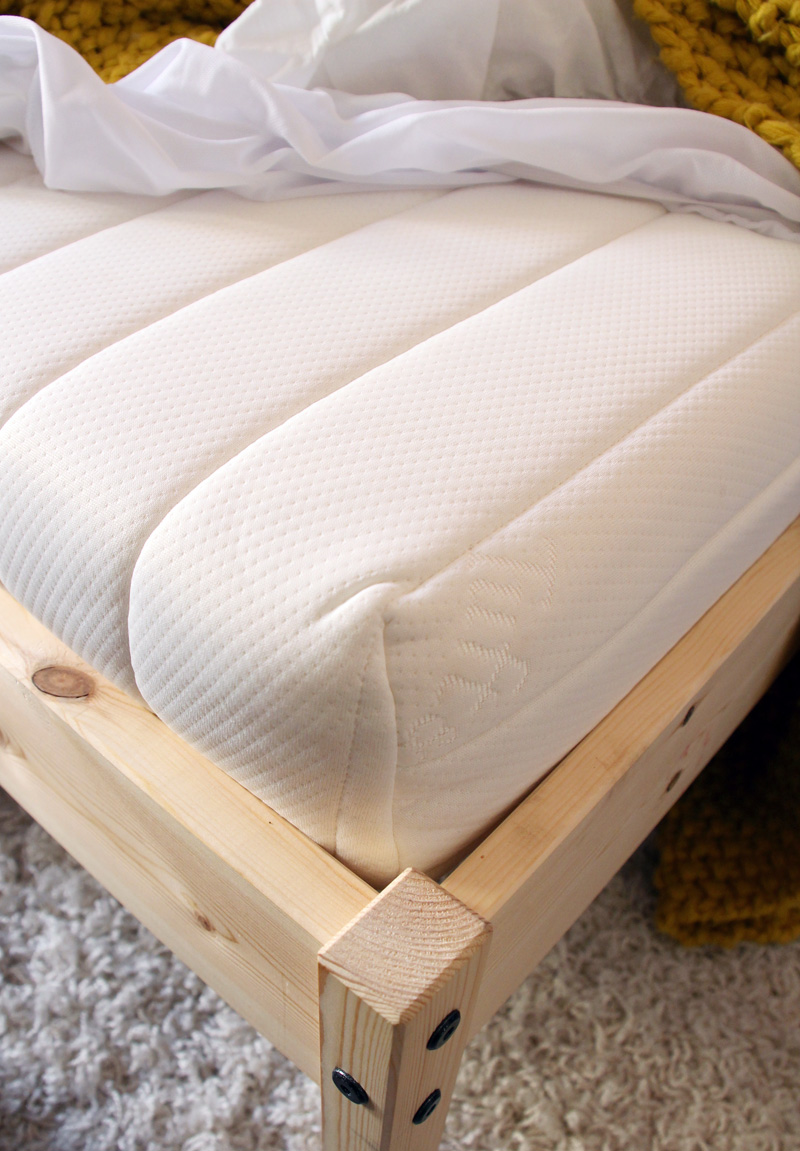 They are made to order in the USA out of a breathable, supportive foam. I LOVE that the company makes a point to connect closely with customers and even continually tweaks their products based on consumer feedback and needs. I also love that they offer 5″ and 10″ mattresses, I was purposefully looking for a low-profile mattress.
Our new mattress is incredibly comfortable! Seriously, I am very particular about these things. As is Kevin, who puts the girls down to bed every night and falls asleep mid story every. single. evening. He loves that foam mattress more than our own (tear).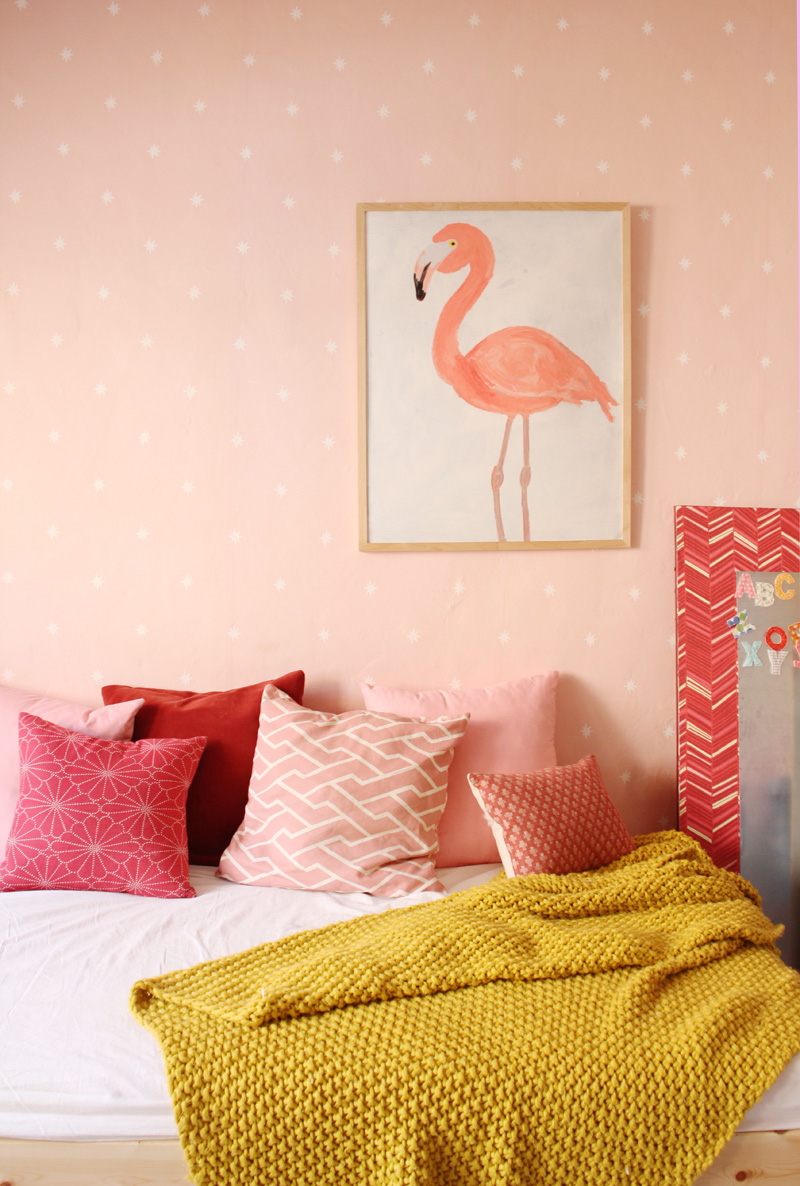 I wanted to keep the bed all around kid-friendly, so it made sense to stack the daybed with just a bunch of comfy pillows. I pulled these from all over the house and didn't buy a single new one, which was sort of refreshing. I might have a little bit of a throw pillow obsession…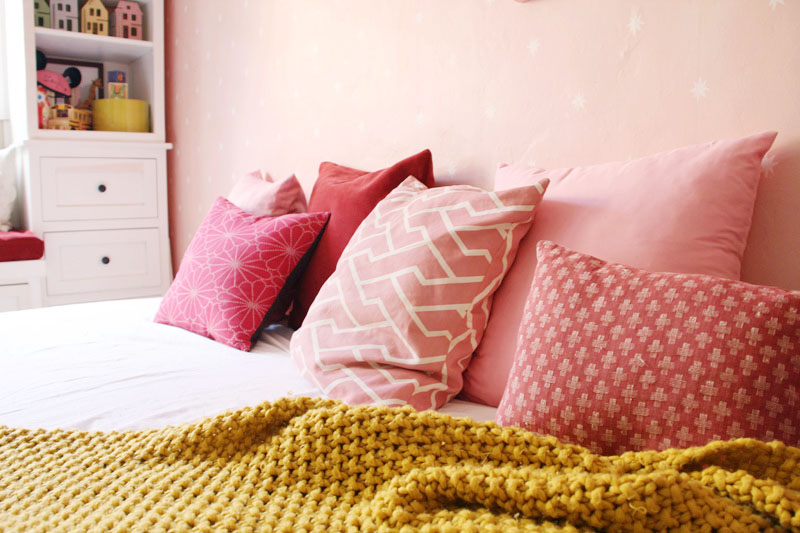 The pillows make it easy making the bed as well. We basically smooth out the white comforter and toss them on the bed, done. You know, it's easy after I have cajoled some bed making out of a 4-year-old.
The girls were dying for me to finish up my little photography session. The minute I said finished!, they scooted up onto that bed to play.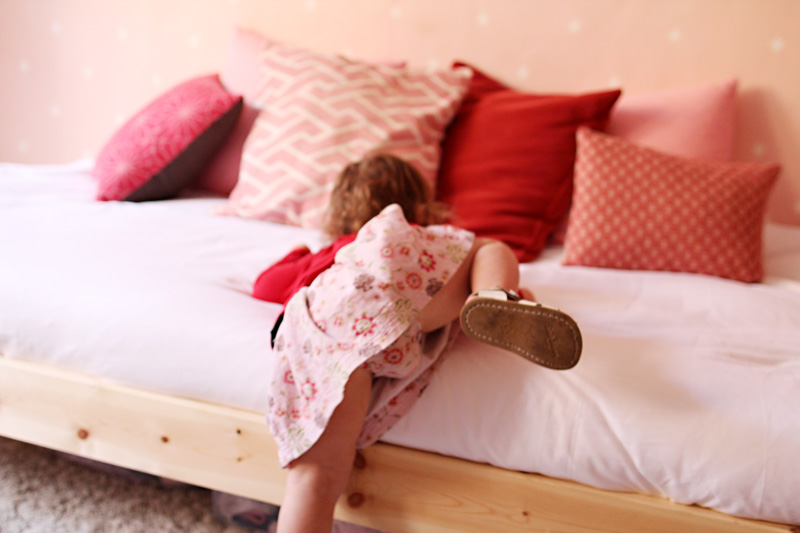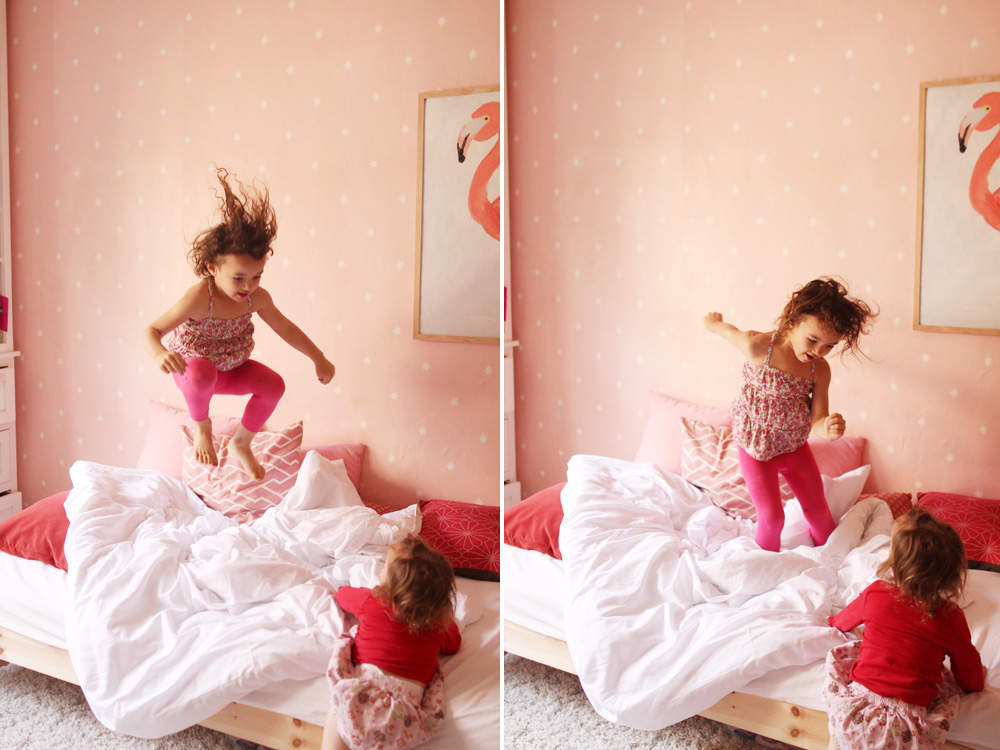 Good thing it's so easy to make the bed.
What ages did you move your little ones to the next sized bed? It's funny because already Taylor prefers sleeping next to sissy in the twin bed vs her own crib. I'm very tempted to have the girls share a bed for as long as possible when Marley moves into the room. It's not crazy to have two in a twin, right? I can't imagine them loving anything more.
This post was sponsored by Tuft & Needle, a company that I support and one that I hope you'll check out. I really can't say enough about our experience with the company and with our mattress. 
A note: Tuft & Needle is an e-commerce start up behind the #1 rated mattress on Amazon. Their mattresses are high quality but at a much lower pricepoint than traditional mattress players (a 1000% markup is typical). Tuft & Needle's point of difference is that the customer is really at the center of their business.