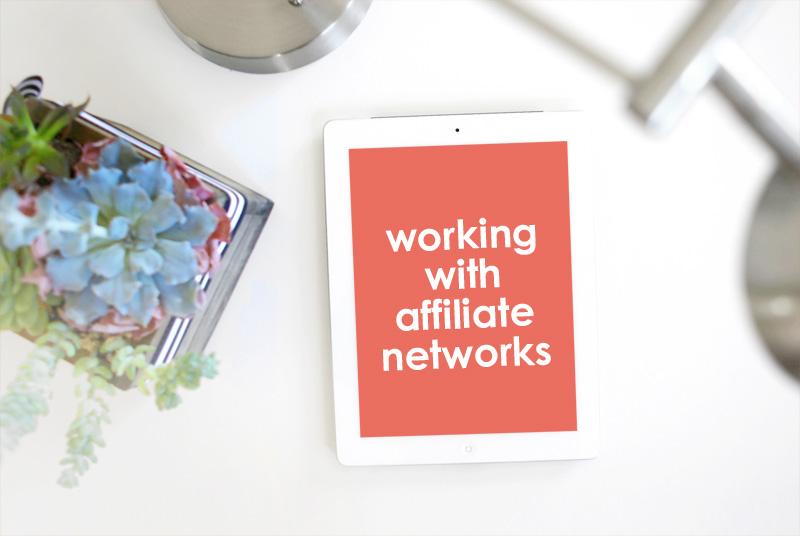 Last month I started to share a little more about the behind the scenes of a blog. The purpose of this mini series is to give readers (and fellow bloggers) a more in-depth view of all that happens in developing a site. I love reading these sorts of posts on other blogs, so I hope that these are helpful, too! Topics might include how a blog monetizes, what is a 'theme' and how 'plugins' support the physical structure of a site, even what opportunities develop from a blog and why so many people who write blogs find personal websites so fulfilling.
My first post on sponsored content covered the various types of seed marketing bloggers collaborate on and how quality relationships might be established between blogs and brands. I'd like to go into this a little more in the future, because ad networks are kind of an interesting topic, but today I wanted to share about affiliate links.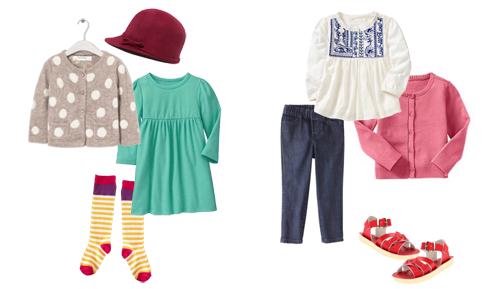 example of affiliate links that you might find on this site (original post)
The second most popular way to monetize a blog these days are through affiliate links and you'll find them on almost EVERY blog out there. The short of it is that every time a reader clicks through a link on your site and then makes a purchase, the blogger will earn a small (usually 3-15%) commission. These are usually natural links (they should be, at least). It's when a blogger is already planning on linking to a favorite product/website when these types of links are most successful and feel the very least contrived. I think it's always so important to first and foremost trust and respect your readers.
Here's where I think that affiliate links are most successful:
In instances where you're reviewing a product that you dig and that you want to share (like a certain kind of knife in the kitchen, a great book or your favorite storage container for the kid's room).
Outfit/fashion/inspiration board posts that already have a 'where did you find that?' sort of curiosity about them.
In social media where you might be sharing a recent find that doesn't make it into a full post.
In sidebar ads or 'favorite things' sorts of columns
Here's another way you might look at it (especially if you're worried that monetizing a blog feels icky from a reader perspective), if someone introduced you to something new that you love, would you be okay with them getting a little reward for making that connection? Especially if you were considering on buying anyway? That's partly why bloggers have to be responsible with the whole monetization thing… and partly why affiliate links might be the cleanest/most comfortable version of monetization.
——————————————————–
There are three categories of affiliate linking that I can think of: individual website affiliate programs, affiliate networks, and affiliate link aggregator services.
Individual Website Affiliate Programs
Affiliate website programs are internal affiliate programs built out by a specific website or brand. They might offer a commission to a blogger for a product sold or maybe they kick back a store credit. The elephant in the room is Amazon, but smaller sites like Zulily or Gilt also have their own internal programs. This sort of monetization feels most natural on a blog for me, and I don't mind using these sorts of links when I'm already planning linking out to a product or service.
Let's start with the giant:
Amazon. Amazon Associates is an easy program to join with almost zero restrictions. It's easy to set up right off of the bat and the commissions range from 4-15% depending on product category.
After you've signed up, a toolbar will be installed on your Amazon account and when you wish to link to a product and associate it with your affiliate account, you can use a helpful 'Short Link to this Page' button in your new toolbar.
UPDATE: thanks, Julia who shared this tip! Amazon previously forced you to dig through code to find your link: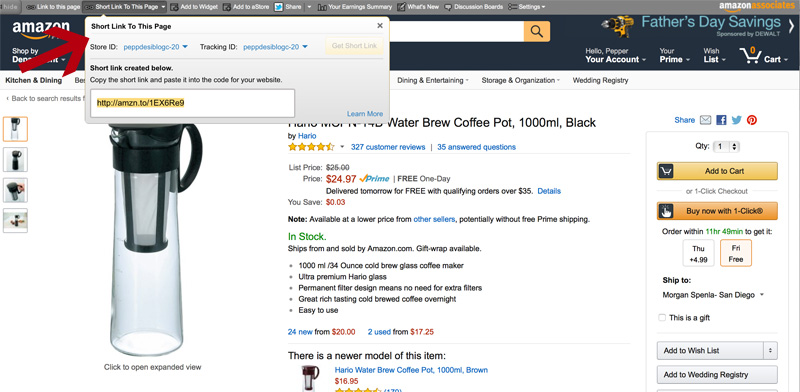 Then add that as a text link within your blog post (here's the dashboard of my WordPress site with the appropriate text link):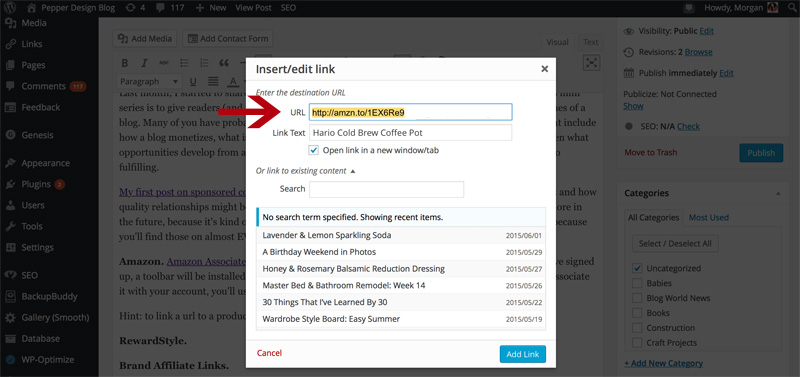 It's worth noting that Amazon doesn't provide a commission on only what product you link to, but whatever a customer might purchase after having followed that link. Many affiliate programs, such as Amazon's, also have 30 day cookies, meaning someone can visit a site you link to and make a purchase up to 30 days later and it will still credit back.
Private Affiliate Programs. Sites like Shoot Fly Shoot (still my favorite photography tutorial) have their own affiliate program, there are plenty of others out there as well.
Daily Deal Sites. Daily deal-type sites are the other types of sites that have their own internal affiliate program. Zulily, Gilt, GiltCity, Ruelala, Hautelook, Twice, ThredUp, Fab… See what I did there there? I just linked all of my affiliate accounts to those links :). There was a time in my life that I was able to browse through daily deals sites when they arrived in my inbox… that time has come and gone. But I do still love to occasionally pop in and it's always fun to find a small credit waiting. Most of these links offer a store credit (ranging from $10 to $25, depending on the site) for each new customer that makes a purchase through an affiliate link. At one point I experimented with creating small sidebar ads for the different sites (with a link for a click-through) and what surprised me most was how often someone might sign up using your link, and then make their first purchase years later.
Affiliate Network Programs
These are like the above individual website affiliate programs but they are all managed by one large site. You sign up and are paid through that network site, and they connect you with smaller brand affiliate programs. Most brands still want to personally approve you, but these larger sites take the HR work out of the equation. Examples include ShareASale, LinkShare (which now goes by Rakuten), Commission Junction, eBay Enterprise, and RewardStyle.
My biggest struggle with these sites is that I don't have the time to manage them all. Part of the plus of affiliate networks is that they HELP manage lots of brand activity, but even keeping track of all of the different networks out there can be overwhelming. The only one that I really use is RewardStyle. Once approved to be a part of their network, they offer helpful one-on-one assistance and even classes to get you up and going. Their 'Link Ninja' feature (where you can capture the correct affiliate link while you're out and about on the web) is just about the coolest idea ever.
Most networks will offer you the complete sidebar ad with link included if that's something that you're interested in as well.
I hear great reviews about ShareASale, LinkShare and Commission Junction (which now might just be CJ) and one day I might have the time to really start to participate again.
Affiliate Link Aggregator Services
When all is said and done, there are still programs out there that will help publishers make sure that any ancillary links (from old posts or ones that you may have forgotten to include in affiliate tagging) get counted.
Two of the most popular of these are SkimLinks and VigLink. I have an account with the former and I appreciate it for one big reason: pre affiliate programs I didn't paste affiliate links anywhere, so there are a good three-four years of just organic links hiding in my archives. SkimLinks adjust these without me having to do anything on my part (other than pasting Java Script in my code). It's a smaller commission than any of the other programs which is why I guess I wouldn't recommend it as a site catchall, but it's kind of a cool concept!
It's important to note that some programs (such as Wayfair's) don't allow you to use affiliate links in their sponsored posts so you'll need to turn off aggregator linking for those posts. Here's how to do that.
——————————————————–
Okay, on to some honest questions:
How much can you really make from affiliate links? When all is said and done, I make a very small percentage of blog income from affiliate links. If I made an educated guess it would be ~10% of blog income each month. Which is not much. I do know that some blogs (especially fashion blogs) thrive off of these sorts of commission-based earnings, and some blogs have set up unique stores that capture and take advantage of these links in big ways.
Is it worth my time? When you have a personal site you're usually investing time and energy because you love to do it, not because it will bring in cash. Every little bit can help (especially if you're looking to justify that time against say, another job or childcare or another personal hobby/expense). That being said, 1099s, W-9s, and keeping up to date on policy changes and being on top of disclosures are time consuming tasks.
When is a good time to start? For some of these programs you can start right away, even with 10 followers. For others, applications are requested and approvals happen on a rolling basis. It can be a lot of work to manage affiliate programs (which is why I only participate in a couple), so for me it wasn't worth the time and energy until I had at least 25-50,000 pageviews/month. But it's always fun to experiment! So if you have a site, why not?
I'm sure I'm missing some details here so I'll update the post as they pop into my brain. I also have a lot to learn in this area! If you have any more to share, would love to hear your thoughts.
PS here's the first in this mini series of the business of blogging.