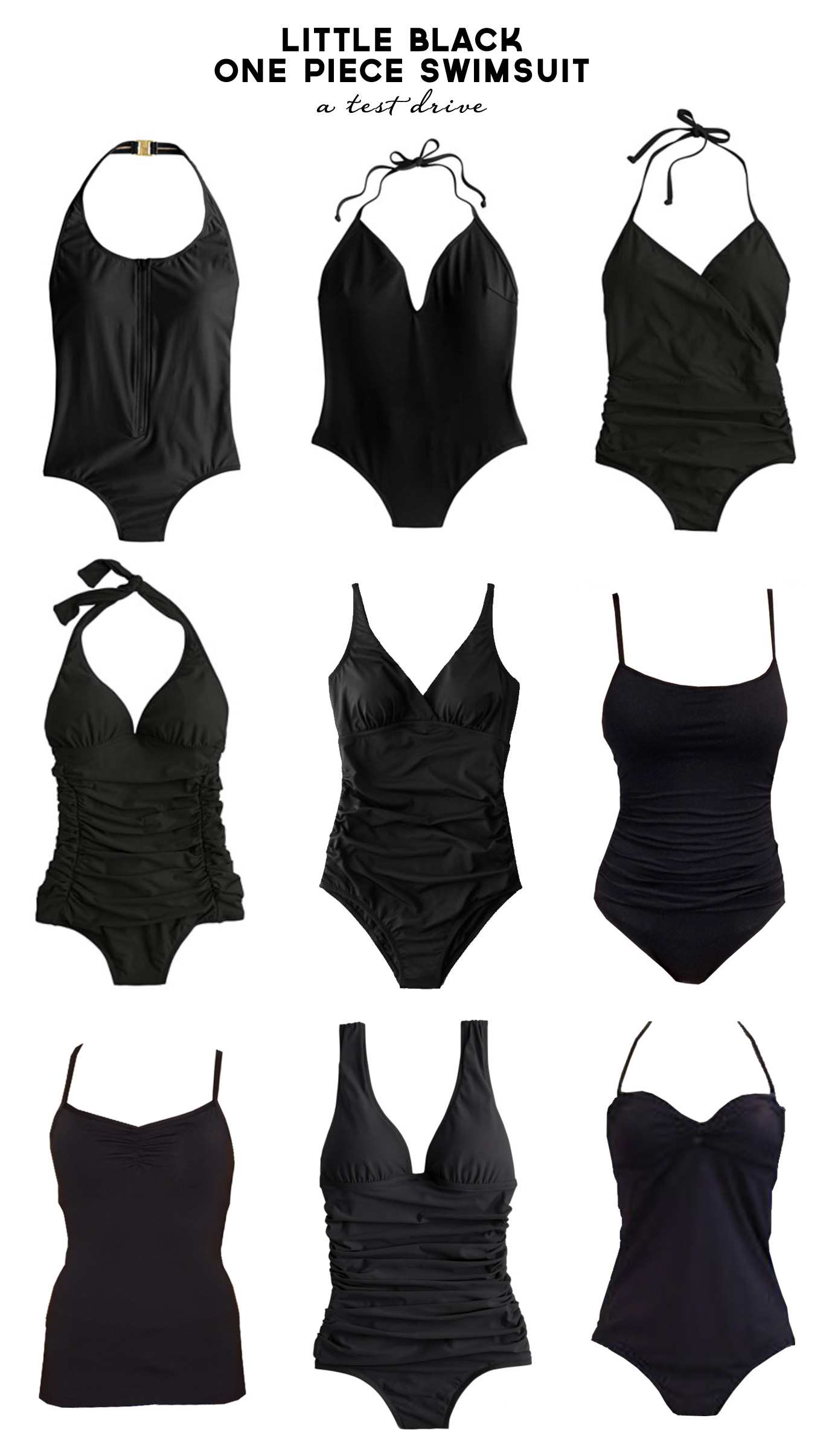 1 | 2 | 3 | 4 | 5 | 6 | 7 | 8 (on eBay) | 9 (on eBay)
Who doesn't love a black one piece? Black is kind, a one piece is gentle on the figure. This post is for all of my mommas that might be postpartum or might just not be feeling an adorable colorful bikini this summer.
A month or so ago I shared that I was on the hunt for a flattering black one piece swimsuit. I sort of expected to order one or two, find the right fit, and call it a day. That didn't happen. Long story short, my losing-the-baby-weight journey is coming along slowwwwly and everything is out of place. Our bodies might be incredible at growing and sustaining life (it's all very worth it, of course) – but it also takes a heck of a toll on how we might look and feel.
So while prepping for some time in the sun I've had on my mind: black, slimming, hiding, comfortable one piece. Plus easy nursing.
Shopping in real stores is something that I gave up a long time ago, so I ordered the above suits (a little overboard?) to see if one of them would fit the bill. It started as a gradual process by trying on one or two, and then it snow balled into a I-MUST-find-a-great-suit quickly. One of the biggest challenges with any one piece (or any suit, I suppose) for me right now is in the chest area. I ordered up maybe 2-3 sizes with all of the suits to accommodate, but unfortunately that was the fail with 7 out of 9 of the above suits… It's like all one piece suit manufacturers have collectively decided to sew for an A cup which is awesome if you're an A cup. But if you're a nursing momma that's probably not true.
THE WINNER: I ended up loving the La Blanca 'Island' suit. A little bit of ruching (without going overboard) across the belly was complimentary, the straight-across top also ended up being much kinder over a v-neck.
Two more hints that I'd love to share:
1. Despite my winner, the bathing suit that I feel most confident in isn't actually a suit. It dawned on me that my favorite yoga tops might actually make great bathing suit tops and so I shortened a Lucy camisole (love this neckline, see # 7 above) that is made of an exercise material that you would swear is bathing suit and paired it with hot yoga shorts (from here) for a tankini of sorts.
2. If you do go the suit route, after finding a suit that you love it's worth a check over at eBay to see if it's being sold new by a reseller. I found 2 of the above (plus so many more from seasons past). I ordered the J Crew crossover suit mentioned simply because it was listed for less than $20 and while it was a gamble that didn't work out, I couldn't believe the selection over there. My purchase allowed for returns (but check on that before purchasing).
Happy hot summer days :).
ps a great beach bag and hat. more favorites.