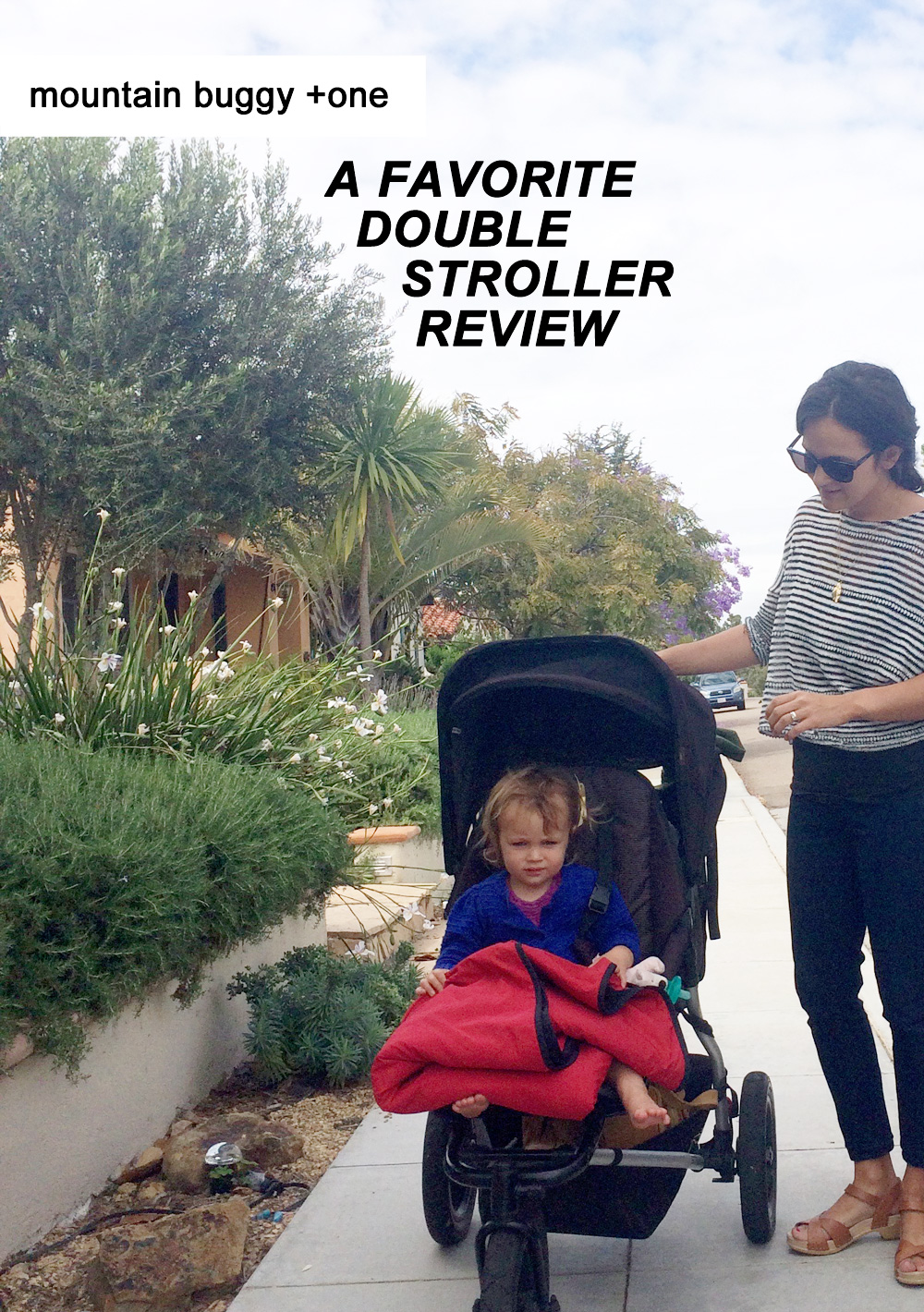 I'll preface by saying that this is not a sponsored review – we've found an awesome double stroller and we love it! Our Mountain Buggy + One has served every need that we've had in hauling around two kiddos and while it took A LOT of research (and stealth internet searching because I'd never even heard of the brand), it was absolutely worth it.
Apparently Phil & Ted purchased Mountain Buggy not so long ago, so perhaps even more improvements (and publicity) are in its future?
Long story short, the Phil & Ted double stroller that we owned was stolen out of our car when the car itself was stolen last winter. Our car was recovered but the stroller was never seen again. We tried to live without a double stroller but with two little ones that can't/won't walk long distances it wasn't working out so well.
My requirements: three wheels for easy steering, inline (vs side-by-side), portable.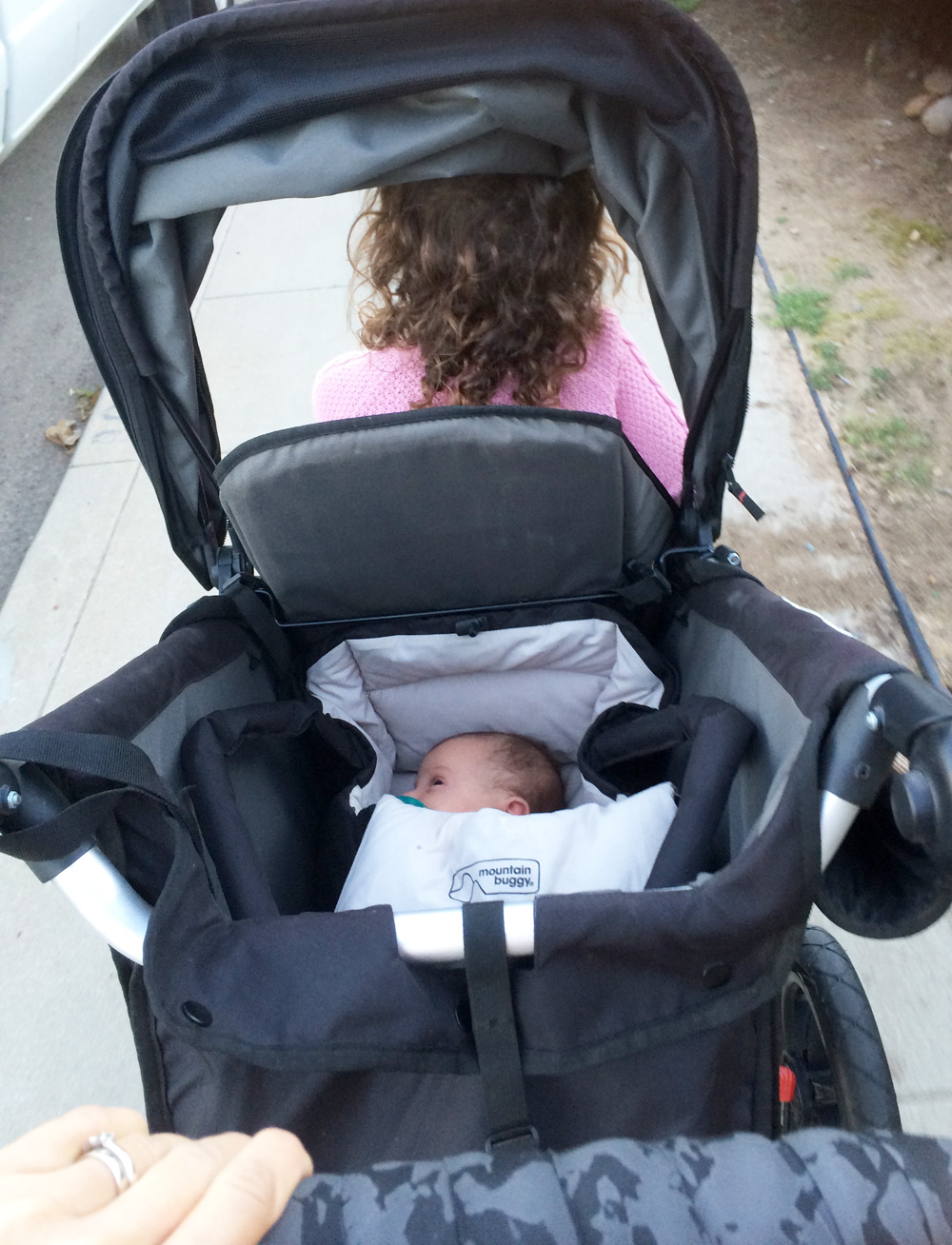 While searching, I read EVERY review on the internet.
I was certain that we'd end up buying a Phil & Ted double stroller again because it seemed to be the only one that fit our needs (Bob, why don't you have an inline?), but the truth was Taylor hated sitting in the bottom, low-slung second seat once she turned one. It's akin to having the second child sit in the stroller basket without a view and without much room to move. It had gotten so bad that she'd flat out refuse and then we'd be in a pickle at the park or the zoo or while on a walk. I also didn't love steering it so much, it wasn't nearly as easy as our single Bob Revolution.
When I came across a review for the Mountain Buggy +One (which was such a hidden review that I can't even find it anymore!) I felt like I had hit gold. TWO seats, inline, and with a view for everyone. The stroller was built for two preschool-aged kids such as my 1.5 and 4 year olds (at the time). AND it had an infant solution.
I can't offer a better visual, so here's one from the website: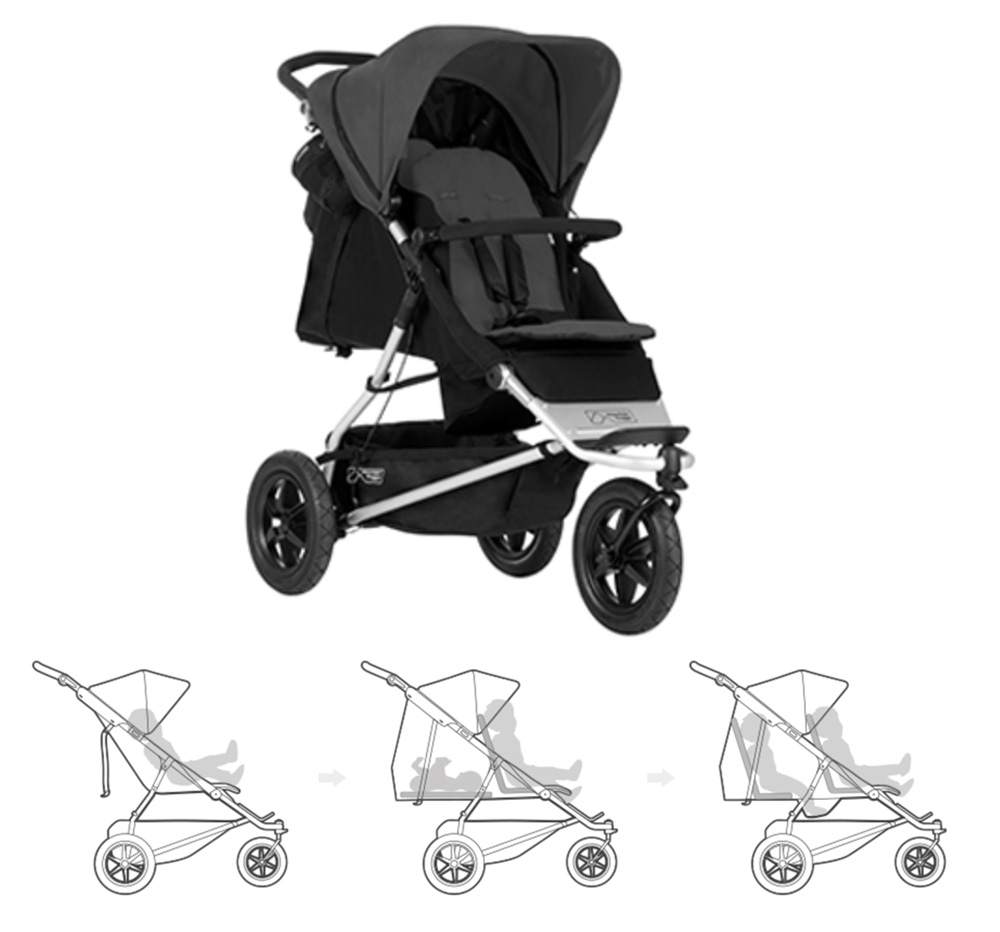 We are seven months in now and we love it. It was perfect for Marley as an infant from months 0-6 (with Liv or Taylor sitting in the front):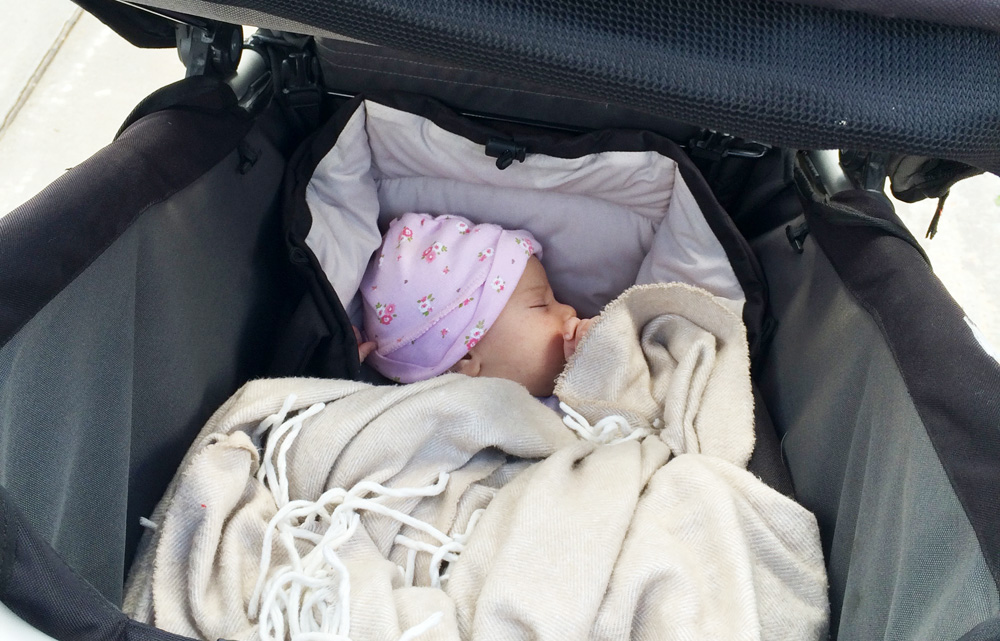 And now it's perfect for two sitting-up-children with Marley in the front and one of her sisters in the back! I wish I had a picture, but the back is roomy enough for Taylor to lay down and take a nap if she needs to, too.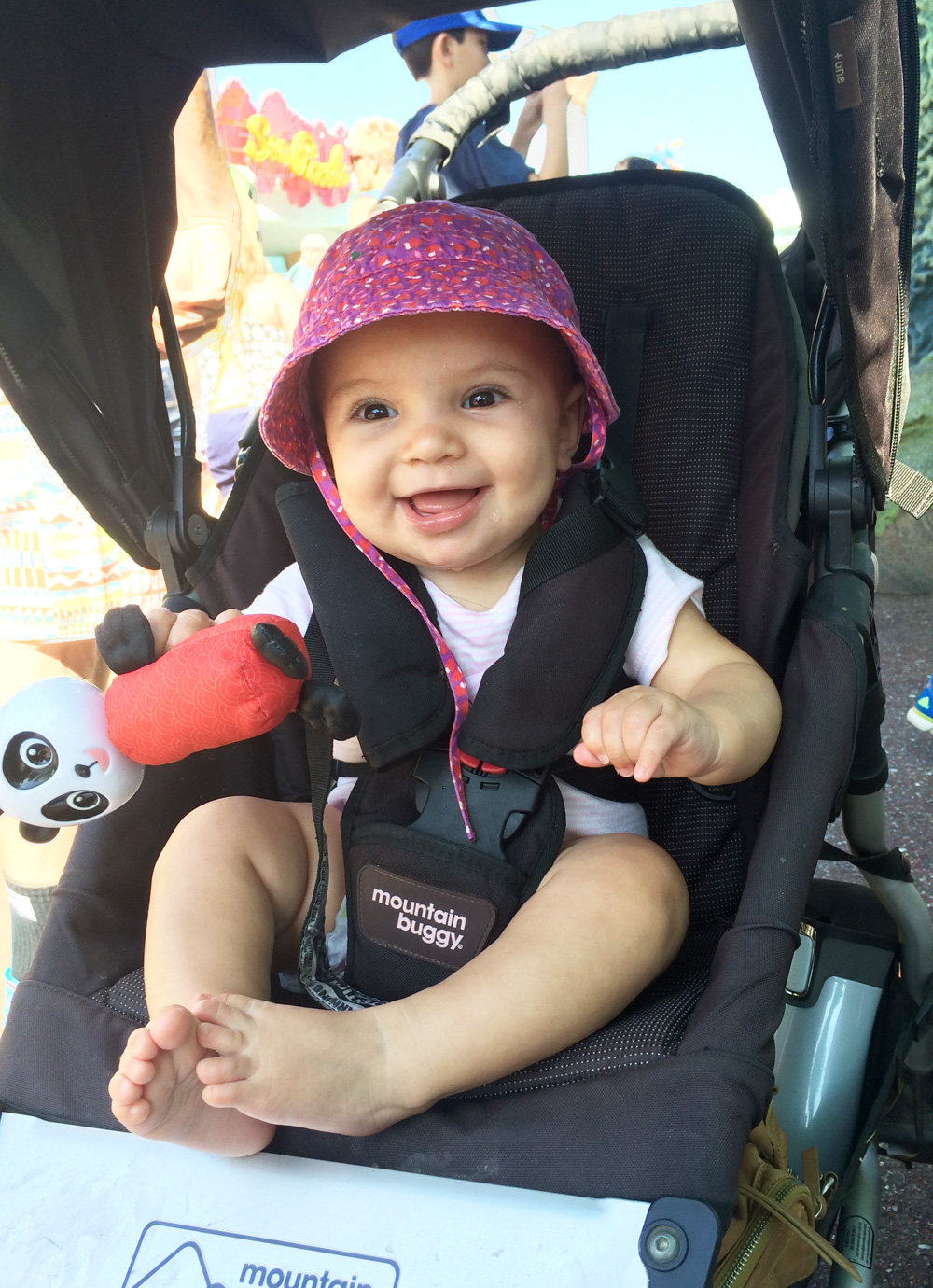 Storage wise, the basket runs from the front of the stroller all the way to the back, which is roomier than any other stroller we've owned. That's helpful.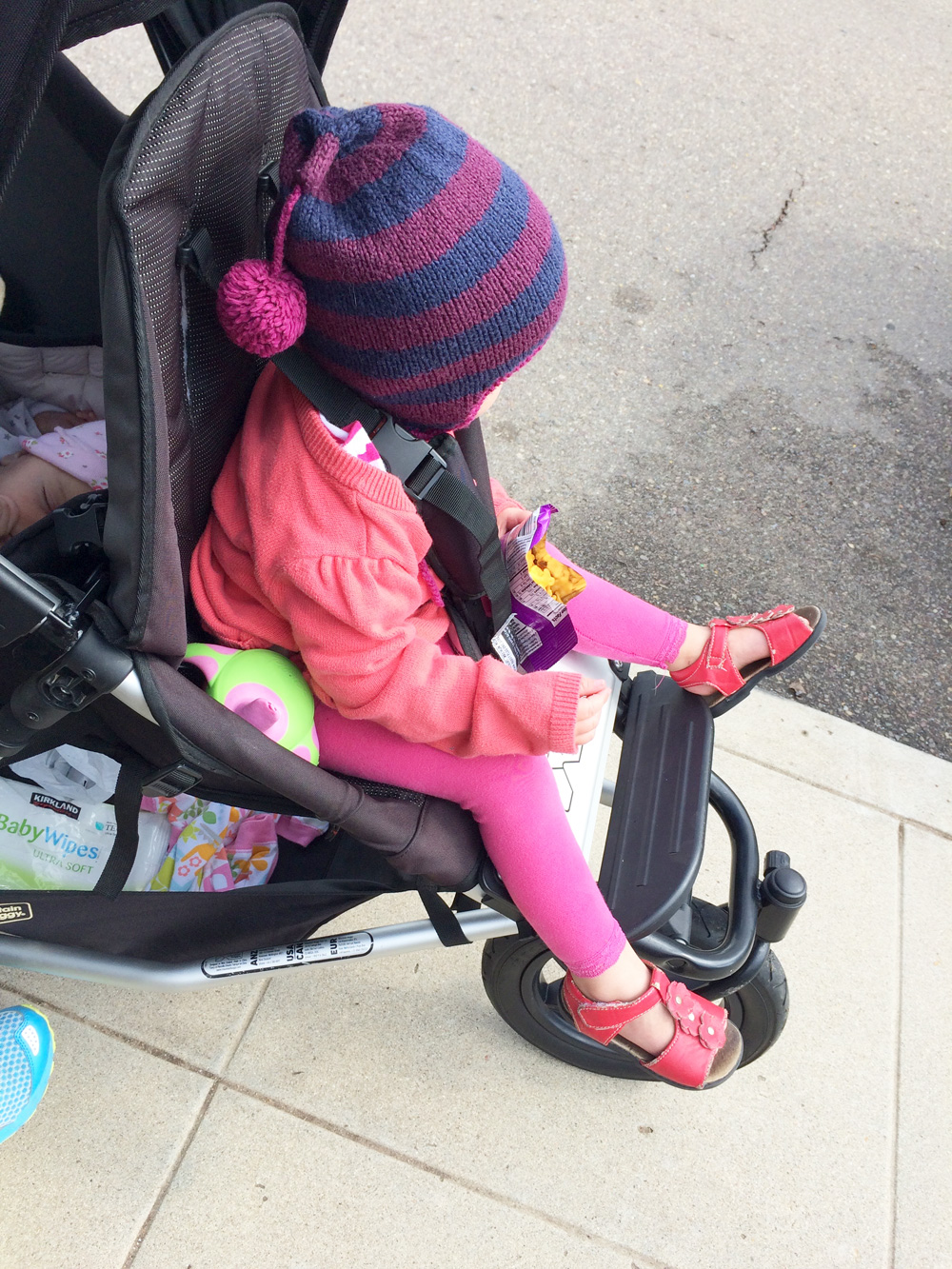 So, we love it. It drives very smoothly, fits most anywhere (collapsing it can be a little tight – it is rather big in our trunk but it fits) and the girls are comfortable. I plan on investing in the kiddie rider for Liv (which attaches to the back) but we haven't gotten there yet.
One of the best parts of my story? I scoured Craigslist for three months before finding a used one (again, not a popular brand) but ended up finding one locally and purchasing at a fraction of the price. Insurance didn't cover our stroller during the burglary so that was a big benefit.
Alright, over and out. Categorizing this under 'favorite kid products'.