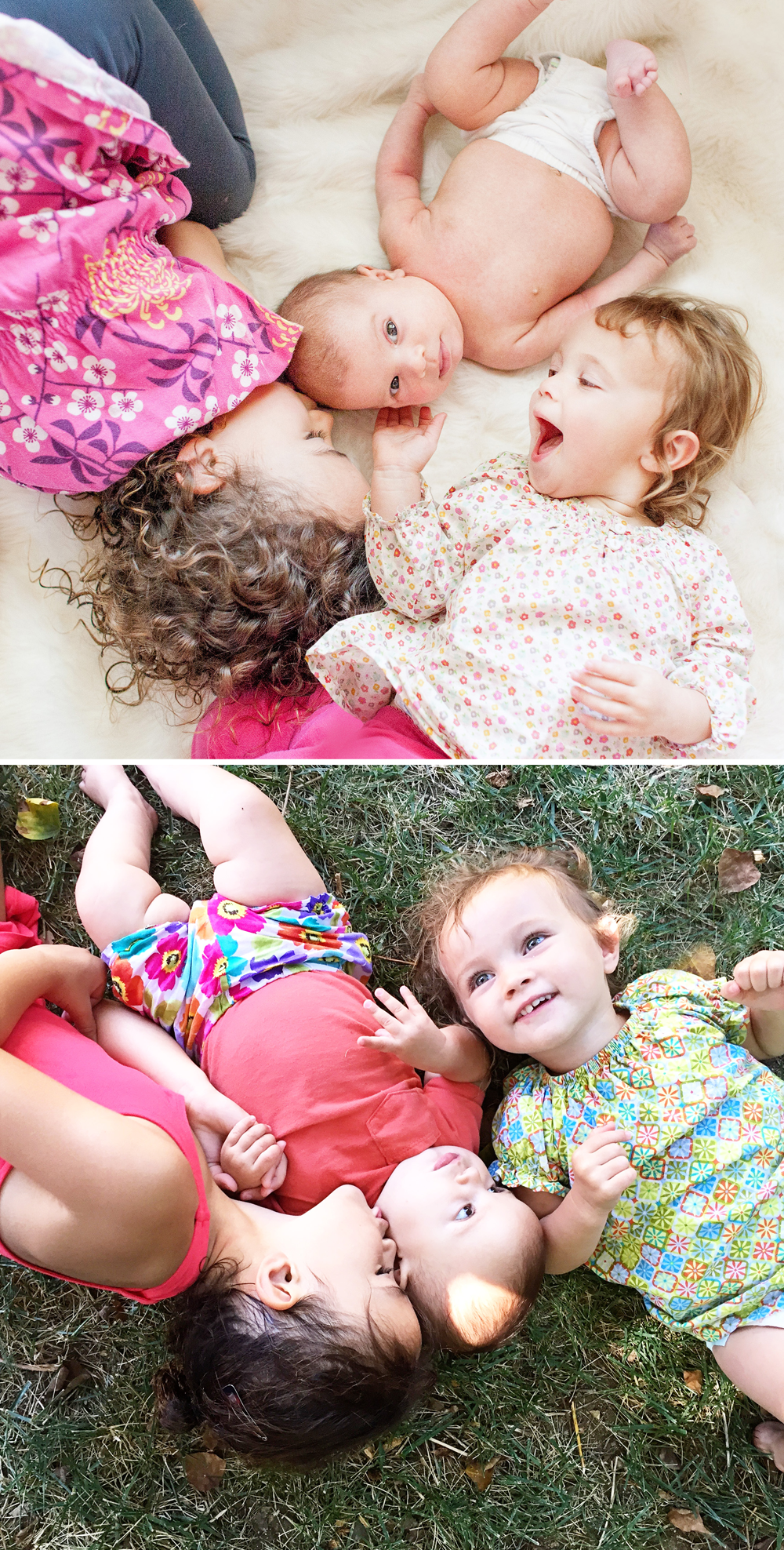 Happy day-after-a-holiday! Hope that the weather and grill treated you well wherever you spent it.
Do you remember that top photo? Marlowe is 6 weeks old (photo by Katie Beverley) and we used it on her birth announcement. I LOVE the sincere joy and revelry that shine through in what is as close to a three-sister-embrace as can be. Such happy big sisters. The photo below is six months later. Almost on the nose. I noticed on that particular morning that I had dressed the girls in similar colors (something that I do frequently and completely subconsciously until I see it hours later) and had made a little note to remember to snap a photo. We were at my parents and that six-week-old shot jumped into my mind.
These past six months have been all over the board. The learning curve was INTENSE and the battle for sanity lost so frequently that I almost couldn't handle the roller coaster. You know that it's been an overwhelming day when you hit the bed at night and slam into dreamland without the chance to set your alarm or scroll email one last time.
*I have loved the adventure – these three merry girls are (for the most part) sweet and kind and always up for some fun.
*Marlowe in our lives is like that found missing puzzle piece – you didn't know you were missing something so important until suddenly you wake up feeling whole.
*The wtf moments have been real (if I had could be a fly on the wall for a reenactment of coffeeshop or mid-intersection tantrums, the storm would have been so wild you'd swear we were a hurricane).
*I have thrown all sage parenting advice (that I would happily offer a friend) out the door. M still doesn't sleep through the night and I will totally nurse her into snooze land whenever needed. Not so, EVER, with either of the older ones.
*Quiet moments are sweet ones. Nap time? 2am? Ducking into my office for work? I live for those moments, too.
Someone recently noted that 'it gets better' and that 'I'm in the thick of it'. I smiled. We are in the thick of it, but it's not so bad at all. We have our moments but so far the good far outweigh the bad. I don't want these years to go by in the blink of a second, I want to enjoy and revel in them! Even if bribery while standing in line at the coffeeshop is the only way to do it. Frankly, I'm not that opposed to bribery at all anymore.
Over and out from the trenches. xo