I promised to catch you completely up to where we're at in the bathroom and today is the day! It is a great feeling to be slowly moving items from the garage to the new closet (especially after listening to this book on Audible – I highly recommend, it's also a very short!). It's taken me 4 full weekend days to get about 75% of the way sorted through bedroom bins and a crazy garage, but even that doesn't seem daunting after overhauling this baby: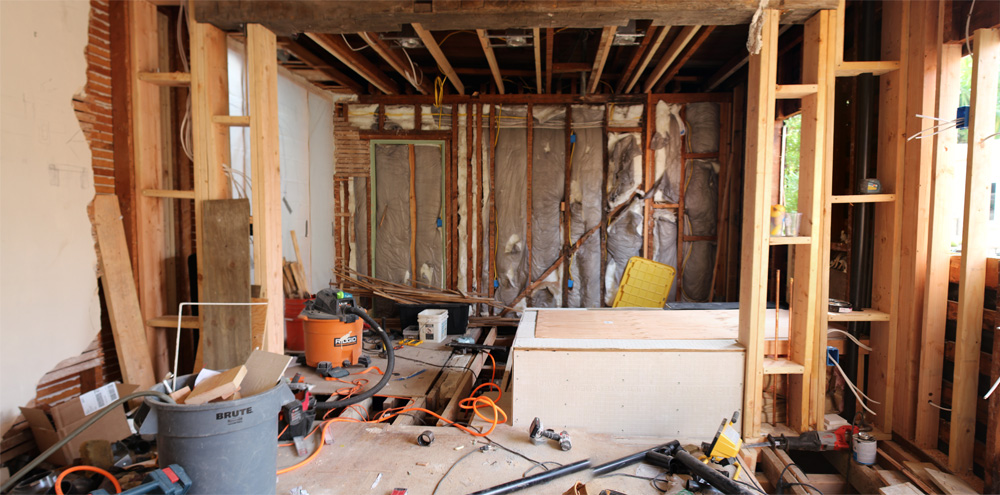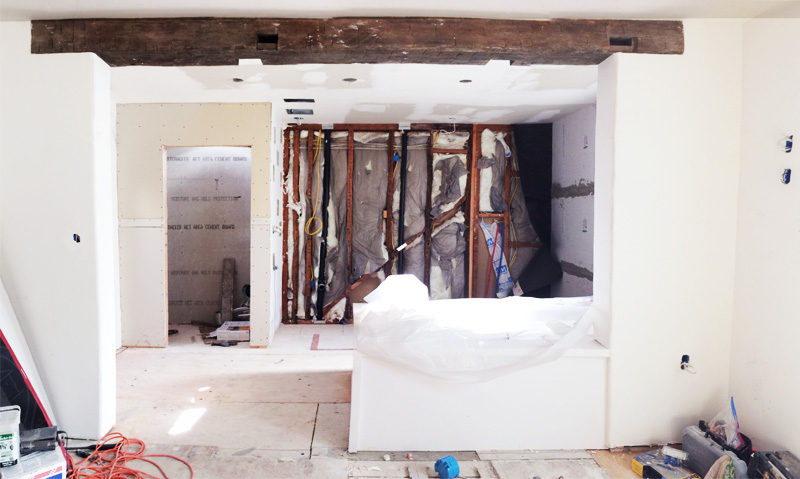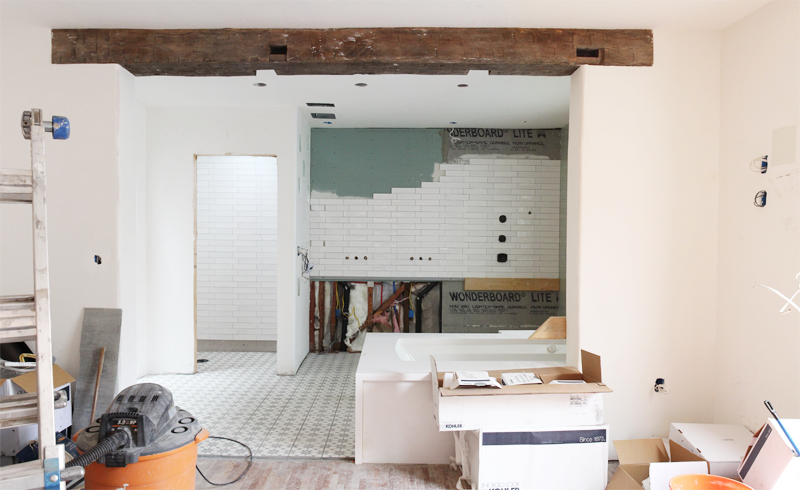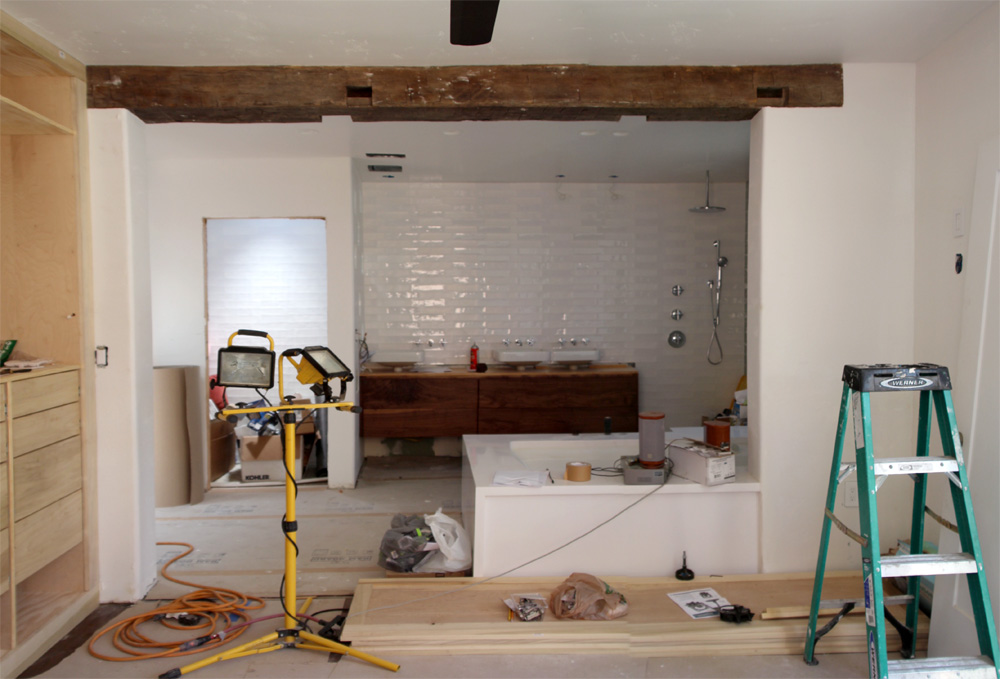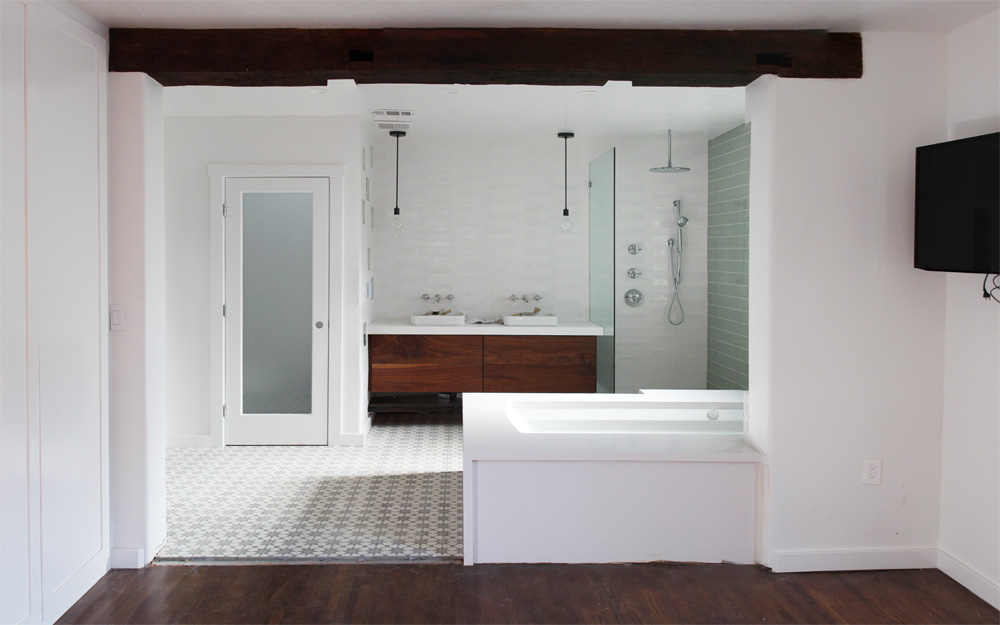 Looking quite finished, right? Who needs door handles, transitions and mirrors when you have chrome, cement tile and a big ole soaking tub? Not I. But I'm sure eventually we'll miss those items and add them, too.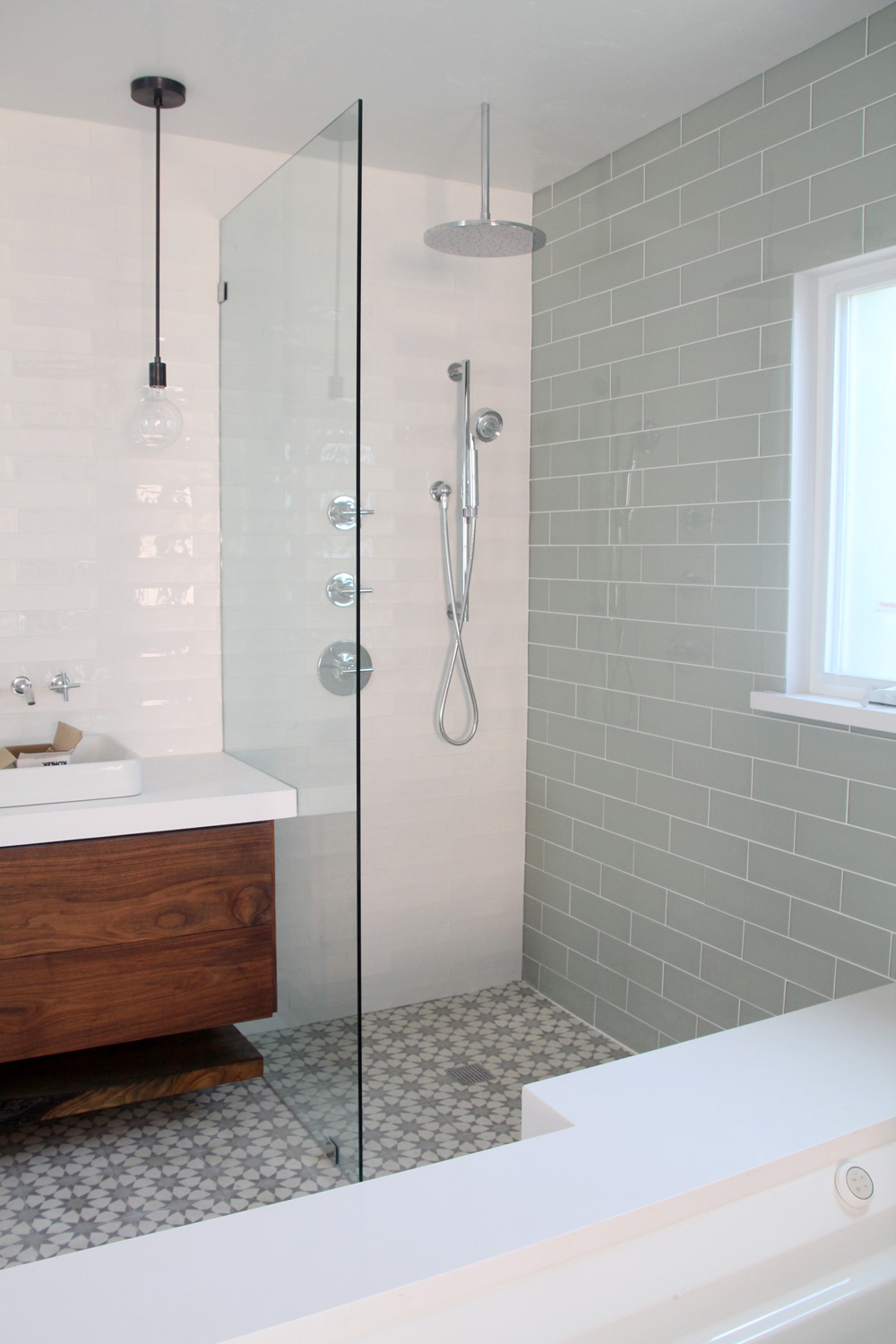 The quartz for the vanity is in, the single glass pane for the shower is mounted, the door to the little toilet room is hung. We belabored all of those decisions – solid door or opaque door? is this glass pane big enough to keep water out? is the white quartz right with this vanilla-esq cement tile?
Back when we were well under construction, I lost an argument over this crazy 80's cement block art installation: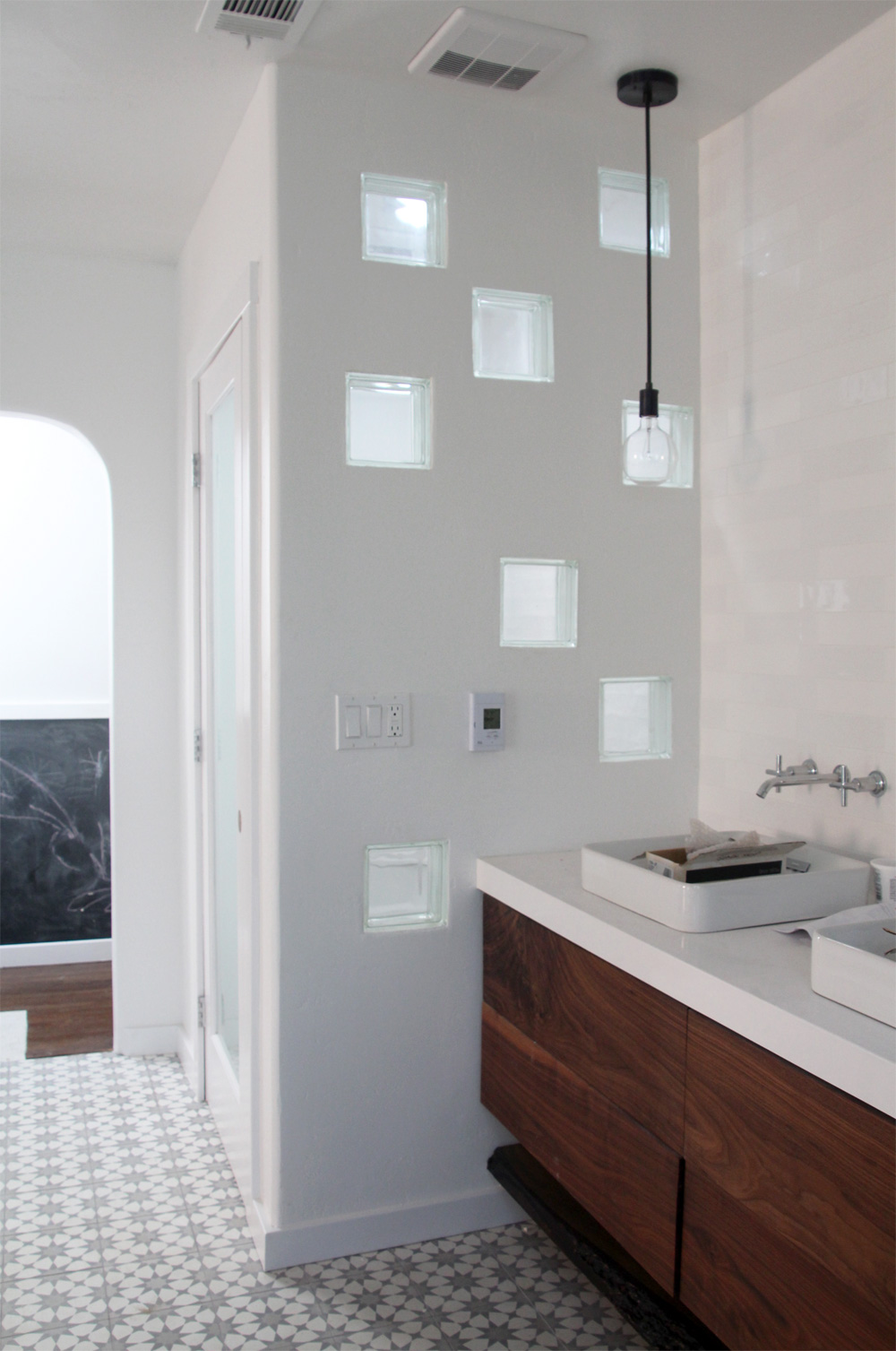 Mr. Design decided it was absolutely made for the wall. Turns out that it lets in just the right amount of light for that wee small closet of a room that now holds a toilet. Nicely done, hun. Nicely done.
This vanity is everything and more. Oiled walnut in a simple, beautiful form without hardware or really much break in clean lines. It was inspired by several Pinterest images and our neighbor did an expert job in building it.
Let's talk about that lower raw edge shelf soon in more detail. It is one of my favorite organic pieces in the space and we HUNTED for that sucker (both visually seeing it in our minds all year) only to find that it was crazy expensive, at least too much so for a shelf. Then against all odds our friend found the perfect fit in his backyard (he has an incredible collection collected from over the years). It was incredible! If you are looking for something similar in the San Diego area, try Made Lumber. Imagine a few white rolled towels there on the right side, it will look sweet.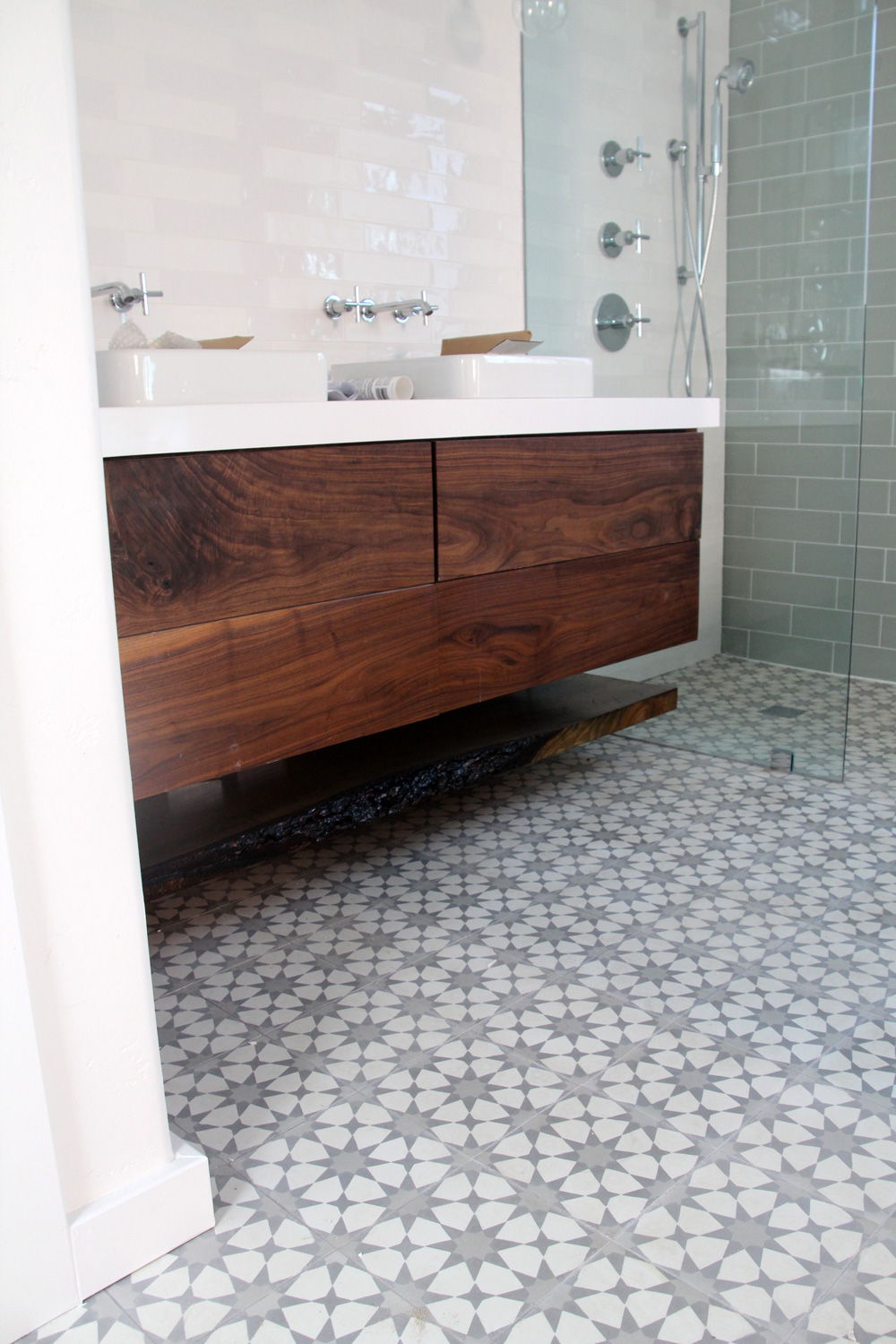 The mounted tv was one of the first things Kevin installed using our favorite SANUS hardware. We're not really tv watchers but there is something cozy about curling up for a show at the end of the day. We had the tv and the hardware on hand so it made sense to float it in this little corner. Maybe we'll get hooked on a new series :).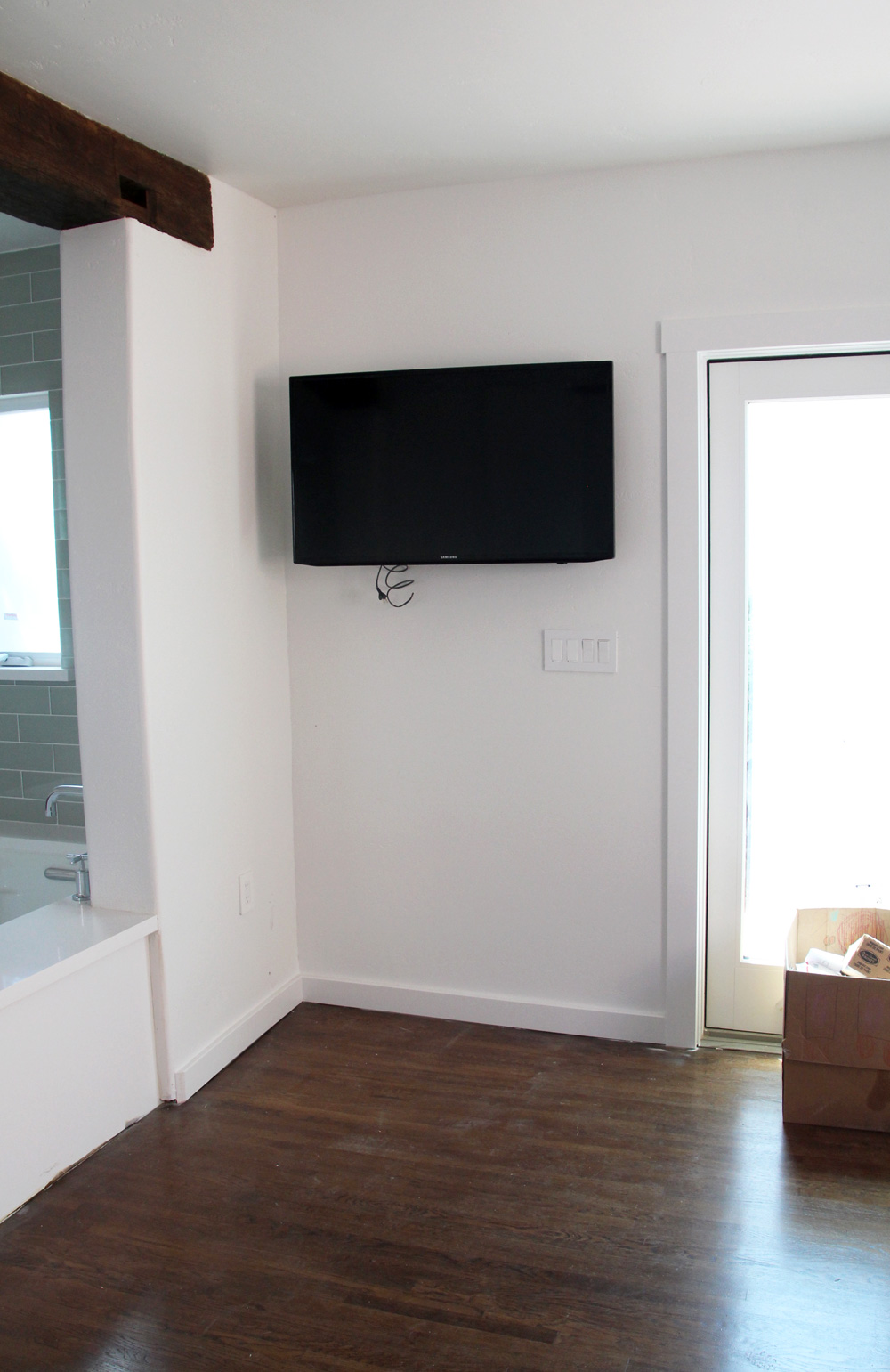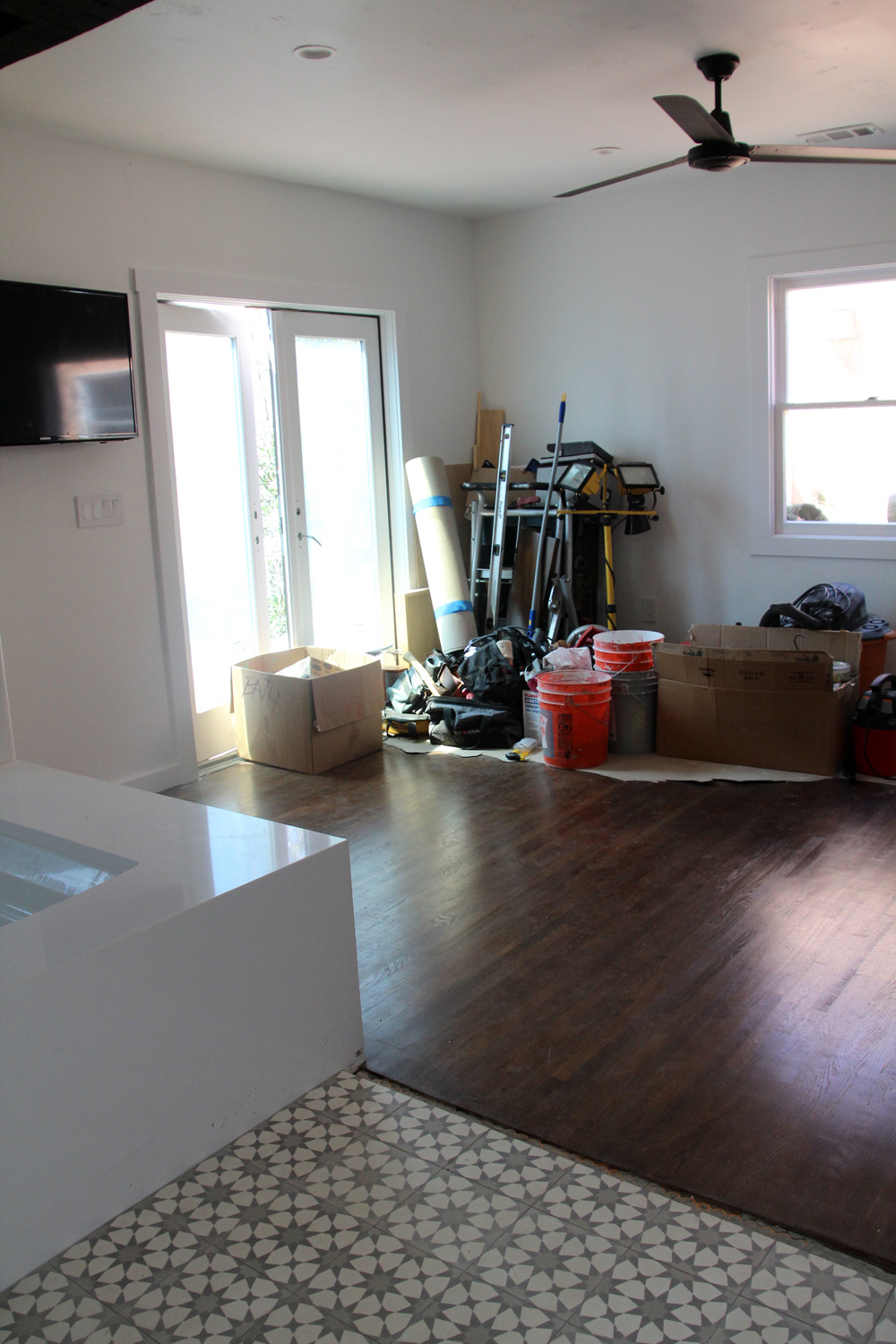 The salvaged beam has been cleaned and oiled! She shines so beautifully now. There are a few spots we might have to go back and fix but I love how knotty and irregular (like those big chunks that are missing) she is. It feels very organic and raw, a nice balance to the quartz below.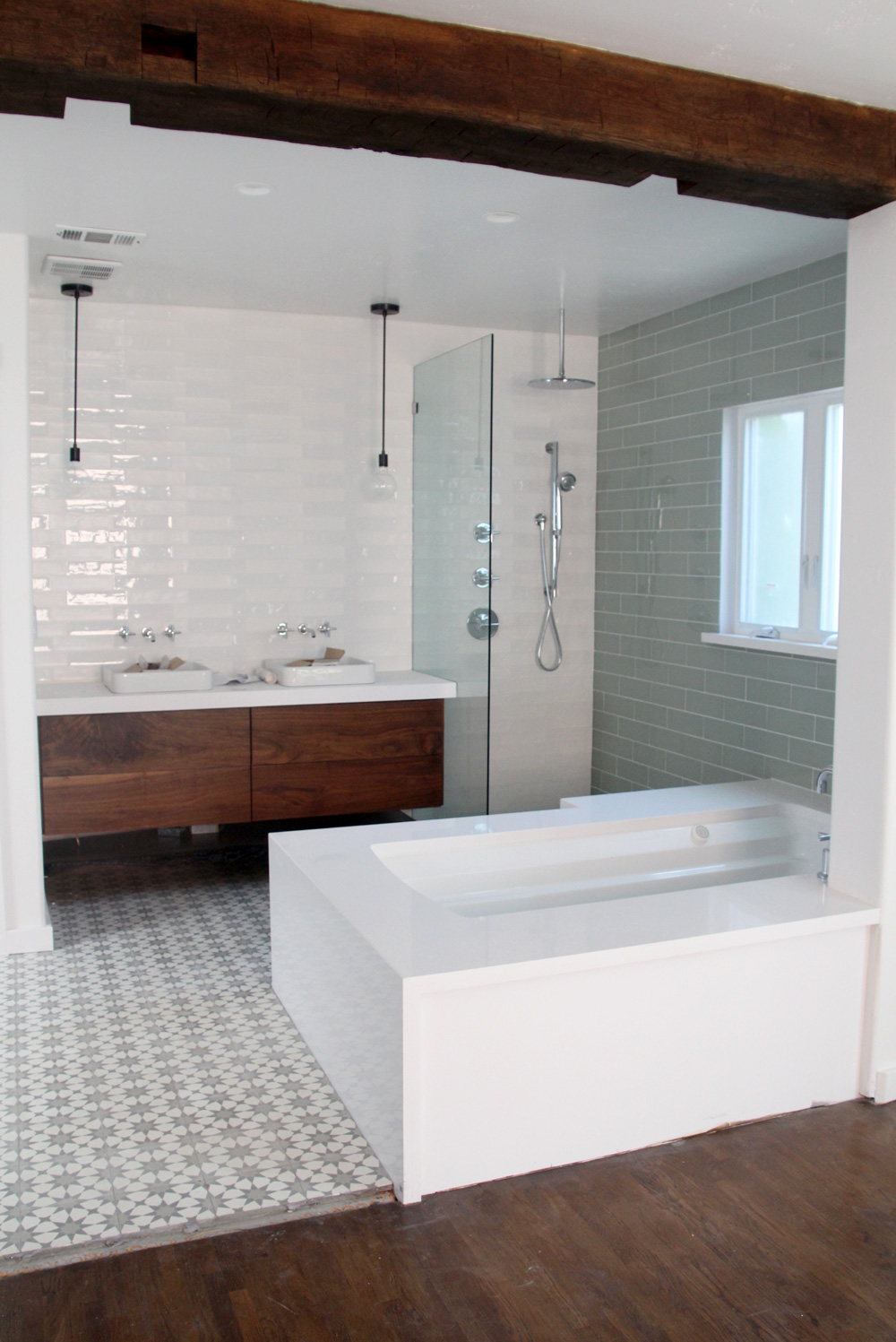 The start of our furniture is ordered and on its way… and the closet is up next for a better dissection on how we handled clothing storage in such a tricky room. We are hosting a big garage sale next weekend in hopes of selling our old bedroom furniture/rug/lamps to make a little dent.
Source list (or the start of): 
Cement floor tile: Agadir by Cement Tile Shop
Glass shower wall tile: Ponza in the Islandia series by Arizona Tile in 4×12″
Ceramic 2.5×10″ subway tile: (alternating between shiny and matte) from San Diego International Bath & Tile
Quartz (for the tub surround and vanity countertops): White Zeus Extreme Quartz by Silestone
Vanity: walnut, handmade
Chrome fixtures, bathtub: c/o Kohler Purist line
Paint: c/o 75% of Droplet by Dunn-Edwards
Bedside sconces: Tryon by Cedar & Moss
Vanity rod pendants: Timberline by Cedar & Moss
Three blade ceiling fan: c/o Lamps Plus
ps our renovation from the start and the original inspiration board (which has changed quite a bit!).