I'm hesitantly jumping back into catching up on posts about our bedroom/bathroom remodel. Much of the aesthetics have not changed since November but little bits and pieces have made it feel much more 'finished' in the sense that it's officially a fully used space (woohoo!) and that it's been getting the added details that make it feel lived in. Kevin has finished constructing the vanity drawers, stained the thresholds and even welded a bedside table. Clothes are still working their way into the closet, toothbrushes have finally found a permanent home in the the vanity, pretty candles and mini succulents are starting to line the tub (Christmas gifts from Kev and really the inspiration I needed to get back to 'moving in' to the space). These little details lead me into being ready to find artwork for the walls and proper soap dishes for the bathroom. The important stuff. I'm not much of a stylist and so these decisions take me ages :), but I think the process is kind of fun even if it does.
I'm very much into abstract artwork right now (below is not all quite abstract, but it follows a general theme of something a bit unusual and interpretive), and these are what keeps ping pong balling through my head:

sea glass no.2 | ivy | the meadow
lush composition | ocean landscape | hemingway
mid-summertime | drift | sunset fade no.1
pushed | sea glass no.1 | out to sea.
mist rises over the water | marbled wake | blue monday
west coast | season change | flight of the ocean
solstice | blizzard | rusty patina
swimmingly | mesmerize | abstract muted 1
opportunities of golden magnitude | cancer constellation
sunset fade no.2
That's a lot! There's still much more narrowing down to do, but I think a solid step one for me is to scan through a portfolio of images quickly and to 'tag' the ones that I love best without using any specific rhyme or reason other than 'this speaks to me' or 'this feels like it would work well'. I greatly admire someone who can walk into a shop and immediately pick out furniture or rugs or accessories or art and know that it's right for their home. For me, it's always a lengthy process where I go back and forth based on my mood or what's inspiring me that day. I like to sit on my 'I think this is right' decision for weeks before pulling the trigger just to be sure. It can be exhausting. (Sometimes the exact opposite is true can be SO fulfilling – such as when we walked to the kitchen cabinet counter at Lowe's and designed/ordered/paid for our kitchen in one sit down session without time to wobble. Took out the decision paralysis conundrum and I don't think we've regretted any part of the layout.)
I think what's revealing about this roundup is that you can immediately see the color scheme that this space is leaning towards. The bathroom has a tiled wall of sea glass green subway tiles, but the additional colors that keep coming back to me also include corals, soft pinks, mustard yellow, deep purple… and also simple black & white. I don't want this room to just be ocean colors. I use the 'favorites' feature on Minted's website (they're partnering with me on some artwork for the space) like a kid in a candy store.
The above all have a specific location in the left corner of the bedroom 'bed' wall and so are portrait or square in shape in order to work with a big ole' plant. There's also a spot for a horizontal piece and these have caught me eye: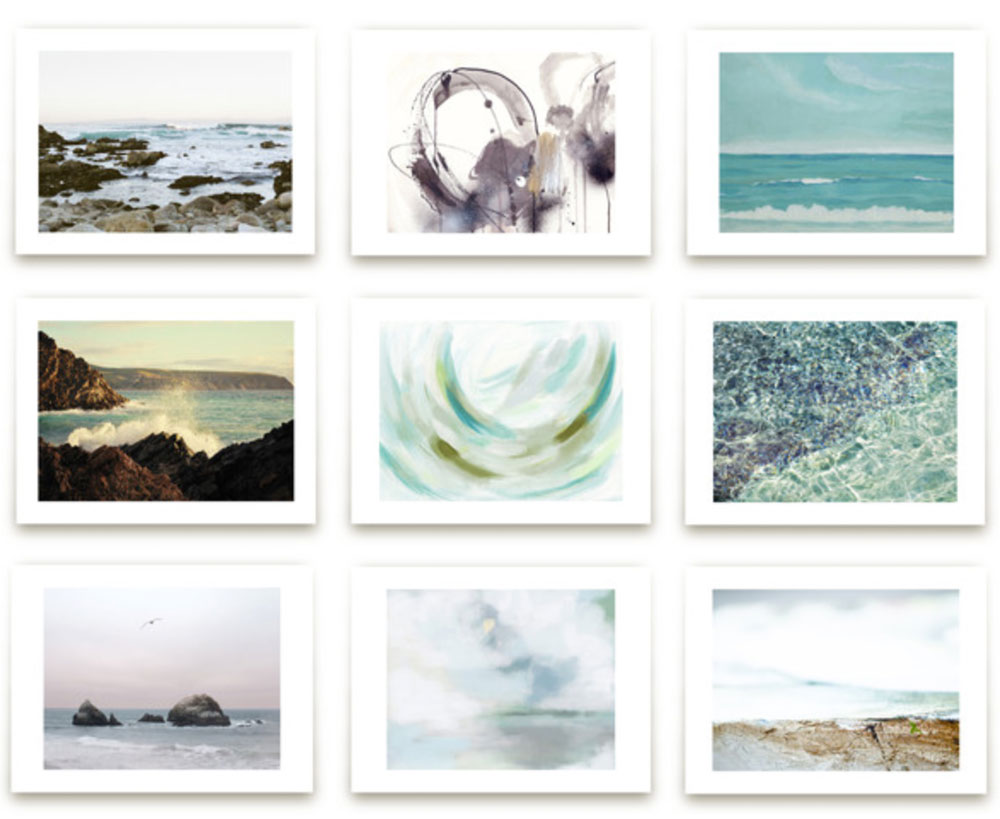 rocky coast | melt | oceanscape
spray | lovely breeze | chrystallize
california seascape | monday blues | sea series 1
If an image is not abstract and it's not a photo taken by me or someone I love, I tend to gravitate towards images of places that I've seen with my own eyes (beach and the sea being good ones) or that I feel a personal connection with from a past experience. I foresee images of water being alive and well in this space as long as they have a healthy color balance.
Sometimes I wish this process didn't take so much time but I also appreciate that artwork can provide SO much to a room (but when done right, doesn't it feel so nonchalant and everyday?) and that it's important to mull until you're on the right track. Hopefully pulling the trigger soon and excited to see what our room will look like with plants, stocked shelves, photos and paintings. This room has been a long time coming – if you're curious, you can head back into the archives right here. Hope your week if off to beautiful start!