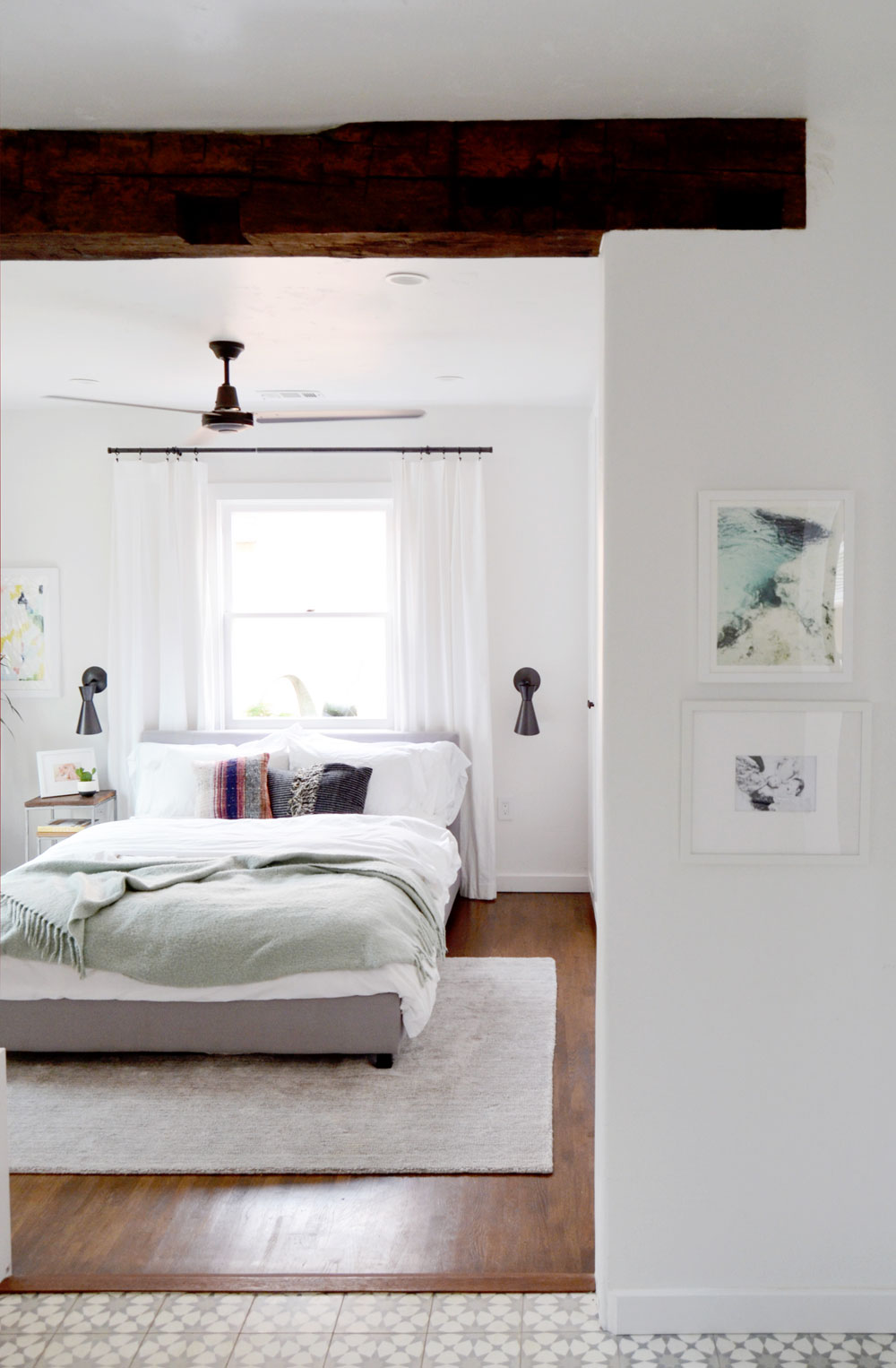 We finished the construction side of our master bedroom & bathroom renovation and lived in a beautiful shell of a room while all of the furniture/wall/styling details were figured out. I wish those decisions were overnight ones but man are they the ones you really want to think on and love. But after so much thoughtful time, I think we're there! And that's really cool to say.
This space has become a retreat, an escape from the world. It gives us an outlet to unwind or collapse into at the end of really busy days and it's hard to sum up in words the gratitude there. Like a new home, it has felt right to live in it for a good chunk of time while deciding what family photos to frame, which rug most the makes sense with a white space and a dog (a couple of failed attempts till we found the above West Elm guy that's so perfect), what pieces of handmade and purchased art to add, the right pillows to pull it all in,  which plants add great greenery and will survive. Our friend came to take a few photos for us and I'm excited to share.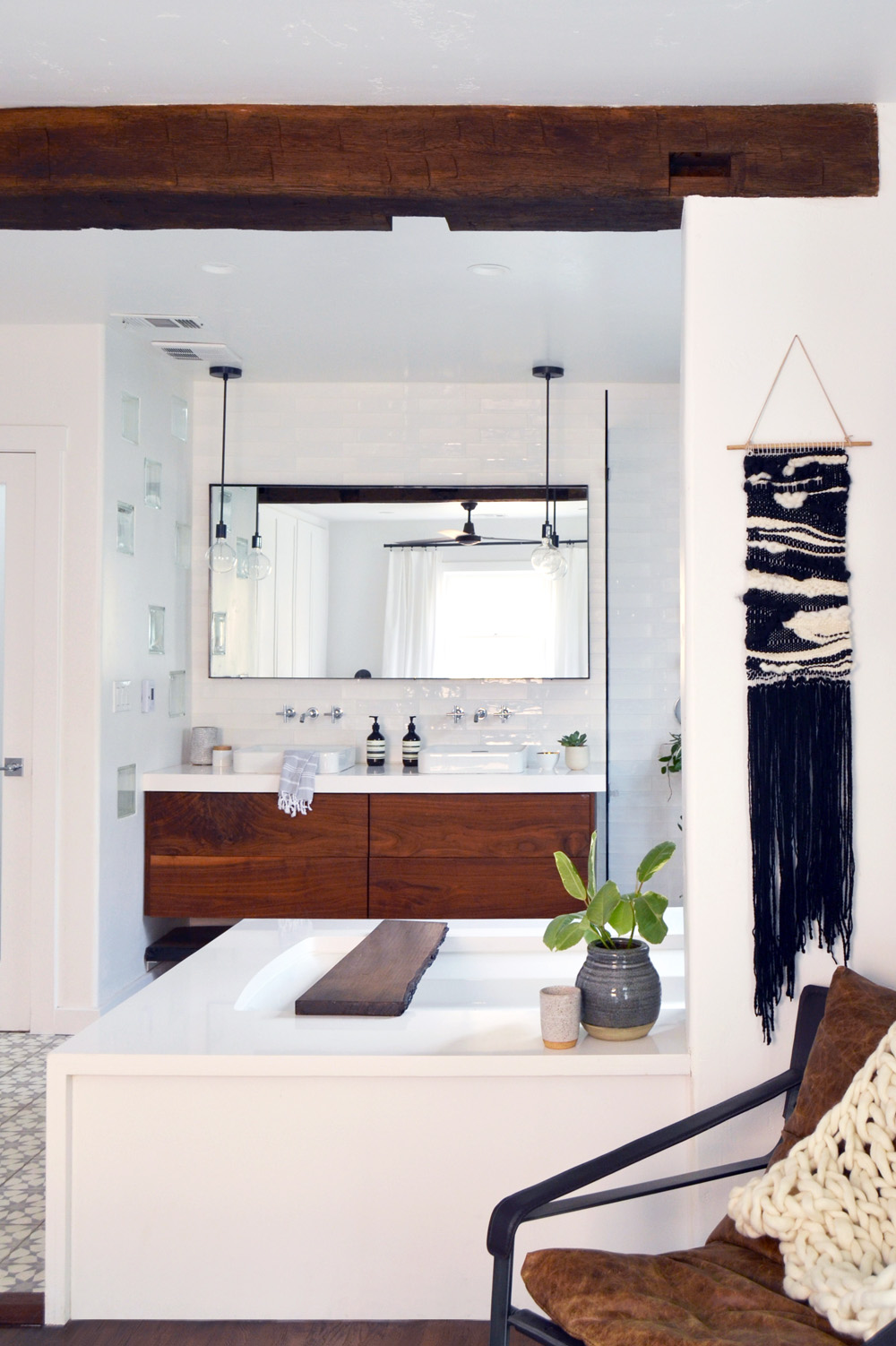 You can read more about the journey of this space here. In a nutshell, it started as two existing side-by-side bedroom and bathroom spaces and became one large open master suite. Kevin and I designed it out from a top down approach, moving windows and doors and walls on scratch paper until we had the box (or rectangle) of a room that made sense for electrical, plumbing, natural light, functionality and so on. Kevin and his good friend David built the entire space from scratch, from demoing the old 1030s construction to installing the reclaimed wooden beam and laying the tile. We brought tradesmen in to help with drywalling and plaster, painting, the countertop Quartz installation and other small pieces of the pie.
I made the above weaving from the black & white weaving kit from The Crafter's Box, ditto with the chunky arm knitted blanket on my favoritest leather chair from Wayfair. Honestly that sling chair is the best. Our neighbor built the custom walnut vanity from inspiration photos and it was awesome working with him to fit what ended up being an unusual space between the bathroom closet and shower (more on that piece here).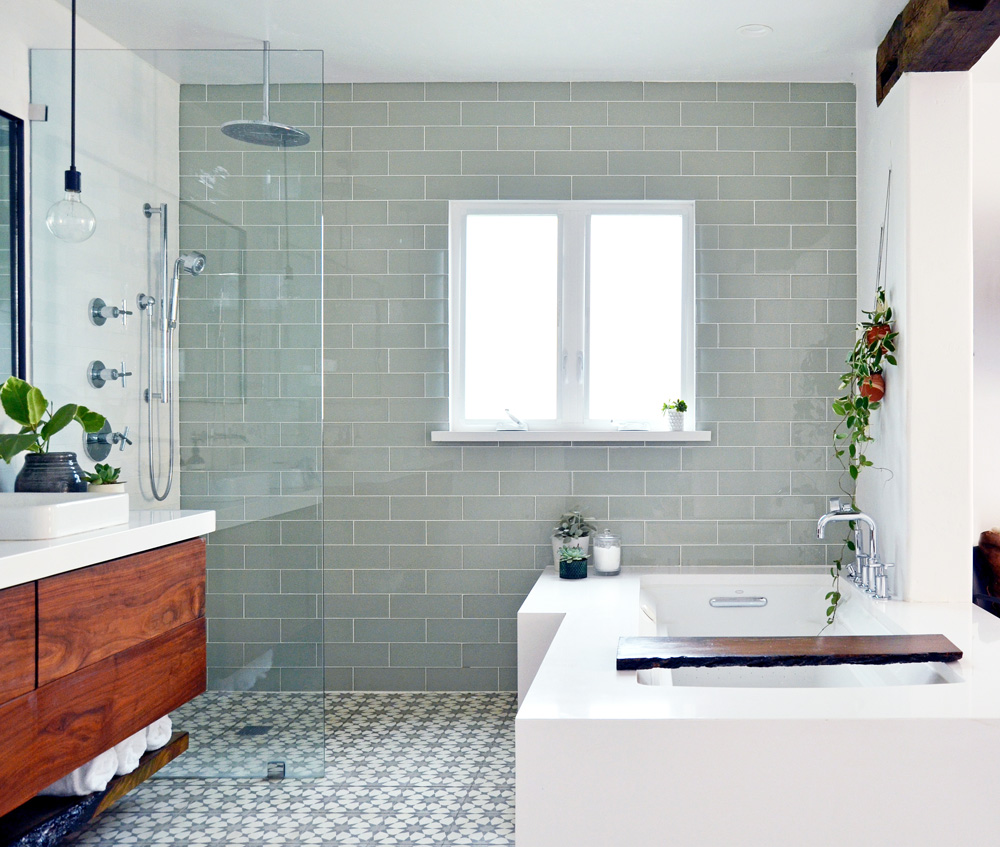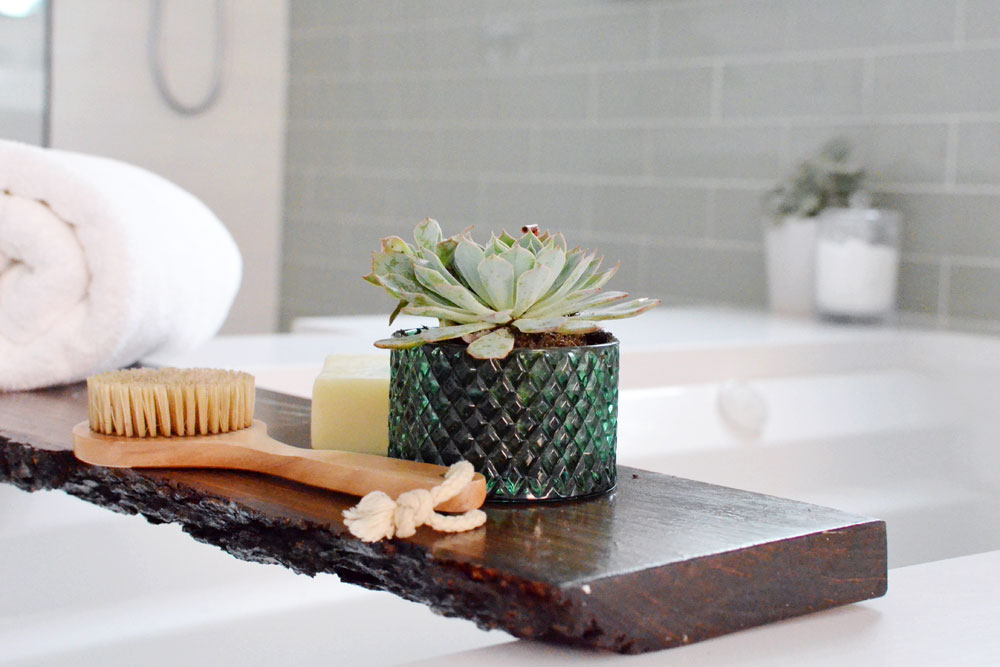 Our friend, David made the above bath shelf from a reclaimed piece of wood that was sanded and stained, he left the raw edge which I love! This little caddy shelf is sort of pretty awesome :).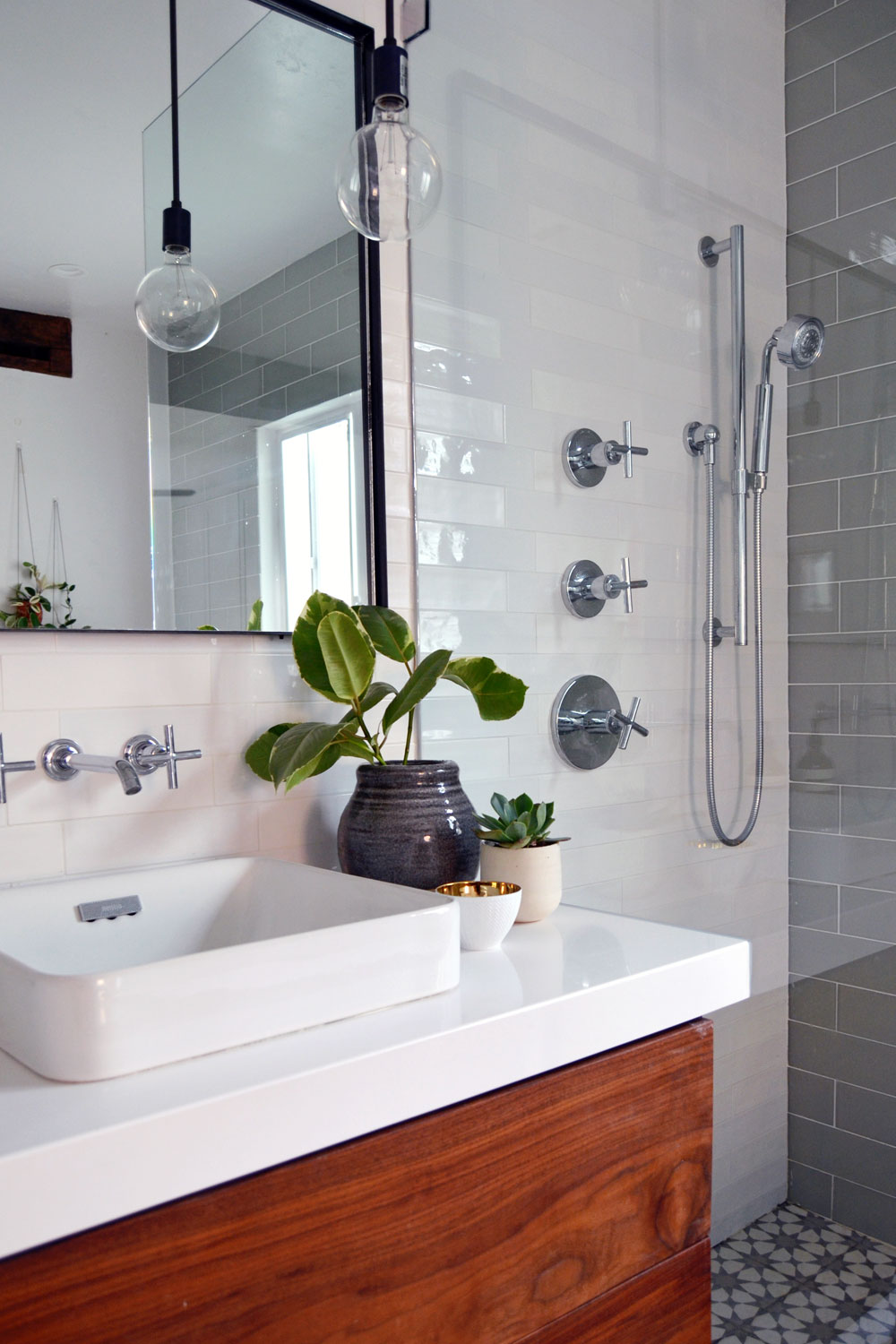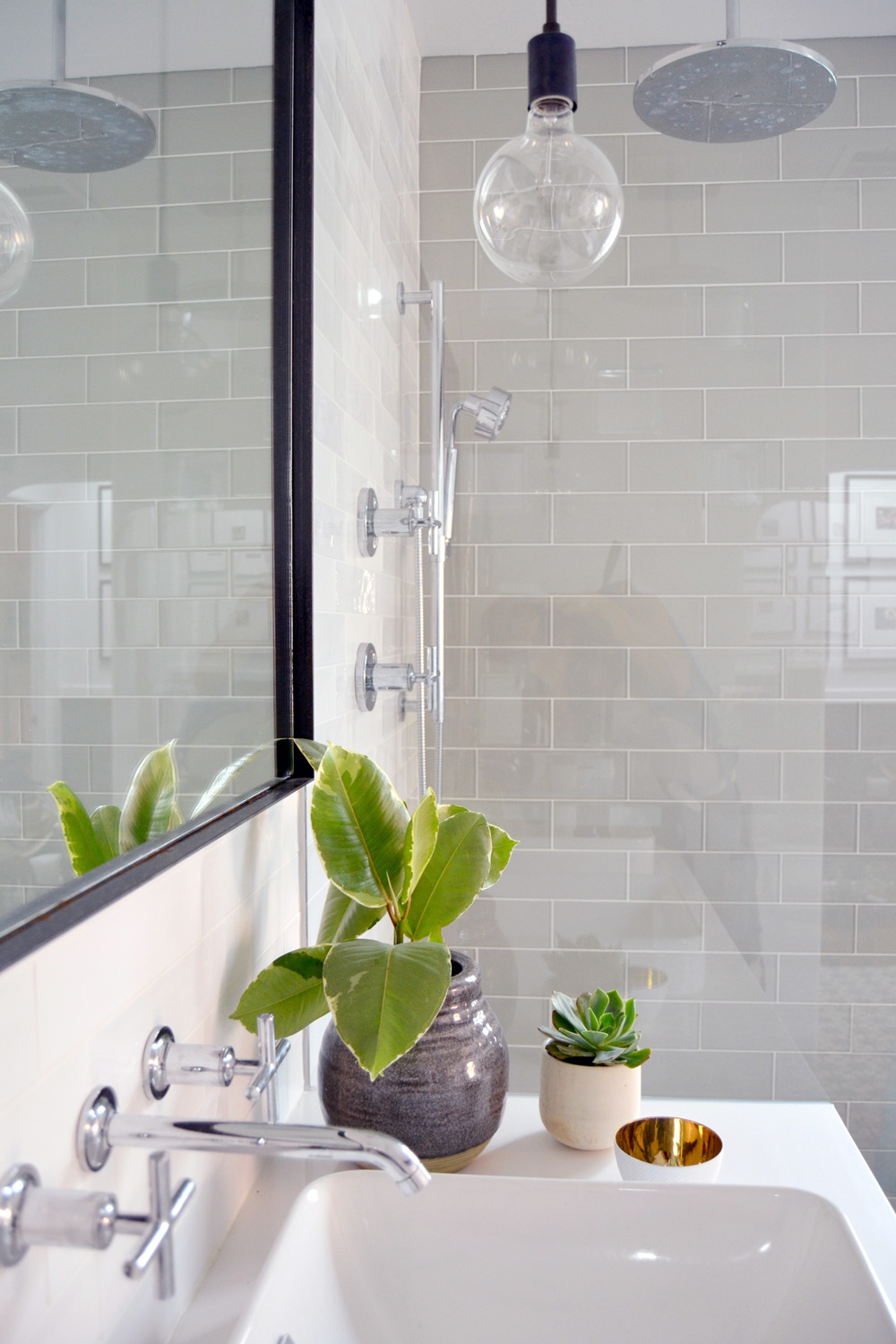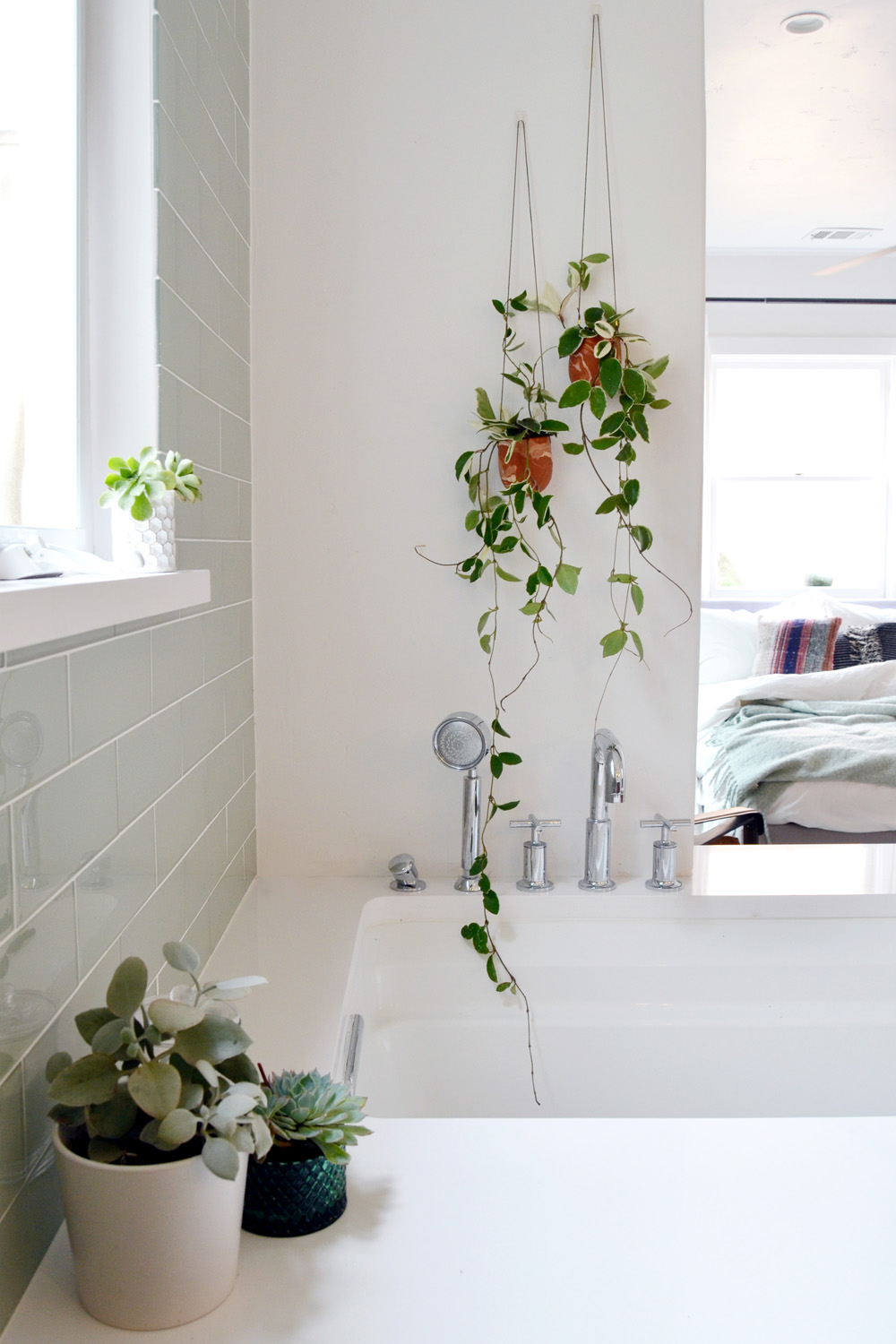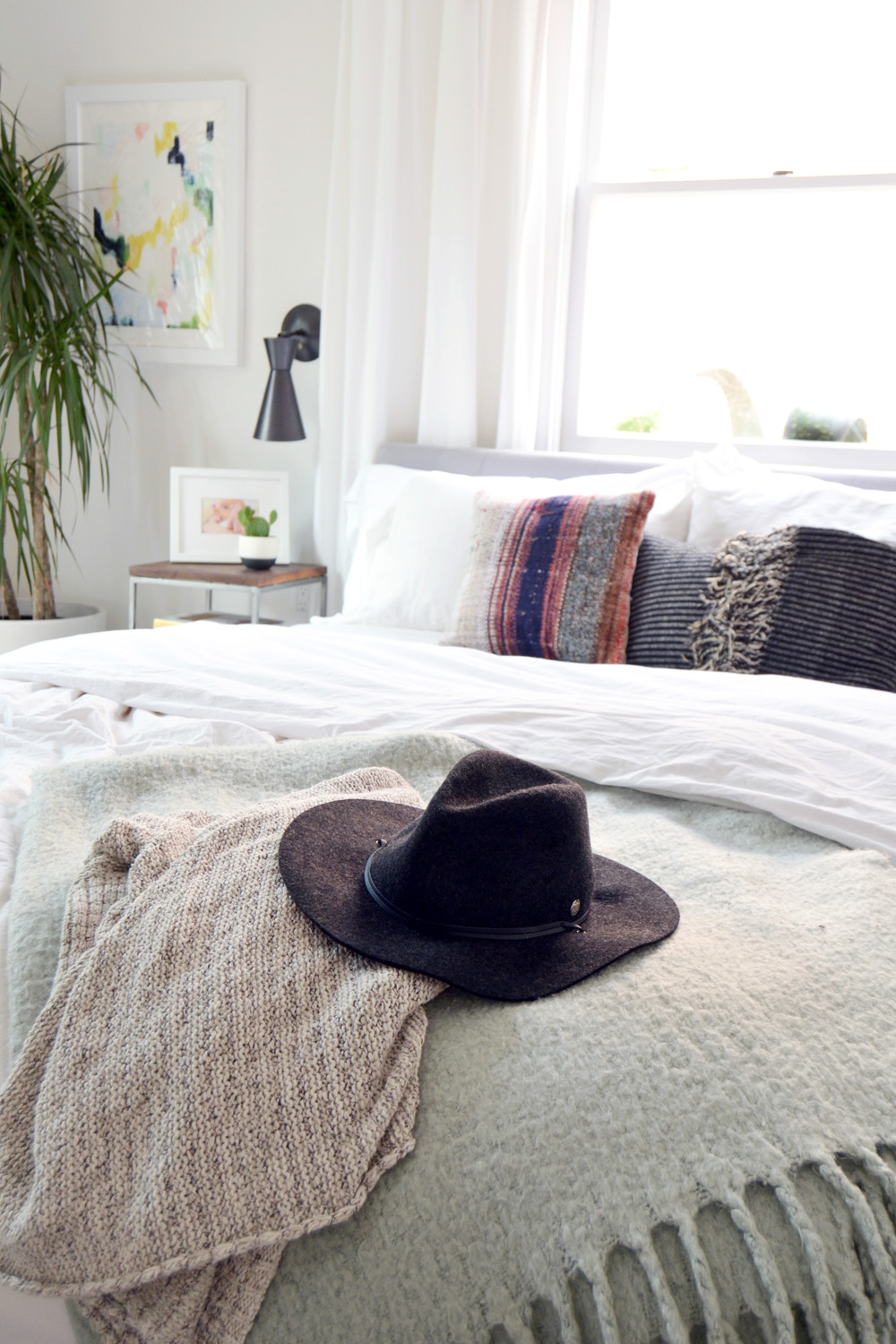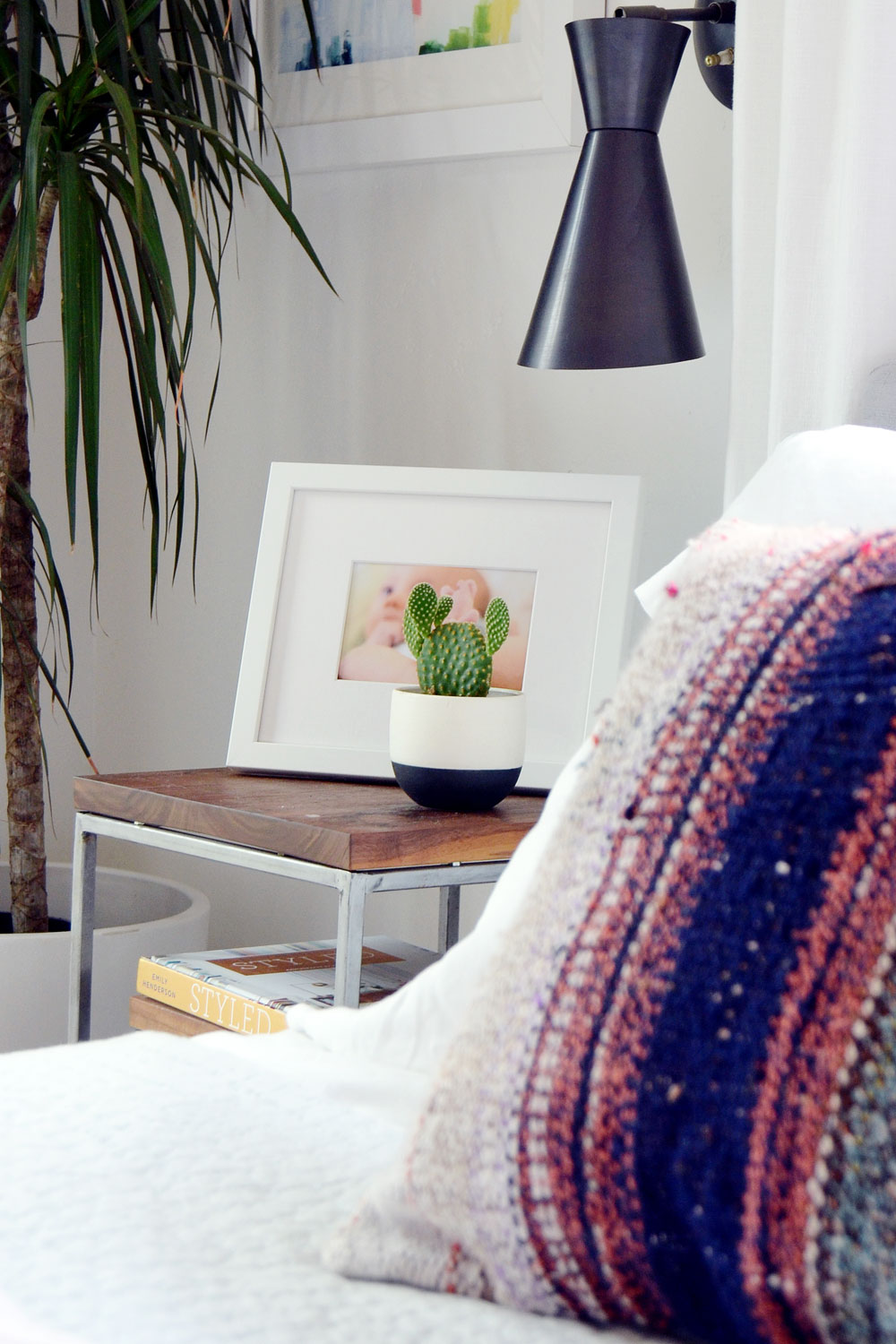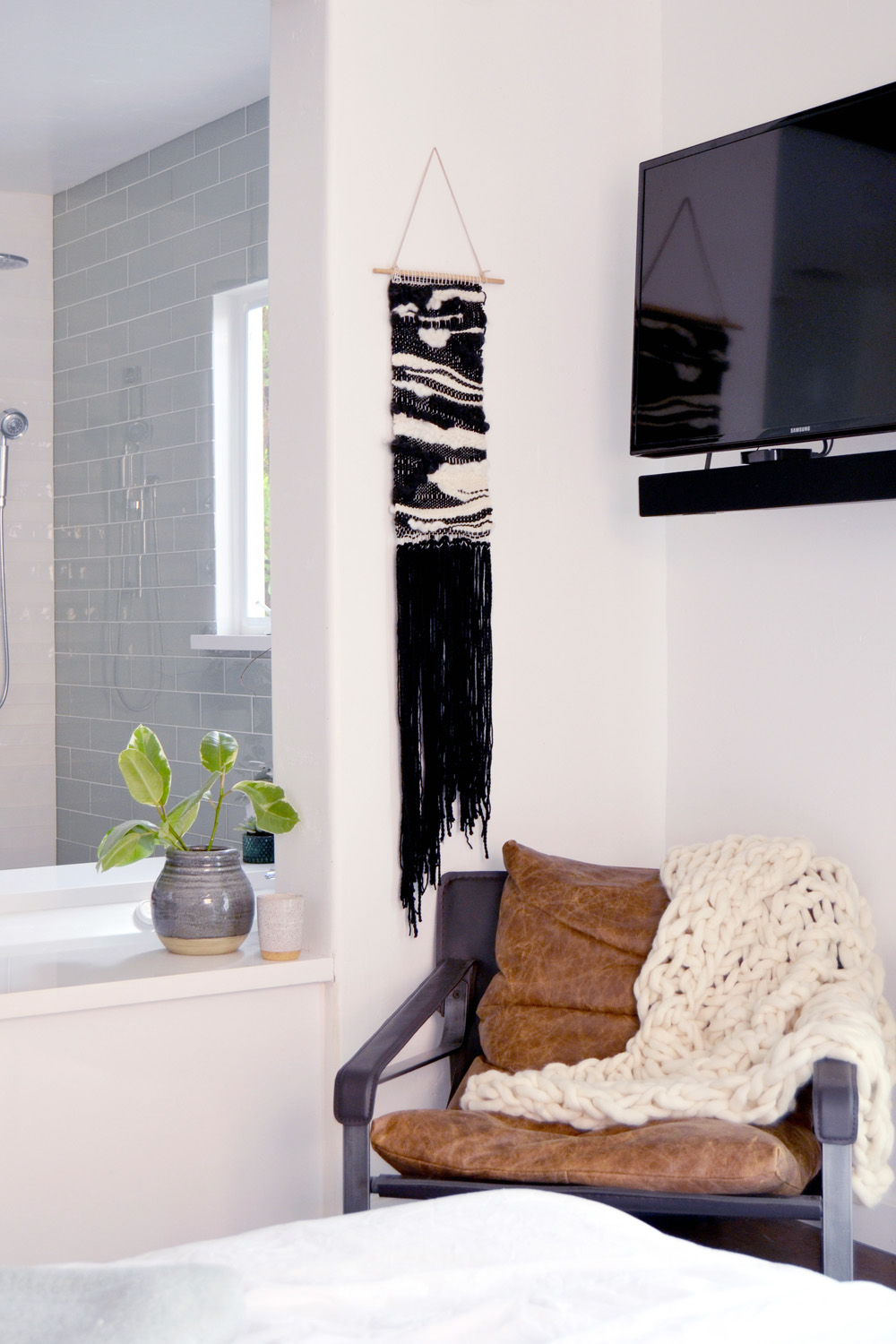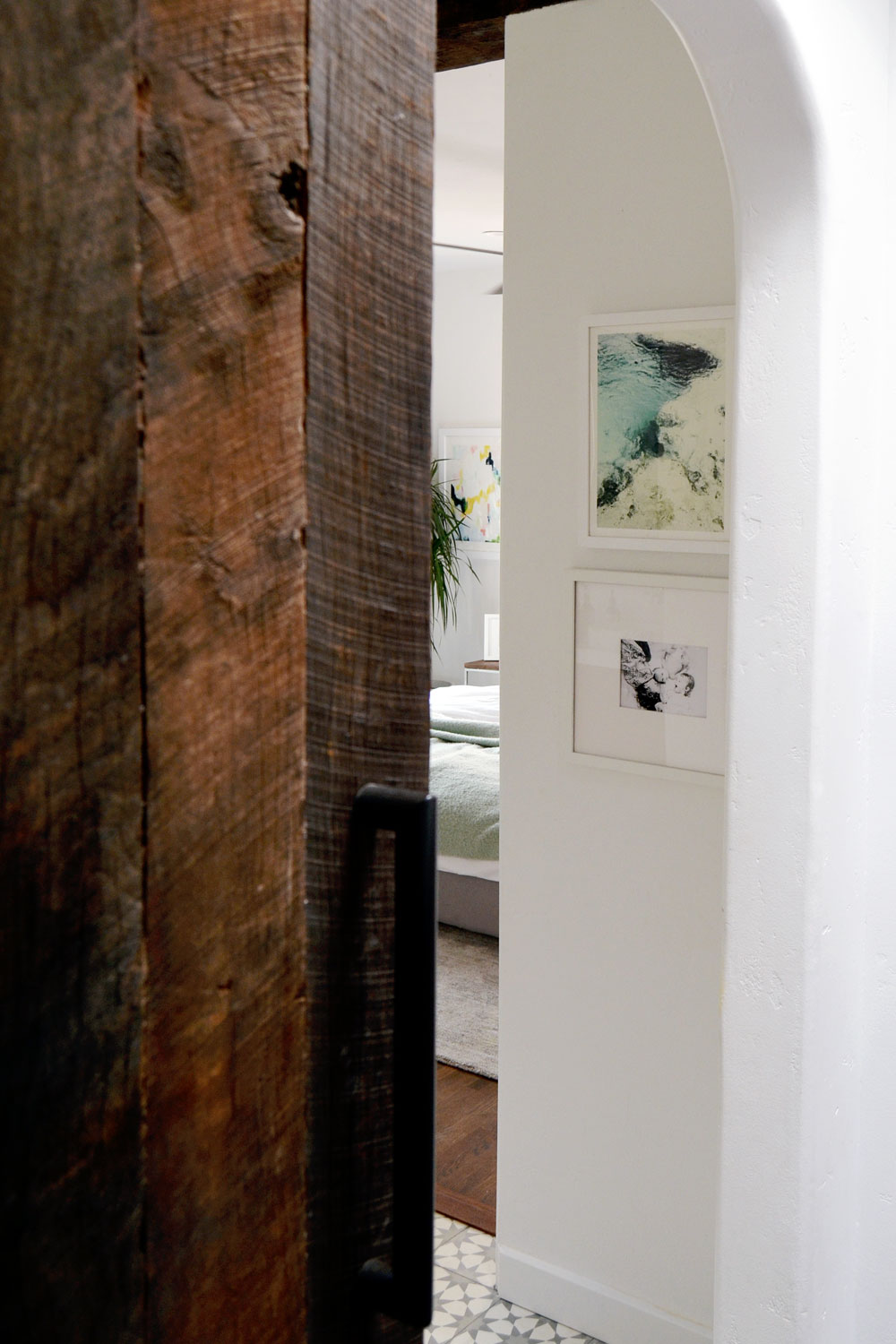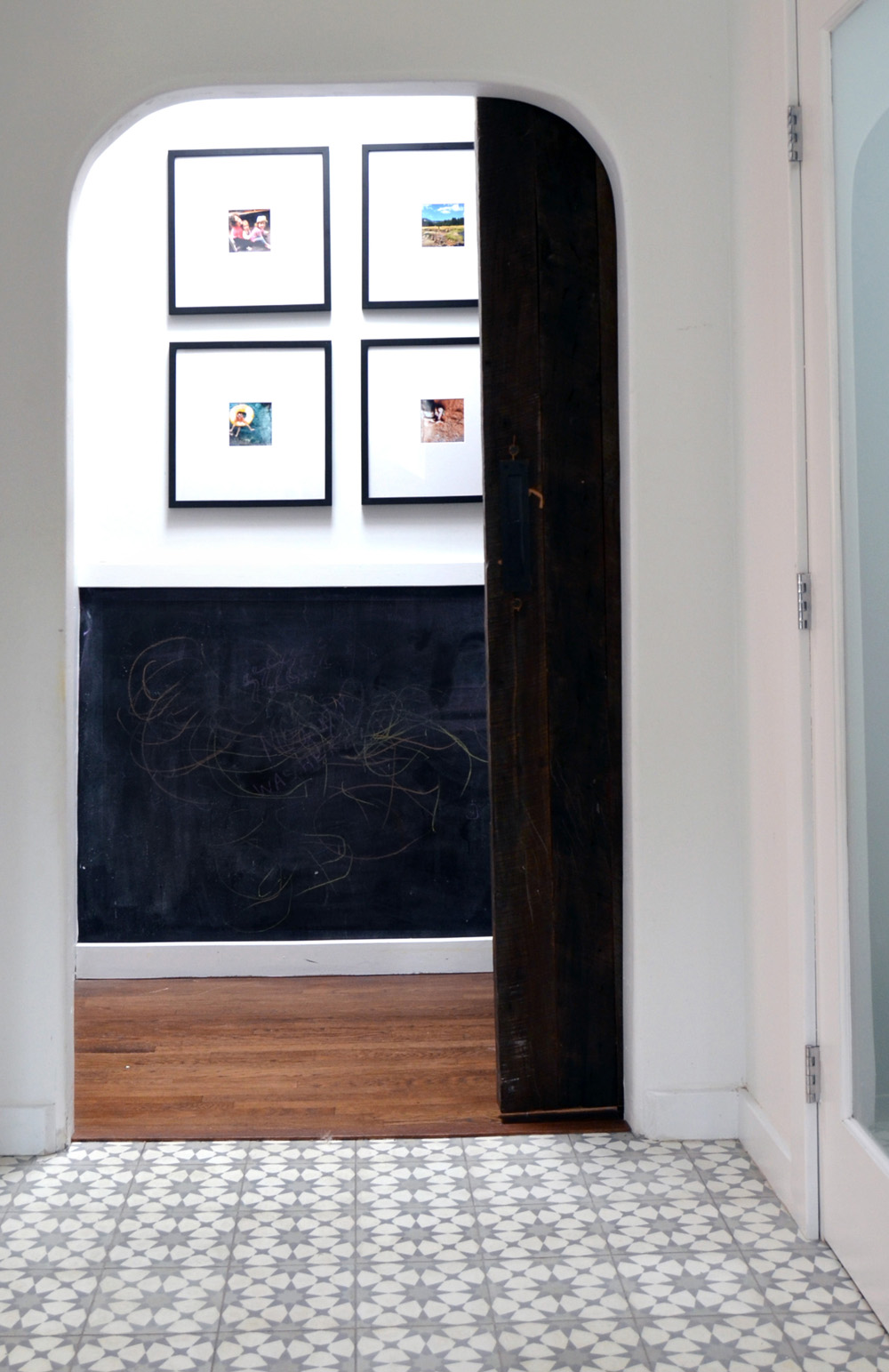 Full source list: walnut vanity built by our wonderful neighbor (a retired carpenter), raw edge lower shelf slab rescued and installed by our friend (who collects awesome finds like these), Norden white ceramic planter holding our big dracaena tree in the bedroom corner, Agadir Cement Tile Shop tiles on the bathroom floor, Ponza in the Islandia series by Arizona Tile in 4×12″ on the wall, ceramic 2.5×10″ subway tile (alternating between shiny and matte) from San Diego International Bath & Tile, white quartz (for the tub surround and vanity countertops) in White Zeus Extreme Quartz by Silestone, paint 75% of Droplet c/o Dunn-Edwards, bedside sconces are Tryon by Cedar & Moss, vanity rod pendants in the bathroom are Timberline by Cedar & Moss, three blade ceiling fan c/o Lamps Plus, The Meadow print next to our bed by Melanie Severin c/o Minted, Blue Monday print as you walk through the door by Studio Singhi c/o Minted, grey platform bed c/o Wayfair (we chopped two inches off of each leg to bring it in height with the bath), percale white sheets c/o Parachute, comforter c/o Wayfair, woven throw pillows on the bed include a Turkish kilim pillow and a white & black striped fabric remnant-turned-pillow brought home from Mexico, West Elm gray shine rug, leather sling chair c/o Wayfair, pair of stacking side tables next to the bed welded by Kevin, mushroom knobs c/o Wayfair on our closet doors, door lever on the bathroom closet door c/o Wayfair, American Frame black thin frames and white mattes (around Instagram photos) in our hallway above the chalkboard, vanity mirror cut by our local glass smith, frame welded in our backyard by Kevin, large wooden beam in the space as well as heavy barn door built by Kevin from reclaimed lumber from our favorite lumberyard, The Crafter's Box projects include: marbled clay hanging planters, black & white weaving, chunky merino wool arm knitted blanket, vases and pots: two grey ceramic pots are from Target last season, speckled Norden candle, Chelspots ceramic two-tone tumbler, misc bowls and vessels from Pigment (local spot in San Diego).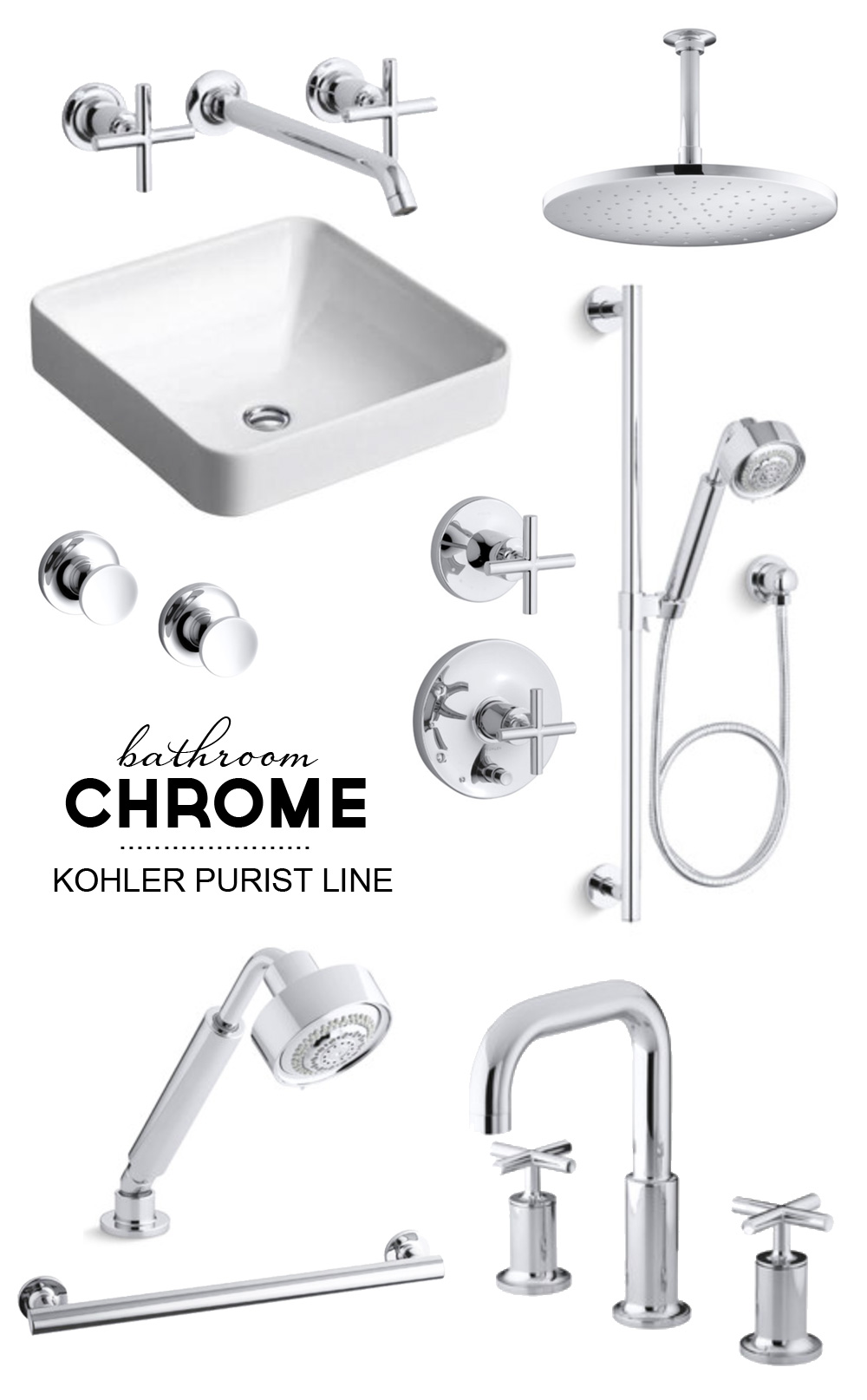 Kohler Purist line: faucet, toilet paper holder, robe hook, hand shower, valve trim, pressure-balancing valve trim, bath faucet, vessel sink, 12″ rainhead, handshower kit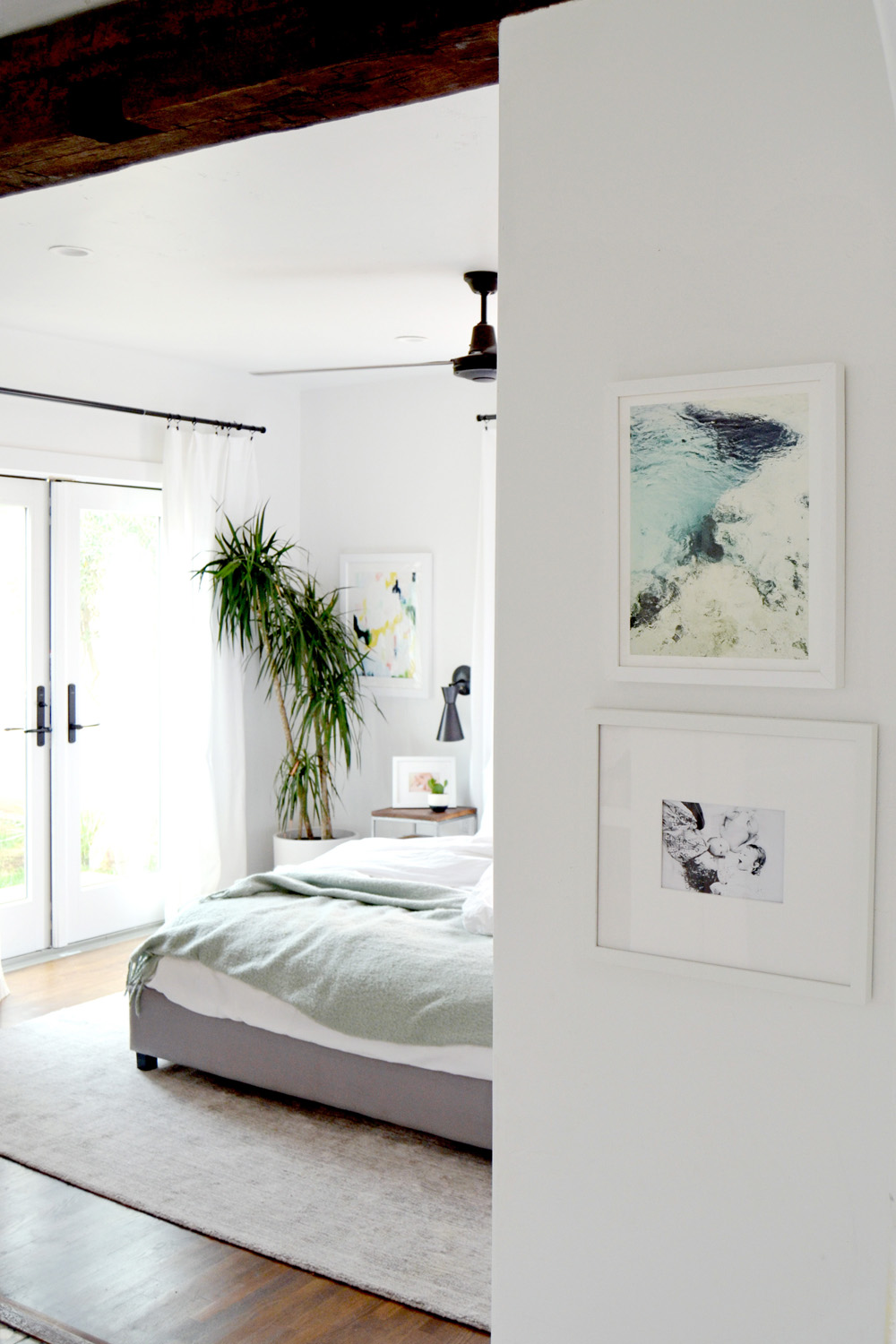 Adding the french doors to the left of the bed (there used to be a large window there) was one of the best ideas. It brings in a great deal of light and makes the space feel much more open. If given the opportunity, always add a door.
Taking a look back at our plan for this space we didn't end up veering too far away from the original design/aesthetic intent. That's kinda cool (despite the long deliberation process). Here's the mood board that shares pretty much the same main artwork, leather chair and grey bed that was on our minds when we started to pull ideas together (plus some in-progress shots from when we starting choosing the final design details):

Words cannot express how I feel about this final space. It's a dream come true. Grateful to my hubby and our friends who helped to make it happen.