March 19, 2013
About a year ago I wrote a post on tips for traveling with babies and I thought I'd take a moment today to share a few thoughts on how that has transitioned into toddlerhood.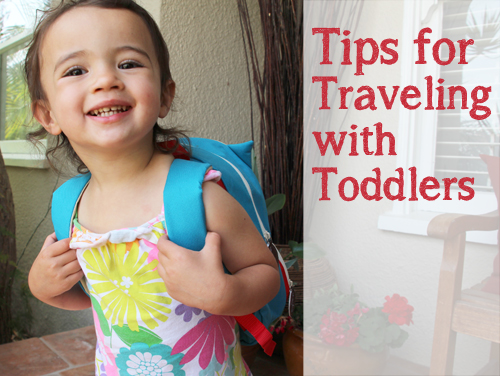 Here we are on the go back when traveling solo was as easy as an ergo! Okay… maybe with a few additional caveats

. I travel plenty for work (back and forth from San Diego to a corporate office near San Francisco) and Liv gets to come with every time! It's wonderful having family in that area.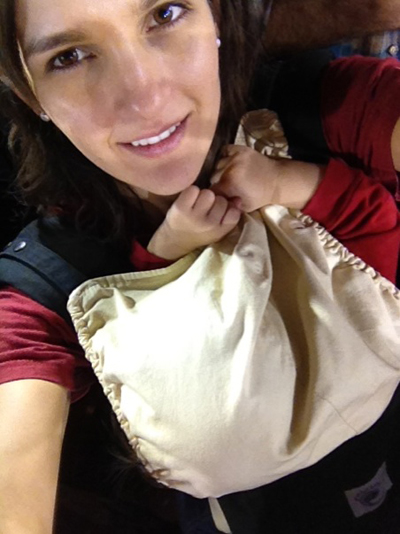 But now Liv is two and our traveling needs have expanded. As have the tricks up my sleeve.
Traveling with toddlers. It's one of those things that you can plan for, prepare for, agonize over, but you really don't know how it will all play out until you're there sitting on the plane, train or well on your way for a family roadtrip. I've been pretty fortunate with Liv, for the most part she's an all-star traveller with few hiccups over the past two years, 50+ flights and I don't even know how many miles we've logged for work, visiting Grandpas and Grandmas (each set at least a day's drive away), and for vacation.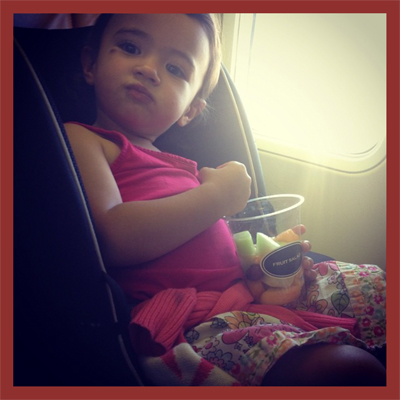 I think it's safe to say that much of travelling is all in the mindset of the parent and what approach you take to packing your kids up to hit the road. If you don't stress about a journey then it won't be stressful, if you pretend it's a necessary part of life your kids will feel that sense of calm and respond appropriately. But if you get overly anxious about an upcoming trip (or even, heaven forbid, avoid planning one because of kids) there's almost a guaranteed level of wreckless nerves that will get in the way. In these situations, prior proper planning prevents… well, you know how it goes.
Here are also some sneaky tricks that I've learned to help make traveling easy, peasy!
1. Preparing for your trip. For kids that don't travel often, the idea of a big airplane, train or long car trip might be daunting. We have the below Olivia book and Liv loves it. We also frequently point out airplanes and trains and talk about what its like to go on a journey.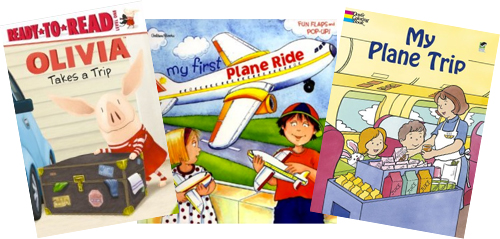 m
2. Time to spare. Give yourself extra time for extra trips to the bathroom or extra long walks to gates, etc. Time is always my best friend. Liv and I have security lines at the airport down pat (take off shoes, pull carseat out of stroller, out comes the laptop from my carryon, snap stroller shut and slide through x-ray, unbuckle Liv, carseat facedown through x-ray…) but sometimes you can't anticipate the unnecessary gaps and waits and it's far better to enjoy a Starbucks treat on the other side rather than race (oh we have ran, we have ran. I have played the baby card.).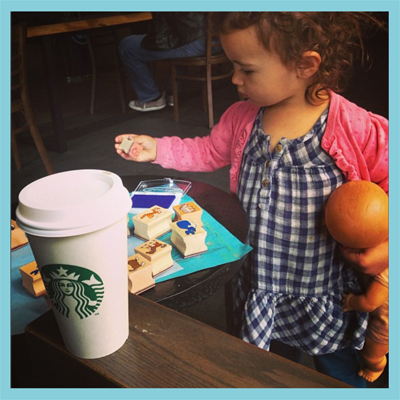 3. Preboard. If you are pregnant you can be one of the very first to board (just grab a little card from the gate assistant when you arrive). If you are traveling with children under the age of 4, there's usually a family preboarding time as well. Definitely take advantage!
One of the very first stops I make when we reach our gate is to pick up a stroller gate check tag and to check on how sold out the flight is. That will help me gauge where I'll be sitting, if I can bring Liv's carseat on board (back when she was under 2) or if I should volunteer for the next flight (I have definitely opted to wait 45 minutes at the airport for the next flight home in exchange for a free travel voucher – there's plenty to do and see at an airport with kids).
4. Snacks within easy reach.
I love our
snack traps
because it means pretzels and dried mangoes will not be roaming the plane or car floor! It's probably a safe bet that you'll come across a food stand or restaurant on your travels, but there have been situations in foreign places where a recognizable snack has made all the difference for Liv's demeanor.
Skip the sippy cup (unless it's absolutely unnecessary) because it will squeeze all over the backpack you've packed it in and you, instead opt for a bottle of water with a secure cap. They'll let you bring it through security at an airport for a little one. If you must have a baby version, try a skinny kid's canteen that will slide into the outer pocket of your carry on and choose one with a lid that is rock tight.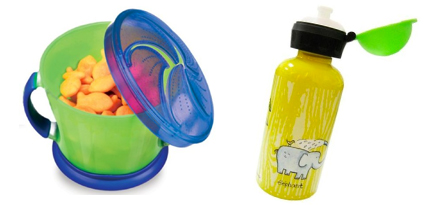 Great snacks to pack include: cheerios, dried fruit (raisins, craisins, mango, pineapple), trail mix, goldfish, wheat thins, apple slices, grapes and really most anything that is not sticky, does not require a spoon and is easily packed in a trap like the one above.
5. Multi-use carryon. 
In my post on
traveling with babies
, I raved about the diaper bag/briefcase/carryon that I worked with an Etsy designer to sew to meet all of our traveling needs (and at a price point that was less than most diaper bags!), but I've found that I needed something a little larger these days.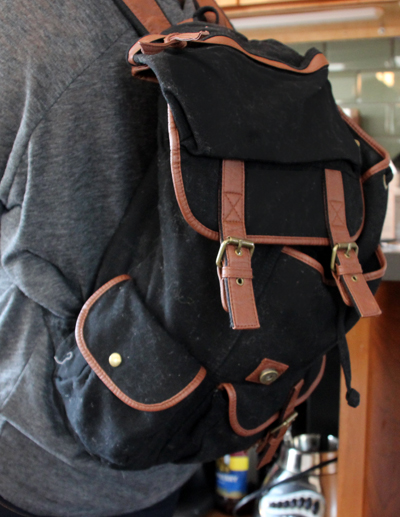 I found the above backpack at Urban Outfitters online, I don't believe it's available any longer but it's an ideal size to hold my laptop, camera equipment and any other carry on needs (
here's
one that looks similar). Plus there are plenty of external pockets for snacks, lipgloss, power cords, you name it. The best feature is that I can wear it on my back so my hands are always free.
Tips for what to pack for a toddler: extra diapers/wipes, an extra change of clothes (or pjs – the smaller the space it takes up the better), a thin baby blanket (being cozily nestled under a blanket makes it easier to sleep, calm down or stay put), snacks, water bottle, a few special toys. But my suggestion is that your toddler should carry these themselves (see tip #10).
6. Carseat. We often fly Southwest domestically and usually the plane is half full. This means that prior to age two (and the requirement to purchase a seat) I always brought the carseat with me to the gate (strapped in to our stroller) with the hope of snagging a seat for her gratis. 90% of the time it worked. A carseat means they are strapped in, playing in a confined area and you might even get to enjoy a magazine or two (bonus).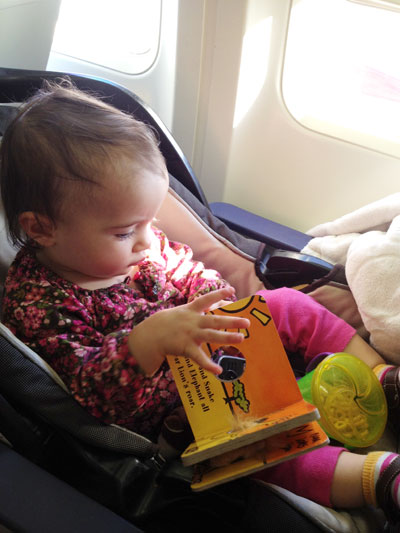 But it's not the end of the world to fly with a little one on your lap. I highly recommend an
ergo
or
moby
for easiest transport (and again, the whole idea of strapping them down

) and – biggest tip – don't give up that middle seat next to you until the very last minute. When the plane was too full for them to promise me a seat for the carseat and we had to gate check it, I usually plopped Liv down in the middle seat next to me (choose window + middle if your babe is still in diapers) and let the plane fill up. 9 out of 10 times a passenger would miss their flight and we would keep the middle seat (more room to play). If you give it up too early there is a business man somewhere on that flight with extra room for his briefcase.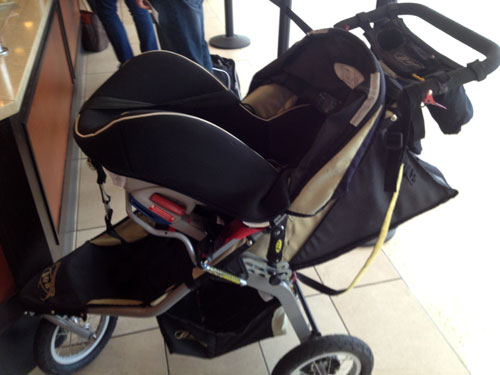 Now that we have to purchase a seat for Liv I bring our Combi carseat on board (which fits perfectly in our BOB and is the only compact toddler carseat I know that can travel so darn easily. Plus it's super light. Light carseat is key!) There are so many great carseats brands out there that are very heavy and very difficult to haul around (let along down an airplane aisle solo) but if you have one of those guys, give something like this a try so that you can still pull toddler around the airport and move carseat easily. I've also heard great reviews for this product. Be sure to double check that your carseat will fit on the airplane and is one that is FAA certified. I did much research before purchasing the Combi carseat and I am pretty sure it's the only toddler sized carseat that fits comfortably into a stroller.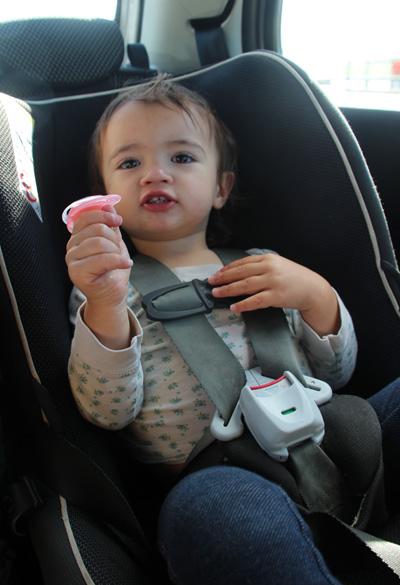 If you travel sans a large stroller like we did when we went abroad (we brought this smaller Maclaren with us instead – great travel stroller!) and choose to bag check your carseat, here's a solution you might try if your child is still under one.
7. When flying internationally, go bulkhead. Call ahead and reserve that sweet little section at the front of each compartment of the plane. You'll appreciate the extra floor room when they get ancy and want to spread out.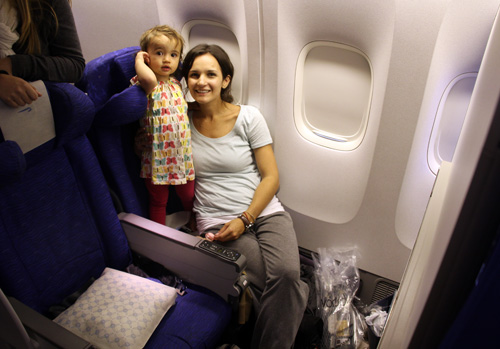 8. Plan around sleeptime. This is awesome for car rides if you have toddler/baby  that sleeps easily in the car. We try to time our lengthier car trips for right around 2pm (Liv's nap) or late at night when I know that the sway of the car will put her fast to sleep. When she wakes up, we've made significant progress! Sometimes this works like a charm for plane flights and sometimes it backfires (picture the suuuper tired toddler who just can't fall asleep – Liv's only a super plane sleeper if she's in her carseat or attached to me via an ergo, if she's flying without either chances are she'll be awake for the duration).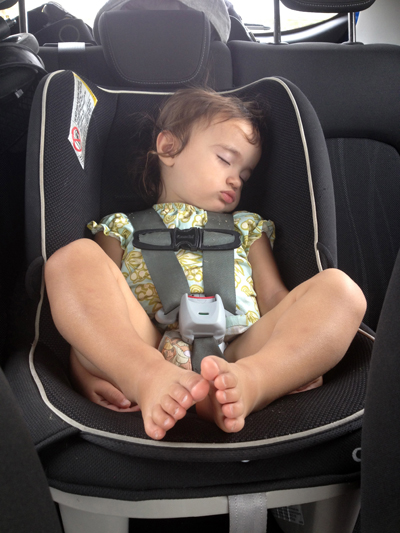 9. Take advantage of take off. In my experience, the only chance of little one falling asleep while flying is during the assent to 10,000 feet. Use the trip down the runway as a chance to softly sing songs, stroke eyebrows or do whatever else it might take to send baby off to dreamland. As soon as those wheels leave the ground the change in cabin pressure will magically cause eyelids to flutter.
10. Toys are overrated. Sure, a favorite toy or a new novelty game can keep a toddler entertained for a bit, but if you were to pack enough toys to entertain for an entire journey (airport, airplane, car, train, you name it), you'd be lugging around a bag the size of your suitcase. I love the idea of giving little wrapped gifts throughout a long plane flight as a way to distract – but the thought of carrying all of those gifts around on vacation for the flight home sounds like a waste of precious suitcase space.
Instead, I like to let Liv pack her small backpack with her choice of a doll, crayons (triangular crayons can help to keep you from retrieving rolled drawing utensils from under your neighbor's seat), sticker book (Liv LOVES sticker books, keeps toddlers occupied for a long time), a little ball of playdough in a ziplock bag or an eye-spy game (like Where's Waldo) for slightly older kids. We pack one or two books as last-ditch resources because they can be read over and over with different made up games to play (searching for animals or squares or the color pink). But the rule is that it all must fit in her backpack.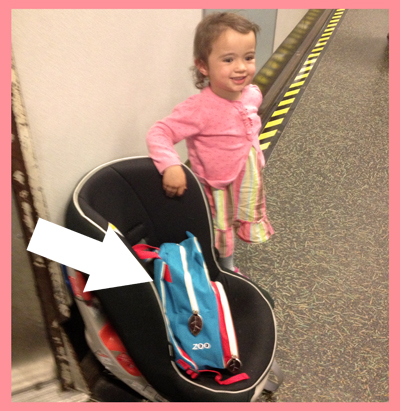 Very favorite game to pack? Sticker books!! Seriously, airplane/car/train gold.
11. Technology. Let's face it, regardless of how great we are at keeping our kids from soaking in hours of television on a regular basis at home, travel is the one opportunity to cash in on all of that missed opportunity. I have three short videos on my iPad that Liv gets to look forward to when we travel and she can amazingly watch the same one 5 times without getting bored! As a special treat, sometimes I'll download a new episode and her eyes light up when she finds it inflight. My favorites: Backyardigans and Blues Clues for toddlers. When she's a little older with a longer attention span we might move on to Disney or Pixar movies, and maybe even iPad apps.

We've experimented with headphones and my favorites are anything inexpensive, small, and that fits like a headband over the ears (rather than earbuds).
When we traveled over to Europe, Liv had a five minute attention span for videos. This is when learning how to take pictures with the iPad or playing silly interactive apps can help pass time. We once survived an entire flight just by rereading the safety manual (you know, the plastic one in the back of everyone's seat) while looking at different pictures, colors and that sort of thing.
12. Last but not least, be kind to other travelers. As much as I love traveling with a toddler, it can be tough to sit next one on a long flight. I usually aim to sit in the middle or the back of the plane (that's where the rest of the families congregate), watch Liv's feet vigilantly for accidental kicks to the seat in front of us (you'd be surprised at how few parents catch this, Liv and I have a special 'legs up!' rule where she has to keep her legs folded up into her carseat for the trip, otherwise she can't help but throw an excited kick out when she sees something fun), and quiet voices are a must. There's nothing like traveling next to a four year old who constantly yells 'clouds!' or 'mom, more juice!'. On crowded flights we often look for nice looking grandmas to share our aisle with, too

.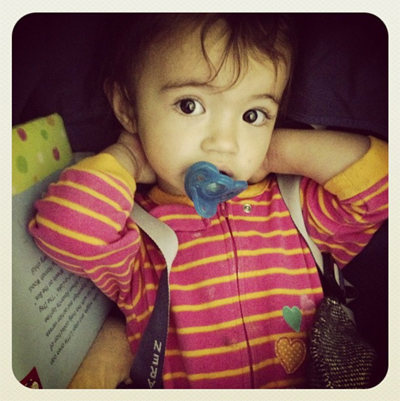 We've since kicked the binkie habit, but here's the little traveler sitting back, relaxing and enjoying the ride.
There you have it! A few thoughts on traveling with a toddlers. I love, LOVE to travel with Liv and her joining our family has not stopped or deterred roadtrips, airplane rides, you name it. We are hoping that travel becomes a natural part of her life.
Happy traveling!!!
PS Here's a link to a similar post on traveling with a baby and one on traveling on a budget. All of our travel adventure posts can be found right here.
Posted in
Family & Friends
,
Olivia
,
Tips & Ideas
,
Travel
,
Travel Adventures
|
5 Comments »
January 25, 2013
Oh man it's been too long since I've shared stories from our family trip last year (which was four whole months ago, I can't believe it), but I didn't ever really finish sharing our adventures and I wanted to take a few posts to do so.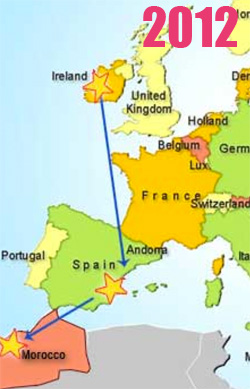 I can feel the memories slowly slip away… and I know that if I don't capture them in writing right now that soon they will be gone. The little memories – like where we stayed, our favorite foods and what we loved about various towns – not so much the big ones which are definitely there to stay. The second reason is that I've received some emails from readers who are planning their own upcoming adventures to Ireland, Spain or Morocco and it's high time I be as helpful as I can.
For those of you needing a quick catch up, you can check out this post. Our little family of three – contrary to popular believe, 20-month-olds can be great travelers! – embarked on a four week getaway (read about how we managed our small budget here) and have already shared our travel adventures in Ireland - complete with Liv jigs (here's a round up of where we visited, where we stayed, etc) and half of our Spanish road trip as well. I'll try to sprinkle in these last few posts on Spain and Morocco throughout the usual going ons around here, and I thought that today would be an excellent day to start.
Last we left off we had celebrated with Festival La Merce in Barcelona and were road tripping down the coast of Spain through a Paradores and Valencia. Let's jump back on track with our trip to Granada.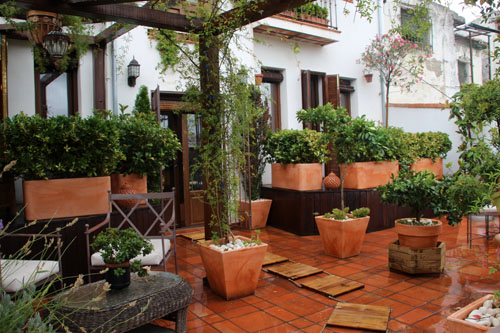 We were fortunate enough to book the very sweet B&B Solar Montes Claros in the heart of old Granada. The courtyard (despite the rain) was beautiful, the rooms inviting, the style very authentic. Granada rooms are hard to come by last minute (this stop was part of our 'go with the flow' road trip portion of the trip) and I might give myself a few weeks for a reservation the next time around.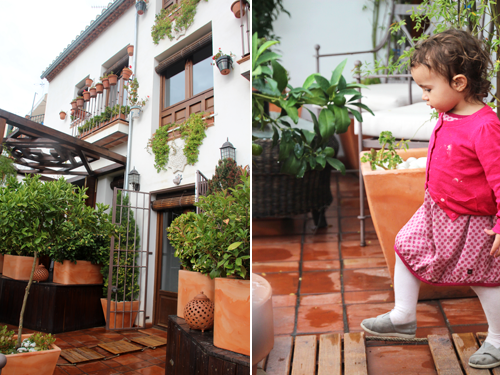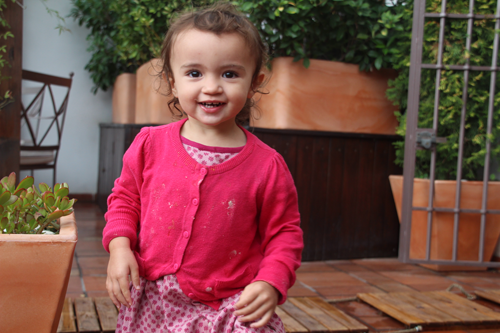 Nevermind the snack stains, Liv's photoshoot as she checked the place out for herself was priceless.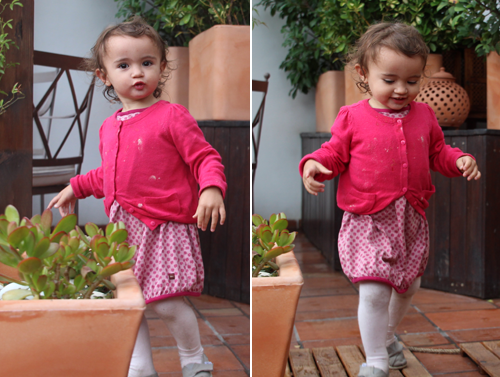 We had only one night in this beautiful (but crazy) city of winding roads, industry and white washed walls. I recommend keeping it all in El Albayzín – the original Granada – and of course a visit to the Alhambra shouldn't be missed.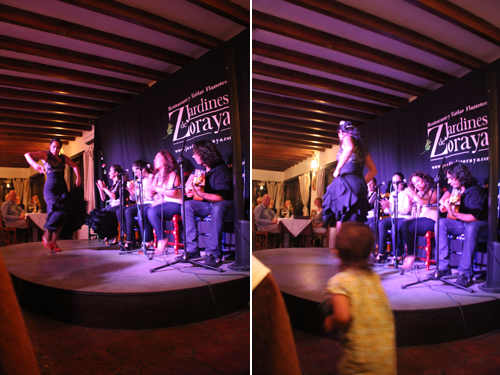 There are three well known dinner-dance shows in the old town, one of which lined up with our schedule and arrival into the city perfectly. Ahhh what beautiful dance Flamenco is! You can't miss out on the stomping and passion and melodic guitar strings.
Torre del Oro is a show that came highly recommended to us. Jardines de Zoraya ended up being ideal for a family though with plenty of room near the back for Liv to dance her own passionate number to the music.
The singers were also incredible.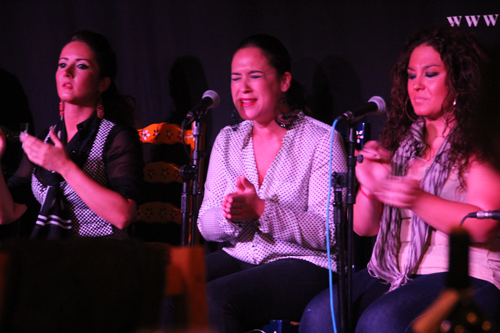 Walking the old city was wonderful. There's hardly room for cars (though they manage) and much of the shops are accessible only by climbing the steep cobblestone streets.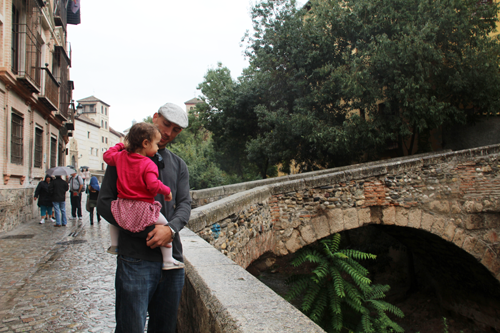 By the time we arrived at the Alhambra we were greeted with buckets of rain! I think maybe the one full day of rain in Spain, but we made the best of it.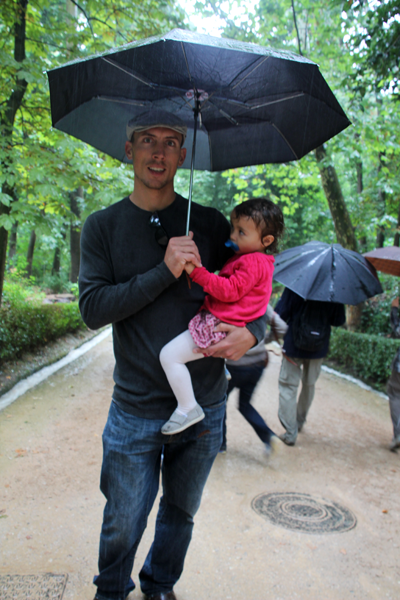 The rain turned off and on and off again as we weaved through the incredible gardens and Moorish architecture of this 10th century palace. The fortress-turned-castle was conquered and reconquered many times over its long and lengthy life, but the original Berber Islamic architecture is ever present (and became even more recognizable after our trip down to Morocco where we found similar structures).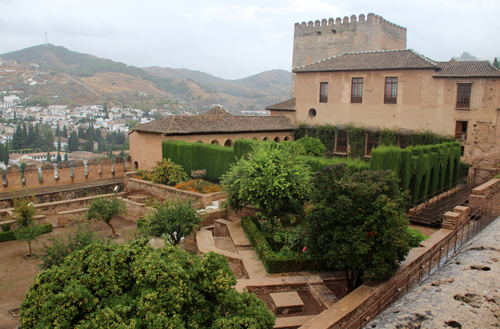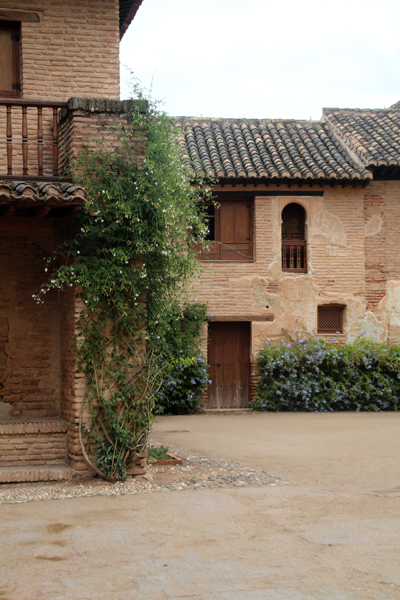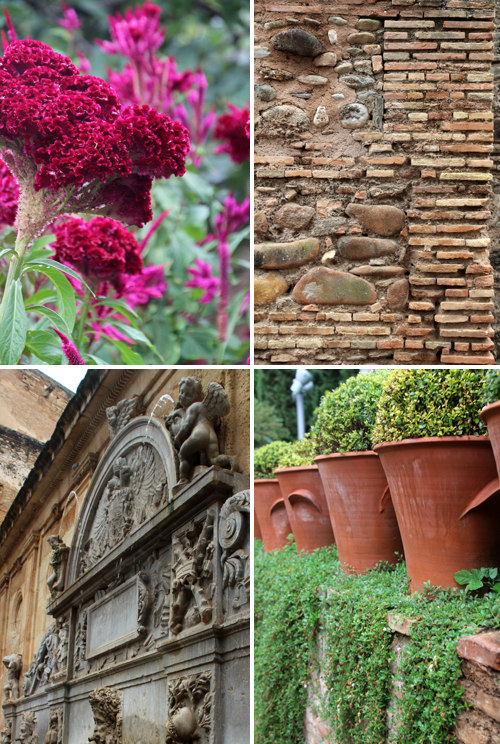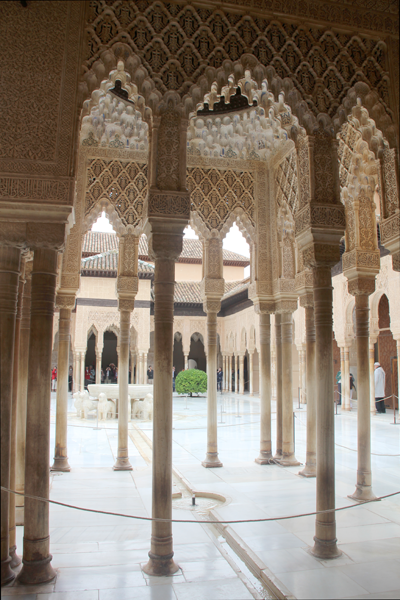 Liv, the photographer. The girl LOVES to shoot photos, the iPhone being her camera of choice.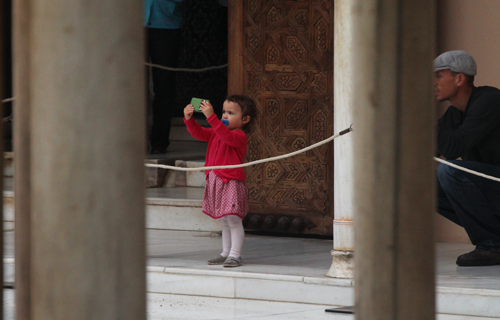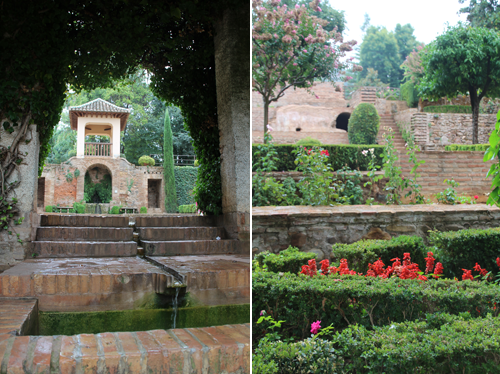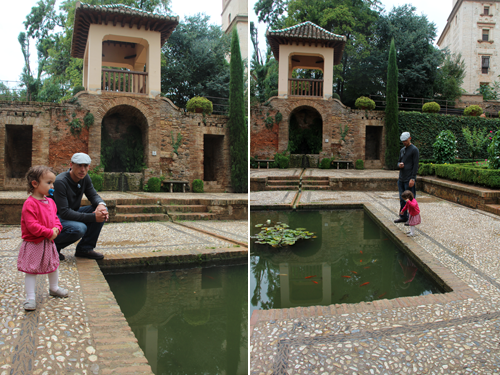 A view of Granada from up high on the hill at the Alhambra.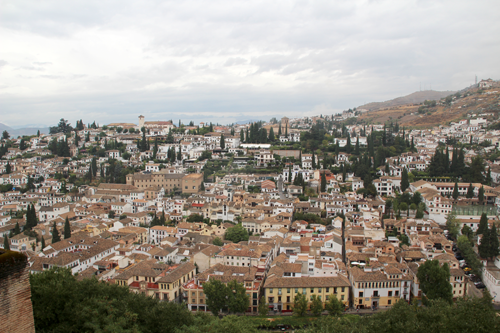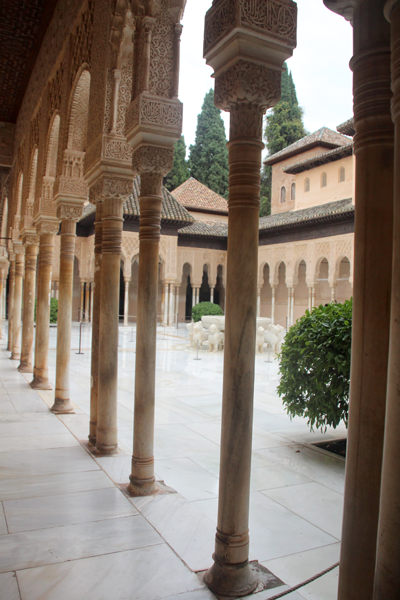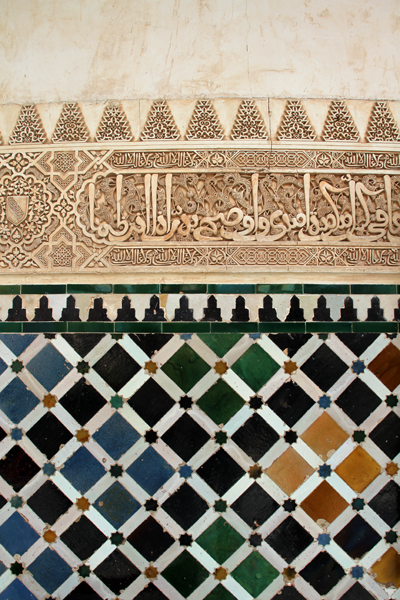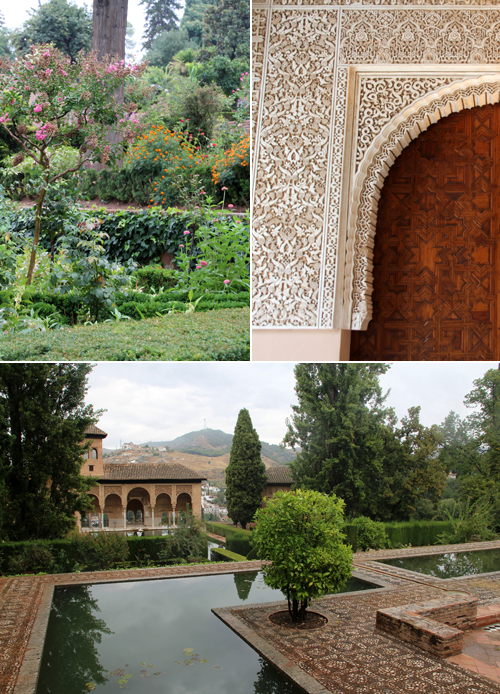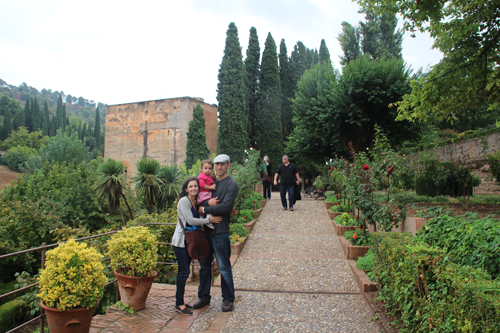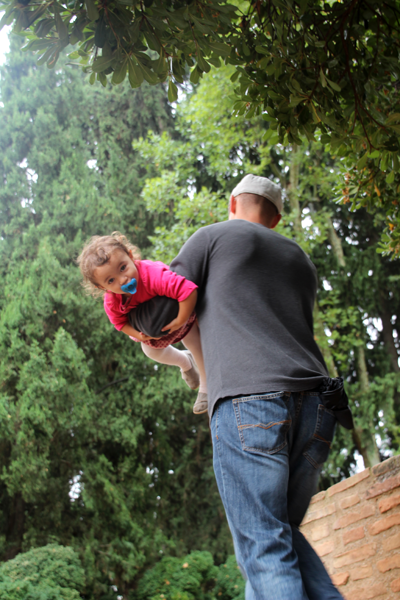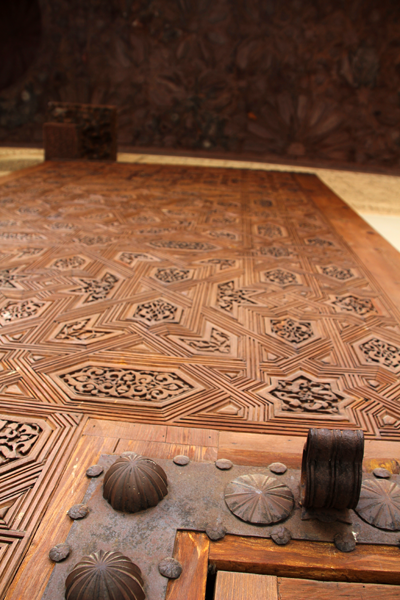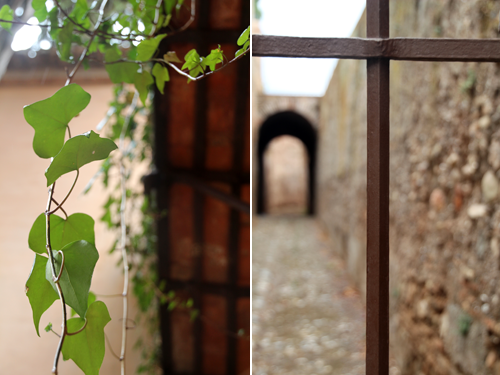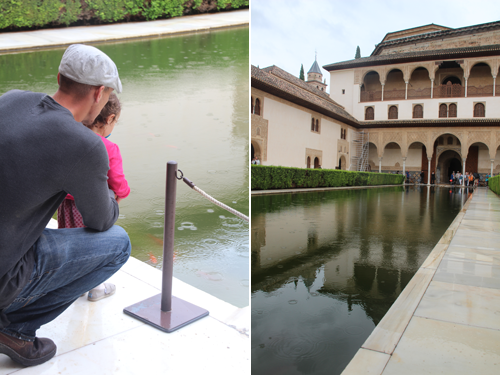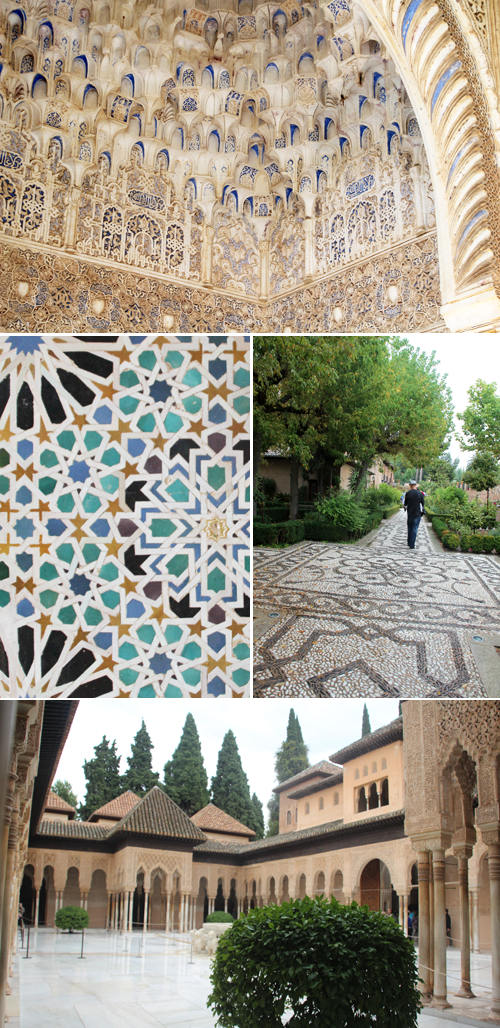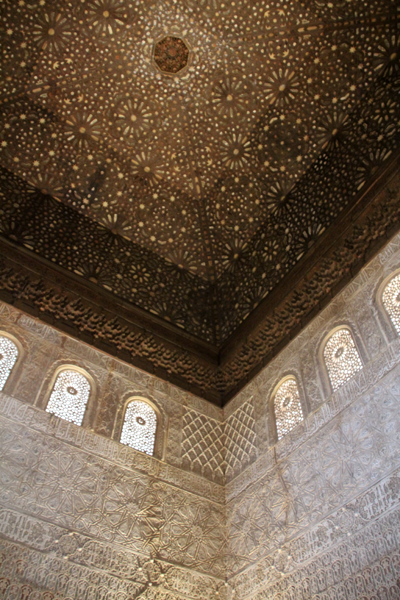 If you plan a visit, make sure that you reserve your tickets several days (or even weeks in the high season) in advance as they sell out quickly each day. I was able to secure next day tickets by calling the box office directly even when the website said sold out (we ended up being able to change our visit date thanks to this little fluke, though we had to purchase two sets of tickets since they are non refundable).
Once you arrive, you'll have to pick up your tickets from Will Call which may be on the other side of the huge palace. We entered on the west end and didn't realize that our tickets were on the east end (and a 20 minute walk away) until we were there, thankfully we were about 45 minutes early. Arrive as early as possible

.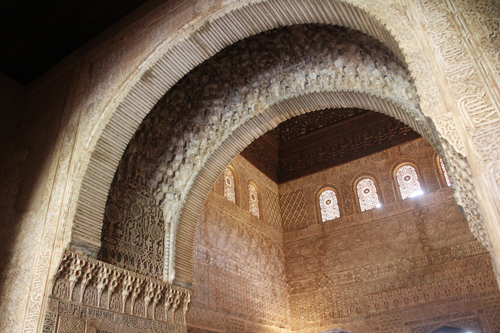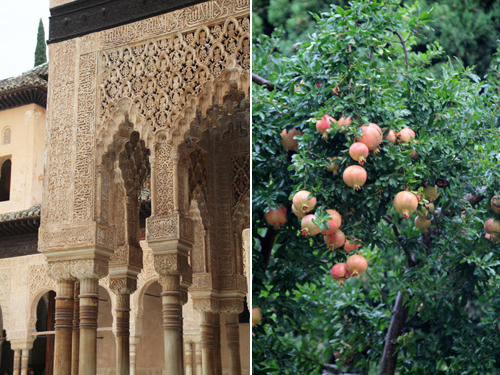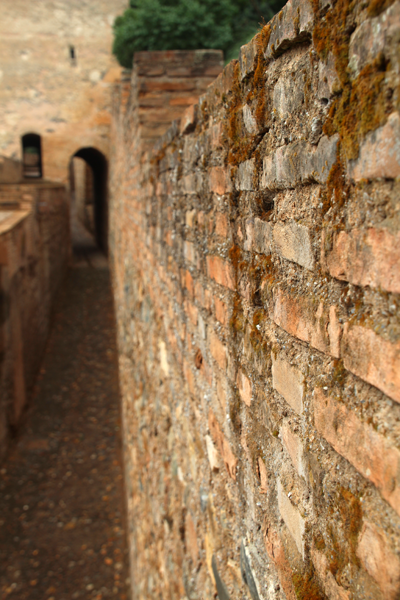 Beautiful! Also worth a trip while visiting the Albambra is Generalife, if you don't have a toddler and it's not raining, that is.

Shortly after, we hopped back into our little speed wagon and headed for Sevilla. One day was far too short to truly enjoy Granada, but hopefully we'll be back.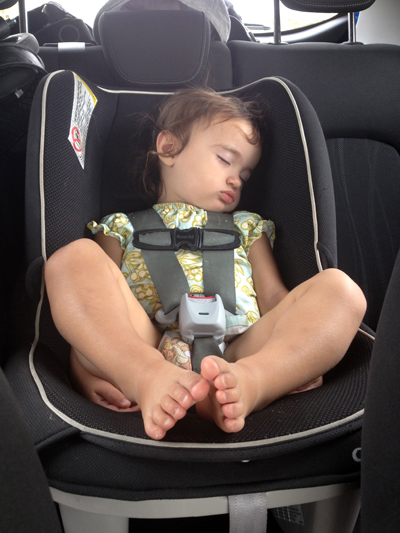 Next up on the travel list? Sevilla and then Marrakesh, Morocco.
PS More on our Ireland + Spain + Morocco trip right here.
Tags:
Spain
Posted in
Family & Friends
,
Ireland + Spain + Morocco
,
Travel Adventures
|
4 Comments »
November 2, 2012
Happy Friday! A bit of a long winded post for you today, but I wanted to take a few moments and answer questions from our recent travel adventures and budgeting for the trip. We love to travel and we try to plan something unique and maybe a little out there (in terms of countries, length of trip and what not) every couple of years, and we do it on a tight budget.
Would you believe me if I told you that between budgeting housing projects and everyday purchases (food, gas, clothing…), we actually spent about the same amount of money on our trip to Ireland, Spain and Morocco as we would have spending that same four ish weeks at home? Crazy, I know. But hear me out.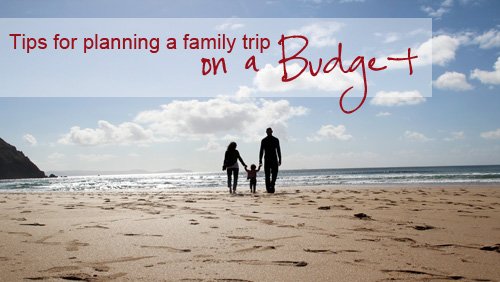 I'll be the first to admit that travel expenses can add up quickly. The cost of a flight, rental car, hotel, food and so on can be overwhelming and sometimes it can be much easier to justify spending those funds on projects that hit closer to home (a new fridge, tile for the kitchen, replacing the AC).
But for us travel is much more than the out of pocket expense. It is the opportunity for our little family unit to embark on an adventure that is for just that – our little family. We leave behind the distractions of work, home projects, school, even our favorite friends to spend a few weeks in family solitude. Despite the new sounds and sites and smells of a beautiful destination, this is a powerful gift and one that I most look forward to, one where we can nurture those family roots, feeling connected and whole together. In that way, disappearing for a few weeks is a rejuvenating experience. And a fun one, too!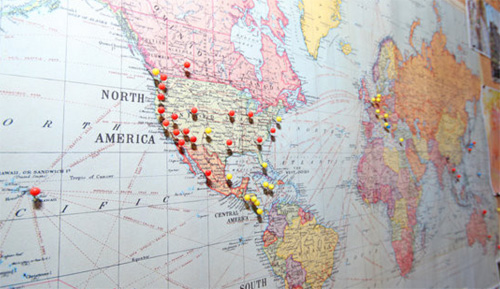 That all said, like most families we still don't have the extra funds set aside to make such fantastic travel a reality at the drop of a hat. We tend to spend our free time (and money) focusing on big projects like a new kitchen, new bathroom, backyard makeover and so on, and I bet you do too. All worthy projects indeed!
Earlier this year though the travel itch hit, and finding a way to conquer some sort of trip in 2012 became a mission. What if we could budget travel into our lives in such a way that it doesn't disrupt the regular ebb and flow of our monthly budgets? Then travel becomes a must again.
Here's our inexpert system in a nutshell:
Flights = Utilize our CC reward system, shop around, take advantage of discount airlines in Europe
Rental Cars = CC reward system, purchase third party insurance
Accommodations = Focus on B&Bs and apartment rentals rather than hotels, rent out our own home or 'house swap' while gone
Food/Gas/Site-Seeing = Stay within our usual monthly budget, 'splurge' on only what we must
Choosing a Destination. First up is spinning the globe and choosing a destination. Kevin and I each have a bucket list of five or so must-see countries and five or so State-side cities that we're dying to visit. We try to make everyone happy. Rarely is a big trip planned for less than 2-4 weeks (travel costs are expensive! must make the most of a flight) and rarely is it to one destination.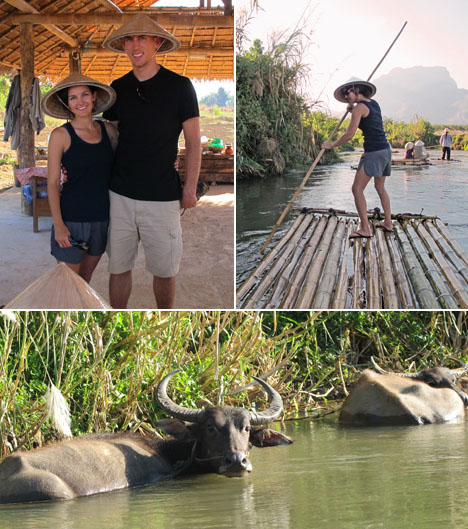 Chaing Mai, Thailand
In the five years we've been married we've planned three trips in this fashion, so we're still working out the kinks (New Zealand, Australia and Thailand in 2010, Japan and Okinawa in 2007) but we're slowly getting the hang of it. This particular trip came together because Kevin's top bucket list choice was Ireland, mine was Spain and Morocco couldn't be missed while we were just a stone's throw across the Gibraltar Strait.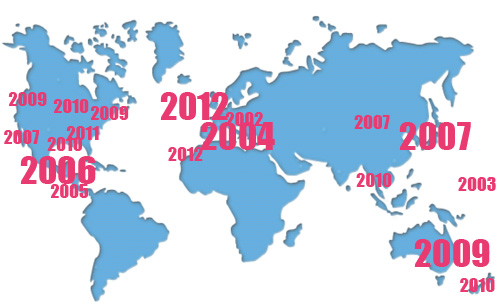 Budgeting Travel Expenses. Once our destination is chosen, it's time to budget our travel.
Flights & cars. We only travel to certain areas, or at certain times of the year, that we have enough travel miles for. Aka we haven't paid for an airline ticket (for one of these big trips) in five years. This takes care of our entire flight expense and is the reason we can make traveling every couple of years feasible – that plus saving up two years of vacation days through work!. We don't rack up miles in the traditional way through a frequent flyer program with an airlines, we actually redeem our points through our credit card directly for tickets. We use Wells Fargo's reward system and we have found that their point system is best taken advantage of with redeeming points for travel credit. I'll preface here that we are VERY good credit card users. We charge everything – groceries, gas, a cup of coffee – onto our credit card and pay that sucker off every month. So basically, we only charge what we can afford, and we can easily track it. And between our personal credit cards (we've found it's easiest to manage budgets when we each have one so we know what we're each spending), and my business credit card (also through Wells Fargo but charges I am reimbursed for from my company), we earn an adequate amount of points for travel. And rental cars, because this rewards system can be redeemed for all sorts of travel vouchers and goodies.
This is a solution best recommended for those that want to build great credit history, but are super responsible with that little plastic swiper in the wallet, because debt is a horrible solution for anything.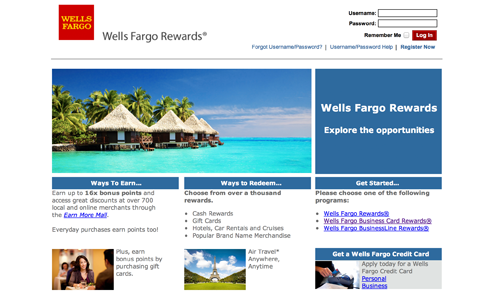 A note on rental cars. Most major credit cards cover extra insurance expenses for renting a car, so it's not necessary to purchase all of the add-ons that cause that $15/day rental to get very expensive very fast. Check with yours to see if they'll cover you abroad (and even for future Stateside rentals). Ireland seems to be an exception as they're one of the few countries that are exempt from this rule, making rentals extra pricey there! Purchase third party insurance at a much cheaper rate rather than through your rental company, and if you have kids bring your own carseat to save the $12/day for that. This also allows you a free extra piece of luggage with most airlines, and a carseat bag can fit much more than a carseat! hint, hint. We booked AutoEurope for our Spain rental after researching internationally, many European rental car companies are less expensive than the more easily recognizable American names.
A note on which major airlines to choose: we go with the cheapest. But if British Airways is within a hundred 'points' or so, we absolutely book them. They move families to bulkhead seating, provide cots and entertainment bags for toddlers and babies, and allow you to bring plenty of kid-related luggage if you need it (we brought just Liv's carseat bag and used it as extra storage for the 'heavy stuff' in addition to her carseat.)
A note on flights in Europe. We booked our short hop flights (Dublin to Barcelona, Sevilla to Marrakech, Marrakech to Madrid) through RyanAir, which is a discount airline in Europe. The flights are very cheap – think $20 per person, but don't include any and all fees that RyanAir so deviously includes. Want to book online? fee. Book over the phone? bigger fee. Don't have your boarding pass printed? $60/fee. Peanuts or a water while flying in the sky? you betcha. Needless to say, if you read the fine print and fly very cautiously you're in for an inexpensive treat. But if you're not careful you'll get nabbed for every mistake you make. We were great about that fine print most of the time, but we did get hit with a few extra (expensive) fees when in destinations such as Morocco where internet service was bad and we couldn't for the life of us find a printer to get our boarding passes printed out. Sometimes saving $ to fly is worth the stress, but sometimes it's not. All a personal preference. PS if you plan on flying RyanAir, email me! I have lots of tips to share including how to get past those ridiculous 'baggage' fees if you have kids.
Accommodations: Now that the flight and car transportation costs are out of the way, it's time to take care of our lodging expenses. We are B&B travelers all the way, not only are they generally cheaper, but they are friendly and fun and you meet great people (I like to use BedandBreakfast.com). This year we tried something new. We rented flats while abroad through sites like Airbnb and Trip Advisor for an even better deal – which means we nab a full living space while we're in various cities so that we can enjoy time around the house (when Liv's napping, etc), a kitchen to eat meals in and an all around cozier environment. This is especially useful for overcoming jetlag and when a laundry day is inevitable.
I recommend booking apartments and flats 3-4 weeks in advance and B&Bs 2 ish weeks in advance (more for very popular destinations). We attempted to have about 70% of our overnight stays pre booked to take any stress away from travel, but kept open nights open here and there so that we could reroute ourselves or stay for shorter/longer periods in certain spots.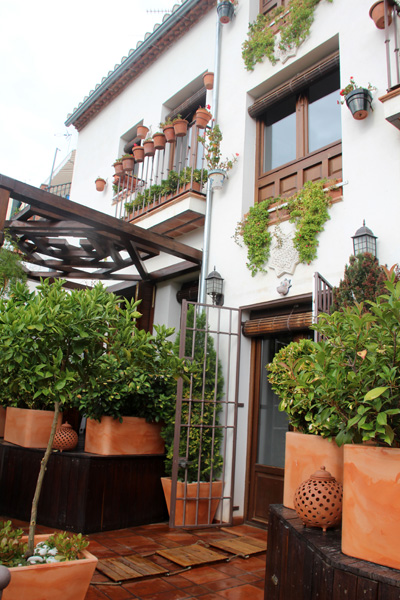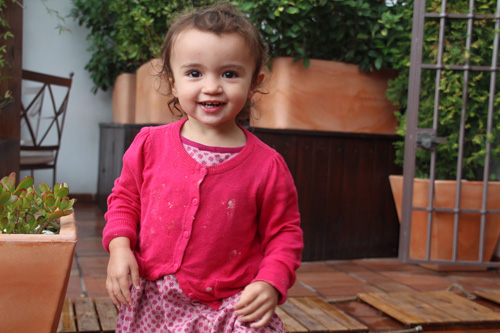 Granada, Spain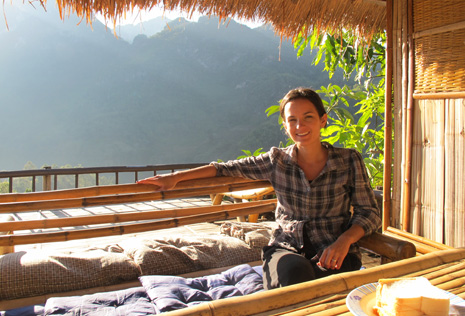 A hut in a remote village in Thailand
Here's another brand new cost-saving move that we tried. We rented our casa out to visiting San Diego travelers while we were away, too. I'm happy to report that it was a success! Between visitors to our house and the cost of lodging abroad, we came out to about a wash, crossing accommodations off of our expense list. The crux is that you're trusting complete strangers to your home, your personal space. The pro is that travel is feasible and affordable. And shoot, another set of folks are trusting you with their space!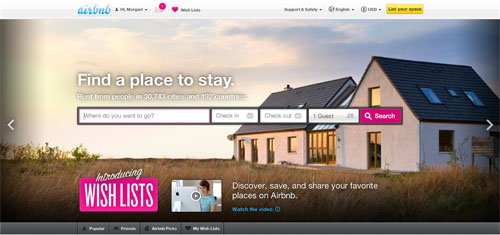 I know it's not for everyone and we did a fair amount of clearing of closets, purchasing of new towels and sheets and prepping our house for guests, but if it means traveling for free (and we really don't have own anything that valuable), then we're in. Plus, airbnb provides an insurance policy, takes house photos at no cost and allows us to preauthorize a security deposit automatically. We also screened all potential visitors and ended up with a few lovely families from Switzerland, Texas, Arizona and Australia, while kindly saying 'this isn't a good fit' to a group of college kids traveling and an extended family with eight adults and ten kids under the age of six.
It's worth mentioning that we live in a 'vacation destination', even if we are in the suburbs of San Diego rather than the hot tourist spots so it was fairly easy for us to fill the days (and even ended up renting out our place for Thanksgiving & Christmas because we'll be with family anyways!). But that doesn't mean that any home and lifestyle would not be desirable to a family somewhere – there are plenty of folks looking for a small town getaway or a farm experience or a big city loft. Perhaps even a business stop over. It's all how you present your space to your possible visitors.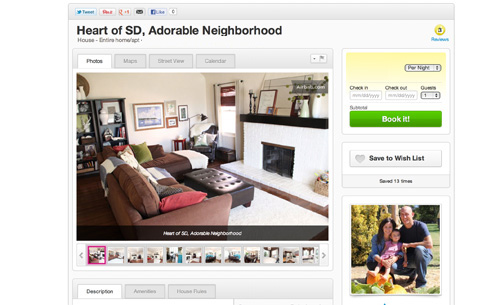 PS if you are thinking of giving this a go, we get a credit towards a future adventure if you use this referral link. Another option we'd love to try is a house swap, a la The Holiday. How awesome would that be! If I could find a Kate Winslet-esq house…
Food, gas and other everyday commodities. So now we're on to the necessary extras such as food, gas, site-seeing fees (museums, etc) and so on. These can add up! And they must be accounted for. When it comes to food, we give ourselves wiggle room but try to stick with roughly what we would spend at home x2. That means we save up for yummy meals (how can you miss out on delicious Spanish paella? fresh fish straight from the harbor? a local wine?) but balance that with street food and sammy's on the go.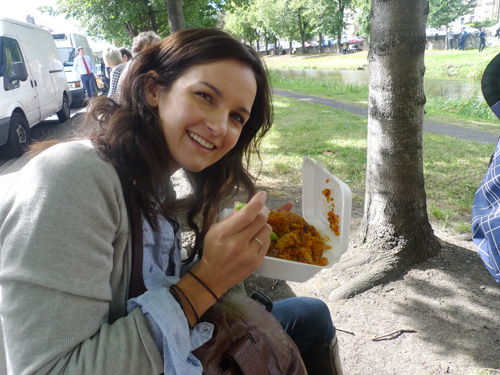 Sometimes this is non-issue, such as traveling through Thailand where meals are less that $2. But sometimes, such as with this last trip, a combination of baguettes, salami and cheese in the park + Farmer's Market meals gathered locally and cooked from home + eating out is what works out well. It's all about balance. I recall one such trip with girlfriends in college where I lived off of a giant bag of homemade granola for four weeks. That's an exaggeration, maybe it was just my breakfast and lunch substitution, but we were going cheap (and that can be thrilling and fun, too!). My point is, enjoy the local cuisine, but sometimes make it yourself in your rented apartment (which you should attempt to position above the local baker… mmmm).
Other commodities such as gas are just as necessary at home (at least for us) as they are on the road. So we try to cancel out our travel at home (which can involve weekend trips to Santa Cruz or Phoenix from San Diego) with the gas we'll use to get around during the time we're gone.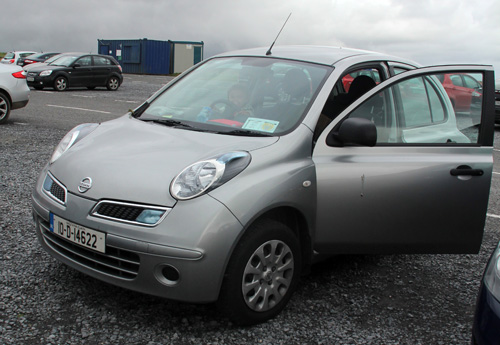 And don't forget the little purchases you make on a regular basis! I bet that museum fees and site-seeing expenses are near cancelled out just by missing the random Target and Costco shopping sprees that happen when you least expect them.
Souvenirs. I don't believe in tchochtkis, but I do believe in a few well-thoughtout memorable objects from places of interest. It could be a ziplock baggie full of black sand from Japan (we have one, and I still intend on using it as a vase filler… someday). Or it could be a beautiful throw for the house, a piece of art that rolls up tightly or a fabulous dress. Just keep it simple and pick what matters. No tourist tees, please.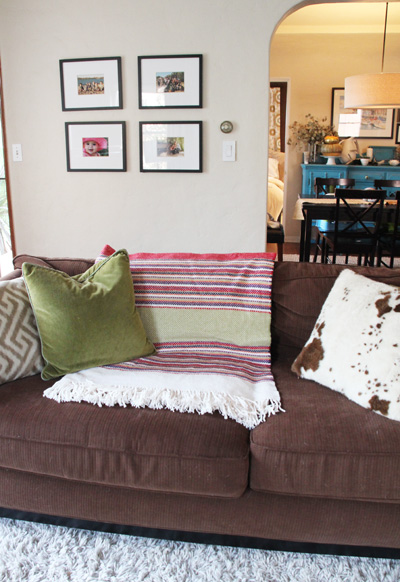 I found this wool blanket over in Ireland while in Clifden and fell in love with it as my one Irish souvenir.
Slush fund. That being said, every great trip needs a fall back fund. We put aside extra funds for those random, unplanned detours or accidents that might happen along the way. It would be terrible to be at your destination, which you've worked so hard for, and to miss out on an experience because there was no slush fund available. It doesn't have to be big, and sometimes you'll have to say no, but an emergency stash can make a big difference. This is where the money that we might usually spend on a home improvement project comes in handy.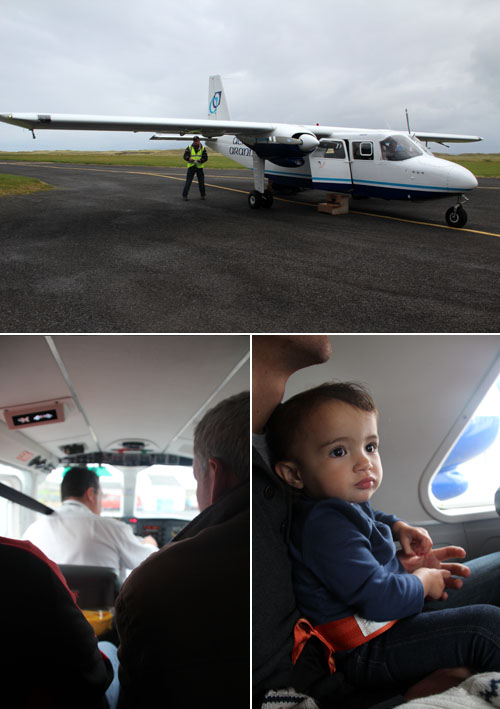 We've used such a fund for an unexpected tour, when booking lodging last-minute and a hotel was our only option, and opportunities like flying back to mainland Ireland from Inis Maein rather than taking the ferry (12 seater plane! and to see Ireland from above? sigh) because it seemed like a cool experience. We've also given in to our share of recommended restaurants in one of those 'we only live once' moments when it might have been above our budget. Slush fund is subject to what you want to save for, but it is a plus.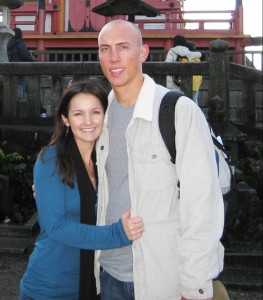 Kyoto, Japan
At the end of the day travel is what you make of it, and if it is a puzzle piece that you can't imagine going through life without, it's worth finding a way to overcome the challenges to make it happen. Even if that means saving an extra 5% for a year or so, becoming loyal to one airlines, asking for only flight vouchers at Christmas from every relative

, or pushing past any personal pride and letting a perfect stranger sleep in your bed (gulp) while you're away.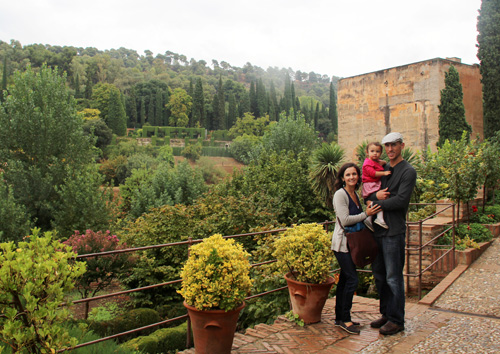 Already starting to think of a trip for 2014…
In a recap, here are our best tips: Enroll your credit card with your bank's reward system to take advantage of free or discounted flights and rental cars. Purchase third party insurance for your rental car rather than through the company. Book accommodations through sites like Airbnb, BedandBreakfast.com or Trip Advisor and avoid big hotels, rent out your own house through a reputable company to offset the cost! Budget food, gas and everyday purchase just as you would spend on those same items back home. Build up a tiny slush fund for the extras and the unexpected! And most importantly, enjoy that wonderful time together as a family.
There you have it, my attempt at justifying our travel adventures. Happy, happy weekend and plan something to somewhere fabulous! I'm itching to go on a long hike… somewhere near home.
Posted in
Family & Friends
,
Ireland + Spain + Morocco
,
Tips & Ideas
,
Travel Adventures
|
4 Comments »