April 16, 2012
BIG news to share today, the guest bathroom is finished!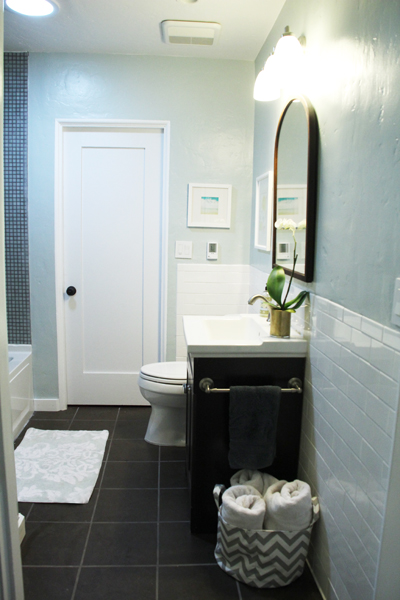 There are a few odds and ends that are still on the to-do list, like hanging hooks for damp towels, a large blank wall space that might potentially find itself with artwork or shelving in the future, etc. but for the most part we are calling it Finished! as of April 15, 2012.
Here's a shot coming into the bathroom from Liv's room. Because the space used to be three adjoining closets, now the bathroom opens up to both her nursery as well as the hallway for guests.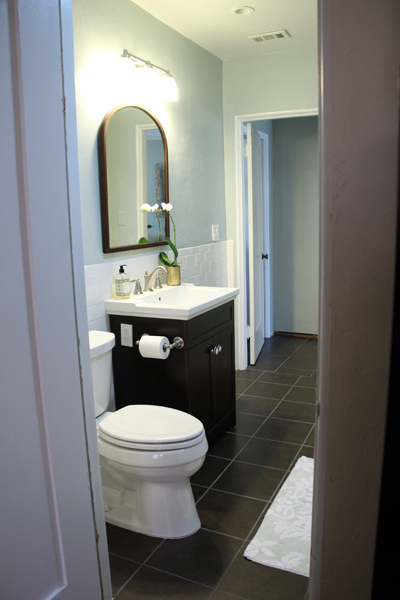 On any given day, we have silly bath time (Liv Loves bath time!) and then wrap her up in a fluffy towel and carry the little burrito into her room to get dressed.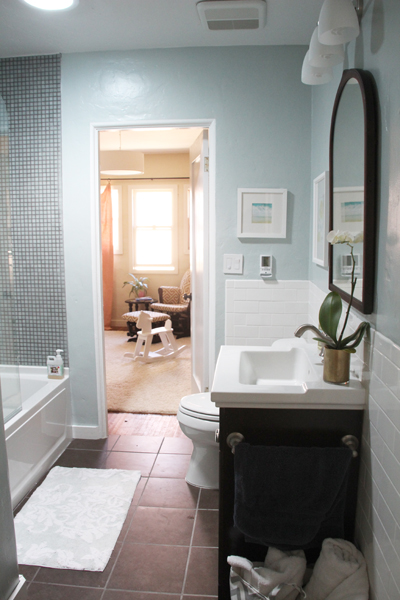 The lighting in these photos is really reading 'blue', but the actual space is much more turquoisey blue.
There are so many details that I love about the room, but most importantly that  every element was picked out, installed and fussed over by us. There's nothing more satisfying than knowing that as a team you accomplished the entire space together! With lots of patience, creativity and sweat equity.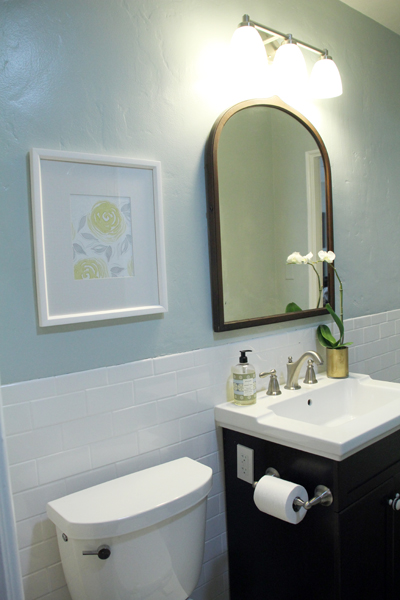 Here's a shot of the opposite wall with our recycled glass shower nook and single pane door: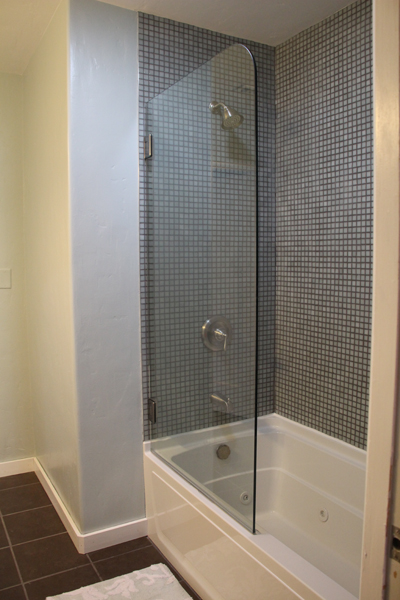 Take a peek into the shower and bathtub. It's so awesome to have a bathtub in the house now! We installed brushed nickel hardware throughout, from the sink faucet to the  shower and bathtub hardware.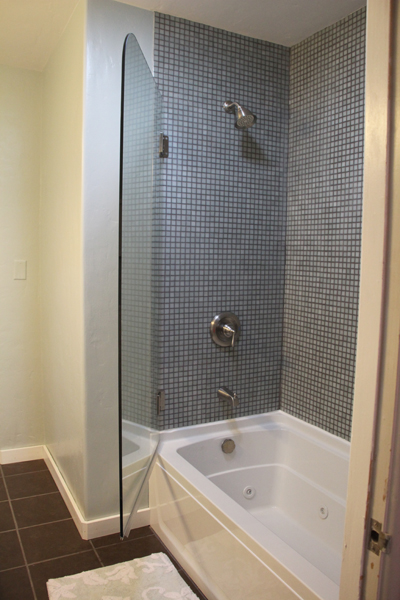 The grey grout brings in a little modern edge, helps to keep the tile grout from getting noticeably old (as white grout tends to do over the years) and matches our silver accents as well. For a full 360 degree view, here's a glance at the other side of the shower.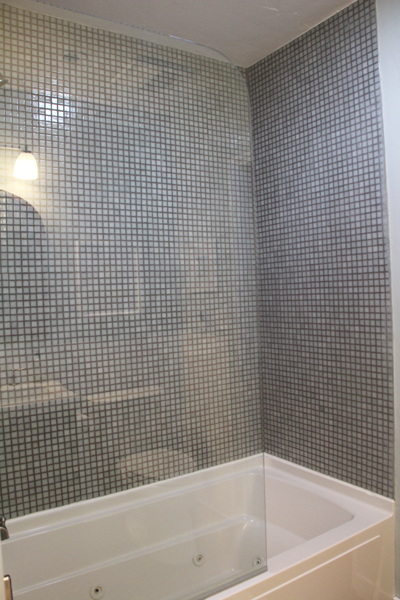 A few recent bath additions include a new mat in a soft turquoise color (matches the walls and tile perfectly) with a white damask print. I was so over the moon to come across it on Joss & Main!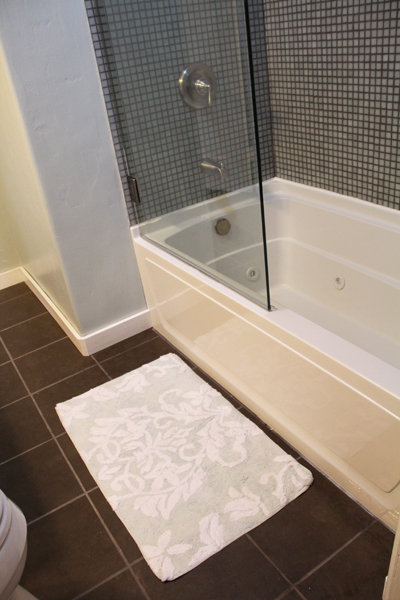 Adds the perfect amount of eye-catching pattern. Although I must admit, the bright white of the damask means that I'm throwing it in the wash every week.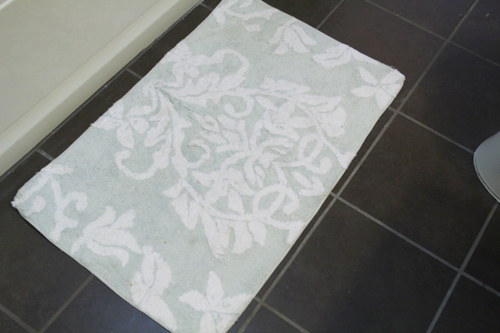 Other favorite details include my new art, two pieces that I scoured Etsy for for a long time and finally settled on for their calming color scheme and artistic vibe. I really searched these guys out… talk about indecisiveness! But I love my final prints and I loved working with the artists first hand.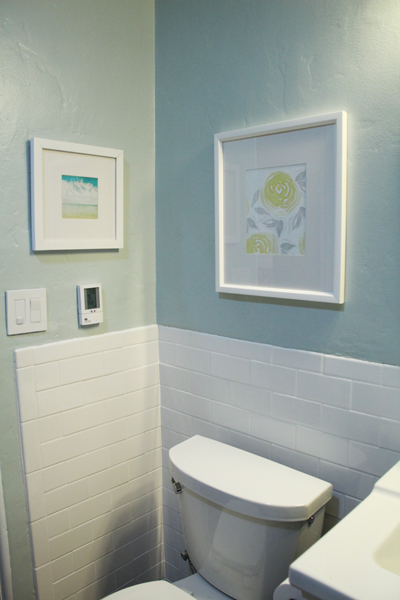 The yellow and grey watercolor featuring organic roses and grey leaves is by Stephanie Ryan: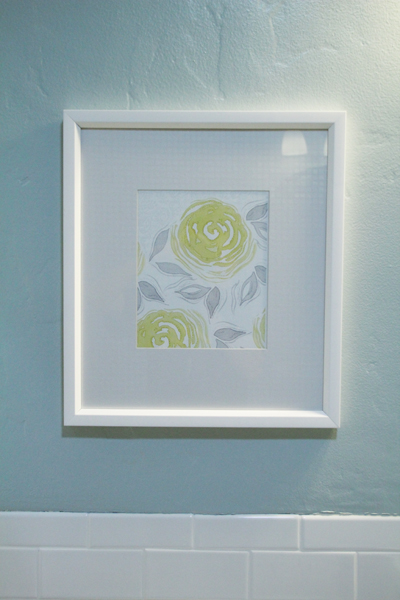 While the beautiful, overexposed ocean print is by Honey Tree.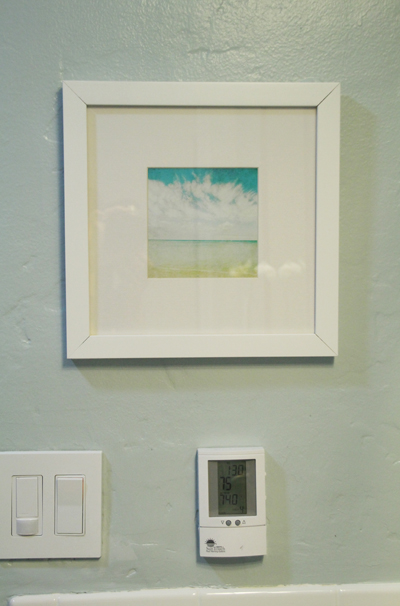 Sorry, it was hard to not get a glare on that guy. I really love both, but Kevin is a little uncertain on that bright pop of turquoise in the ocean print. We'll see how it sits with us for a few weeks and may end up changing the picture to something else (and I'll have to find another awesome spot to showcase the photo).
When it comes to framing, I find that ordering custom frames and mats online is always much more cost effective – plus you get the exact sizes that you need rather than what's on the floor at Aaron's Brothers or Michaels (though I use those sources plenty, too). I highly recommend this eBay seller for really great, inexpensive mats and professional frames.
Nicole of NikJDesigns was wonderful to work with! I brought her the idea of creating an Anthropologie-esq fabric bucket with handles for the bathroom (inspired by this guy) to act as extra towel storage, and this is what she created for me: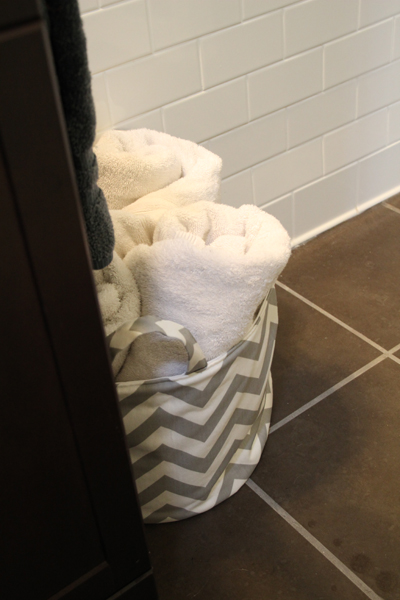 It's a soft, malleable bag that holds three rolled towels perfectly. It can actually be flipped inside out or you can roll the top down several inches to reveal the creamy white fabric inside.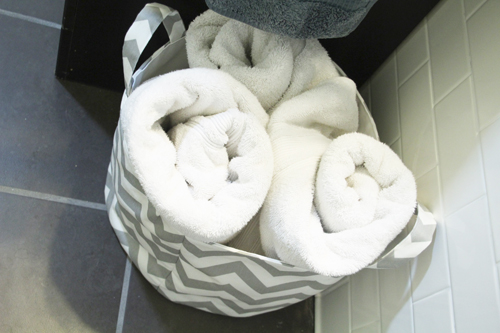 We used silver accents for the faucet hardware but brought in bits of gold and oil rubbed bronze in the form of a few decorative pieces, like this DIY gold mercury vase: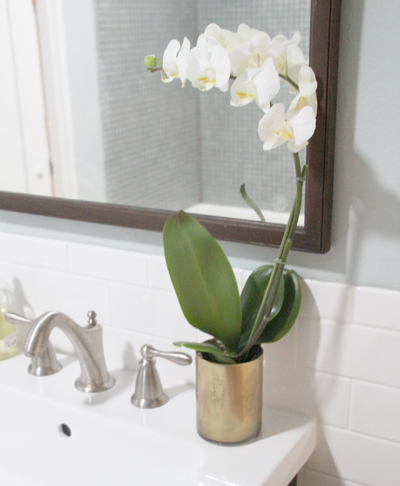 Really helps to warm the cool space up.
The new hardware on the door (which Kevin just finished stripping, sanding and painting this weekend) matches our kitchen door hardware and we'll try to eventually bring in the oil rubbed bronze throughout the house.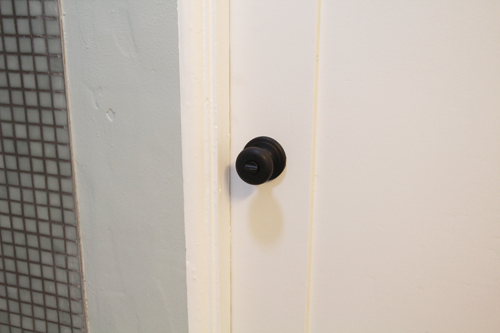 I changed out the factory knobs on the vanity for these Anthro options and I really love what they add.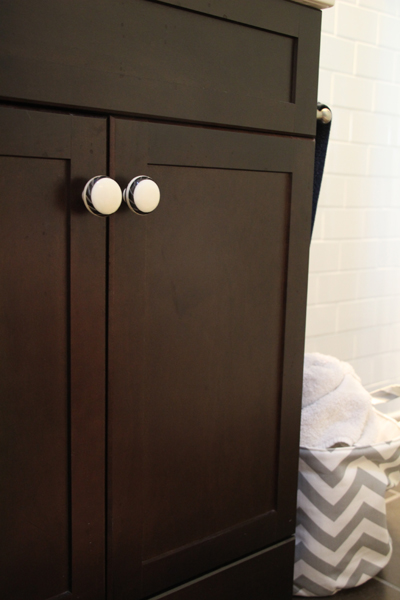 They're a beautiful bone color that works perfectly with all of the white in the space, the bold black stripe matches some of the darker hardware. Hoping to eventually add either these towel hooks in linen or a set of brushed silver.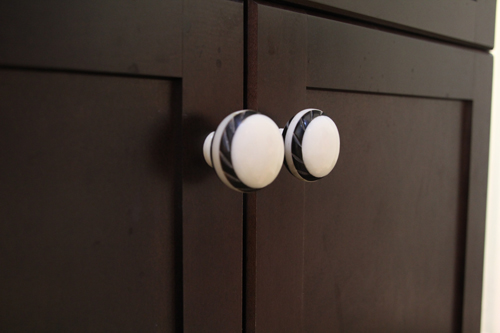 Another favorite is the natural light the new tube skylight brings in. Having natural light in this space makes all the difference.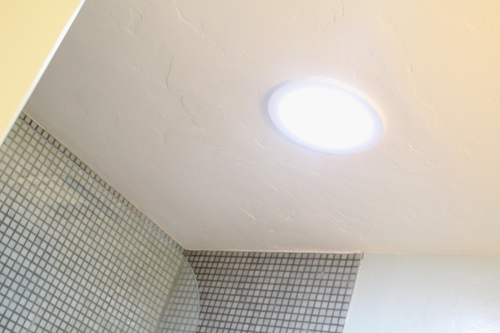 Big, huge kudos to Lowe's who helped us make it happen. This was a renovation that would have been much further down the budgeting line for us, but the awesome team over at Lowe's asked if they could help sponsor a project and we couldn't find a more fitting room to tackle! As you know if you've followed the space from gutted closets to finished bath, we used Lowe's for nearly all of the product throughout, from the WaterSense toilet to the radiant heating in the floors to the plumbing in those walls. Kohler ended up sponsoring an air jet tub that is out of this world! I have no idea how we ended up as the lucky blog recipient of their team's generosity, but I am enormously grateful that we were chosen.
It's hard to believe it all started with three hall closets!! Here's the gutted version of the closets: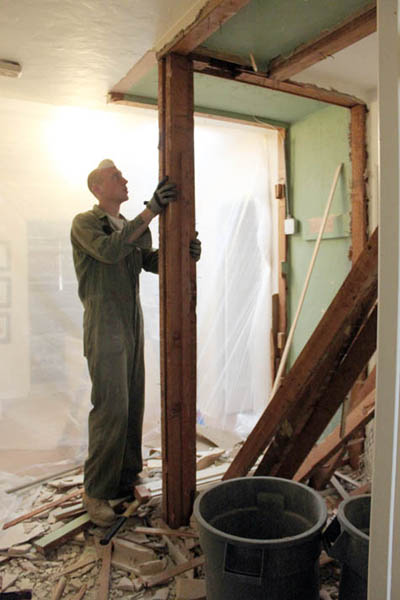 And a peek at the three closets and old hallway from the bedrooms before demo began: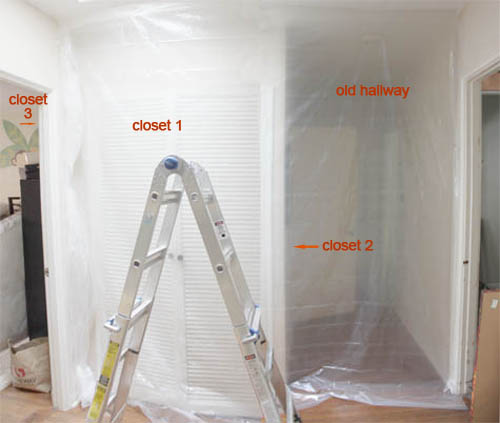 That wall is actually now this wall: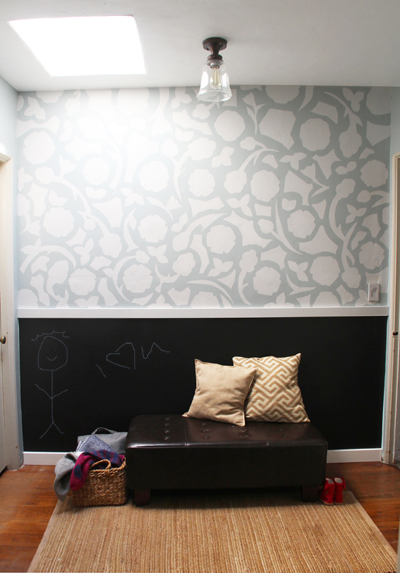 More on the painter's tape design and chalkboard transformation here.
For a better visual on how those three closets and hallway became a new bathroom, here's the floor plan before we started (the closets are in the very center in white):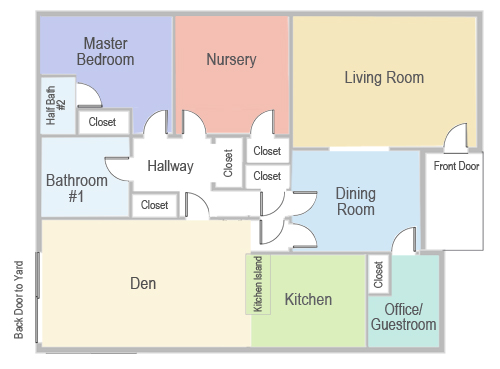 And how it all came together after: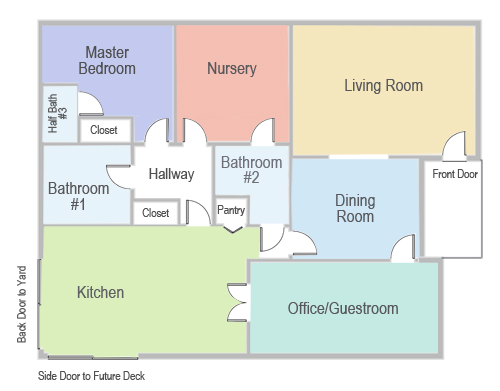 Here's a list of our resources:
*Shower glass tile: Elida Ceramica recycled glass tile in Moonlight
*White subway tile: American Olean subway tile
*Vanity: Java Broadway by Estate with a Kohler white sink
*Vanity faucet: Moen Caldwell in brushed nickel
*Vanity knobs: Black and white striped bone knobs by Anthropologie
*Vanity light: Portfolio
*Vanity mirror: thrift store find
*Toilet: Kohler WaterSense toilet
*Air jet bathtub: Kohler
*Tub and shower faucet: Moen Caldwell in brushed nickel
*Skylight: VELUX tubular skylight
*Radiant heating: Watts SunTouch Underfloor Warming Mat
*Floor tiles: Metro Leather porcelain tile by Arizona Tile
*Frameless glass door: Bob's Glass (a San Diego mom & pop shop)
*Chevron print bath bag: NikJDesigns
*Framing for bath art: Tabby7
*Ocean print: Honey Tree
*Roses watercolor: Stephanie Ryan
*Parisian bath mat: Joss & Main (though it was a daily deal find)
*Wall paint: Sea Salt Blue by Valspar
So, so very thrilled with the end result, and so happy to have our new bathroom-built-from-scratch finished!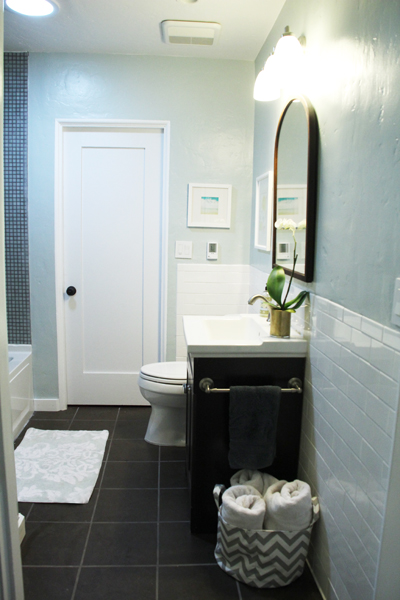 Follow the entire renovation adventure: installing the glass panel shower door,  a vintage mirror, installation time, vanity wars, subway tile installation, floor tiles and toe warmers, a quick catch-up on our work on the bathroom in 2011, tiling with recycled glass, choosing and installing a bathtub, demo time!, a peak at the layout, initial inspiration, partnering with Lowe's
We partnered with Lowe's on our bathroom remodel and had the opportunity to try out some of their product at no cost and some product at a discount. The ideas and stories shared in this post are entirely our own, promise.
Tags:
Blue
,
Construction
,
DIY
,
Home
,
Teal
,
Turquoise
Posted in
Construction
,
DIY
,
Home
,
Our Guest Bathroom
,
Product Review
,
Project Lowe's
,
Renovating Adventures
|
20 Comments »
April 11, 2012
Liv's nursery has this very cool tree painted on the wall by her Grandma and Great Aunt: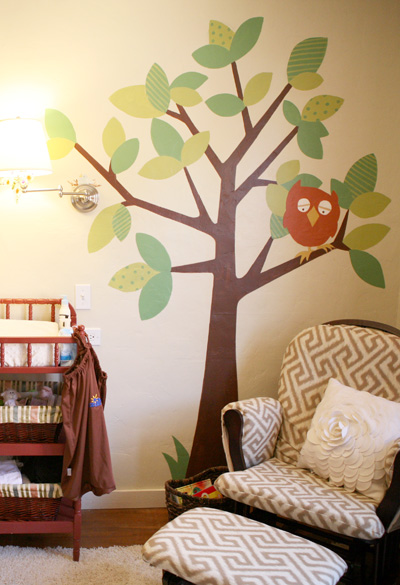 So neat! They created it from a magazine clipping that I had pulled long long ago, and I have to admit that it's probably one of my favorite wall designs that they painted for the nursery. I love the patterns in the leaves – and I love that owl! He's peeking down over the shoulder of whomever is reading a book to Liv in the rocking chair.
More recently, the glider was moved to the crib side of the room to make space for a new play/reading nook complete with table and chairs.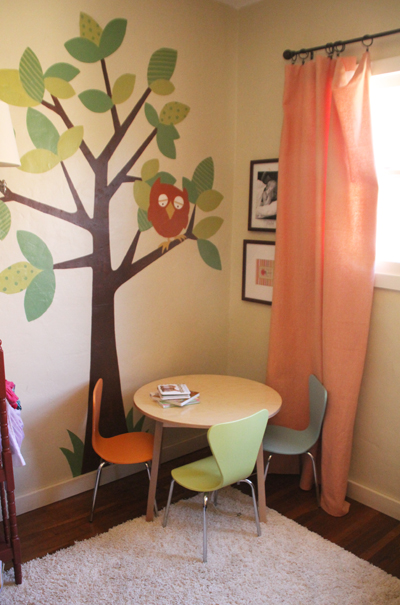 I've been thinking about ways to create a fun little art and reading station in this corner as well, and how I can creatively add some above-table storage for books, crayons, play dough containers and the like. My first thought was to paint a few spice racks from Ikea the same burnt red as the changing table and install them below the owl and above the table.
Then Sheila left this idea in the comments section of the Reading Nook post from a few weeks ago and I fell in love with the idea of incorporating a bookshelf right into the tree!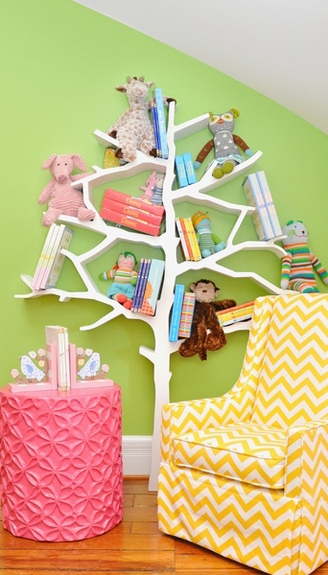 My goal is to make it less complicated (maybe three total shelves?) and a little more on the focus of the actual tree design rather than books (so that all of that beautiful artwork is not hidden). But I think with a little moderation and modification it can be a very cool idea!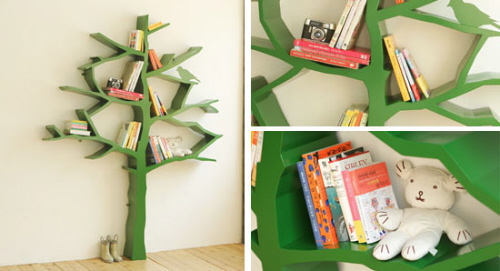 And that's my new weekend project!
Tags:
Accessories
,
Crafty Solutions
,
Decorating
,
Home
Posted in
Construction
,
DIY
,
Home
,
Liv's Nursery
,
Renovating Adventures
|
4 Comments »
March 5, 2012
Hope you had a great weekend! We had family in town so we played and enjoyed good food while also sneaking in a few house projects. Thanks for helping out, Mom and Dad!
I have such a neat find to share. I'm so thrilled with this random thrift store discovery that I still can't believe my luck.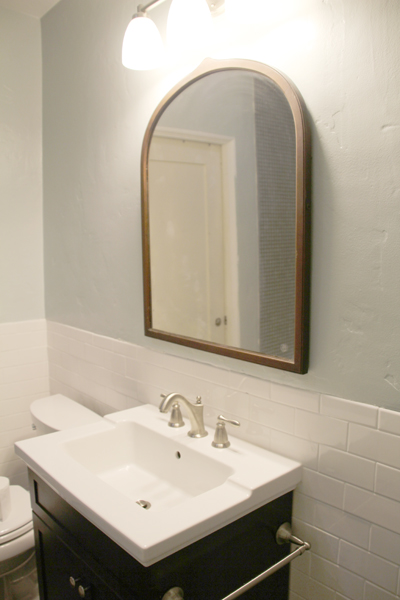 I was perusing a local shop that was on its way out of business (very sad, it was a spot that carried some great gems) when I came across a beautiful, arched mirror high on a wall at the very back of the store. When a clerk came to help me get this guy down, I was so happy to discover that it was heavy and really well built. So heavy that I was at first wary it might not mount right and actually passed on it. But its unique shape and quality taunted me all day and eventually I went back to pick it up.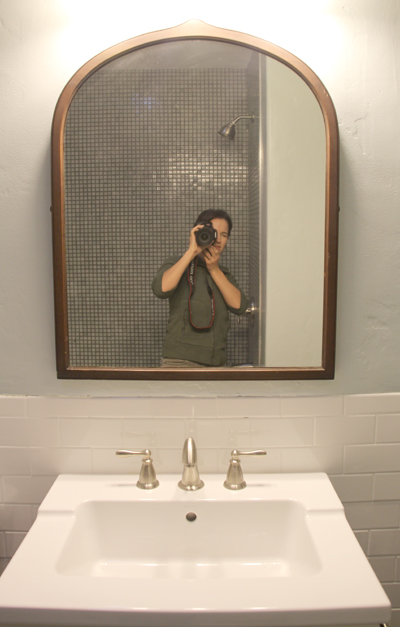 So happy that I did!
I love love how our bathroom is coming out but it is in need of a few unique pieces to balance out our new modern updates. Our home is a juxtaposition of old meets new. She's a 1930′s bungalow with high, arched ceilings and lathe & plaster walls, but she's also expected to be fresh, modern and functional for a family living in the 21st century. It has been one of our main goals all along to pair that vintage-meets-contemporary design aesthetic throughout, and when a room begins to feel too much one way or the other, it's a clear sign that it's time to inject the opposite into the space.
Enter the guest bathroom with its brand new glass tiled shower, crisp blue walls, brushed nickel fixtures and stone grey floor – now it's time to inject some of that old-world bungalow charm to compliment the subway tiled chair rail (a more permanent nod to the original style of 1930s baths). A feature of the mirror that I love best is that the unique shape actually kind of reminds me of the arches in our living room, dining room and guest room, a key feature of Spanish-style homes.
(A few have asked about the grey grout and yes, we took the unconventional route of grouting the entire shower in the same grey as the stone floor. It was Kev who had to get me on board with this one but I'm super thrilled with the result – and lack of any grout stains that may show up in the future).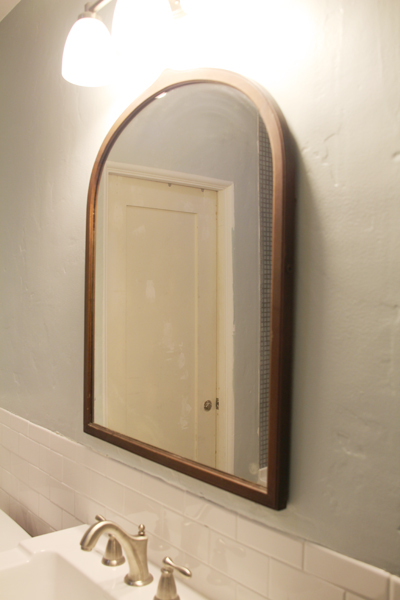 A cool shape, right?
Kevin was skeptical when I brought it home but humored me enough to give the mirror a shot for a little while. And now he sees why I dig it so much.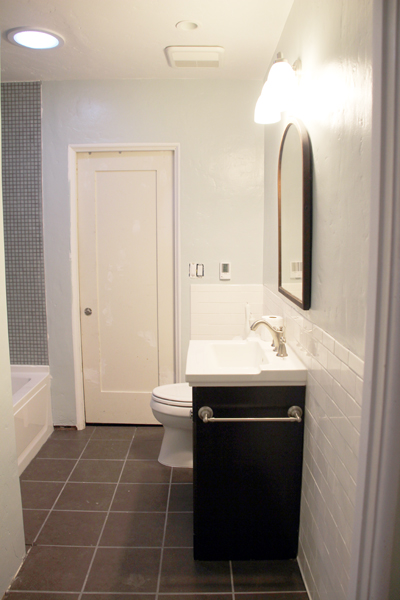 Please ignore that manilla colored door in the background… it is screaming for a coat of glossy white paint. (Manilla must have been the white of the 70′s because this home has fully embraced that cream trim look.)
I don't often get to sneak away to go thrift store shopping these days with how busy work has been and how difficult it can be to shop with the little one, so when I pop into a store here and there I am often bemused at my lack of good fortune. I rarely find what I'm looking for. But in my book, this mirror spotting could be my one find for a long time and I'd be a-okay with that.

Now it's time to add a little art, a few additional fixtures (like this one):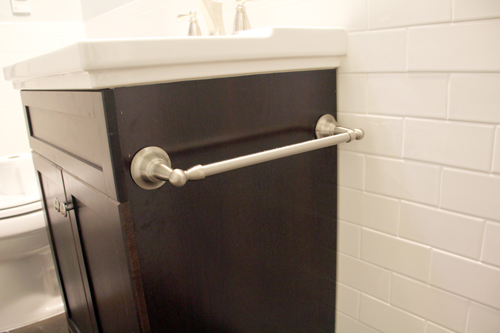 Some paint touch-ups, shower door and baseboard additions, and soon our bath built from scratch will be ready for its big reveal. Thanks for your huge amount of patience

.
More building a bathroom posts: installation time, vanity wars, subway tile installation,  floor tiles and toe warmers, a quick catch-up on our work on the bathroom in 2011, tiling with recycled glass, choosing and installing a bathtub, demo time!, a peak at the layout, initial inspiration, partnering with Lowe's
We partnered with Lowe's on our bathroom remodel and had the opportunity to try out some of their product at no cost and some product at a discount. The ideas and stories shared in this post are entirely our own, promise.
Posted in
Construction
,
Home
,
Our Guest Bathroom
,
Project Lowe's
,
Renovating Adventures
|
10 Comments »