December 19, 2012
I'm working on adding a few homemade Christmas touches each year to our collection and this year I decided to DIY a new pillow cover for our couch. The sectional is an ever-changing pillow hodge podge (I tend to just cover up a current pillow with a new cover, so sometimes you can find two or three previous designs underneath

) and I scooped up this particular basic tan throw pillow cover from Ikea for $6.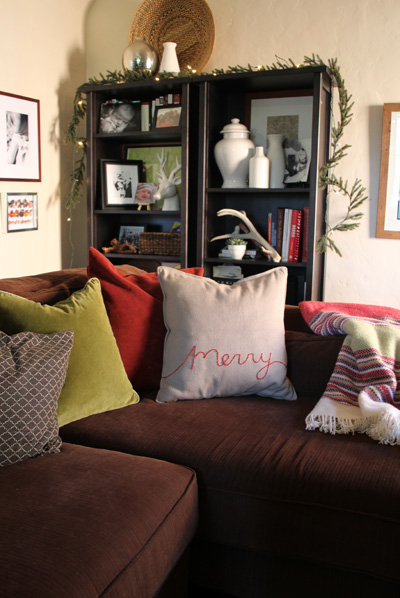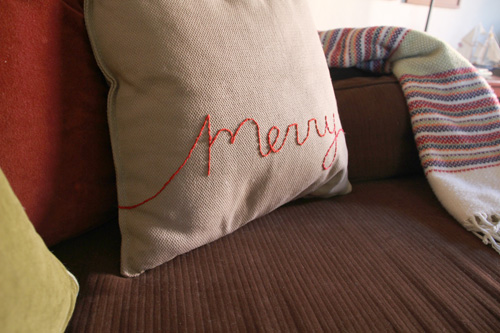 I thought about felting an ornament or Christmas tree design onto the front (maybe a future project?) but then recalled seeing pillows of seasons past with a simple, scripted message and decided to give it a go.
The toughest part was deciding on what word! I love the pretty flow of 'Merry' and the joyful message – or state of Christmas being – that it conveys. It's a good word to see day in and day out during this special time of gratefulness. Plus 'M's are just too fun to write out in cursive! (yeah for an 'M' first name)
Supplies for this project included two bright red embroidery thread bunches, an embroidery needle and my blank pillow cover.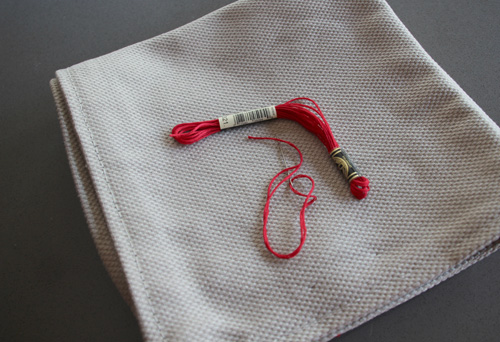 An embroidery stitch is quite simple, it involves a basic back stitch technique so that while you're stitching forward in your design, each stitch will head backwards as you go. Forgive the left hand awkwardness of this shot while I balance my camera in the other:

So my forward progress is on the reverse side of the pillow (though make sure you're not stitching the two pillow sides together) and my needle pops up and out of the fabric about 1/4 of an inch out from the previous stitch. Then I head back towards that previous stitch to cover up my 1/4 fabric gap. The back stitch allows me to overlap my stitches just a hair so that the embroidery might appear to be close to one continuous line.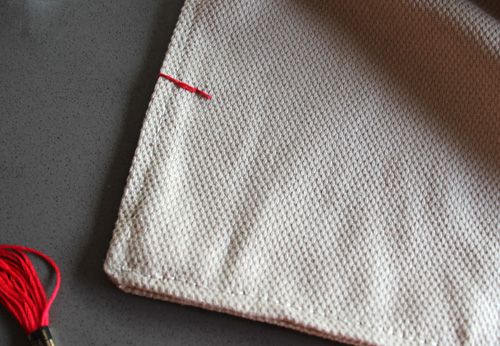 Writing out the entire word 'Merry' took a couple of hours one late evening while we had some friends over. I like projects that occupy the hands but don't require too much thinking

.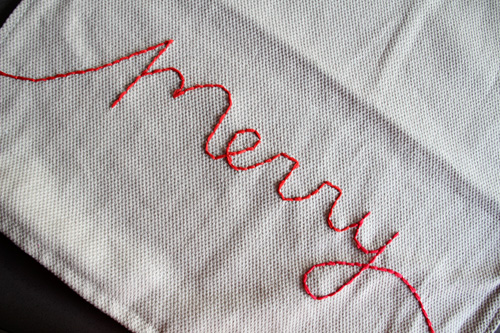 I first attempted to draw a light pencil line on the actual fabric to give myself a template to follow with the needle, but quickly found that it disappeard into the color of the tan fabric too quickly. Anything darker and it would have been harder to erase off of this heavily weaved fabric. Update: Sheila just shared with me that you can purchase a vanishing fabric marker that will write purple and disappear by the next day! Perfect!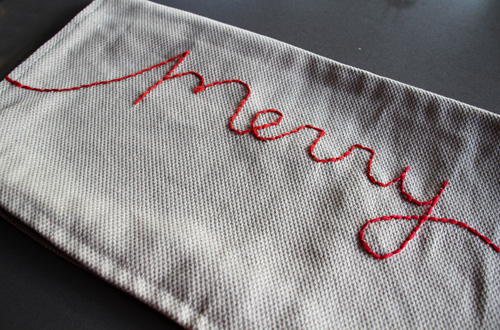 In the end I wrote out 'Merry' on a card and free handed the pillow. The imperfections are part of what makes it special, though I see areas where I would have dipped my cursive down further, should have slanted my 'y' more, or might have added more flourish for interest. Ah well.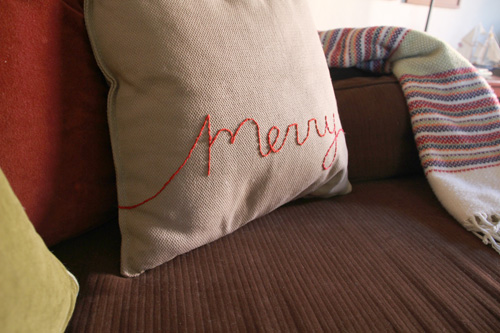 I'm really excited with how this project turned out given the time I worked on it and the easy update it makes to the living room! When Christmas is over I can pull off the cover of one of my favorite pillows (those ikat tan ones left over from the nursery glider fabric) that's hiding below and pack up the 'Merry' cheer into my Christmas boxes for next year.
Christmas is just around the corner! So exciting!
Tags:
Accessories
,
Christmas
,
Crafty Solutions
,
Decorating
,
DIY
,
Home
,
Living Room
,
Red
,
Sewing
,
Tutorial
Posted in
Crafty Solutions
,
DIY
,
Holidays
,
Home
,
Our Living Room
,
Renovating Adventures
|
3 Comments »
December 14, 2012
Oooh I have infusion fever. Once you start you just can't stop, there are too many creative and easy ideas out there. My next big project is a custom salt (inspired by the one that I currently love) with ingredients that are readily available from the kitchen or yard.
Rather than a straight sea salt, which can get very strong very fast, I created a Kosher and sea salt blend with dried lavender and lemon.
PS the last big infusion project included olive oil and rosemary, you can find it right here.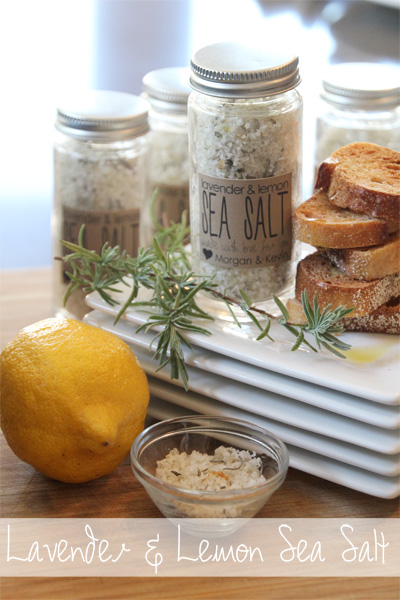 This is the perfect top salt for a finished dish – sprinkle on roasted chicken, raw salads, sliced tomatoes, avocados, in olive oil and vinegar with toasted baguettes… you name it. One of my favorite uses? Bruschetta.
An added bonus is that this was so very easy to whip up – even easier than my rosemary infused olive oil! And it doesn't need ages to infuse, either. You could use the finished salt right away (ideal for a last minute gift) or allow to sit for a more intense mingling of flavors.
Lavender & Lemon Sea Salt
m
Materials for six 3.4oz jars: 10-15 fresh lavender sprigs, grated rind of one lemon (more is optional), 1 pound sea salt, 1 pound kosher salt, small glass bottles/jars with a sealable lid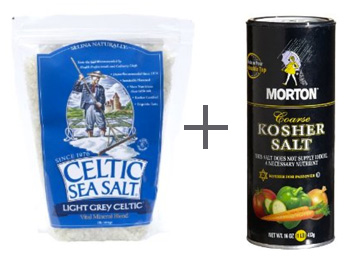 As mentioned above I chose a blend for my salts, Celtic sea salt as the dominate flavor and a standard Kosher to help balance out the taste buds (Kosher is an excellent everyday cooking salt). Granulated salt is extra important here! Table salt just won't be the same.
As far as my little containers go, I picked up a 12 pack of these 3.4 oz spice jars (though I might try this cute corked version next time).
I chose lavender and lemon as my concentrated flavor mix, though you could really substitute any delicious herb or infusion here (the sky's the limit!). Lavender was an easy pick because we grow it right in our front yard.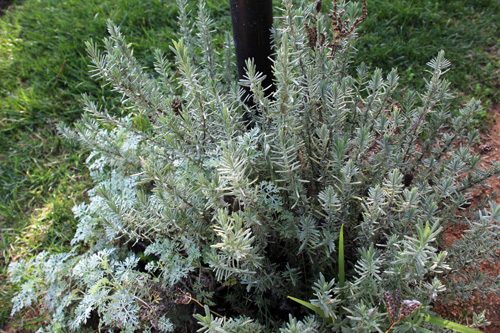 As with the rosemary from last week, I thoroughly soaked my lavender clippings in a bowl of water for about an hour and then rinsed to ensure that all I had left was fresh and clean sprigs.
Then I lined them up on a cookie sheet (covered in foil) and popped the sprigs into the oven at 200 degrees until they were nicely dried (there's no precise time here, but maybe 2 hours ish).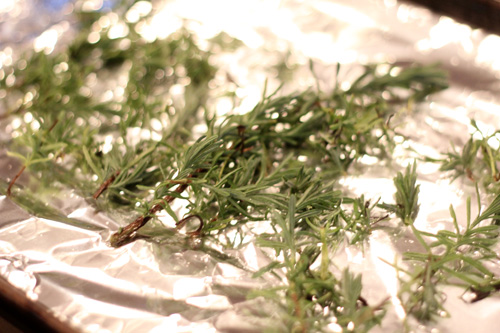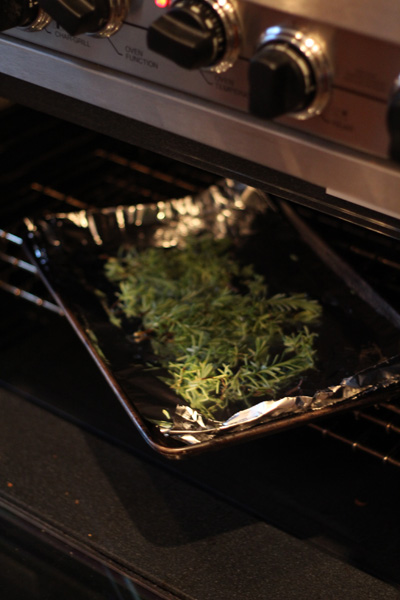 When they came out, they were ready to go!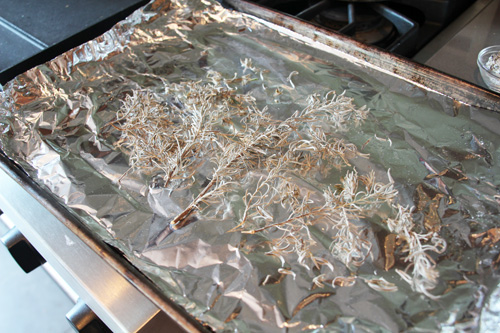 I stripped the leaves from the stems and discarded any extra crispy pieces. I added the dried lavender leaves and fresh lemon rind to my Kosher salt:
And spread the entire mixture out onto my cookie sheet once again for another round of light toasting. The goal now is for the Kosher salt to bake with the lavender and lemon, and also for our lemon rind to dry out completely (to avoid any bacteria growth in our salt containers).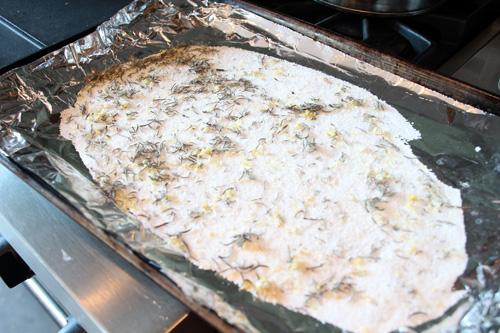 Once my mixture is sufficiently dried out, I added the infused blend to my raw sea salt and mixed well.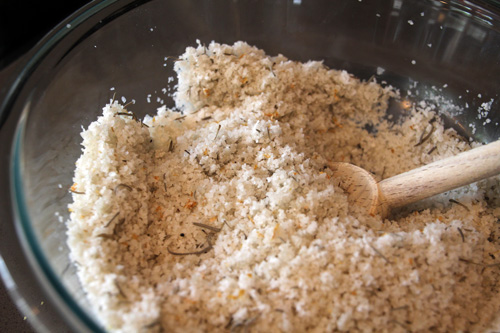 I used a small spoon (a baby spoon or cocktail spoon) to add the mixture to each of my little jars.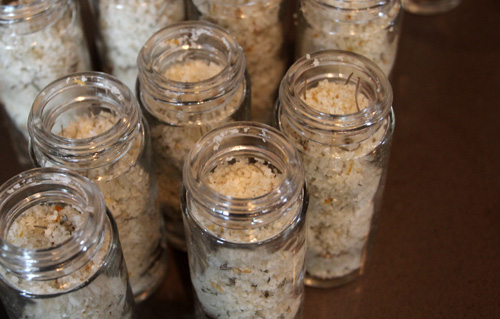 I made matching labels for the sea salt mixture (similar to my olive oil labels) and applied a sticky backing (available at most craft stores) to create mini stickers for the front of each jar. Here's a link to a downloadable pdf with a generic version of the below labels if you'd like to print out a version for yourself, and you can always email me for the .ai file to substitute your own name.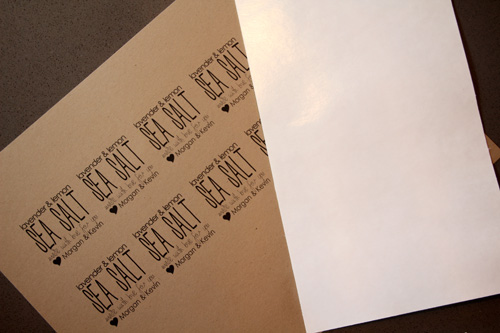 Then I cut the stickers into tiny squares and applied to each jar: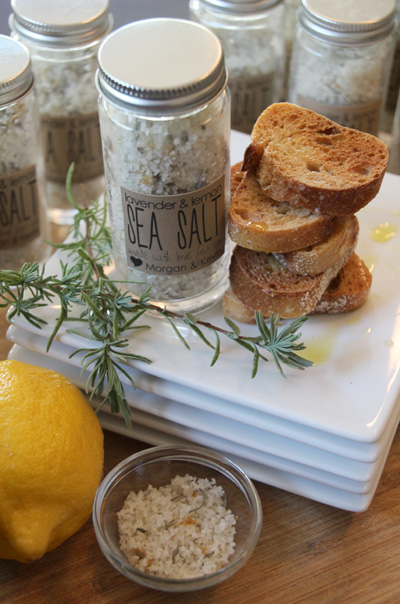 Sure is delicious with just crudités and olive oil!
That's two infused projects down and a couple of more handmade gifts to go… happy cooking!
PS You can find the line up of this year's handmade projects by sorting all posts here.
Tags:
Parties & Entertaining
,
Recipes
,
Tutorial
Posted in
Crafty Solutions
,
DIY
,
Handmade Gifts
,
Holidays
,
Parties & Entertaining
,
Recipes
|
1 Comment »
December 11, 2012
I've been anxiously waiting to catch you all up on my breakfast nook project, but I've reached a bit of a design dilemma and I thought I'd share what's going through my mind right now.
I've moved the bench seat from the edge of the island: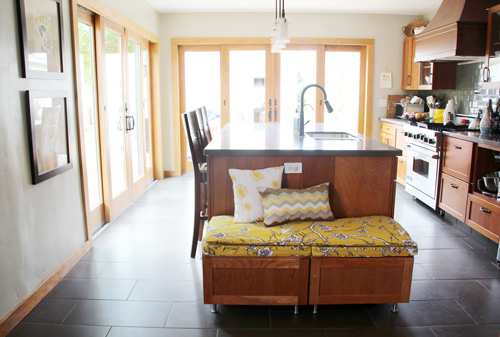 To this blank wall. We'll call it the problem wall.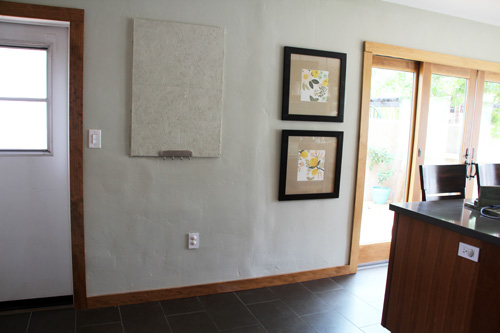 This particular wall used to be the dividing line between what was (way before us) a bedroom and an entry room (at least that's our suspicion…). It had an unusually placed window just to the right of the side door that makes us wonder if a mudroom existed here before (and a slight buckling in the wall where there may have been another wall that jutted out of it?). The wall was gone before we moved in and a den was in its place.
During our kitchen transformation, this small little window broke and was quickly boarded up and left for a future project. The plan is to either A. replace it, B. use glass block to fill it in, or C. make it disappear altogether as a solid wall. The last is my vote, but Kevin is not 100% convinced on which he loves best. So it sits now as a piece of plywood in the kitchen. We finally painted it to match the walls (though it doesn't blend much…) and avoid photographing it altogether

. When we have guests over, sometimes I hang a piece of art right up over it.
The ultimate goal is to integrate that space back into the house, and even if we wait on the to-close-or-not-to-close decision for a while, I'd like to come up with a solution to hide the eye sore in the interim.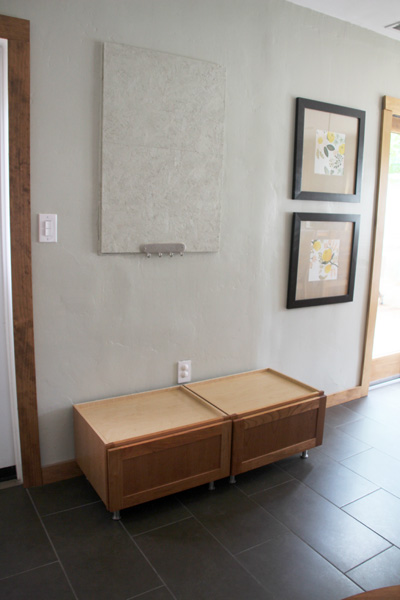 I had this space in mind too for the kitchen breakfast nook and I thought it might work well if the end of counter idea (see top pic) didn't. And the bench? The perfect size!
Now just picture a round little table and two chairs in front of it.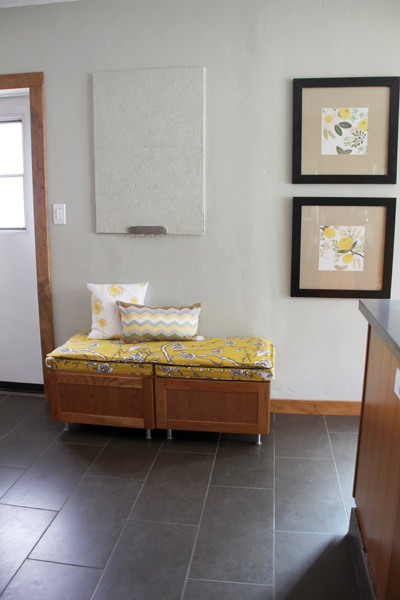 I love that the colors tie in so well with the artwork.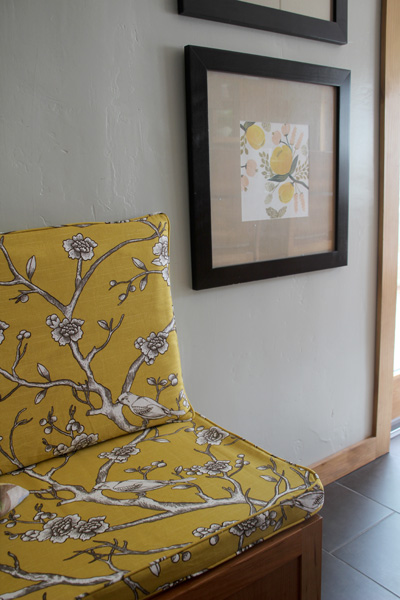 But back to that dilemma, because the plywood 'pin board' is a big eye sore.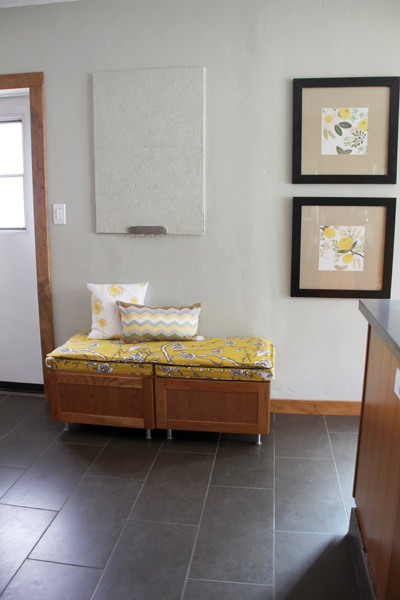 I have a couple of ideas…
The first one that I imagined as perfect for the space was to find a cool old mirror and convert it into a chalkboard, like this: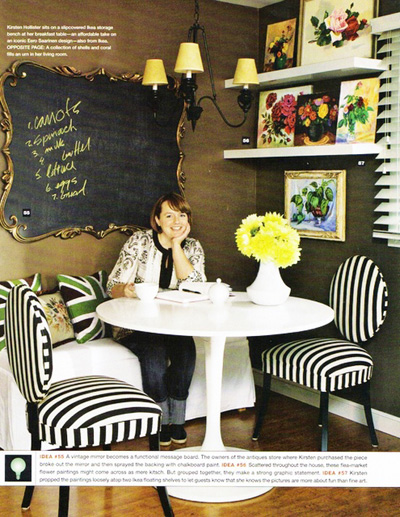 How beautiful! Image from here.
But I searched and searched and had the hardest time tracking down a large enough ornate mirror. See, to both cover up that plywood (temporarily, of course) and look somewhat natural on the wall, I needed a piece that is roughly 44″ tall and 40″ wide (big and tough to find).
Still on the hunt for an ornate mirror, but I suppose option two would be to hang a regular square chalkboard that might look something like this: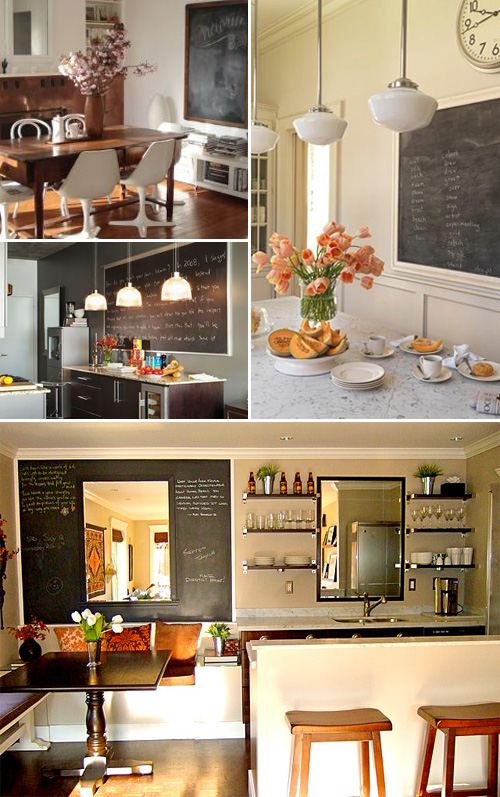 I could build my own or find a large frame and then turn it into a chalkboard.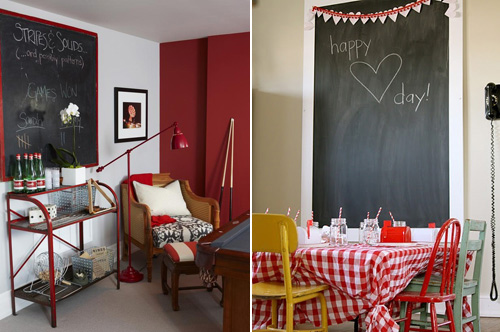 Image sources for all of these ideas can be found over on my kitchen Pinterest board (Pinterest is where I was lucky enough to track most of them down!)
If I build my own frame… perhaps a chunky reclaimed wood look?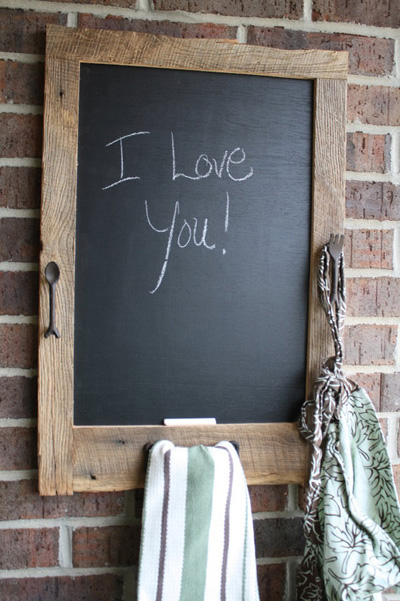 Love the look of wood and chalkboard… though gold is high up there as well!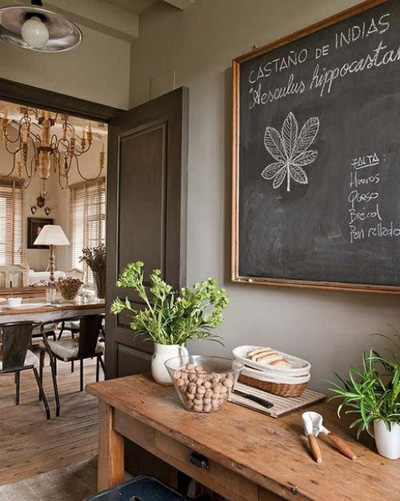 And I'd have to make it magnetic, just like Christina did: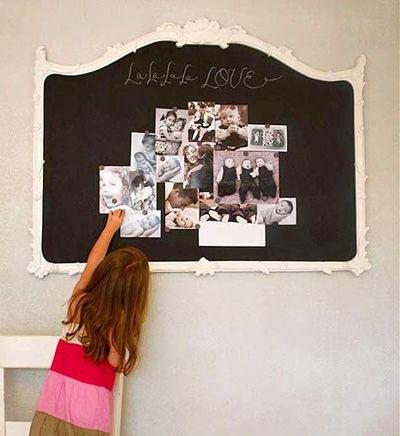 Part of me is secretly wondering though if a command station so front and center as you walk into the kitchen is the right idea? Do I want lists and ticket stubs and reminders so evidently visible? Could I keep this space visually clean?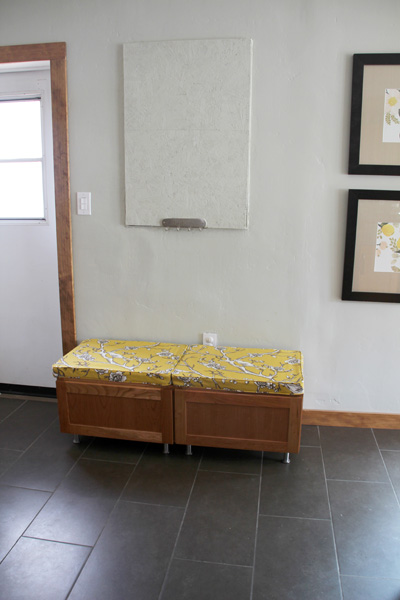 That wall above is just to the left of the island below. I'm standing in front of it while snapping this picture: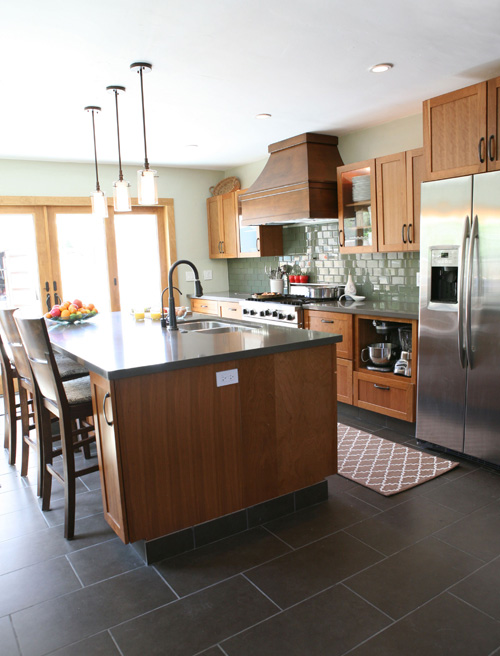 If I could and was willing to make that promise to myself, why not a cool fabric pinboard?
Picture this coral in a square frame and Liv's art hung up in a semi-organized fashion: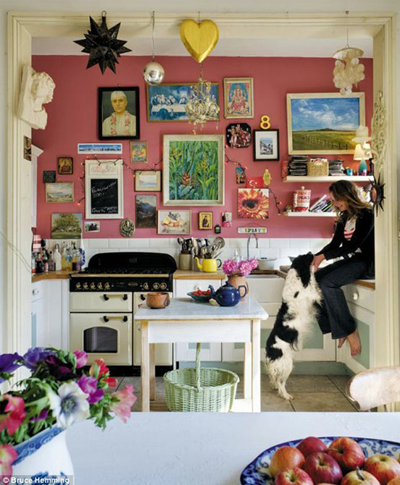 Or perhaps I nix the command station idea and hang just a stunning piece of framed fabric (from a vintage scarf, tablecloth, remnant piece…):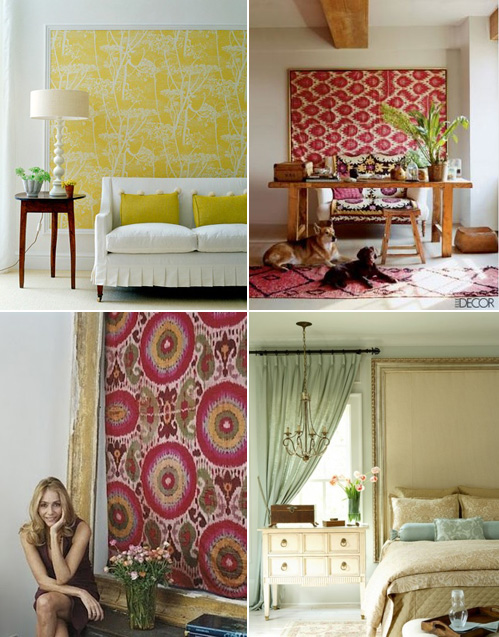 Maybe a framed picture? Painting? Map? What would not look out of place in a kitchen/dining space? See how difficult I've let this one become?

 PS You can find all of the kitchen renovation stories here.
Tags:
Accessories
,
Breakfast Nook
,
Crafty Solutions
,
Decorating
,
DIY
,
Fabric
,
Home
,
Kitchen
,
Yellow
Posted in
Crafty Solutions
,
DIY
,
Home
,
Our Kitchen Remodel
,
Renovating Adventures
|
8 Comments »