December 10, 2012
Here's a quick DIY gift to share today that I just finished and put under our tree. I can't remember where this idea stemmed from – possibly a Pinterest post? or an excess of cupcake supplies in the kitchen? perhaps from something I've seen at the store? – but either way this was a fun and easy gift to assemble and one I hope the recipient will think is thoughtful and fun (especially for the baker!).
I made two versions of this gift, one that was smaller and is packaged more as a hostess gift, stocking stuffer or little favor, and the other as a meatier version with plenty of cupcake treats.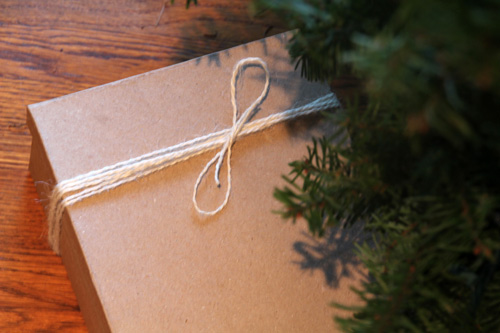 The larger kit contains a colorful mix of mini taper candles, cupcake liners in a variety of shapes and sizes, sprinkles (repackaged in little bead containers), specialty nonpareils, mini cookie cutters (perfect for fondant or cupcake pops) and lollipop sticks (more cupcake pop!). You could also include icing tubes, food coloring, marzipan flowers, toothpick toppers or a little cupcake book for decorating inspiration. I found my cardboard box right here.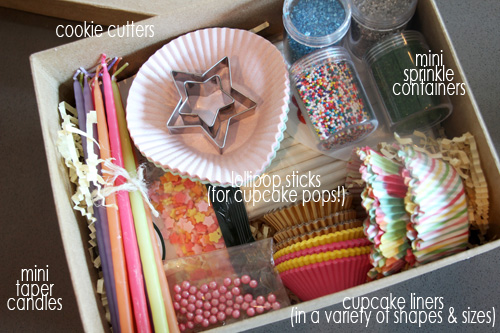 I like the idea of sticking to a rough color scheme (mine below is sort of pink, orange and yellow) to keep the contents looking a little planned. But it could be equally fun to go crazy with color! Or design a kit based off of a specific event, like a graduation with school colors, a bridal shower theme or a holiday.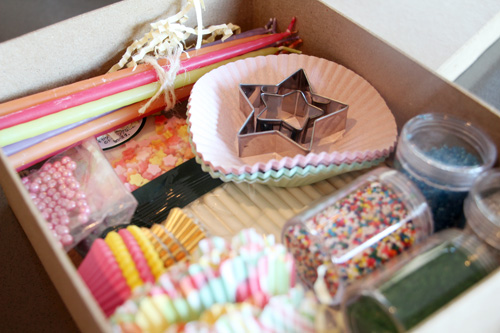 The mini kit contained some of the above but in a more edited form.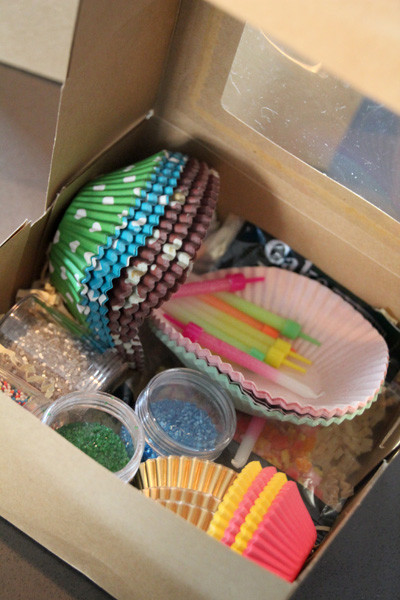 I found the clear-topped cupcake boxes at Michaels, it's kind of fun to peek inside!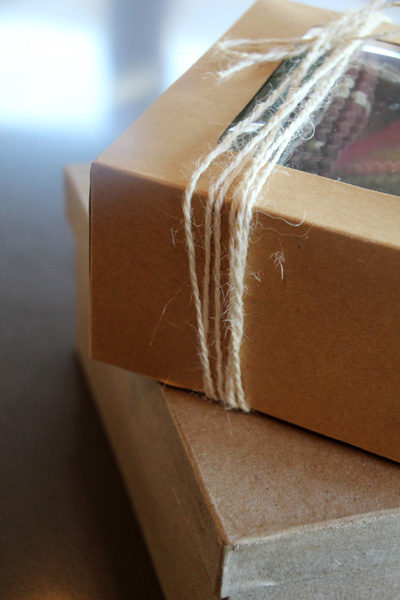 One more gift to cross off of the Christmas list and one more handmade project that I'm really digging. Now on to the rest!
PS You can find the line up of this year's handmade projects by sorting all posts here.
Tags:
Christmas
,
Crafty Solutions
,
Desserts
,
DIY
,
Parties & Entertaining
Posted in
Crafty Solutions
,
DIY
,
Gift Guides
,
Handmade Gifts
,
Holidays
,
Parties & Entertaining
|
8 Comments »
November 26, 2012
Hope you had a restful and relaxing few days with family and friends! I took a much needed break… no work, no computer, very little media (even on Black Friday!) and attempted to keep all focus on what I'm most thankful for – that awesome bunch of family that I'm so fortunate enough to have. BUT I snuck in a few online deals post-Thanksgiving, when everyone was in that nap/football/book reading zone.

I am also just about finished with my Christmas shopping list. I love to brainstorm, shop for and sometimes even make Christmas gifts, so these coming few weeks will be full of delicious fun (rubbing hands together with a twinkle in the eye). More so than usual, I'm hand making a good chunk this year and I'll keep you updated on my ideas over the next couple of weeks to see if some of them resonate with you, too.
First things first, Liv is getting a DIY kitchen so that she can 'cook' along side momma and dadda. Here's a peek at my inspiration.
Annie's awesome creation, (built from off-the-shelf home improvement store cabinets) complete with magnetic paint on the little fridge and a soap dispenser as a working sink.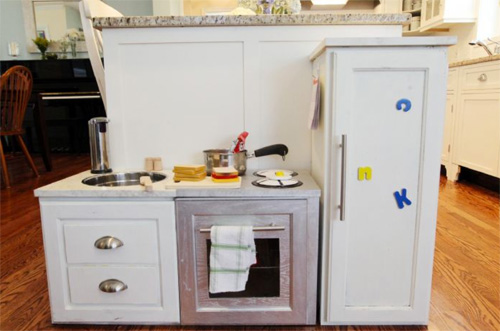 Carla's Ikea hack (previously two MALM nightstands), I love the little tile backsplash!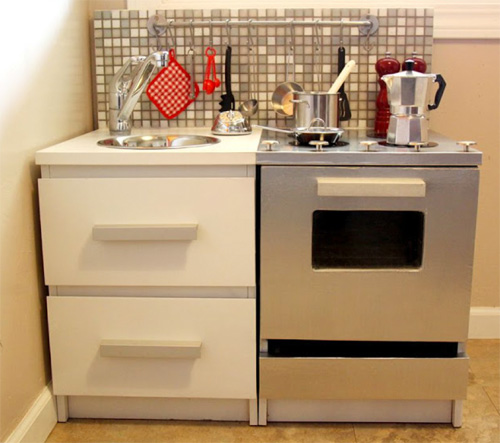 Holly designed a play kitchen with vintage knobs and a sweet little shelf to hold tea cups and what not…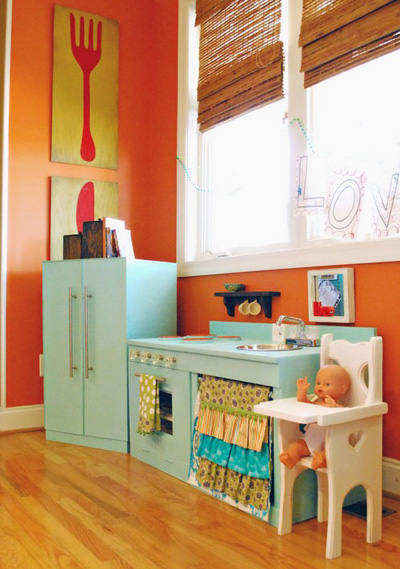 Love Jane's chalkboard detail and those little legs!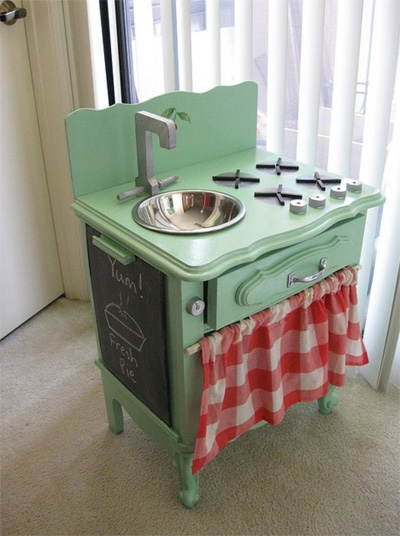 Don't have the original post for this one… Pinterest leads me here. I love the little burners and the oven.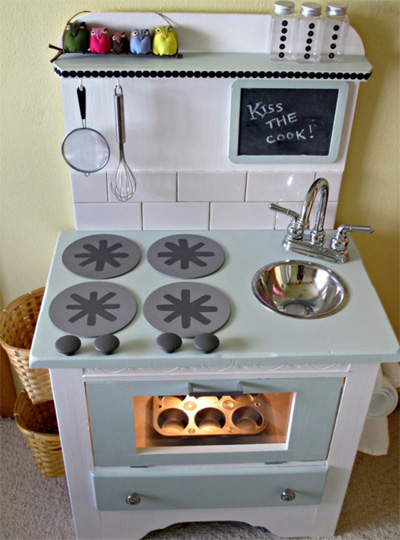 This looks like it used to be a changing table! Perty clever.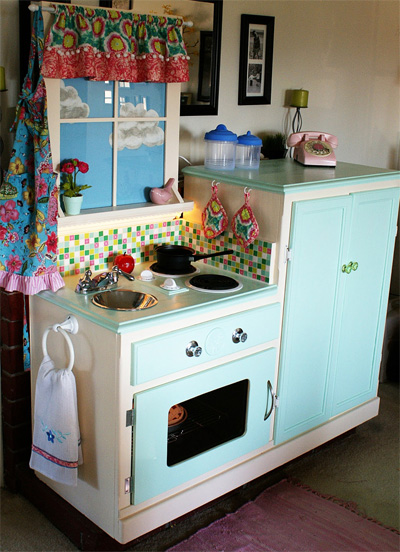 Loving this modern kitchen Ikea hack, too!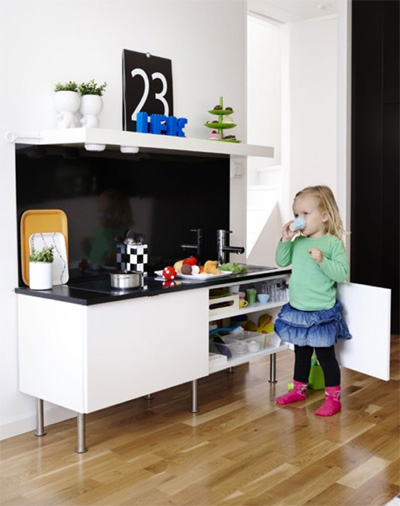 Finally, this YHL kitchen is full of cute ideas on how to make a cabinet makeover both pretty and functional.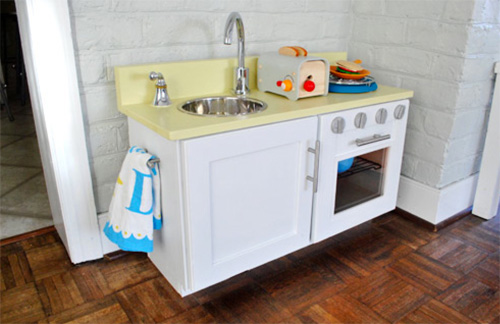 So many fun ideas

, four weeks to build. Will keep you posted.
Tags:
DIY
,
Kid's Rooms
Posted in
Crafty Solutions
,
DIY
,
Home
,
Olivia
|
3 Comments »
November 1, 2012
Hope you all had a wonderful Halloween! I meant to post pictures of Liv's costume and our party prep yesterday, but time started to run out and costume changes were being made with cobwebs still to be hung… and then everyone arrived for trick-or-treating. So here we are with a fun little round up of yesterday's events! I hope you had a wonderful, safe night full of trick-or-treating (or handing out candy, or sitting fireside with a nice glass of wine), too! Those being affected by Sandy right now, you are in our prayers.
First up a few halloween decoration shots from around the house. We didn't go crazy this year, just a few sprigs of black spray painted fake flowers to mix in with the usual mantel decor (made those guys a few years ago) and a couple of pumpkins (that we can keep up through Thanksgiving).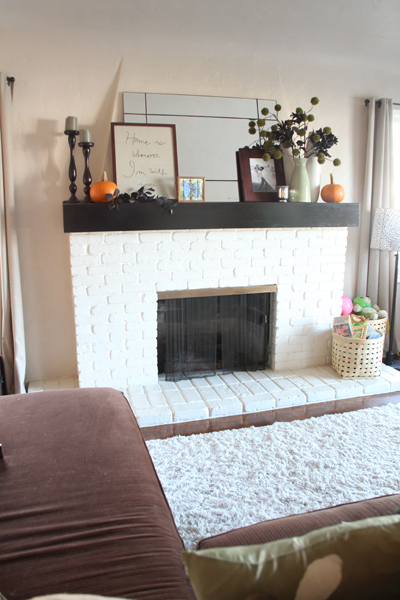 I also added a few Halloween additions to the gold dipped pumpkins on the buffet…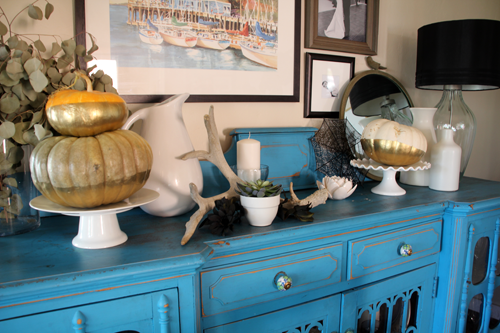 And spent most of my time decorating outdoors on our new deck! Look at that baby, she's finished! Needs a coat of stain but she's ready for a Halloween party.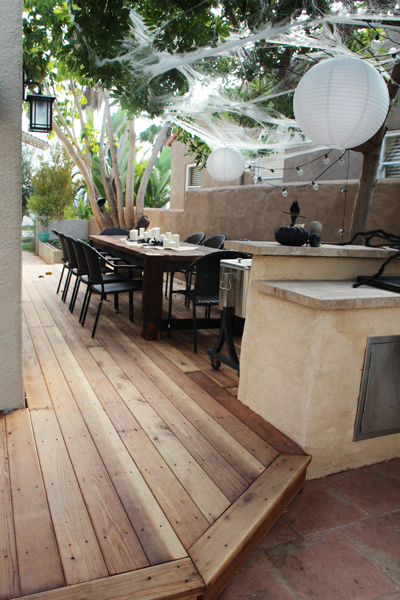 A few globe lights and white paper lanterns in the trees and near the fireplace, too.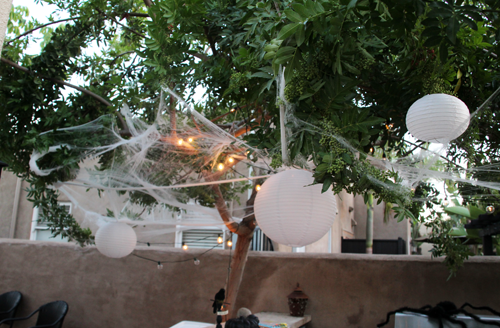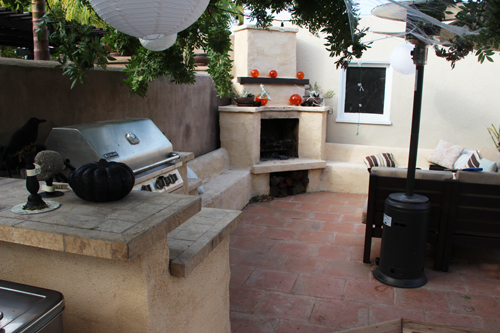 And a row of candles, burlap and black frames for the NEW table that Kevin built for the side yard (more on that to come!).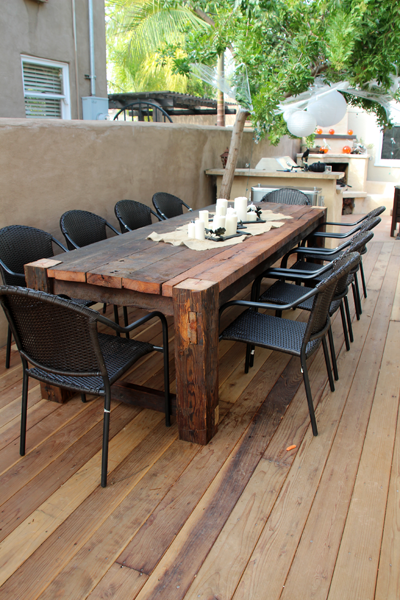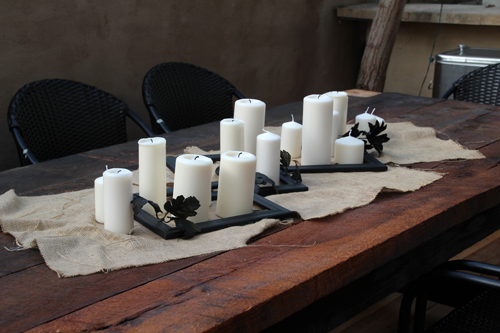 Then our little trick-or-treating crew began to arrive!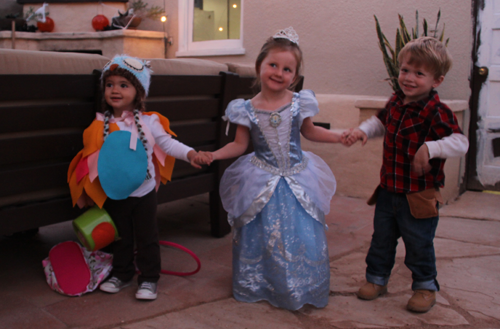 And soon we had the entire gang. No one was very happy about the obligatory group pic.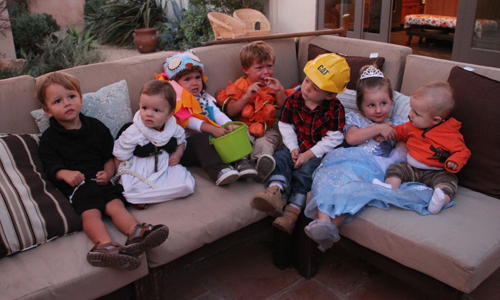 (Check out these same babes just a couple of years ago. Some of them weren't here just yet…)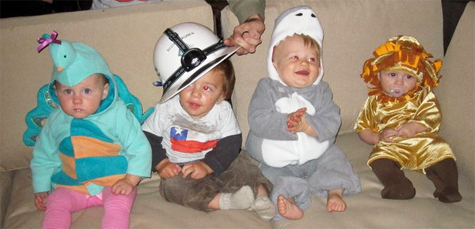 And then off to trick-or-treat! Forgive the blurry photos, I didn't realize my focus wasn't set correctly until the night was through.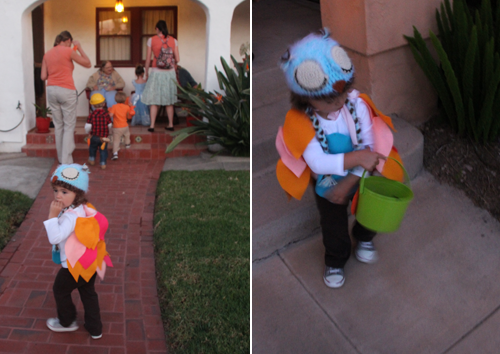 We actually went through a few costumes with Liv before she agreed to dress up for Halloween, and even then it was as her friends were arriving that she put on her final attire (nothing like a little peer pressure…). My first costume for her was a cute little cupid outfit (with momma and daddy wearing hearts that connected), but I should have realized earlier that the tiny wings were just too overwhelming and would result in tears every time we pulled them out of their box.
Soooo plans b & c were a cow costume that Mimi (Grandma) sent or a duck (thank you for Killer B for the fabulous last-minute inspriation!). Liv decided no cow (they'll work great as PJs) and so we went with the yellow and pink wings that resulted from my morning felt fest (while on a conference call with our main office with my regular 9-5 job… shhhhh don't tell).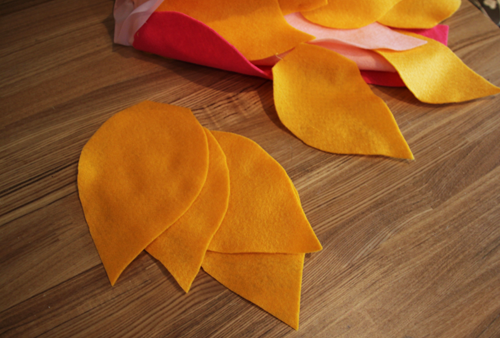 The process to create the cape was quite easy. I first cut enough 'feathers' to cover my cape template (which was basically a slightly curved rectangle) and applied a simple stitch to hold each overlapping feather in place. A ribbon at the top allowed me to tie the cape around Liv's shoulders.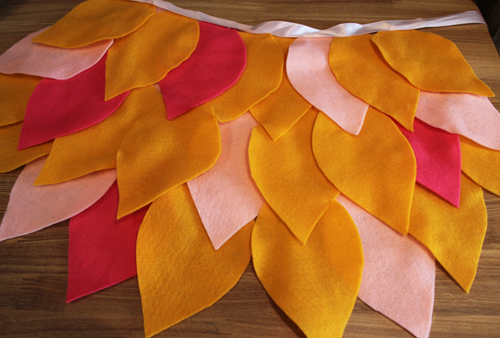 At the last minute Liv wanted to wear her owl cap (a previously brainstormed costume), so we added a turquoise belly and brown pants to her outfit and turned her into an owl!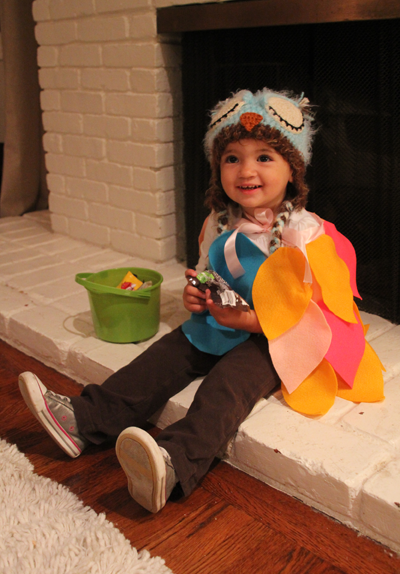 Which she was keen on and we were all happy.
After candy sorting, it was time to continue the party and share a delicious potluck dinner.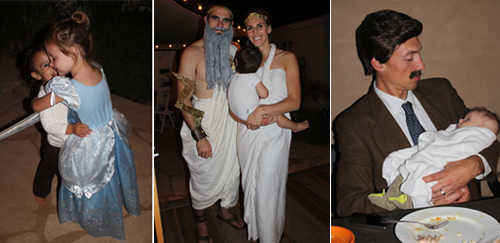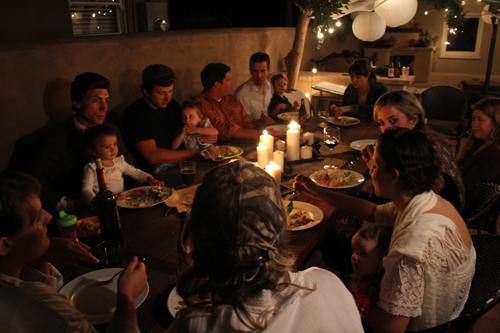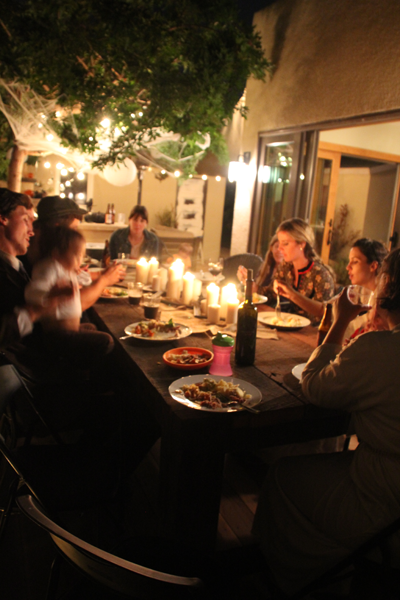 Followed by delicious Halloween desserts! Nice job, Steph and Melanie. Below are adorable owl-oreo cupcakes and nutter butter ghosts. We also had little mini cupcakes and delicious creamscicle cocktails that I neglected to photograph.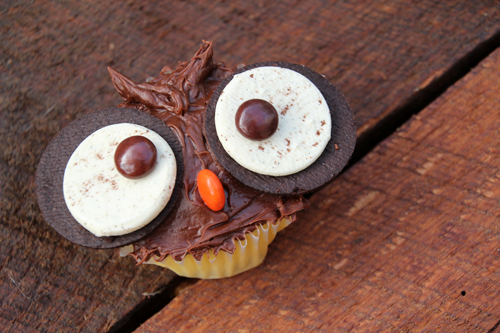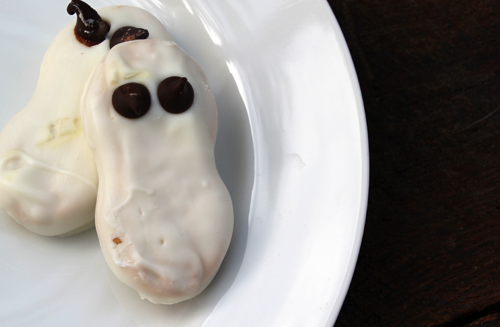 That's our Halloween! A fun night with great friends and a lively street full of trick-or-treaters. And just in case you're wondering, that's Kev above in his last minute costume as Ron Burgundy/Ron Swanson in the wig and mustache. You stay classy, San Diego.
Happy day after Halloween

.
Tags:
Crafty Solutions
,
Decorating
,
Desserts
,
DIY
,
Halloween
,
Parties & Entertaining
Posted in
Crafty Solutions
,
DIY
,
Family & Friends
,
Holidays
,
Olivia
,
Parties & Entertaining
|
1 Comment »