May 2, 2012
I've been so inspired lately with all of the decorating ideas on bringing the outdoors in. One trend that has especially caught my eye is the glass vase terrariums that we're seeing on dining room tables, in kitchens and even in outdoor spaces.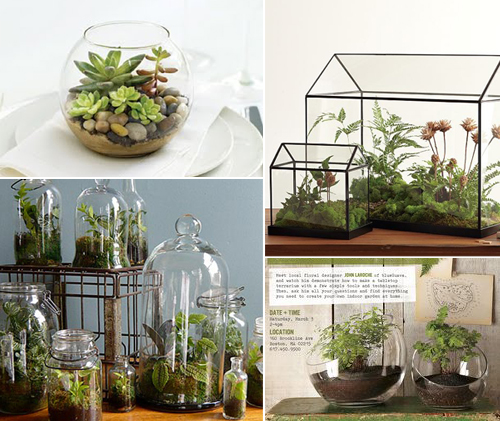 I was rummaging through my buffet recently, attempting to reorganize, clean it out and cut down on what I no longer use, when I came across a few vases and vase fillers that I thought would be perfect for a couple of indoor terrariums for our dining room. In fact, I didn't buy a single thing for this project – everything was either from under the buffet (where lots of vases live), in my craft bin, from around the house or from the garage.
Here's what I managed to find to put these guys together: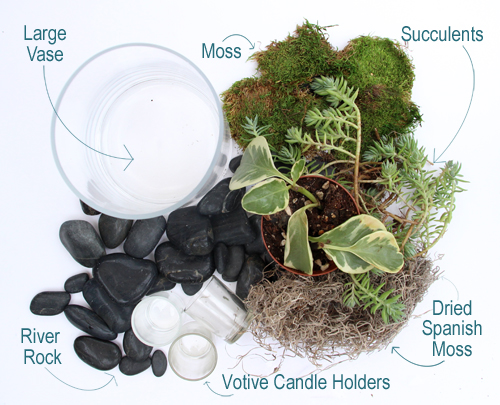 *A large clear vase (you could also use a fish bowl or punch bowl)
*Several smaller, shorter vases for holding the potted plants (I used votive holders)
*River rock (this can be purchased in mass at a home improvement store in the gardening section, just hose off those dirty river rocks and you should find beautiful black ones! these are left over from my wedding as vase fillers, believe it or not)
*Dried Spanish moss (also from my vase filler collection – can br purchased at any craft store)
*Dried or live green moss (mine came from the craft store as well, also left over from a wedding)
*Succulents for planting (from Ikea and our yard)
First up was to replant my little succulents in the votives with a little potting soil and a little water.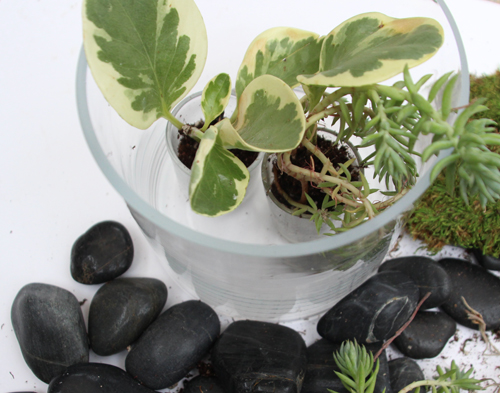 There are actually three little votive candle holders in the bigger vase above, though it's hard to see that last one.
Then I filled in rocks around the votives: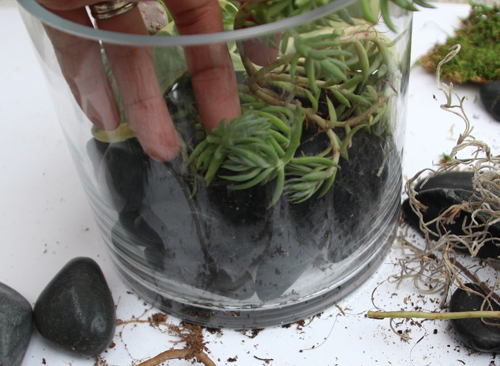 Next up was a layer of Spanish moss: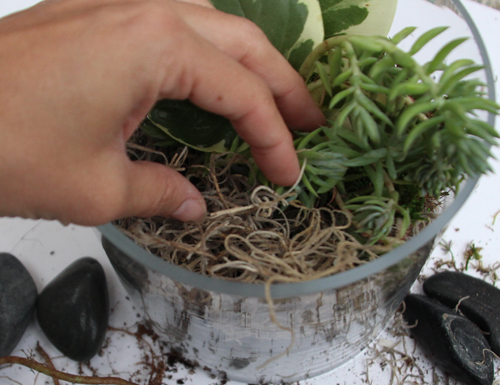 And finally a thin top layer of the rich green moss: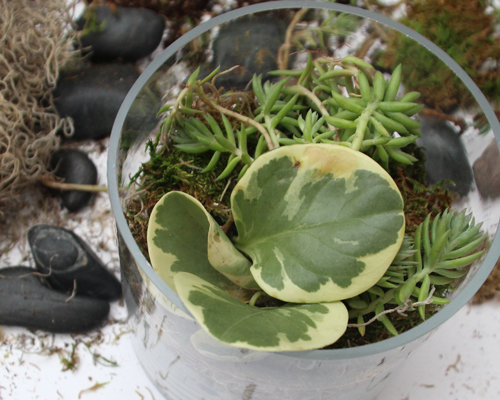 Put it all together, and what do you get!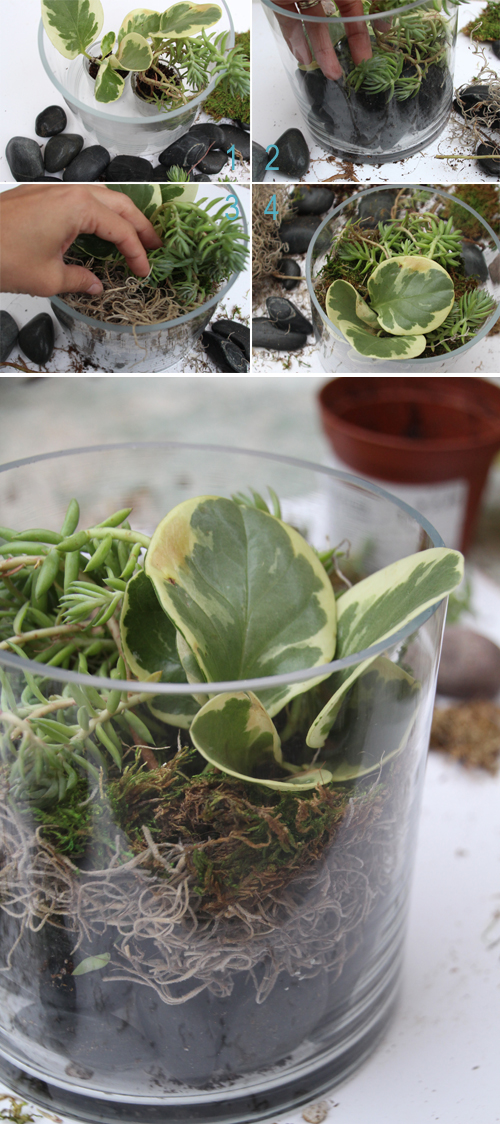 Lots of layers or prettiness!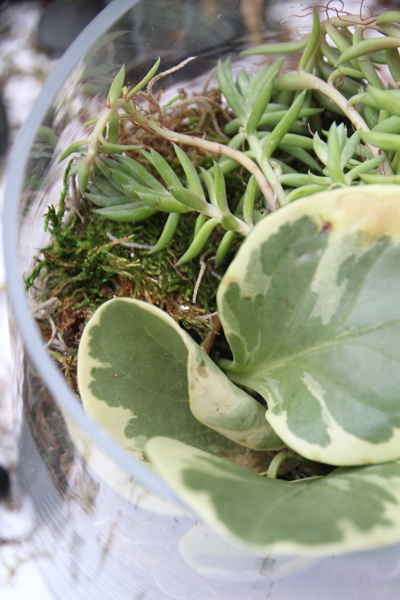 I ended up 'planting' a few more cactus varieties from our yard to add a little color, and I added a few rocks to the top after bringing these guys inside.
The smaller one was super simple – same as the above but just one votive of planted succulents.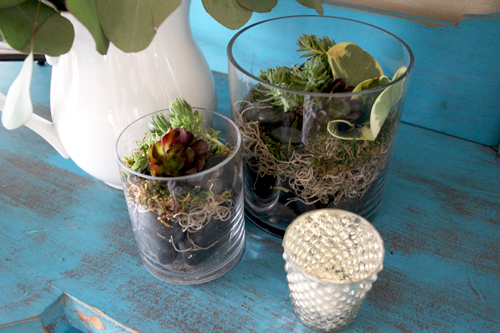 I've been playing with styling these guys – maybe with a cloche? He's holding on to a few left over clippings.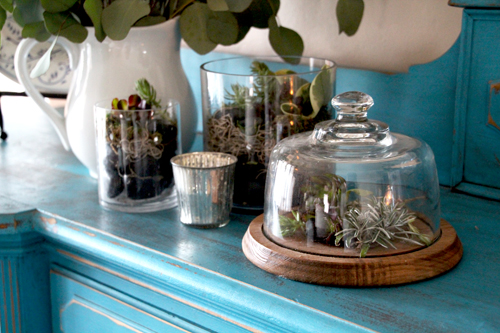 I think they look great in the dining room. The terrariums would be neat as a centerpiece for the table over a burlap runner and surrounded by simple white flowers for a dinner party. Oooo, I can see it now.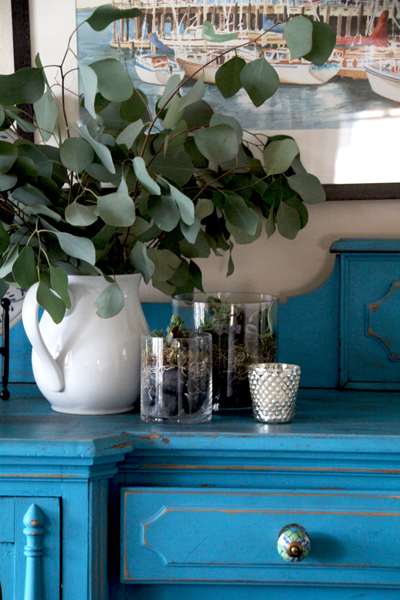 Again, the layering is what really makes these guys. Though some sort of tinted vase might be kind of neat as well.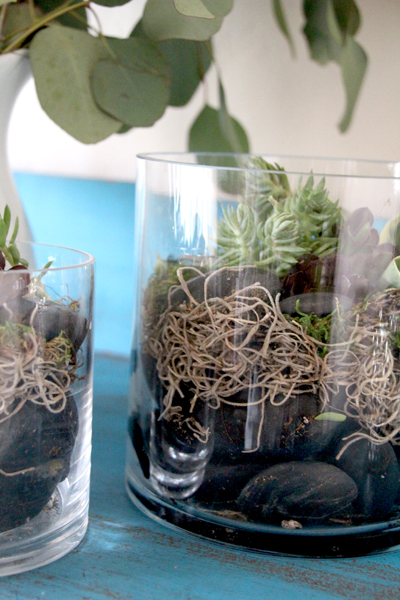 I love that I had all of the supplies on hand, makes for a super easy weekend project!
I kind of have a thing for collecting and holding on to great vases and different filler decor. It all started with my wedding five years ago and has grown to help plenty of friends with their big day centerpieces (yes, that many vases. times three). So that little stash in my garage is actually a cabinet that really needs to be emptied out… one indoor terrarium at a time.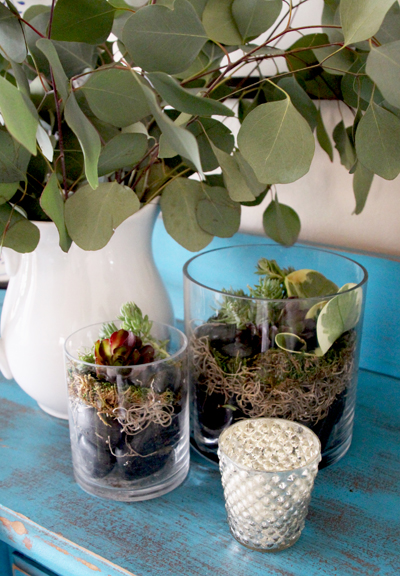 Tags:
Accessories
,
Crafty Solutions
,
Decorating
,
Dining Room
,
DIY
,
Home
,
Tutorial
Posted in
Crafty Solutions
,
DIY
,
Home
|
5 Comments »
April 18, 2012
Last week I shared my weekend plans to add bookshelves to the colorful tree in Liv's room. My inspiration stemmed (hehe) from this idea, but scaled back with just a few shelves on a few branches so that the shelves easily integrated into the wall image (rather than vice versa).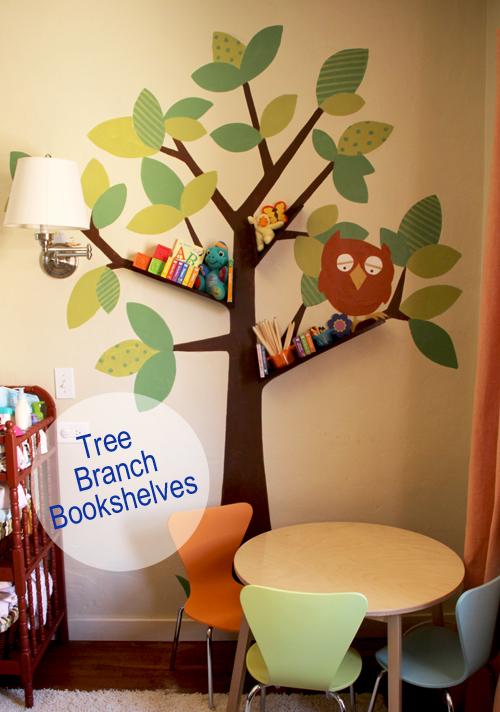 The project wasn't too difficult to accomplish but it did send me back to the hardware store more times than I can count, hence the not getting it quite finished by end of weekend. But I'm loving the end result!!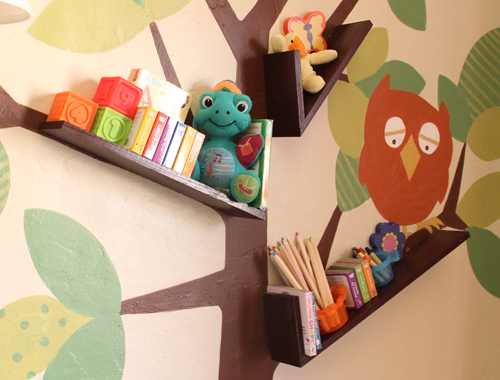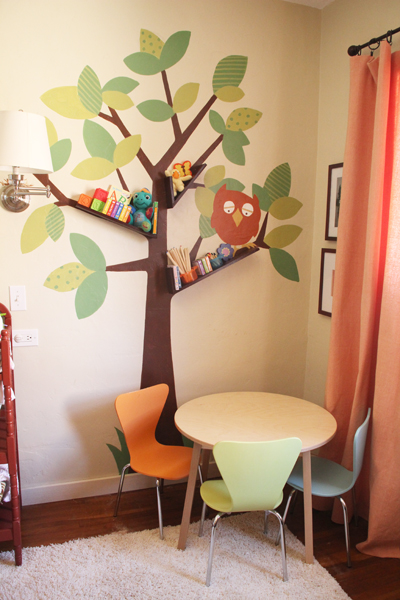 The new shelves make for a little extra storage for a few small books, stuffies and art supplies. The bonus is that they're out of Liv's reach, so I can keep colored pencils, crayons, etc ready for drawing but not easily accessed by the little one.
My only challenge in building the shelves was figuring out an easy way to 'float' them so that you wouldn't see hinges or nails or adhesive from the front side.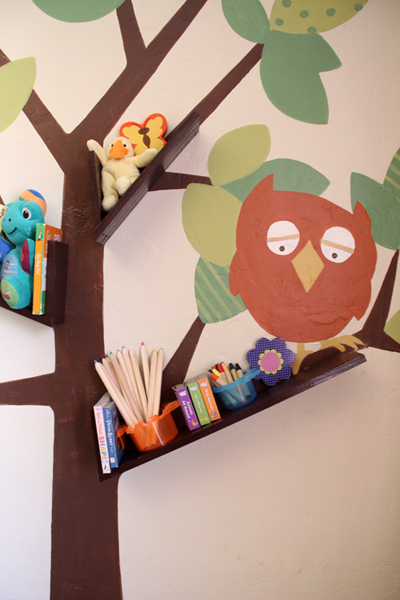 We ended up accomplishing this by using a 1/4″ dowel that we cut into small 4″ sections, and then inserting it half way into the wall and half way into each shelf several times.
Let's start from the beginning…
*****************************************************************
Tree Branch Floating Bookshelves
m
Materials: 3/8″ pine planks, 1/4″ dowel, wood glue, drill, spray paint, saw (circular or manual with a miter box), nail gun (or finishing nails and a hammer)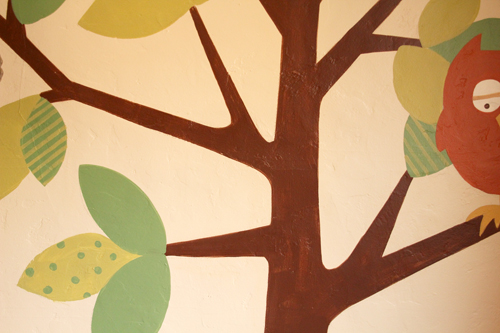 To find the best angle for each new shelf, I first held up my wooden planks to the tree branches and made pencil marks for the exact angles I was hoping to achieve.
I determined that this particular shelf should be 15″ long and have a rise (that vertical piece) of 5″. All three shelves would have the same rise but varying lengths according to the branch lengths.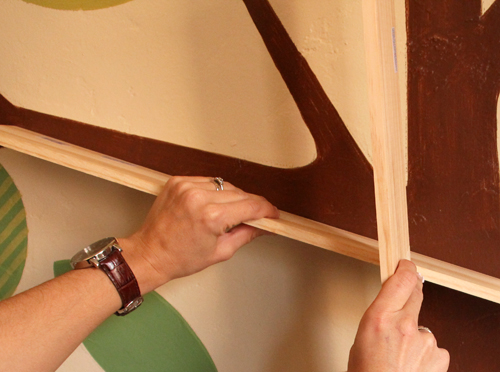 I could have easily cut a soft wood like pine with a saw and miter box, but we ran the planks through the circular saw and that this was the angle we were left with: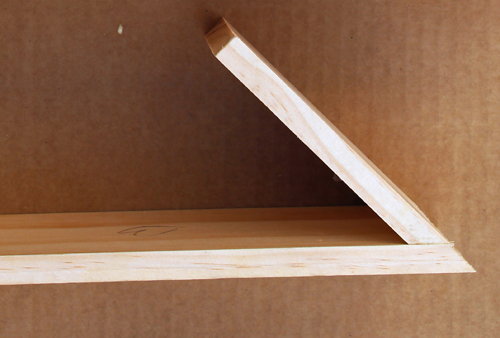 Just to be sure, I double checked my cuttings before adhering the two pieces together.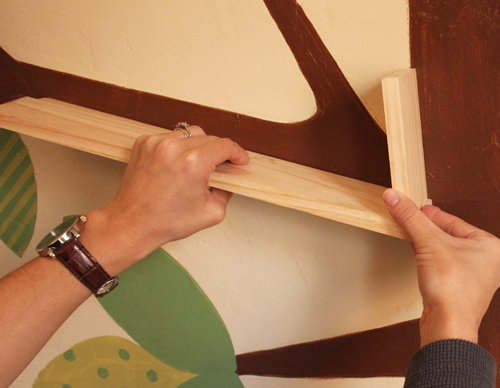 The first layer of adhesive came in the form of wood glue. You can see below that I labeled each set of planks for each shelf with an A, B or C so that I could easily match up the two pairs out of the total of 6 overall planks when gluing.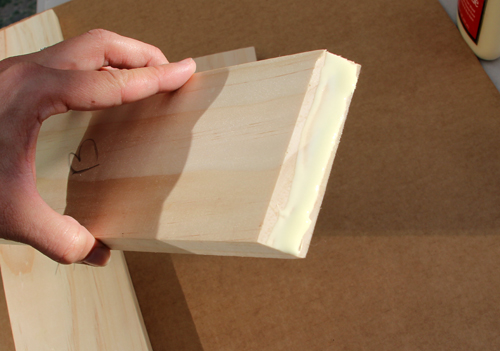 Then the two pieces of shelf were nail gunned together. Tapping finishing nails into the end with a hammer would have done the trick as well.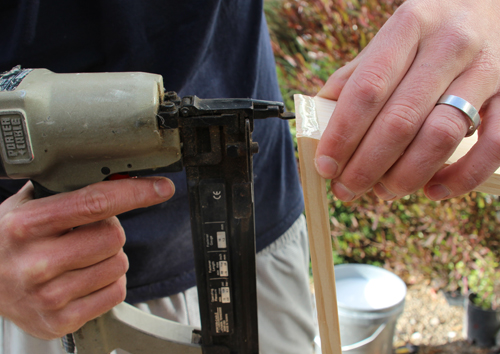 Three nails later and each shelf is secure!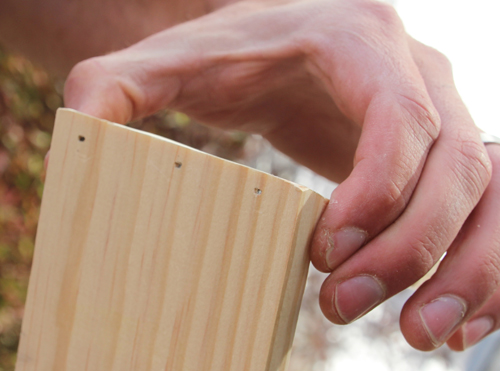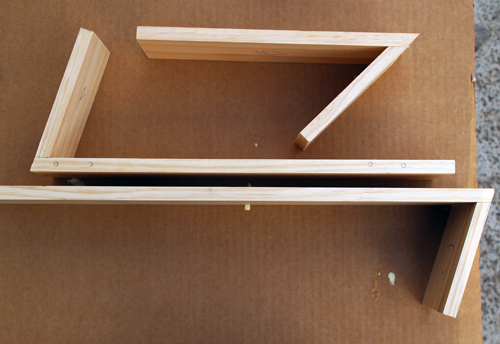 I tested three different shades of brown to get as close to the original paint color, this is the one I ended up coating my three shelves in: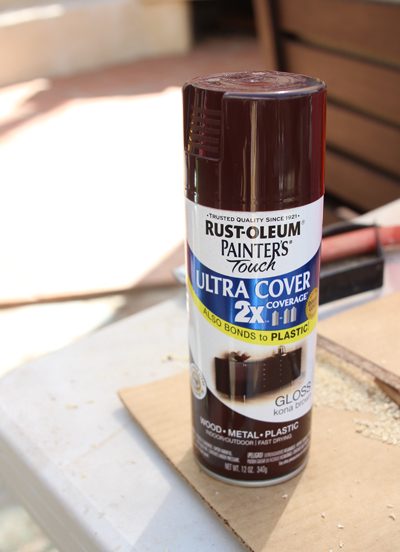 After several coats (I prefer to layer on light coat after light coat – sometimes as many as 4 or 5 rather than 1 or 2 heavy, drippy coats) of spray paint and a night of drying, it was time to attach the dowels.
I chose an oak dowel (stronger than pine) for this project and Kevin pre drilled three holes in two of the shelves and two in the smallest. Because the dowel was 1/4″ wide he used a 1/4″ drill bit. Easy peasy. Kev helped with this step because a steady hand is most necessary to avoid splitting new shelves. There's not much wiggle room when you're drilling a 1/4″ hole in a 3/8″ plank! He's a pro with these tools.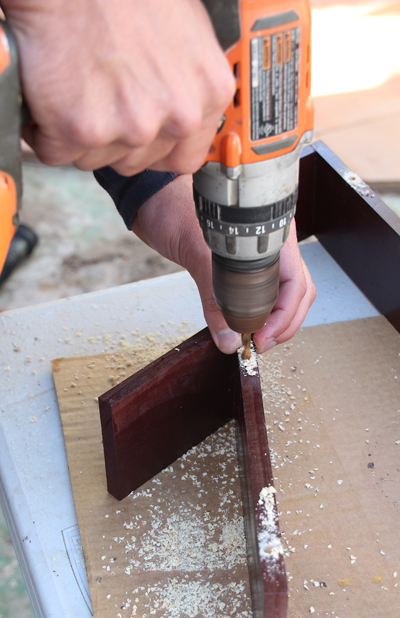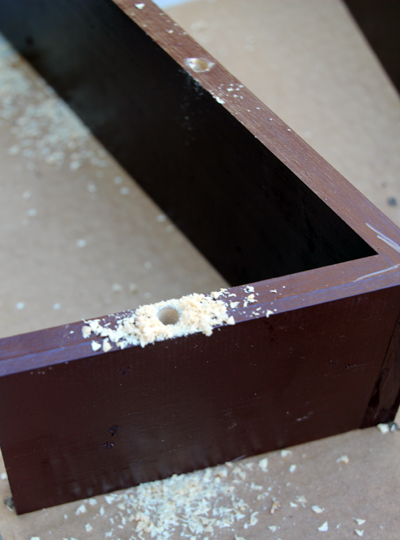 Next we added the dowel: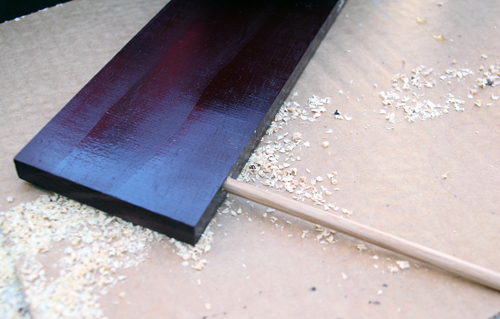 And cut each to about a 2″ length poking out of each hole.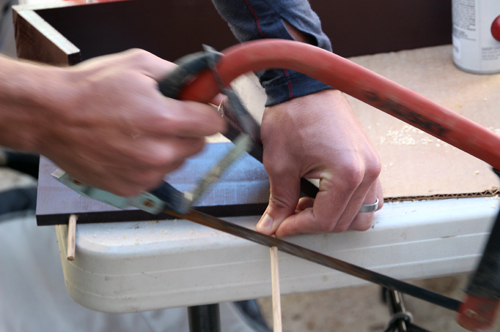 The shelves were ready for install. My apologies for switching up shelf examples here but now we're working with the lowest shelf where as before the example shots were of the middle shelf on the left of the tree. Oopsies!
In this shot I'm lining up the shelf with the tree branch to determine my first hole.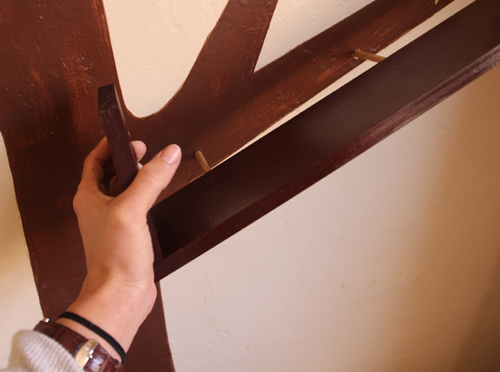 Using the same 1/4″ drill bit, I drilled in one dowel hole for the shelf.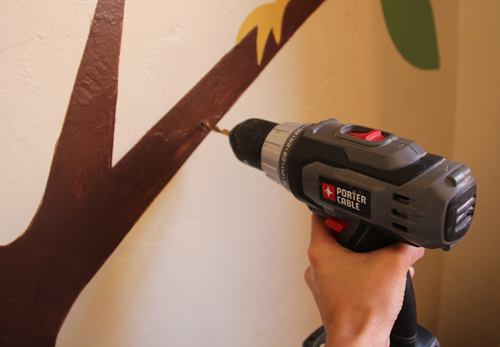 Now that I have my starting point, I can line up that first dowel hole with the shelf and appropriate dowel, and make clear pencil marks for where the next two holes should be.
Here's the shelf with the finished drill holes. Because the drill holes have to be drilled at the perfectly straight angle that the dowels on the shelf will be at, I had to wiggle the drill bit around to get this step right. But before I completely push the entire floating shelf in…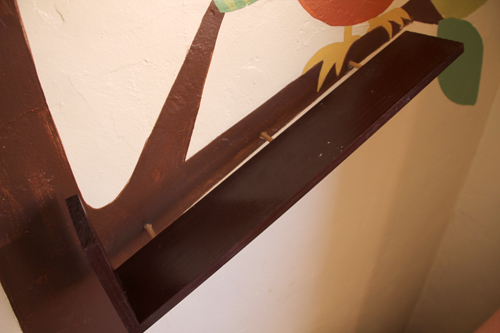 I add a bit of wood glue to each dowel, coating the sides and top.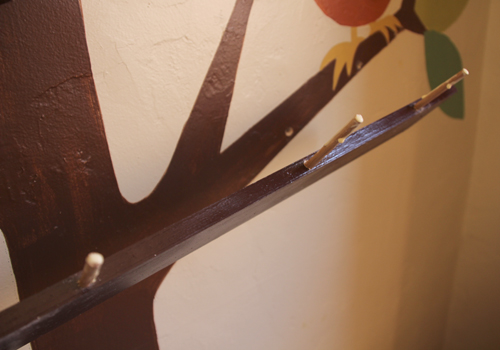 Finished!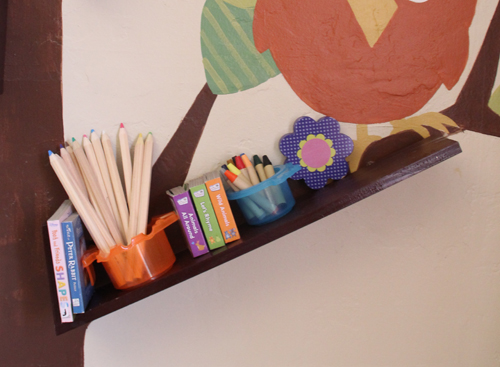 *****************************************************************
Very excited about the new shelves!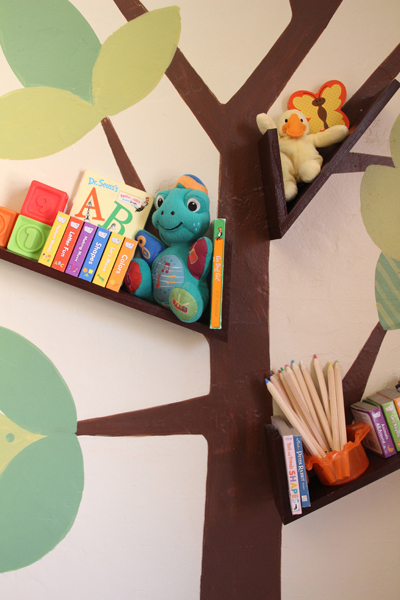 And the little artist loves her evolving nook here in the corner, she's already getting plenty of use out of the table, chairs and art supplies. I need to come up with a better solution for that roll of paper! That guy flies just about everywhere, leaving a happy trail of paper behind.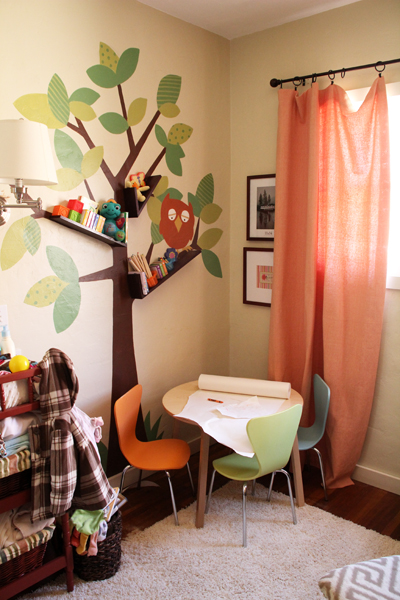 Oops! I just realized that one of the rings on the coral curtains has popped off! Need to add that to the to-do list.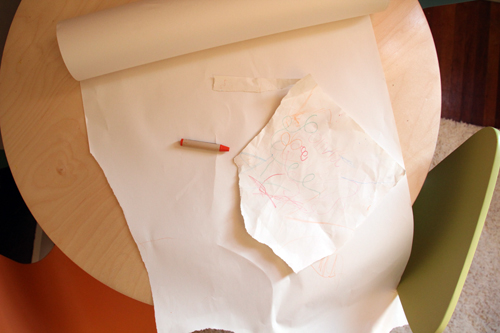 The nursery is sloowly evolving into a big girl room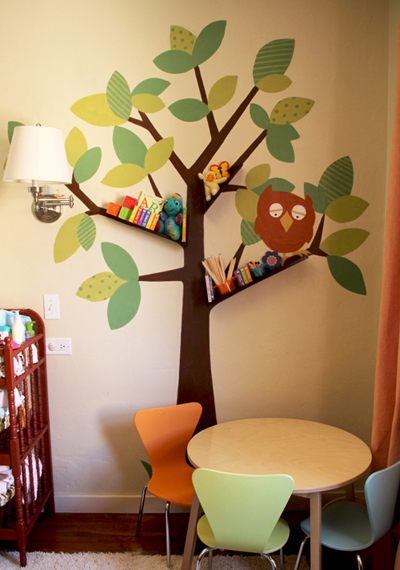 More Project Nursery posts found here: tree branch bookshelf inspiration, newly updated felt mobile, a new reading nook part 1, finished after photos, no sew fabric pennant, baby clothing art, handmade felt butterfly mobile, DIY crib skirt, basket liners part 1, part 2, the, glider makeover, recovering an ottoman, sewing lined curtains part 1, part 2, part 3, curtain fabric selection, nursery fabric board, rocking horse find, new pendant light, new sconce lighting, vintage wall art addition, changing table makeover, nursery wall striping tutorial , painted animal project, the initial inspiration board breakdown, the before pictures
Posted in
Crafty Solutions
,
DIY
,
Liv's Nursery
,
Renovating Adventures
|
26 Comments »
April 6, 2012
Liv's a little young to fully appreciate how fun it is to dye Easter eggs, but I was excited about the idea (it's been too long since I was a kid!) so I decided to give it a go anyhow.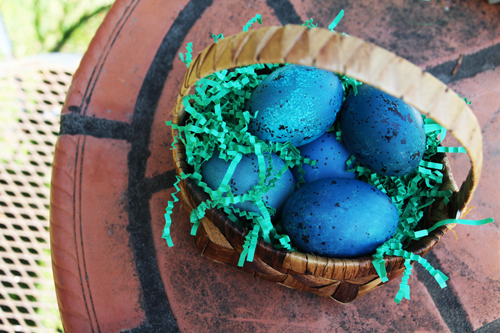 I wanted to keep it simple with whatever we could find easily available in the kitchen, so my first attempt was to create my own natural dye using this awesome tutorial. Vegetables, fruits and spices can create some pretty neat, saturated colors, check out these beautiful examples! And I'd imagine older kids might find it pretty neat to see how dyes and colors were originally derived.
My goal was blue speckled eggs, so I defrosted a frozen bag of blueberries from the freezer and boiled them down (with about two parts water) into a rich, dark liquid. Sadly, after just a few hours my blueberry concentrate left my eggs looking black and rotten…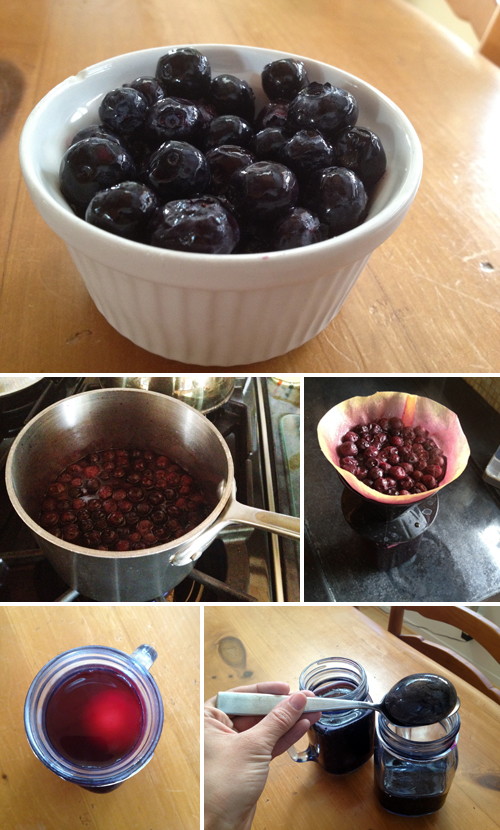 Muahhhhahaha, perfect for Halloween! So blueberries aren't the way to go, but I would definitely try this method with another fruit again in the future!
Plan B: trusty food coloring + vinegar.
Two hours later and the eggs were looking quite blue and quite beautiful! I dyed a mix of white and brown eggs from the fridge, and I actually prefer the darker tint of the brown underneath that very saturated blue.
To achiever the speckled egg look, I improvised brown dots in clusters and speckles with a brown sharpie once the eggs were completely dry.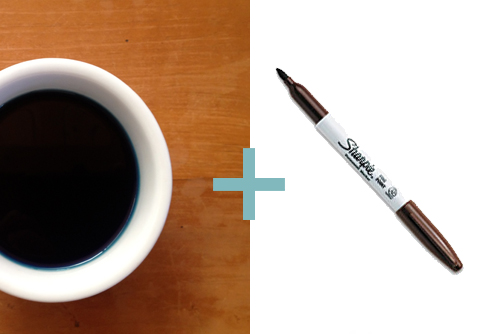 Such an easy project and such a fun result!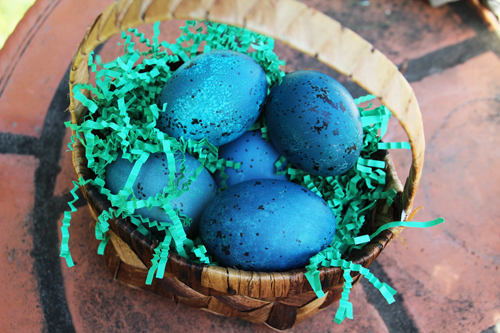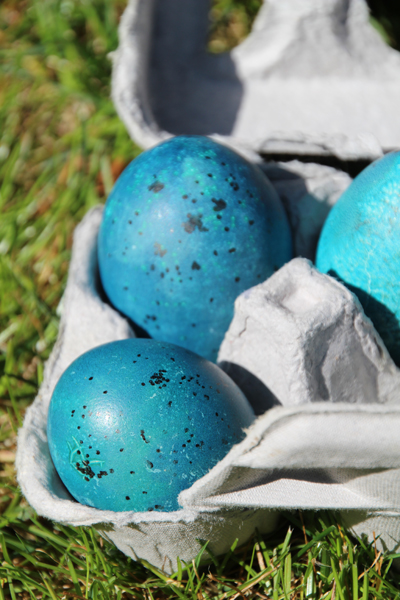 We carried the eggs around the yard for a bit, unloaded the bunch from a basket and filled it back up again.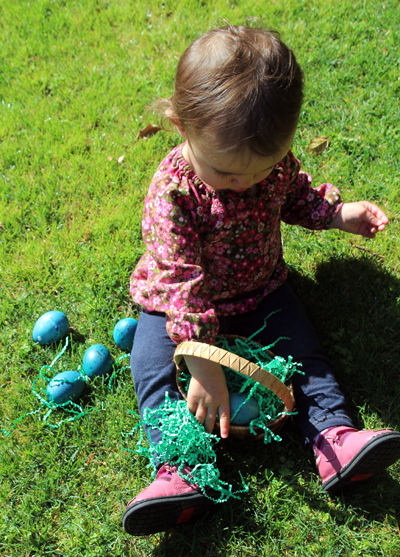 We're practicing for Sunday.
We also made a few simple solid yellow and green eggs, and then a few polka dotted versions!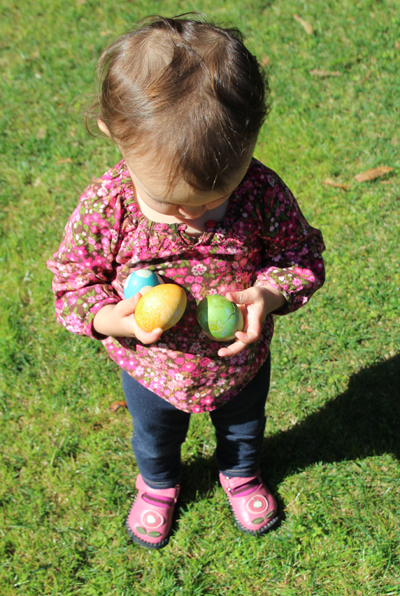 Egg hunting under way…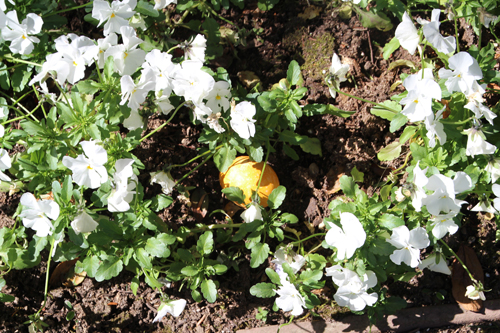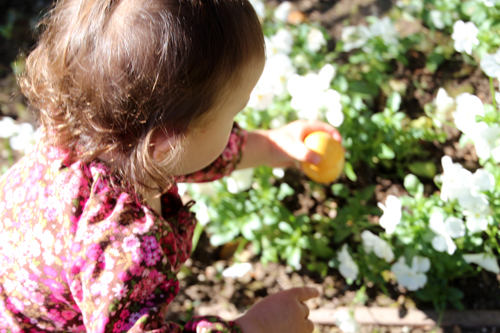 Here she's wondering 'where are the rest?', Liv just picked up the two hands out posture when she's asking a question in baby talk, it's adorable!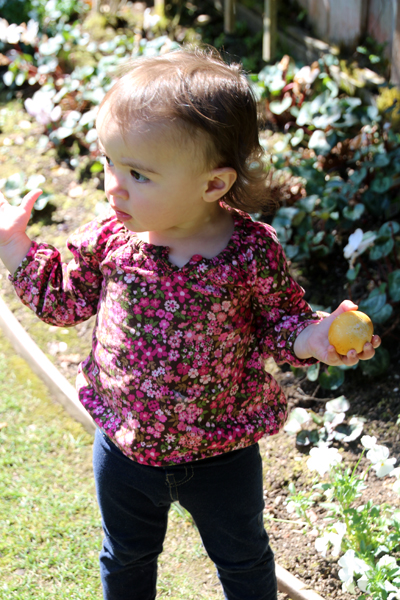 Look at those big brown eyes! What a cutie.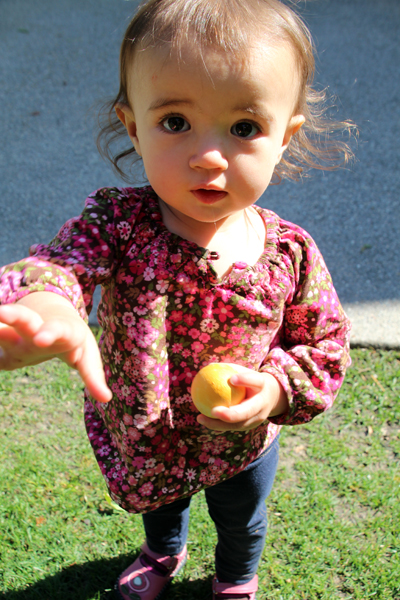 And then mid outdoor play time, Liv realized that she could smash the eggs!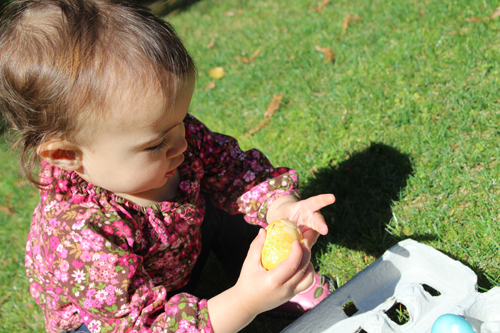 And that if she squished them between her palms just right, pop! The hard boiled inside would come bursting out.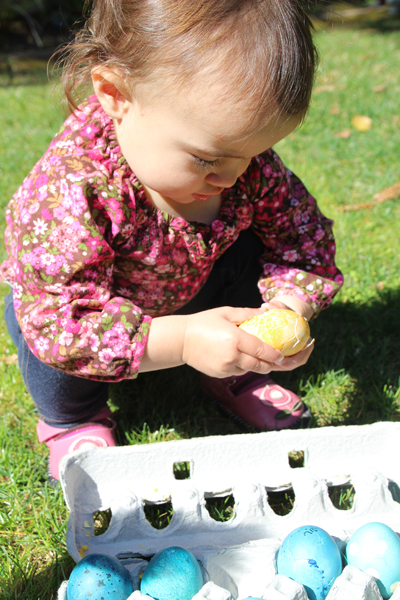 A half dozen smashed eggs later and our hunting adventure was officially over. So much for keeping these guys around until Sunday

. But they served their purpose and we had great pre-Easter fun.
A few more reminders of those pretty speckled eggs…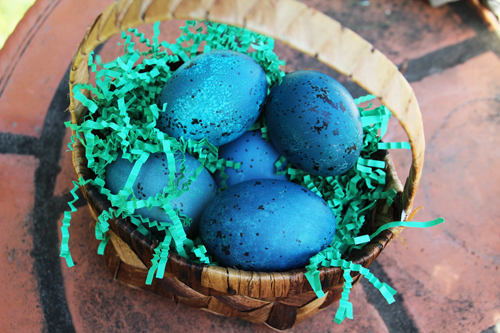 *Sigh*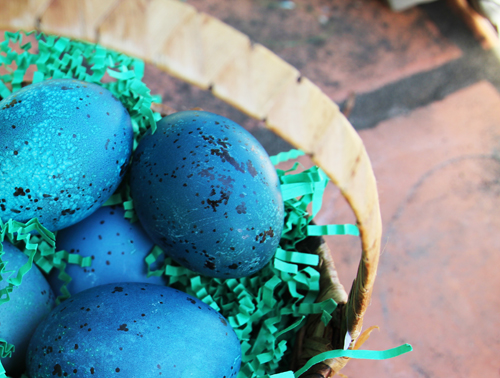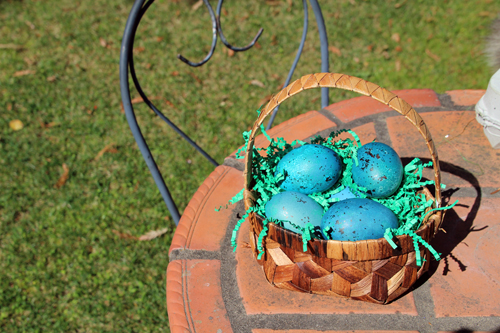 The polka dotted eggs were a fun project for us to tackle together. I covered a few eggs in small metallic smiley face (they have the best stick) and round office label stickers before letting them sit in the dye. When they were finished and dry, Liv helped me pull all of the stickers off.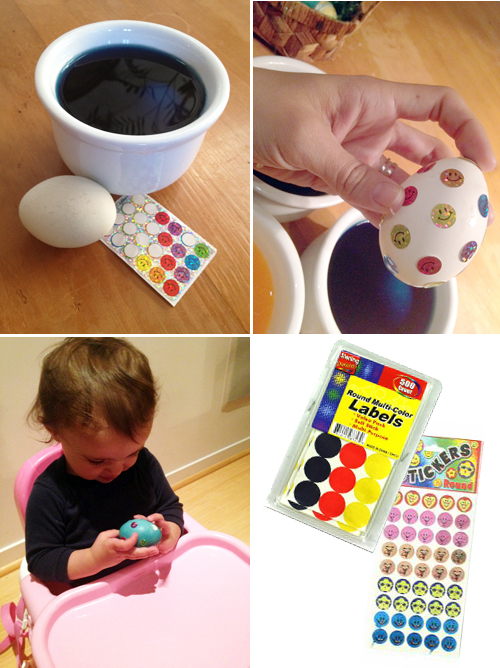 It is tough to get a clean circle without any blue leaking underneath a sticker, but the dryer and more room temperature your egg is, the closer you'll get. Here's a great tutorial on polka dot eggs, check it out if you give these guys a try!
Have a wonderful Easter weekend! Hallelujah, He is risen!
Tags:
Blue
,
Crafty Solutions
,
Decorating
,
DIY
,
Easter
,
Patterns & Color
,
Tutorial
Posted in
Crafty Solutions
,
DIY
,
Parties & Entertaining
|
5 Comments »