March 12, 2012
It's difficult for me to not let you in on a little bit of the action that's been going on over here. You might have read Friday that I have a plan that I'm scheming about for a hallway makeover that is both inexpensive and a little fun!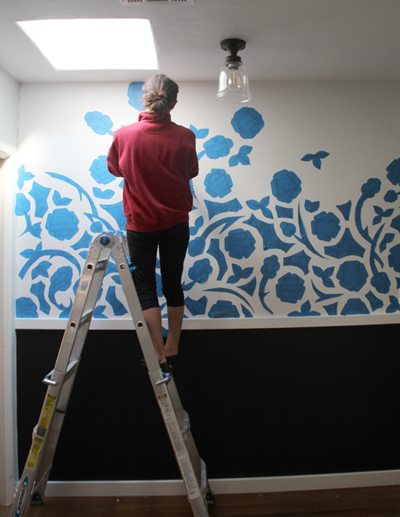 And as you may or may not have guessed by me ditching the wallpaper or stencil route, I'm winging my own accent wall with a couple of rolls of painters tape and a pair of scissors. That, plus we've added a NEW chalkboard section just below my DIY wall that's separated with a thin 3″ chair rail. Very excited for Liv and her little buddies to draw all over it with heart shapes, stick figures and scribbles! It's her very own coloring pad that's available all the time and with plenty of space.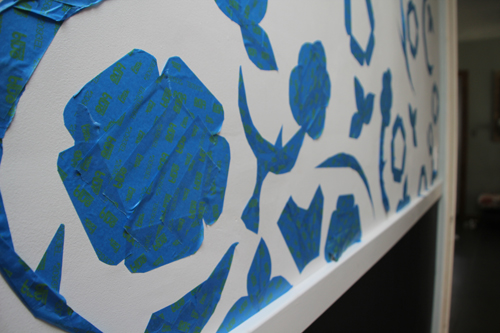 Creating the painter's tape shapes has been somewhat time consuming. I've found that my most productive route is to cut out about 100 of the same shape and then stick them up on the wall asap. I've spent a couple of late nights catching up on favorite shows while using my laptop as the temporary pinboard.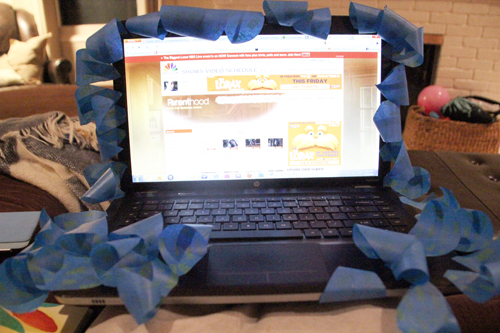 I've decided to forgo a formal pattern for placing the shapes up on the wall in lieu of a more imaginative and less perfect design. Cutting the tape and applying to the wall has been a big project and I didn't also want to measure space between shapes (for consistency) or map out a repeat pattern for a more wallpaper-esq look. I've found that by picking 4 or 5 basic shapes to repeat, I can have fun with the layout without being a perfectionist (trying very hard to quell the inner urge!)
We have since finished painting and installing most molding in the kitchen (before the appraiser for our refi came a couple of weeks ago!) but here's a shot of walking into the hallway from our kitchen.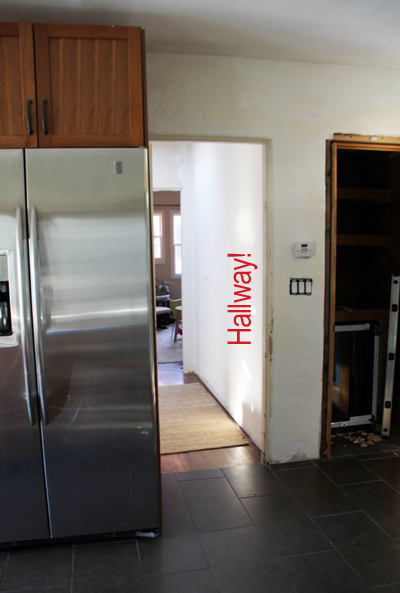 The in-progress pantry (going to be so cool with Kev's idea of recycling old wooden pallets) is to the right and Liv's room is straight ahead. You can get a better bird's eye visual of how the hallway fits into the house by checking out the floor plan here.
This new accent wall is the perfect space for Liv to use as a drawing board while we're making dinner, etc just beyond, I think it will be a fun learning tool and entertaining spot (and a good alternative to pulling out the tupperware drawer while you're trying to cook). It's also a great 'drop zone' for coats and boots and bags if I could make some sort of furniture/bench piece work there…
The finished hallway is almost ready to share!
Tags:
Blue
,
Crafty Solutions
,
Decorating
,
DIY
,
Home
,
Patterns & Color
Posted in
Crafty Solutions
,
DIY
,
Home
,
Our Hallway
,
Renovating Adventures
|
10 Comments »
March 9, 2012
What are your thoughts on wallpapered accent walls? I'm in the mood to give my hallway a good shake up and I'm thinking that one wall covered in a beautiful design would be just the way to mix things up. Plus it's a hallway, and some how that makes me feel better about committing to an all-over pattern. Funny, I know.
Here's where the hallway's located in our house, and that wall that the arrow is pointing to would be my new, fun accent wall: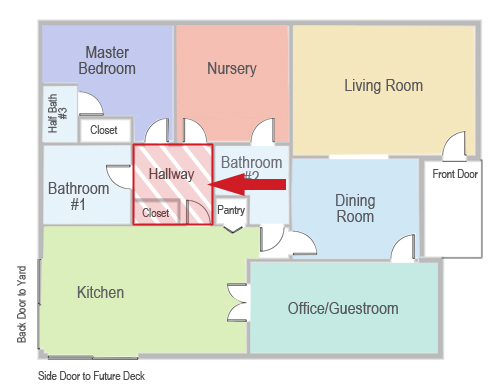 Originally, I began pulling images that inspired me regardless of color or pattern. The hallway leads to Liv's room (as well as ours) so I even threw a few kids patterns in the initial inspirational mix. Here's just a piece of what was in that folder: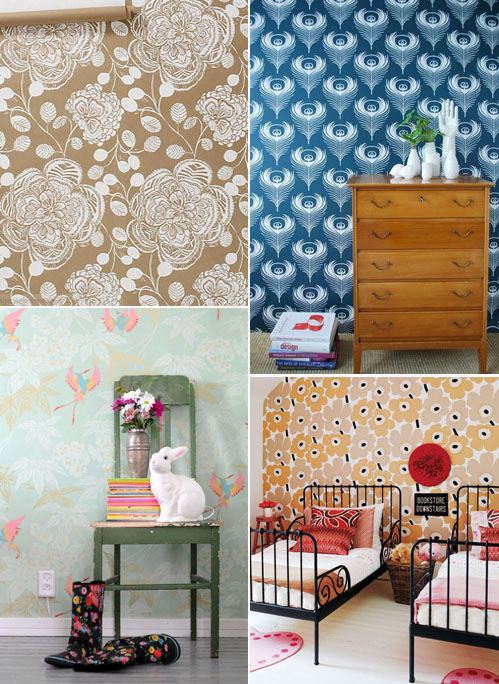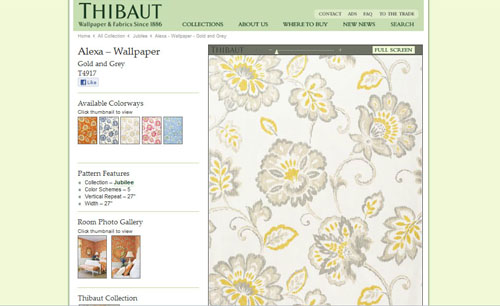 Please forgive the lack of sources… I am usually really really great about crediting (that the correct person of an idea receives proper credit & that an idea is easy to track down are both really important to me) but many of these images have been sitting in my Wallpaper folder for a loooong time, or sometimes I wasn't able to find the source on Pinterest (really hope that's fixed over there soon!). But where I do have credits I definitely included them

.
So I had my big modge podge folder of ideas and I began visualizing that future space and I couldn't shake the color blue. The current hallway is tan, and blue feels fresh and new! Here's where that train of thought slowly wound me: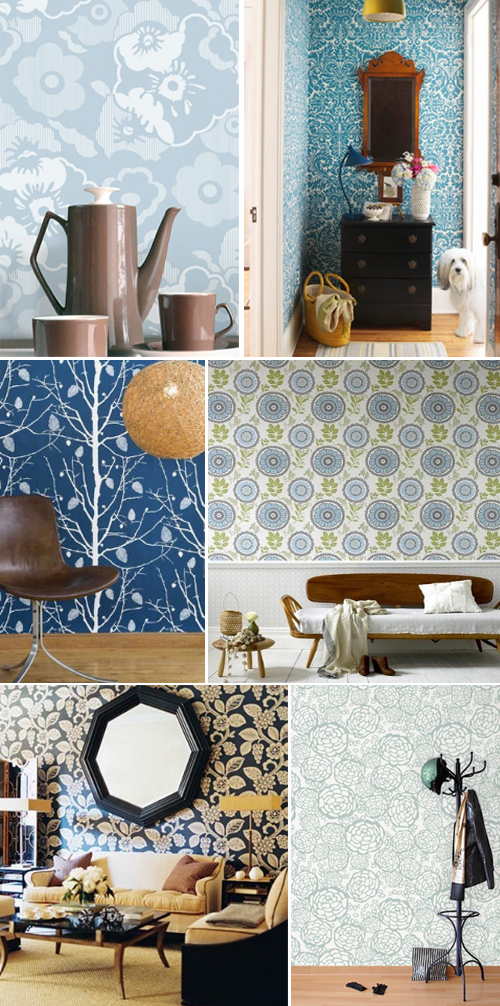 So many choices! And so much looking. I saved my favorites and kept them close by for quick contemplating throughout the day which is a little exercise I often do when I'm super indecisive. But even after much thought into what the right pattern might be, I just couldn't settle on one (Oh sweet indecisiveness! You and I are best friends).
See more of my journey over on Pinterest.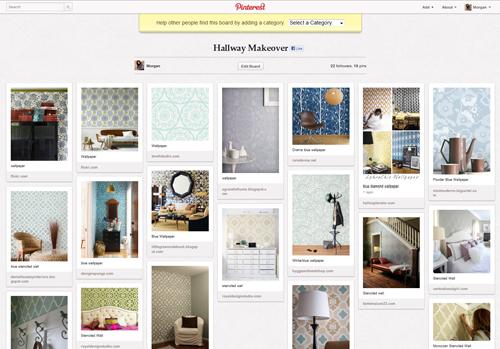 I eventually decided that I might have a bit more flexibility (and save some serious $) if I gave stenciling a try. Stenciled spaces can be stunning! And that basic block print has always been a look that I gravitate towards. Here are a few of my favorite patterns/inspiration with a stenciled hallway in mind: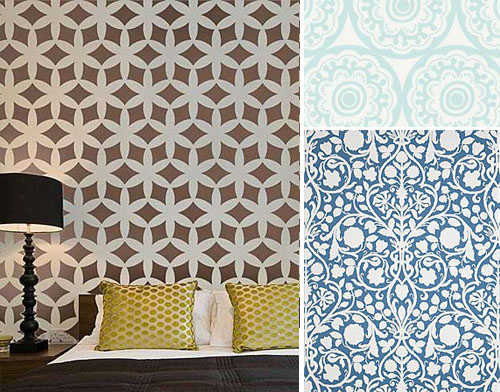 Actually, I'm not sure all of the above are stencils. I know that that brown and white wall on the left is from here, but those blue patterns might actually be wallpaper. Either way, I was immediately inspired by the one color + white design look.
I had finally committed to an application and a vision.

Then I read about the winter edition of the Pinterest challenge (a challenge encouraging you to create one of the many items you've pinned) and I was set! I have my idea board, I have my project that needs tackling, and now I have my motivation to get. it. done.
The verdict? I'm going to attempt a unique wall pattern that is all my own with a roll of painter's tape, a chair rail, a quart of black chalkboard paint and a quart of the perfect blue hallway paint. I feel like I'm setting up a magic trick…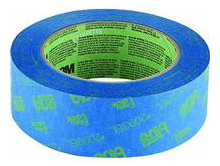 See you on Monday!
PS In local home stores in 5 cities (Atlanta, Dallas, Sacramento, Salt Lake City and San Diego) ScotchBlue Painter's Tape with EdgeLock is offering a buy-2 get-1 free by mail offer until March 12th.  Check it all out here.
Tags:
Crafty Solutions
,
Decorating
,
DIY
,
Home
,
Patterns & Color
,
Pinterest Challenge
Posted in
Crafty Solutions
,
DIY
,
Home
,
Our Hallway
,
Renovating Adventures
|
4 Comments »
March 7, 2012
There are some awesome projects over in the Project Gallery, have you checked it out recently?
You can upload your own recipes, rooms, crafts and parties (and everything in between) in about two seconds — it's a great way to share with others as well as introduce your blog to PDB readers! I keep all of my projects in the gallery, too.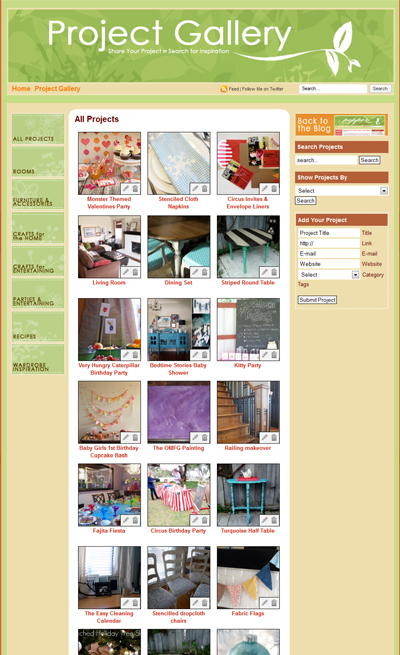 You can reach the gallery one of two ways: in the top navigation bar next to Home click Project Gallery, or through the sidebar just below the Welcome message.
To add your project, head over to the right side bar when in the gallery and add a link (to your blog post, not the overall homepage) in the text field. Select a category and tag so that it's easy to find by others, and your done! Super simple.
Posted in
Crafty Solutions
,
DIY
,
Project Gallery
|
8 Comments »