February 3, 2010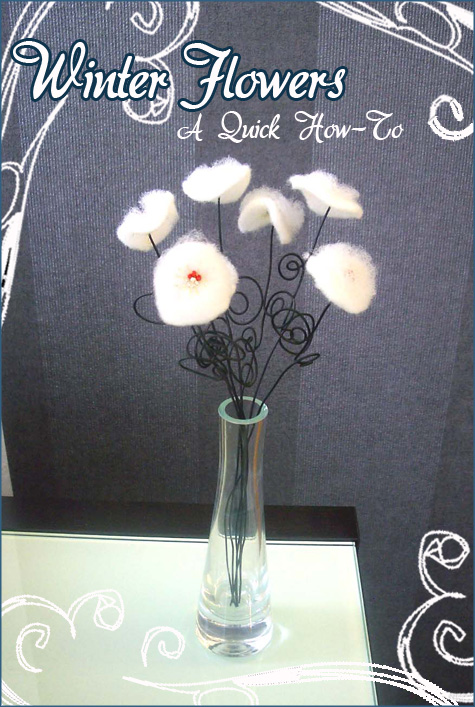 I came across these beautiful handmade flowers while searching for the perfect year-round indoor bouquet – a little something lovely and sweet for a bud vase next to the bed, on the dresser or perched up in one of our doorless cabinets.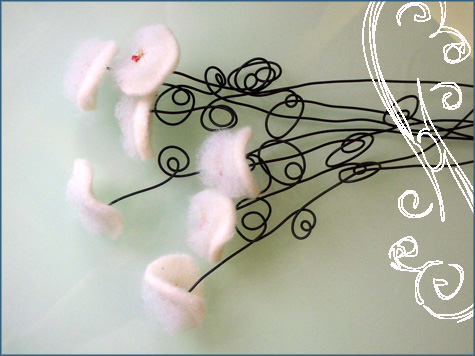 Imagine my surprise when Rasa, the artist behind these creations and LiRaDesigne, not only offered to give me a sneak peak at the process of making the stems, but also step-by-step directions to share here!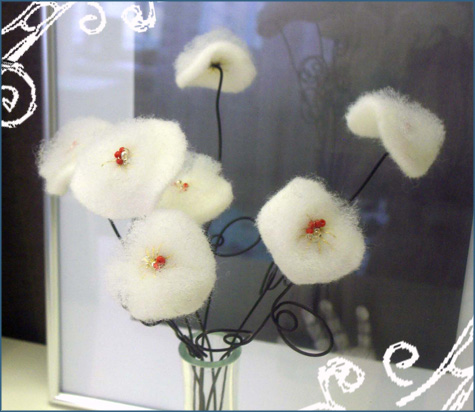 I adore the simple and soft look of the cotton flowers – the glass beads in the center add a delicate touch.
Rasa calls them 'Waiting for Spring' Winter Flowers, but I would display them all the time for every season. If you'd like to purchase the finished product instead of making each by hand, check out LiRaDesigne shop here. They're very much within the budget!
For step-by-step directions (with a super helpful photo gallery), follow the jump! Read more »
Tags:
Crafty Solutions
,
Decorating
,
DIY
,
Home
,
Tutorial
,
white
Posted in
Crafty Solutions
,
Home
|
5 Comments »
January 29, 2010

Today's Friday guest blog interview brings us over to the darling site, Maddycakes Muse. Have you had a chance to check out this neat party inspiration blog yet? If not, you'll love her frugalista approach to all things entertaining. Michelle recently showcased her Dr. Suess Thing One, Thing Two party for an event industry convention, Parties for Pennies, and planned the entire party for just $213!! (more on that after the jump…)
She "muses" about all things creative and beautiful: coffee filter roses & mailed diaper invitations (for a baby shower) being two of my recent favorites on the creative side (would that not make you smile to get one in the mail?) and beautiful damask dinner parties and elaborate tablescapes being on the beautiful end. On that note, how lovely is this Asian-themed dinner party?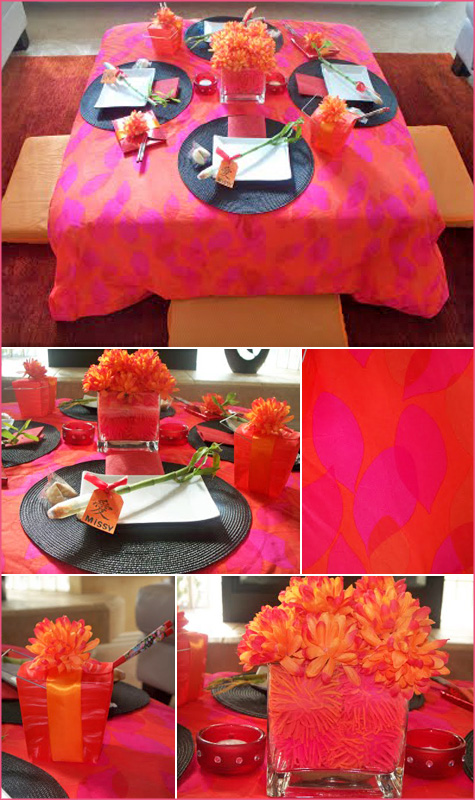 I love all of the brilliant colors! and the bamboo name cards double as a clever favor. The tablecloth is actually an Ikea duvet cover found in the As-Is section at a steal of a price (note to self: search through sheets at Ikea asap).
When Michelle is not sharing her latest finds online, she designs & plans childrens parties through her business (by the same name) in Pheonix, Arizona.
If you didn't think entertaining on a budget was possible – check out two more delicious tablescapes after the jump! and Michelle takes a moment to answer PDB's four interview questions. Read more »
Tags:
Baby Shower
,
Birthday
,
Bridal Shower
,
Crafty Solutions
,
Decorating
,
Dinner Parties
,
DIY
,
Guest Blog
,
Guest Interview
,
Kids Party
,
Parties & Entertaining
,
Patterns & Color
Posted in
Crafty Solutions
,
Guest Blog
,
Interview
,
Parties & Entertaining
|
12 Comments »
January 28, 2010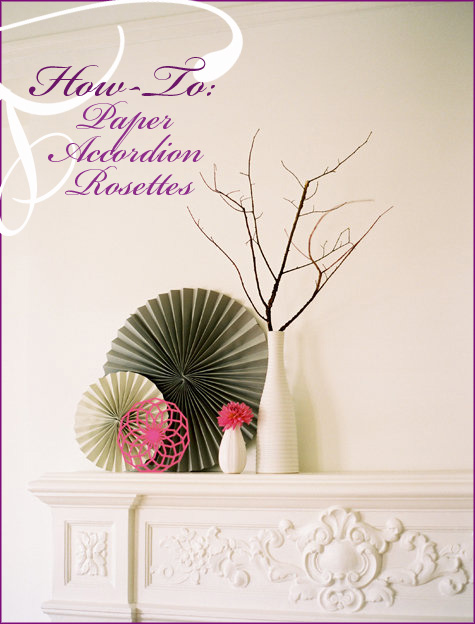 I love when you find inspiration in the most unexpected of places… the other day I was thinking about those little accordion paper fans I used to make as a little girl by folding up 8 1/2×11 sheets of white printer paper. They might turn into turkey tails for Thanksgiving or maybe even folded hearts for Valentine's Day.
I found this lovely inspiration board (below) at Paper Crave and it brought me right back to the 2nd grade. The grown-up version of paper accordions comes in the form of folded maps, book pages or antique wallpaper.
I really love the simple way these accordion paper poms fit into every type of party decor. I can imagine them delicately hung above a wedding reception dance floor, lined neatly over a bridal shower dessert buffet or in bright & bold hues for a child's birthday party.

The rosette 'table confetti' is my favorite. And how pretty are the button and brooch centerpieces? A little pearl bead would be perfect.
Once Wed designed an entire grey, green & pink dinner party around this theme (see top top photo), and design*sponge shares it here. To make your own paper accordion rosette, Paper Source provides a free downloadable pdf. And finally, a super easy DIY awaits after the jump! Read more »
Tags:
Baby Shower
,
Birthday
,
Blue
,
Bridal Shower
,
By Color
,
Christmas
,
Crafty Solutions
,
Decorating
,
Dinner Parties
,
DIY
,
Green
,
Grey
,
Kids Party
,
New Year's Eve
,
Paper Crafts
,
Parties & Entertaining
,
Patterns & Color
,
tea party
,
Tutorial
,
Wedding
,
white
Posted in
Crafty Solutions
,
Parties & Entertaining
|
8 Comments »