December 12, 2009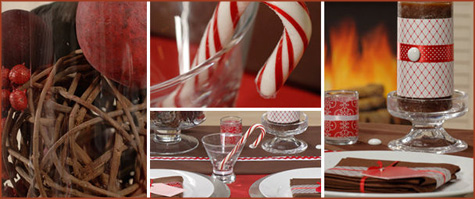 On the search for some really wonderful holiday party inspiration? Head on over to Hostess with the Mostess to find nine beautiful themes that are ready to be replicated!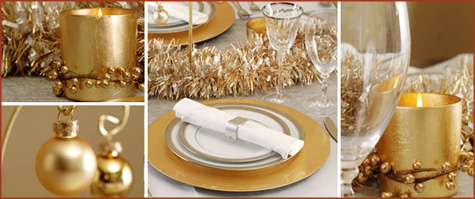 Whether you're aiming for something traditional & classy or very modern & chic, Jenn has assembled several wonderful tablescapes to get you on your way. From 'Santa Baby' to 'Green and Serene' you'll find a theme that's perfect for your holiday shindig.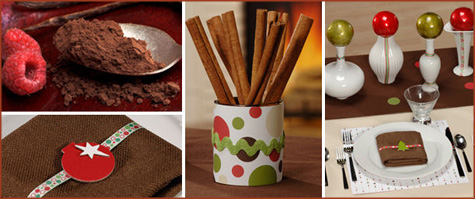 She includes detailed suggestions for party and table decor, what to serve and pour, as well as neat favors that match the theme. It's so easy to throw a beautiful party — and the extra effort makes a special impact on your guests.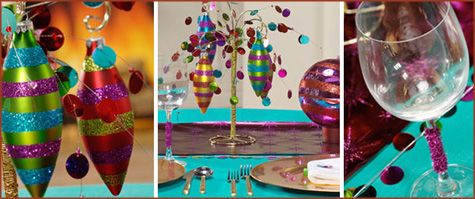 Follow the jump for five more ideas and a few tips on keeping your event decor on theme and low budget. Read more »
Tags:
Christmas
,
Decorating
,
Dinner Parties
,
DIY
,
Parties & Entertaining
,
Patterns & Color
Posted in
Crafty Solutions
,
Parties & Entertaining
|
10 Comments »
December 8, 2009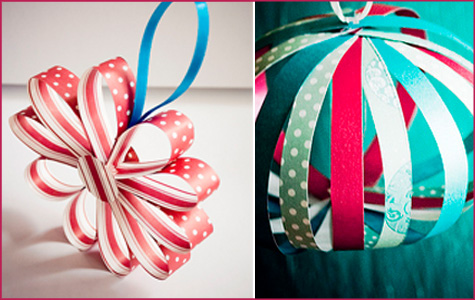 Whether you're looking for the perfect way to use up left over scrapbooking paper, an easy diy project for the kids or how to add a special handmade touch to the holidays, paper ornaments are fun and easy to make! How lovely are these unique examples and the artists behind them?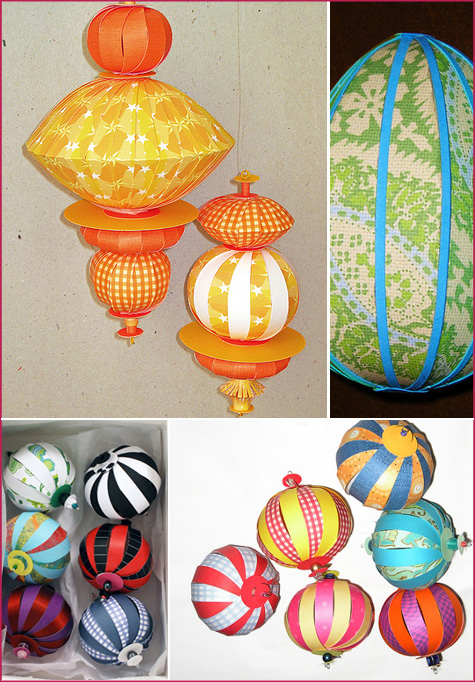 Danielle Hamilton features beautiful handmade paper ornaments that are nothing short of inspirational (very top) and Carlos N Molina has the most amazing eye-candy website all about paper projects — which includes templates and how-tos for his globe and stacked ornaments (ornament collage directly above).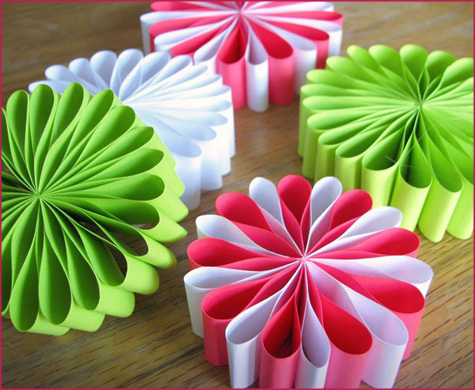 Perfect for hanging from the chandelier over the dining room table, stringing as garland in the windows or on the mantel, stacked casually as a dinner party centerpiece, or displayed in a large bowl on the coffee table. Oh yes, you could hang them from the tree, too.
Follow the jump for more crafty creations — from super simple to very elaborate — and the how-to for paper flower ornaments! Read more »
Tags:
Christmas
,
Crafty Solutions
,
Decorating
,
DIY
,
Home
,
Kids Party
,
Parties & Entertaining
,
Patterns & Color
,
Tutorial
Posted in
Crafty Solutions
,
Home
,
Parties & Entertaining
|
7 Comments »
December 7, 2009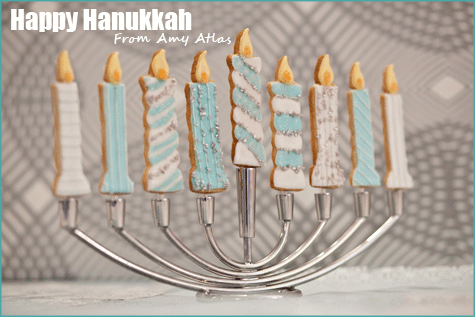 Hanukkah is fast approaching (begins this Friday at sundown) and now is a great time to prep for a neat menorah project for the entire family. Amy Atlas sent over this DIY centerpiece she created using homemade cookies and lollipop sticks (to give structure and stabilization to the 'candles') to share with you.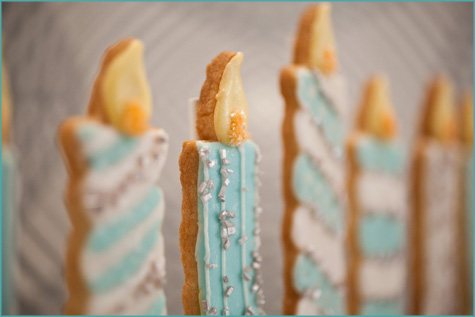 In Amy's own words:
"This fun dessert and craft project makes a great centerpiece on the Hanukkah table. It is also a fun project that your kids can help out with because you can enlist them to decorate the cookies! Simply pick up these cookie cutters from Sur La Table, bake off a basic sugar cookie recipe in the candle shape with these lollipop sticks attached to your dough, and then decorate the cookies with royal icing and sprinkles. If your kids are helping out with decorating, don't feel obligated to follow a design – let them decorate away! That way, the cookies will feel more festive and your kids will take a lot of pride in their cookie candle menorah when it is part of the Hanukkah table! When the cookie candles are finished, simply glue-gun the lollipop sticks to your favorite menorah. Enjoy!"
Find the entire post and project at her blog here. Photography credit by Allan Zepeda for Mel Barlow Photography.
Tags:
Crafty Solutions
,
Decorating
,
Desserts
,
DIY
,
Hanukkah
,
Parties & Entertaining
Posted in
Crafty Solutions
,
Parties & Entertaining
|
Comment »